Sharon Stone is making a huge comeback after suffering from an aneurysm and cerebral hemorrhage in 2001, which caused her to stutter and limp and left her unable to read. She has recovered, and now she's reclaiming her career as well as her sex appeal!
The 57-year-old actress appeared to be in great shape as she stripped naked in a series of stunning black-and-white photos for the September issue of Harper's Bazaar, where she opened up about her stroke, its aftermath, and her recovery.
"When I came to, the doctor was leaning over me. I said, 'Am I dying?' And he said, 'You're bleeding into your brain,' " Stone recalls. "I said, 'I should call my mom,' and he said, 'You're right. You could lose the ability to speak soon.'"
"It took two years for my body just to absorb all the internal bleeding I had," she told the magazine. "It almost feels like my entire DNA changed. My brain isn't sitting where it used to, my body type changed, and even my food allergies are different."
Sharon Stone opened up about the brain aneurysm and cerebral hemorrhage that she suffered back in 2001
Despite the setbacks, Stone says there have been some silver linings: "I became more emotionally intelligent. I chose to work very hard to open up other parts of my mind. Now I'm stronger. And I can be abrasively direct. That scares people, but I think that's not my problem. It's like, I have brain damage; you'll just have to deal with it."
Aside from her nude photoshoot, the former fashion model is set to star in TNT's 10-episode action-drama series, Agent X, in which she plays the vice president of the United States.
Prior to the release of the magazine's latest issue, Sharon was spotted grabbing lunch at E Baldi in Beverly Hills. She covered up in a black ensemble consisting of a loose black lace top and cropped leggings.
The laid-back look was styled with a huge pair of drop earrings, a Kate Spade crossbody bag, and wedge sandals. She kept everything else simple as she sported a messy bob hairstyle and wore minimal makeup with a pop of red lipstick.
Sharon Stone sports a messy bob hairstyle while out for lunch at E Baldi in Beverly Hills, Los Angeles, on August 11, 2015
Sharon's trendy wedges are from the Spanish footwear label Paloma Barcelo.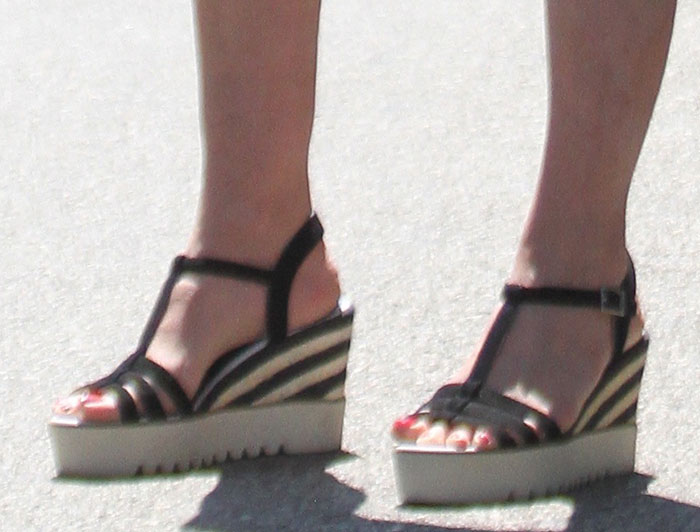 Sharon Stone wears sandals from Spanish footwear label Paloma Barcelo
They feature suede straps with t-straps and buckled ankle straps, open toes, 4-inch striped jute-wrapped wedge heels, and about 1.5-inch platforms.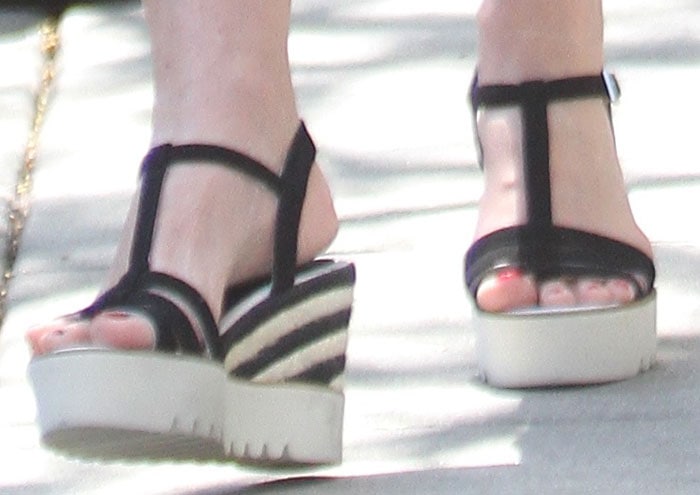 Sharon Stone shows off her Paloma Barcelo wedges
You can definitely make good use of these wedges this summer!
Paloma Barcelo Suede Espadrille Wedge Sandals, $255 at Farfetch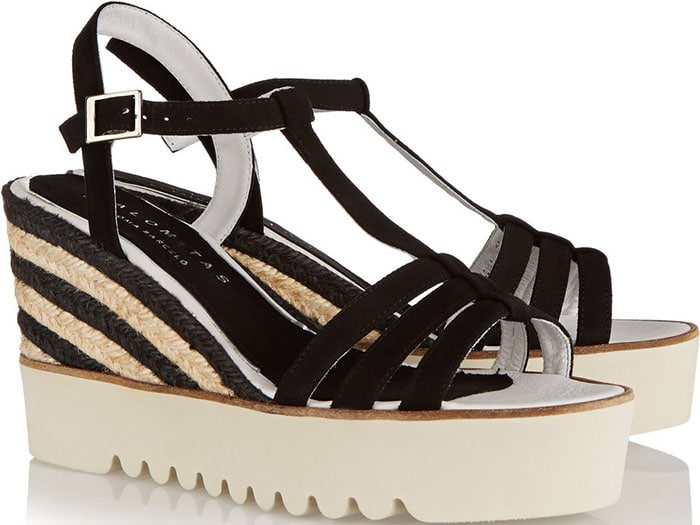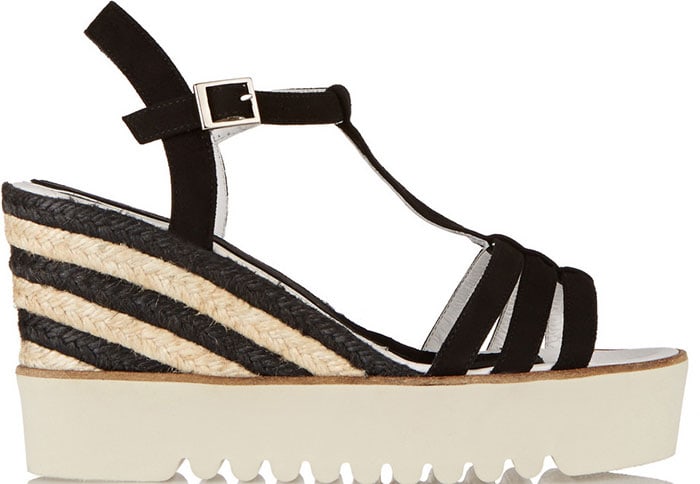 Credit: WENN