We've had our eye on the ZiGiNY "Samara" sandal boots for a while now. They're one of the fiercest knee-high gladiator sandals we've seen, and we've been waiting to see who would be brave enough to wear them.
The one who stepped up to the plate was none other than fellow shoe lover Angela Simmons, who, as expected, did not disappoint. In keeping with the current street-style trend, Angela added a sporty touch to her gladiator boots with a Common Nature "Varsity" tee and a kicky MYM Collection "Puff" skirt.
Check out a shot of her outfit and a closeup of her shoes, which she shared on Instagram: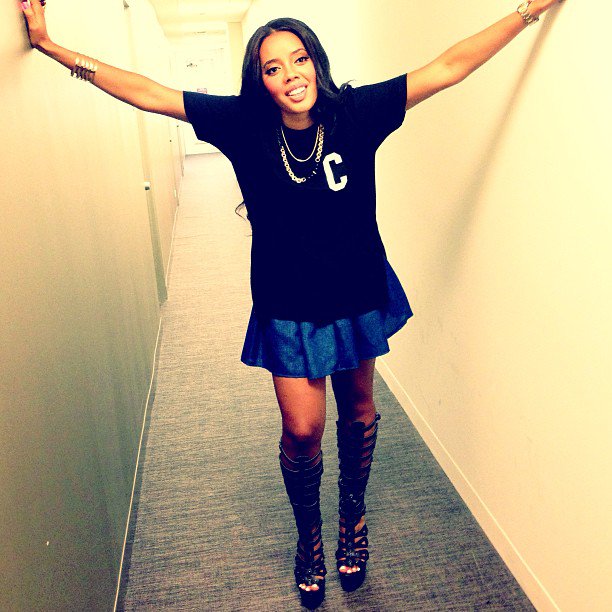 Shared on Instagram with the caption "About to go live #106 …love my wardrobe @commonnature @bdonnas @mymcollection"
Shared on Instagram with the caption "Love my shoes…. Thanks @Bdonnas :-)"
If there was anyone meant to wear these shoes, it's Angela Simmons. She was the one who introduced us to Monika Chiang, one of the first to tune in to how awesome the Giuseppe Zanotti shoes are this year, and one of the pioneers in making once-outrageous heel-less shoes look sexy and elegant.
We can't stress enough how much we love Angela Simmons' look, but we want to hear your side: do you think Angela is making the ZiGiNY Samara gladiator boots work or not?
Some of you may spot these boots' resemblance to the Altuzarra for Gianvito Rossi gladiator sandals spotted on Ciara and Rita Ora. The inspiration is undeniable, but how you're going to handle the 6-inch-high heels and 2-inch-thick platforms is all you!
ZiGiNY Samara Tall Gladiator Sandal Boots, $199.95
Credit: Angela Simmons Instagram