Yesterday in Hollywood, the 'Maleficent' promo tour reached its pinnacle, and so did Angelina Jolie's Maleficent-inspired style. Simply put, Angie was a breathtaking beauty in a strapless black leather Versace gown.
Angelina Jolie at the world premiere of Maleficent at the El Capitan Theatre in Hollywood, California, on May 28, 2014
With her chestnut hair slicked back into a ponytail and her translucent loose powder makeup perfectly blended this time, Angie's luminous skin, dark kohl eyes, and sharp features took complete command of the entire premiere.
If Angie had a hard time moving in her leather gown, she didn't show it. We've got to hand it to her for being able to elegantly maneuver the blue carpet despite her dress' layers and layers of leather and restricting tight fit.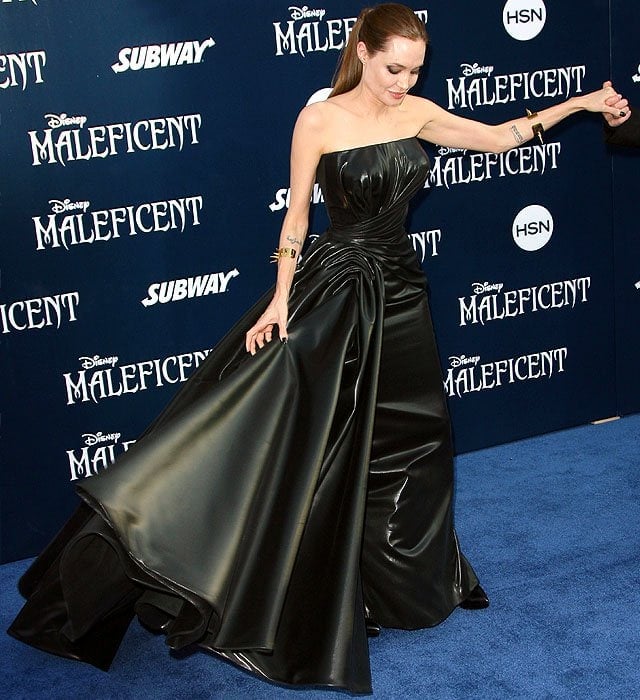 Angelina Jolie adjusting the layers of leather on her Versace strapless gown
Angelina Jolie gingerly walking and taking small steps due to the tight fit of her Versace dress
Just like at the Maleficent premieres, Angie looked to be completely in her element that evening. The gold spike earring and spiked cuffs were very her and very Maleficent at the same time.
She was cracking smiles all throughout that night but was most especially happy when a group of girls dressed as Maleficent showed up to the premiere. Check out how genuinely shocked and happy she was to see them:
Angelina Jolie's chestnut hair slicked back into a ponytail
Angelina Jolie looking shocked and thrilled to see a group of little girls dressed as Maleficent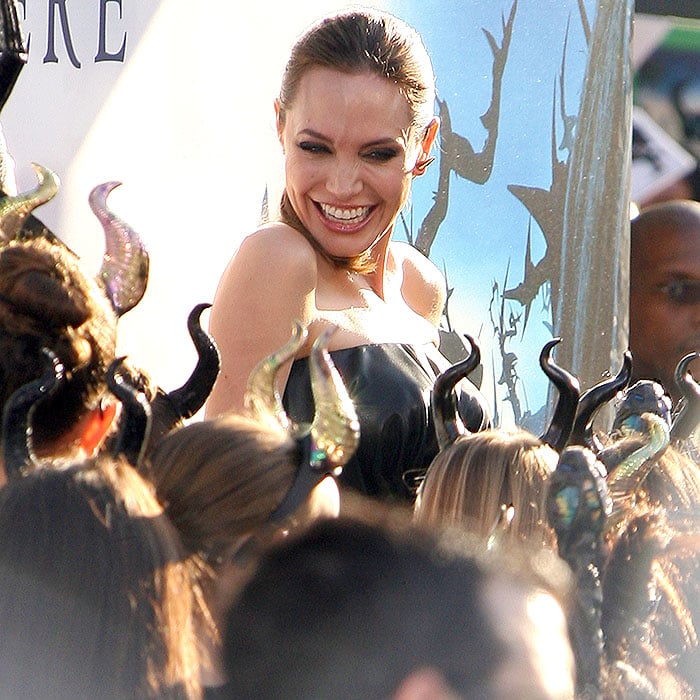 Angelina Jolie surrounded by little girls sporting Maleficent headbands at the Maleficent world premiere
While Angie was bringing fashion drama to the premiere, Brad Pitt had his own drama to deal with. As the actor was walking the red carpet, a man suddenly jumped over the barriers and attempted to hit him in the face. Police and bodyguards were able to tackle and handcuff the man before he could do any damage.
The attacker has since been identified as Vitalii Sediuk, the so-called "red carpet prankster" who has a long history of pulling stunts on celebrities at publicity events, including, most recently, crawling under America Ferrera's dress at the 2014 Cannes Film Festival.
Police arresting and leading away Vitalii Sediuk, the man who jumped the barriers and tried to make contact with Brad Pitt's face as the actor walked down the red carpet
Apparently unfazed, Brad gave cameras the thumbs up sign after the assault and continued being the handsome half of Hollywood's golden couple. How's that for acting like a pro and an A-list celeb?
Brad Pitt signaling that he's okay and continuing waving to the crowd after the attempted assault
Elle Fanning provided the contrast to Angie's dark, dramatic look in a sweet off-shoulder Elie Saab gown covered in blue beads and flowers. Topping off her ensemble with a silver choker necklace, Elle was Disney's Princess Aurora personified.
Elle Fanning wears a silver choker necklace at the Maleficent world premiere
For this event, Angelina went back to Saint Laurent Mary Janes, which are the same shoes she wore to The Normal Heart premiere. Since this was the world premiere, we wish she had instead worn the custom Christian Louboutin "Maleficent" wedges the famed French shoe designer made just for her.
Will you be watching Maleficent? Reviews haven't been good so far, but after this high-style promo tour, we're dying to see Angelina Jolie as Maleficent.
Saint Laurent Janis Platform Mary Jane Pumps, $795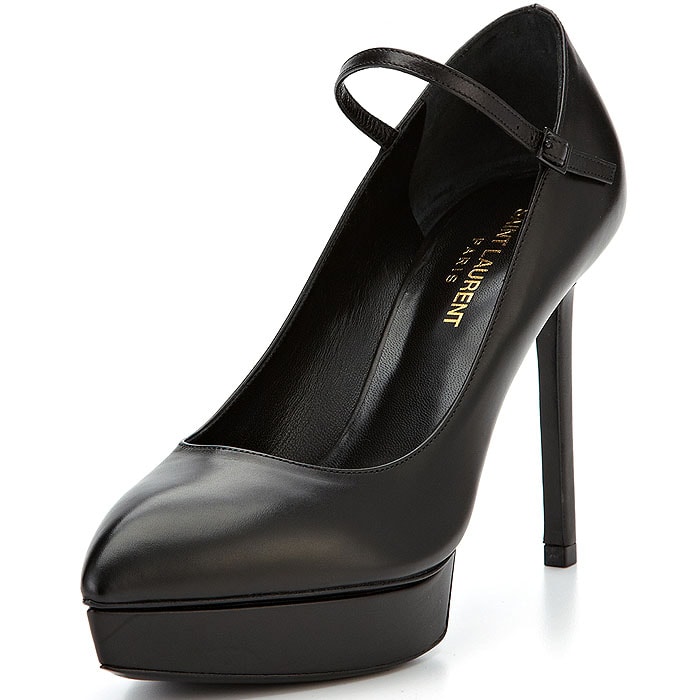 Let us know how you like Angelina's outfit by leaving a comment below!
Credit: Adriana M. Barraza / Brian To / Cousart / JFXimages / Apega / WENN