Angelina Jolie is really in her element in 'Maleficent', and it's showing in her style throughout the film's premieres. Angie's never been one for fashion experimentation, but check out her look at the 'Maleficent' photo call at the Corinthian Hotel in London the other day. She donned an Atelier Versace dress with a bird print reminiscent of the dark forest and in Christian Louboutin wedges with sculpted bloody spike heels. This look is a big change from Angie's usual classic style, and we're loving it!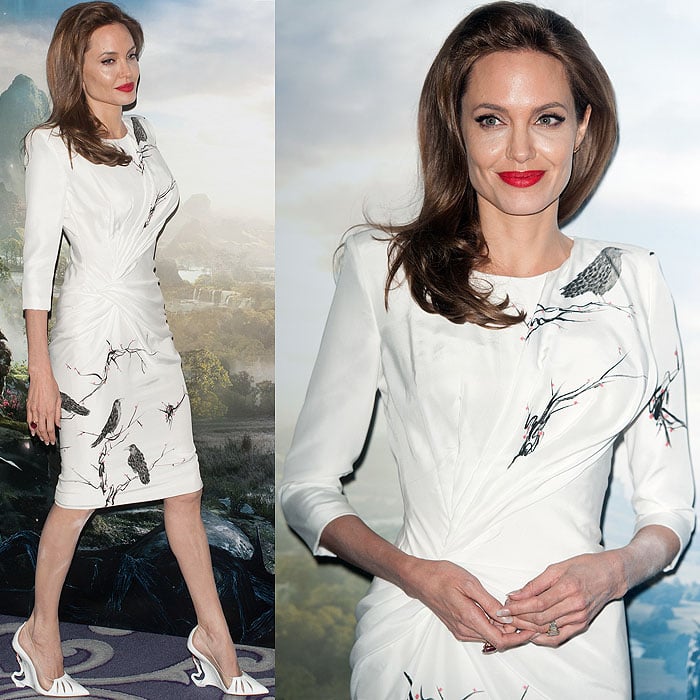 Angelina Jolie at the 'Maleficent' photo call at the Corinthian Hotel in London, England, on May 9, 2014
Angelina's Louboutin wedges are custom-made just for her and for the 'Maleficent' promotions. The blood drips on the spike heels that represent how Sleeping Beauty pricks her finger on a spinning wheel is a dark literal interpretation of the fairy tale, but Angie pulled the look off.
Angelina Jolie's custom Christian Louboutin sculpted 'Maleficent' wedges with bloody spike heels
Angie wore the black version of these wedges to the 'Maleficent' photo call in Paris. Those didn't have bloody heels, but it would've been great if they did because it would've been a cool gothic touch to Angie's all-black Ralph Lauren bustier and pants ensemble.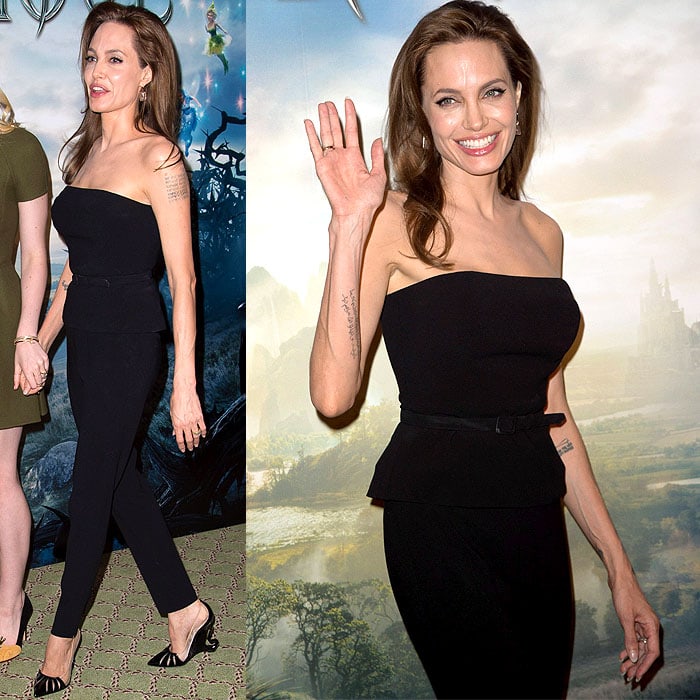 Angelina Jolie at the 'Maleficent' photo call at Hotel Bristol in Paris, France, on May 6, 2014
The black bloodless version of the Christian Louboutin sculpted wedges on Angelina Jolie
Angie's commitment to being Maleficent while promoting the movie is so absolute, even her red carpet looks are bewitching. We think she was still in character in this Gucci beaded gown she wore to a private reception for 'Maleficent' last Thursday. With deep draping and sinister-looking points at the ends of the sleeves, Angie was the Queen of All Evil at her most glam.
Angelina Jolie at a private 'Maleficent' reception for the Great Ormond Street Hospital held at Kensington Palace in London, England, on May 8, 2014
Angie matched her light-catching dress with crystal-encrusted Christian Louboutin "Fifi" pumps that sparkled through her gown's sheer hem.
Christian Louboutin strass "Fifi" pumps on Angelina Jolie
And as the princess to the witch, Elle Fanning also played her part as Sleeping Beauty on the red carpet. Elle was enchanting in a Georges Hobeika couture strapless gown with a youthful pocketed design. Flowers in her hair and long, flowing ribbons down her back completely swept us away into the film's fairy tale fantasy.
Elle Fanning at a private 'Maleficent' reception for the Great Ormond Street Hospital held at Kensington Palace in London, England, on May 8, 2014
Credit: Daniel Deme/VILLARD/SIPA/Joe/Lexi Jones/WENN