Just weeks after announcing that she had preventive double mastectomy, Angelina Jolie made her second public appearance at the premiere of 'World War Z' in Paris, France, along with her partner, Brad Pitt. The two were dressed in classic black, but it was Angie who really stood out in her three-piece pantsuit from Saint Laurent and Vermeil jewellery. The outfit was simple and perhaps even androgynous, but it was also very sleek and elegant.
We seriously could not find any fault in the way Angelina looked because she was drop-dead stunning!
Angelina Jolie, posing with Brad Pitt, at the premiere of 'World War Z'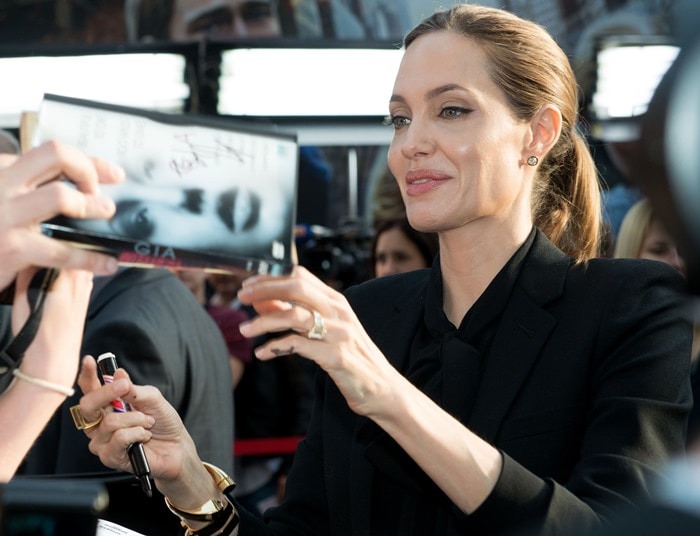 Angelina Jolie signing autographs as she arrives for the premiere of 'World War Z' at UGC Cinema in Paris on June 3, 2013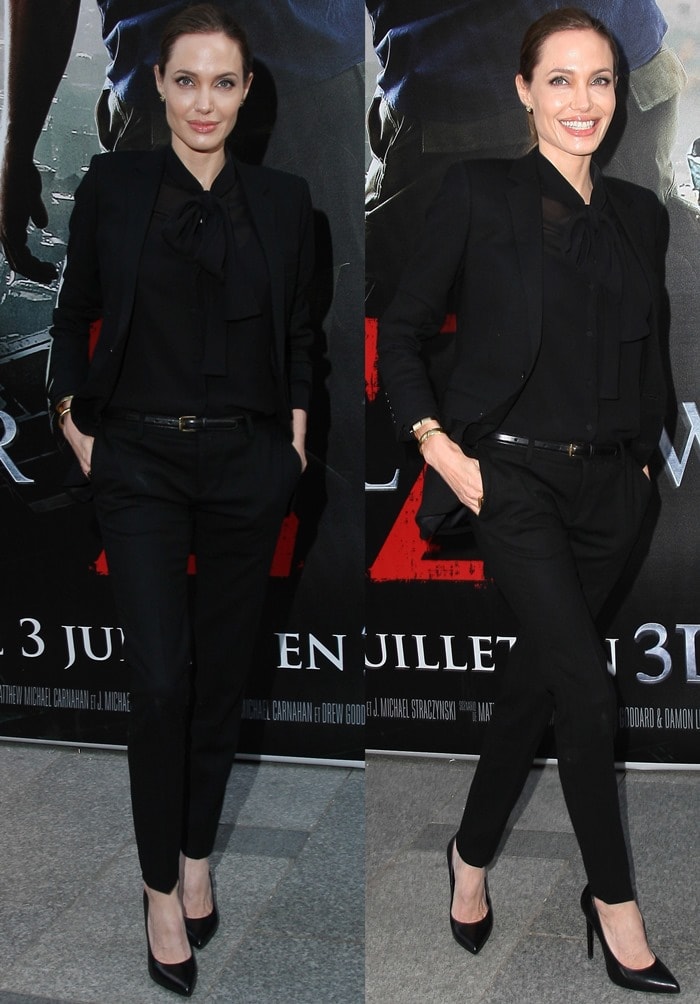 Angelina Jolie stood out in her three-piece pantsuit
As you can see, Angelina punctuated her all-black outfit with an equally classic pair of heels — pointy pumps that were deeply understated and colorless. Do you like the mix she put together?
Boring or not, we love it!
All the pieces in the ensemble are actually from Saint Laurent. Her shoes are called "Paris," and you can find them at Saks Fifth Avenue for a pricey $625. They come in several colors, too — from black and nude to blue and bright pink.
The Saint Laurent 'Paris' pumps feature a very basic silhouette — pointy, slim, and low at the front with covered heels that are 4.25 inches high. True, they're nothing to be excited about, but the steep stilettos make them a truly sexy pair to wear. We honestly can't say they're comfortable either, but if you're used to sky-high heels, walking in Paris pumps will most likely be easy-peasy.
Saint Laurent "Paris" Pumps in Black, $625 at Saks Fifth Avenue
Saint Laurent "Paris" Pumps in Nude Patent, $625 at Saks Fifth Avenue
Saint Laurent "Paris" Pumps in Blue, $625 at Saks Fifth Avenue
Saint Laurent "Paris" Pumps in Pink, $625 at Saks Fifth Avenue
Credit: WENN