After hitting the red carpet for the UK premiere of 'One Day' the night before, Anne Hathaway was spotted making a low-key exit from her London hotel the next morning.
Anne kept things sweet and simple in a black and blue Christopher Kane sweater and cool black cargo pants with ribbed ankle cuffs. But just when you thought she'd had turned down the glamour with this outfit, she surprises us with these not-so-low-key studded loafers on her feet: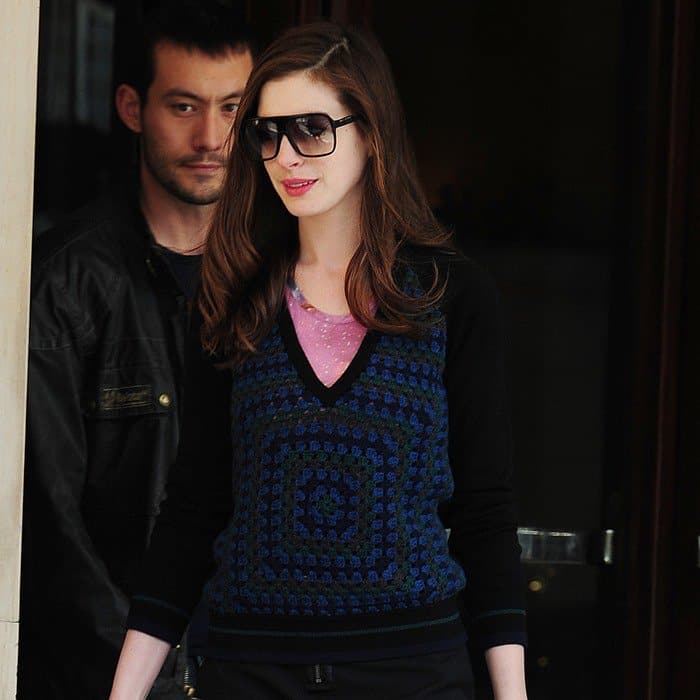 Anne Hathaway leaves the Berkeley Hotel in London, England on August 24, 2011
You know what that flash of red on the bottom soles mean — Anne Hathaway's shoes are unmistakably by Christian Louboutin.
A quick search on Christian Louboutin studded loafers brought up these 'Rollerball' loafers:
Christian Louboutin 'Rollerball' studded loafers, $995.00
These androgynous loafers got the whole fashion world caught on its spikes as soon as they were released as part of Louboutin's Fall/Winter 2009 collection.
You can see some minor differences between the shoe's product shot and the close-up of Anne Hathaway's own shoes. For one, the spikes on Anne's shoes seem flat compared to the pointy ones on the Rollerballs. Another difference is the studs on Anne's shoes are more densely placed while the studs on the Rollerballs are more evenly spaced.
Anne Hathaway might have a new upgraded version of the Rollerballs or she might have a custom made pair because you know, she is Anne Hathaway.
We can't be all Anne Hathaway with custom made Louboutins but we can have the look of those spiked studded loafers if we want to!
Credit: WENN