Anne Hathaway, an indisputable fashion icon over the last decade, consistently graces us with her unparalleled style, effortlessly blending modernity with timeless elegance. Her knack for revitalizing classic looks brings a breath of fresh air to the world of fashion.
Hathaway's Khaite Dress Epitomizes Autumnal Elegance
On Wednesday's special screening of her upcoming psychological thriller, Eileen, the 41-year-old American actress captured everyone's attention with her sartorial choices.
Anne Hathaway exuding timeless elegance in a brown turtleneck dress from Khaite at the special screening of Eileen held at The Whitby in New York City on November 16, 2023 (Credit: Dave Allocca / Starpix / Startraksphoto)
Embracing the autumnal spirit, Hathaway donned a sleeveless brown turtleneck dress from Khaite for the exclusive occasion hosted at The Whitby Hotel in New York City.
With its figure-hugging silhouette, the Interstellar star's Khaite dress accentuated her incredible physique, while a stylish bottom fringe gracefully cascaded to the floor, unveiling her toned legs.
Hathaway effortlessly layered with a black oversized power blazer adorned with leather accents to combat the brisk New York weather. Later, she gracefully removed the coat, unveiling the complete elegance of her outfit.
Anne Hathaway wearing an oversized black blazer over her brown Khaite dress (Credit: Dave Allocca / Starpix / Startraksphoto)
The Devil Wears Prada actress' ensemble was perfected with shimmering gold accessories, including dainty hoop earrings, bangles, and matching rings. The finishing touch came in elegant black pointed-toe pumps, seamlessly complementing her chic outfit.
Hairstylist Orlando Pita crafted Hathaway's chocolate tresses into a sophisticated side part, with loose waves framing her radiant face.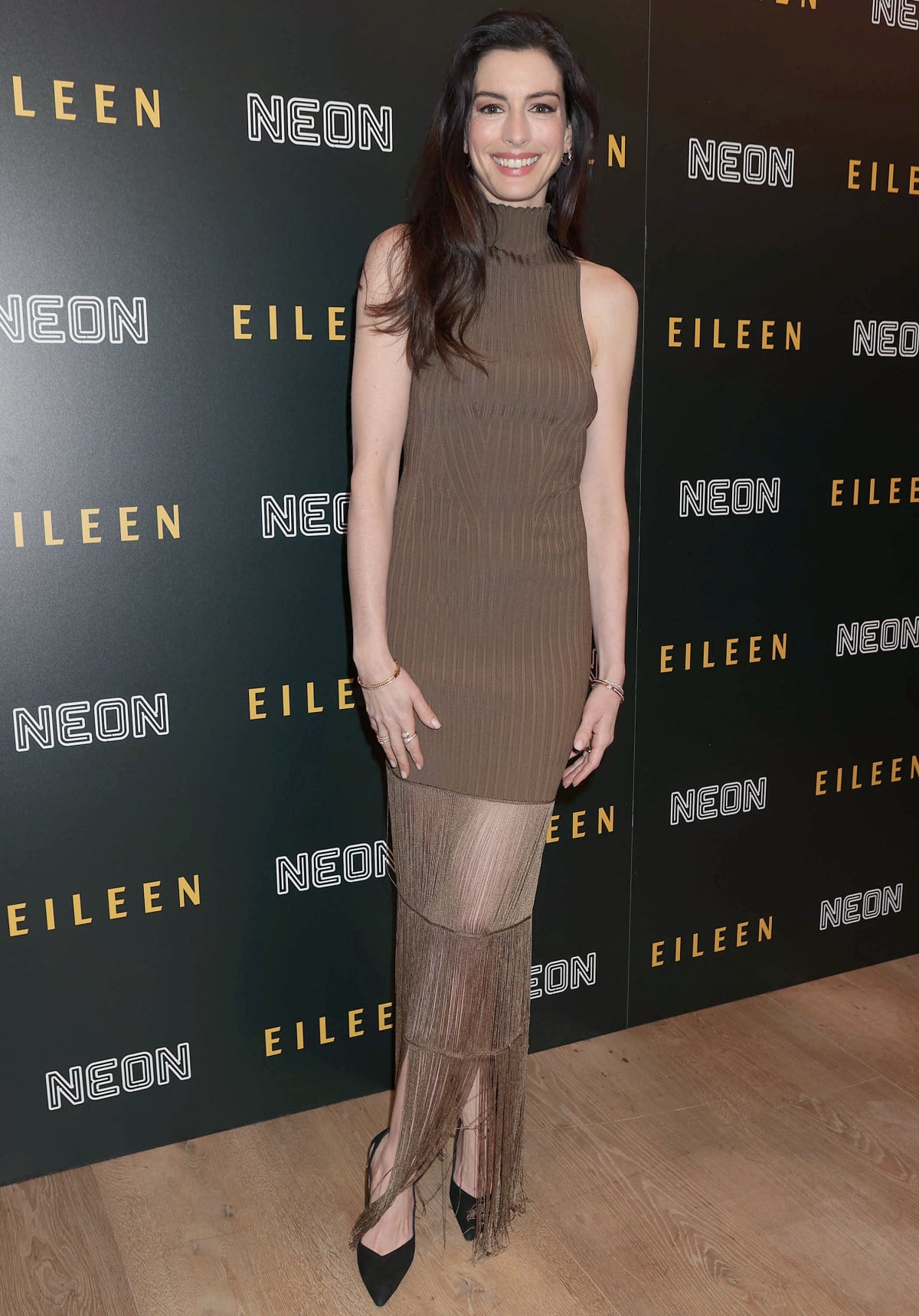 Anne Hathaway styled her look with black pointed-toe pumps, side-parted chocolate tresses, a rosy blush, a bronze smokey eye, and a glossy lip (Credit: Dave Allocca / Starpix / Startraksphoto)
The makeup palette featured a rosy blush, a bronze smokey eye, thick black eyeliner, and glossy lips, enhancing her natural beauty.
Thomasin McKenzie's Cream Pantsuit Exudes Effortless Style
Anne Hathaway's event attendance was graced by her co-star, Thomasin McKenzie, who effortlessly sported a cream pantsuit with a tasteful shirtless twist.
Anne Hathaway stands taller at 5 feet 7 inches (170.2 cm), compared to Thomasin McKenzie's height of 5 feet 5 inches (165.1 cm).
Anne Hathaway, standing at 5 feet 7 inches, posed alongside her co-star Thomasin McKenzie, who is 5 feet 5 inches tall and looked elegant in a cream pantsuit (Credit: Dave Allocca / Starpix / Startraksphoto)
Completing her ensemble with finesse, the 23-year-old New Zealand actress adorned herself with a silver necklace and paired the look with sleek black boots.
Her dark tresses were elegantly pulled back into a chic updo, adding a touch of sophistication to her overall appearance.
Engaging in the event's social milieu, the duo mingled with the suave 44-year-old director, William Oldroyd, who exuded style in a casual all-black ensemble.
Anne Hathaway and Thomasin McKenzie with director William Oldroyd at the New York special screening of Eileen (Credit: Dave Allocca / Starpix / Startraksphoto)
Delving into the Dark World of Eileen: A Psychological Thriller
Eileen unfolds against the backdrop of a harsh 1964 Massachusetts winter. Thomasin McKenzie portrays young secretary Eileen, navigating the emotionally haunted confines of her father's home and the prison where she works, surrounded by colleagues who have ostracized her.
The story takes a turn when Eileen, enchanted by the glamorous new counselor, Rebecca St. John (played by Anne Hathaway), finds herself entangled in a twisted friendship. Dark secrets unravel, propelling Eileen onto a sinister path.
Anne Hathaway as Rebecca St. John and Thomasin McKenzie as Eileen Dunlop in the 2023 American psychological thriller film Eileen (Credit: Neon / Focus Features / Universal Pictures)
The highly-anticipated film features Shea Whigham, Marin Ireland, Siobhan Fallon Hogan, and Owen Teague, directed by William Oldroyd.
Based on Ottessa Moshfegh's 2015 novel of the same name, the screenplay was co-written by the American author and her husband, Luke Goebel.
Eileen debuted at the Sundance Film Festival in January, garnering critical acclaim. Its wide release in the United States is eagerly awaited and is scheduled to commence on December 1.