While Rihanna was given the night's highest honor, Taylor Swift won the most awards, and Miley Cyrus, well, showed up, it is Ariana Grande who everyone is excitedly talking about after the 2013 American Music Awards.
You wouldn't expect it if all you had to go by are pictures of Ariana Grande on the red carpet.
Her poses are typical — rehearsed and somewhat boring — and her Dolce & Gabbana gown, although red, strapless, and sequined, was lost in the sea of glittery, sparkly, and shiny dresses worn by other much bigger stars.
Ariana Grande at the 2013 American Music Awards held at Nokia Theatre L.A. Live in Los Angeles on November 24, 2013
That first impression immediately changed when Ariana took the center stage.
As soon as she sang the first notes of her song "Tattooed Heart," the nervous-looking girl from the red carpet arrivals suddenly transformed into a big-voiced diva in a statement-making dress right before our very eyes.
Watch Ariana bring the house down and the audience to their feet with her voice in the video below. If you close your eyes, we swear, you can hear Mariah Carey singing.
Ariana also won the award for Favorite New Artist that night. She's definitely one to watch!
We might be late to the Ariana Grande party, but we've always been on board her fashion sense. We know the 5'4″ star has a thing for height-enhancing platform pumps.
The AMAs last night was no different as she went for the black satin version of these nearly 6-inch-high Sergio Rossi "Cachet" pumps that you can buy at Farfetch: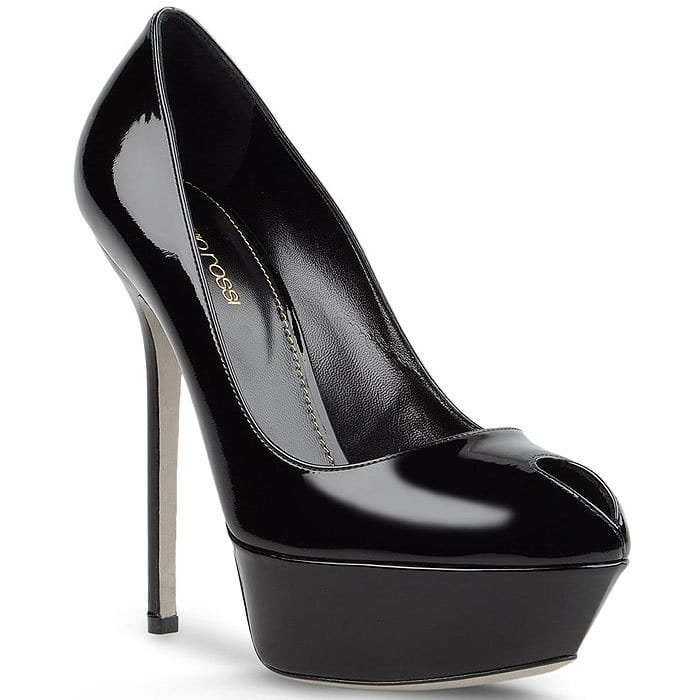 Sergio Rossi "Cachet" Platform Pumps in Black Patent, $730
You can see the Sergio Rossi pumps better in the following backstage interview with Bonnie McKee, from which we have taken some video stills so that you can check out Ariana's shoes: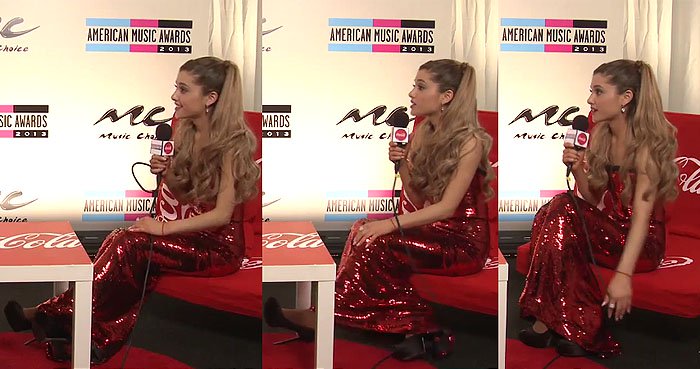 Ariana Grande wearing 6-inch-high Sergio Rossi "Cachet" pumps
We'll definitely be keeping a closer eye on Ariana Grande from now on.
Credit: Adriana M. Barraza / Apega / WENN