A bunting-style geometric print, metallic-green heel counters, tiered fringes: these are some of the details featured in Sergio Rossi "Tawaraya" sandals that you can buy at Farfetch and Shopbop. Even we think they have too much going on, and we've seen plenty of crazy shoes.
So, we weren't so taken aback when we spotted Ashanti totally clashing the Sergio Rossi sandals with chunky gold jewelry, bubblegum-pink lips, and a pink-and-black strapless dress.
Ashanti celebrating the release of her upcoming album, Braveheart, with a performance at Moon Nightclub inside Palms Casino Resort in Las Vegas on August 30, 2013
In fact, clashing might be the only way to wear these sandals. You don't really have many wardrobe choices left when your shoes are fringed, candy-striped, and shiny green all at the same time.
Scroll down, and check out Ashanti in her purposefully clashing (or so we think) outfit at her album release party.
Ashanti's feet in Sergio Rossi Tawaraya sandals
Is Ashanti rocking the clashing style, or is it, as Tim Gunn would say, "a whole lot of look?"
Here's a slightly less busy version of the Sergio Rossi sandals, in which some of the stripes have been replaced with an embossed reptile print.
Sergio Rossi 'Tawaraya' Double Tiered Sandals, $1,295 at Farfetch and Shopbop
Since this is the first time we're featuring Ashanti, have a look at these offensive Massimo Dogana heels that she wore during New York Fashion Week in 2011.
As you can see, they feature a hand sticking up its middle finger. Do you think the heels are playful or simply inappropriate?
Ashanti at Mercedes-Benz IMG New York Fashion Week, Fall 2011, in New York City on February 10, 2011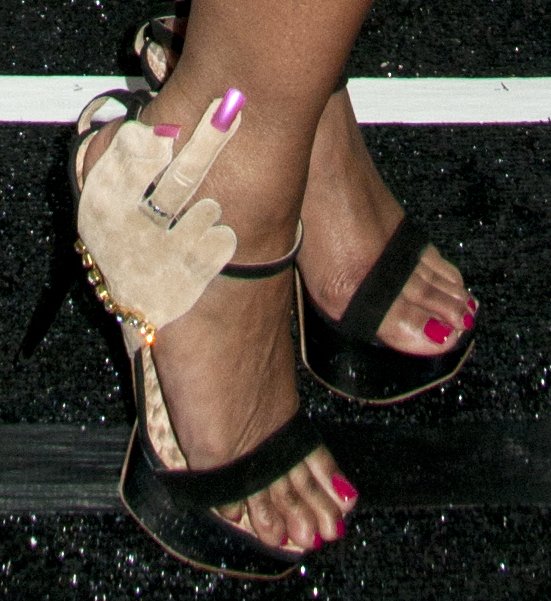 Ashanti shows off her feet in offensive Massimo Dogana shoes
Credit: DJDM / L.Gallo / Judy Eddy / WENN