Ashley Graham is well known for her looks and the never-ending message about body positivity. So, we're not surprised to find that Ashley had recently penned a book about the message of self-love.
Ashley was spotted outside ABC Studios for "The View" as she promoted her book, "A New Model: What Confidence, Beauty and Power Really Look Like," which you can buy on Amazon.
Ashley Graham visits "The View" to promote "A New Model: What Confidence, Beauty and Power Really Look Like" at the ABC studios in Manhattan on May 9, 2017 (Credit: TNYF / WENN)
In the book, Graham shares her story of growing up feeling insecure about her body and how she came to embrace her curves.
She also talks about her experiences in the fashion industry and how she has helped to change how women are represented.
The book is divided into three parts. The first part, "The Journey," tells Graham's story from her childhood to her rise to fame. The second part, "The Movement," discusses the body positivity movement and Graham's role in it. The third part, "The Power," is about how Graham has used her platform to empower other women.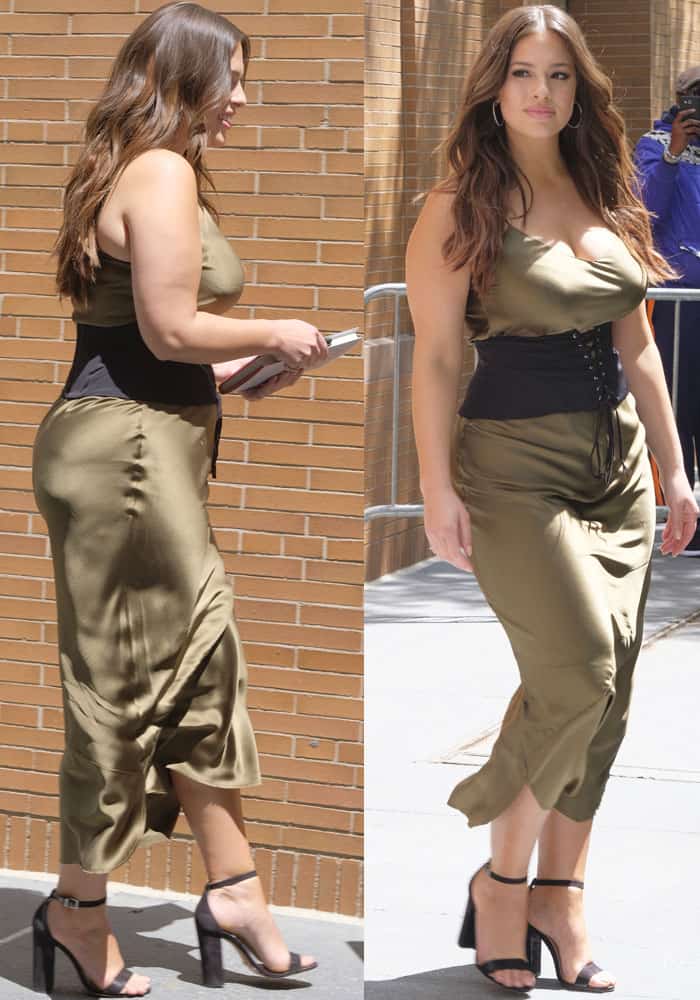 Ashley Graham exuded an alluring '90s vibe by donning Nili Lotan's captivating olive classic slip dress styled with a black Fleur du Mal lace-up corset belt (Credit: TNYF / WENN)
"As hard as it is, owning who you are and knowing what you want is the only sure path to affirmation…I want women to know they can get out of any situation if they return to their core source of strength: themselves," she writes in the book.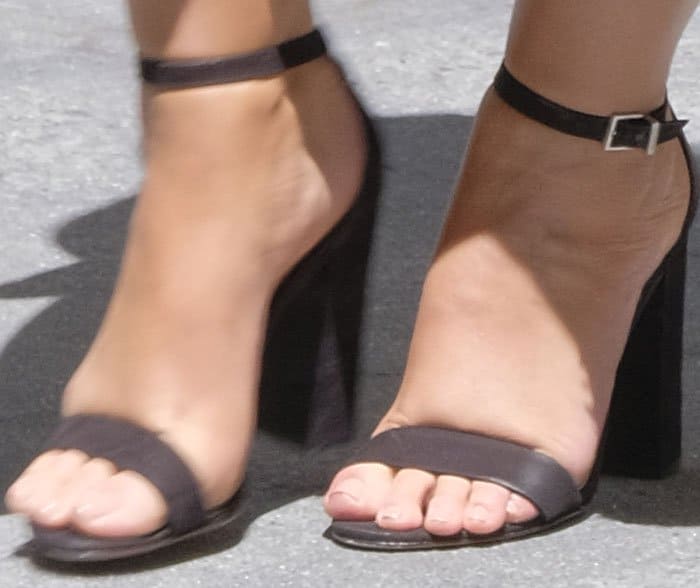 Ashley Graham showcases her feet in Schutz "Enida" sandals (Credit: TNYF / WENN)
"You can't change your body for a moment or an event, like getting married. I'm all for making lifestyle changes based on long-term goals or health decisions. But if you diet or exercise just for a date or high school reunion, you will never be happy with the results," she writes about the real definition of "healthy."
"I'm simply not able to adhere to rules around deprivation when it comes to food. I'm going to want what I want. Just not as much of it. There are weeks when I'm really good about making the right choices. And trust me; there are weeks where I eat everything I want, in not such a good way. But I no longer carry such a heavy sense of guilt, because I feel I've found a good balance most of the time."
"The biggest misconception is that the purpose of going to the gym is to change your body. We should be working out to be healthy. The idea of physical transformation can be so defeating for some women, because it is subjective (not to mention that people are overly critical when they look in the mirror.) Even if your body doesn't change in the course of a year, it doesn't matter: your fitness level will."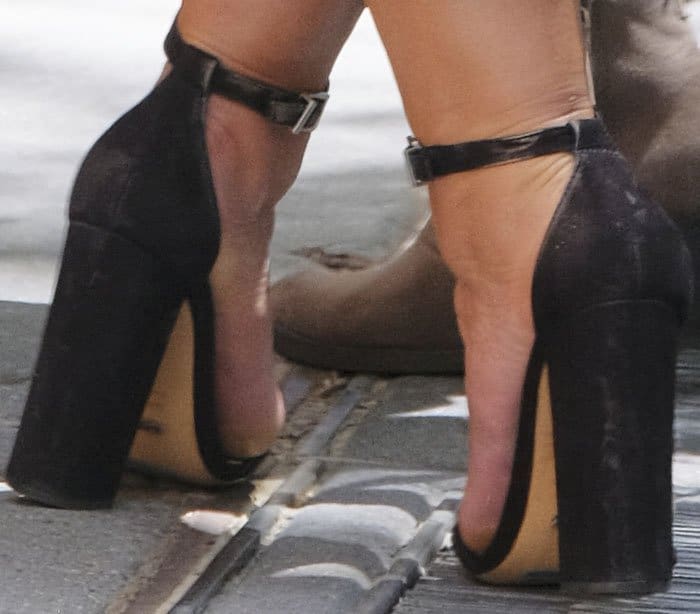 Ashley Graham plays it safe with a classic pair of Schutz "Enida" sandals (Credit: TNYF / WENN)
"Being 29 years old, I had already come to terms with some of the [darker] aspects of my life. Even so, writing this book was definitely like a therapy session," she told Cosmopolitan about her memoir.
"Another reason I shared those stories, one that it hurts to say, is that so many women have had [these sorts of things happen to them]. I didn't know what to do in that moment [in the laundry room]. Maybe if I had read a book about a girl who had been through something similar, I could have known to say, 'Stop that! It's not right!' or told my mom, and it would have been handled."
"My husband [Justin Ervin] is of a certain caliber. He's not going to let anybody make him feel less-than," Graham said about marrying a man of a different ethnicity.
"My grandmother was an ignorant white woman that had never been around black people. I think it is absolutely amazing that [when they met] he pushed his pride aside and said, 'You know what? This is my future wife, and this is her grandmother. I'm going to do what anyone — regardless of race, class, or gender — would do. I'm going to reach out and talk to her because I want a relationship with her.' Building a relationship with family is very important to him. We need more of those teachable moments, like the one my husband Justin gave my grandmother."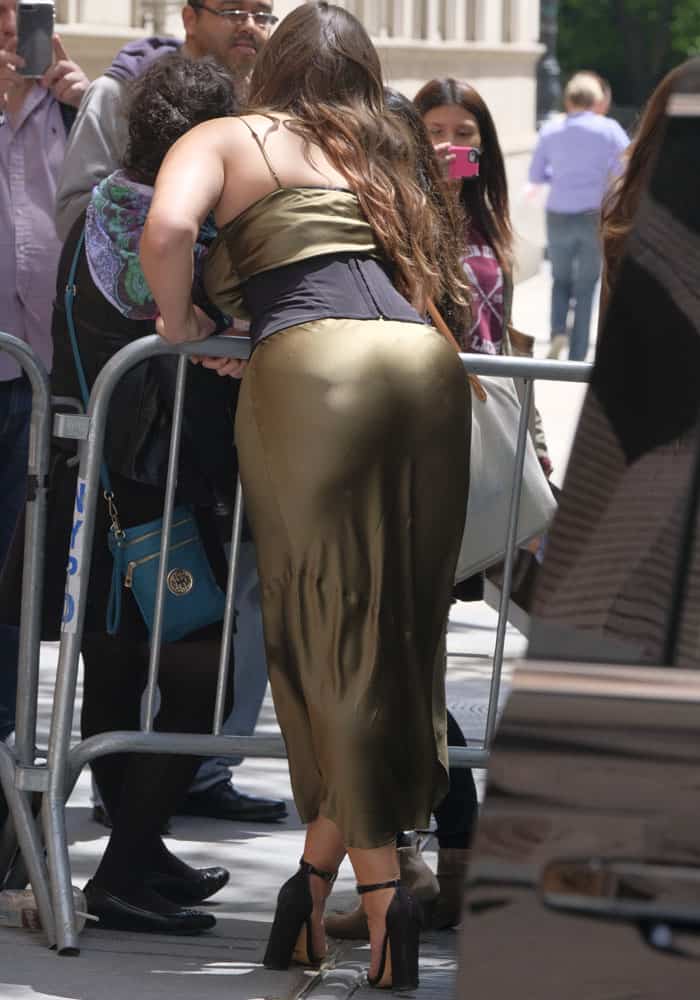 Ashley Graham puts her gorgeous curves on full display in a luxurious Nili Lotan olive silk cami V-neck spaghetti strap dress (Credit: TNYF / WENN)
The brunette beauty arrived on set in a gorgeous green slip dress by renowned fashion designer Nili Lotan, cinched at the waist with a corset belt by Fleur du Mal.
Ashley finished her toned-down look with Schutz "Enida" sandals.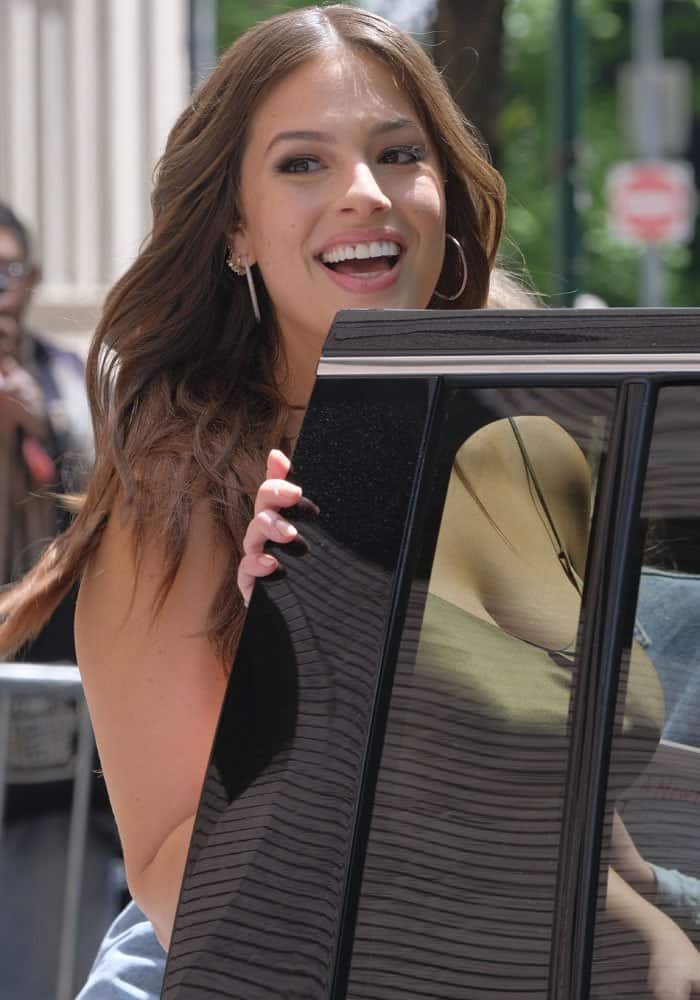 Brunette beauty Ashley Graham gives everyone a big smile before disappearing into her car (Credit: TNYF / WENN)
Ashley opened up about being raised as a confident woman, only to have her self-image destroyed by the modeling industry.
The 29-year-old also talked about her experience with bad relationships, including a guy who broke up because he feared she would get too fat.
Ashley also discussed the term "plus size" and why people should stop using it.
Ashley Graham poses with her new book A New Model: What Confidence, Beauty and Power Really Look Like (Credit: Ashley Graham's Instagram)
You can check out Ashley's Schutz "Enida" sandals in different colors on Amazon and Zappos.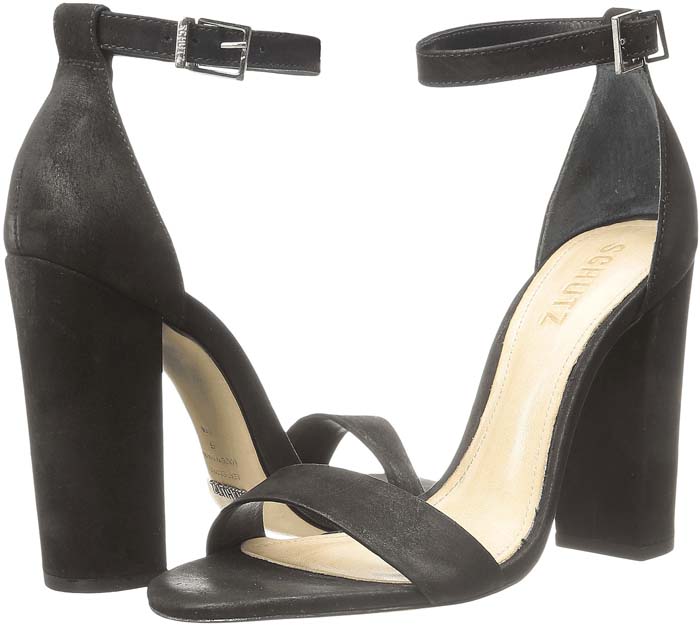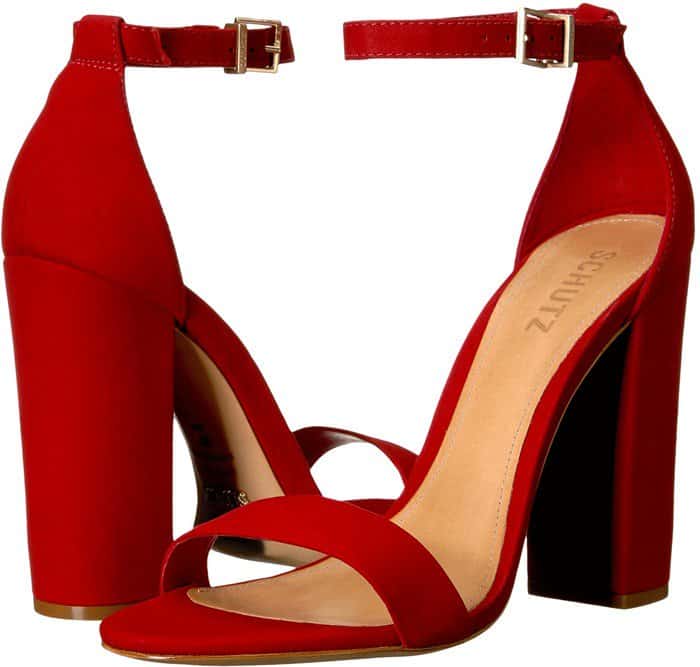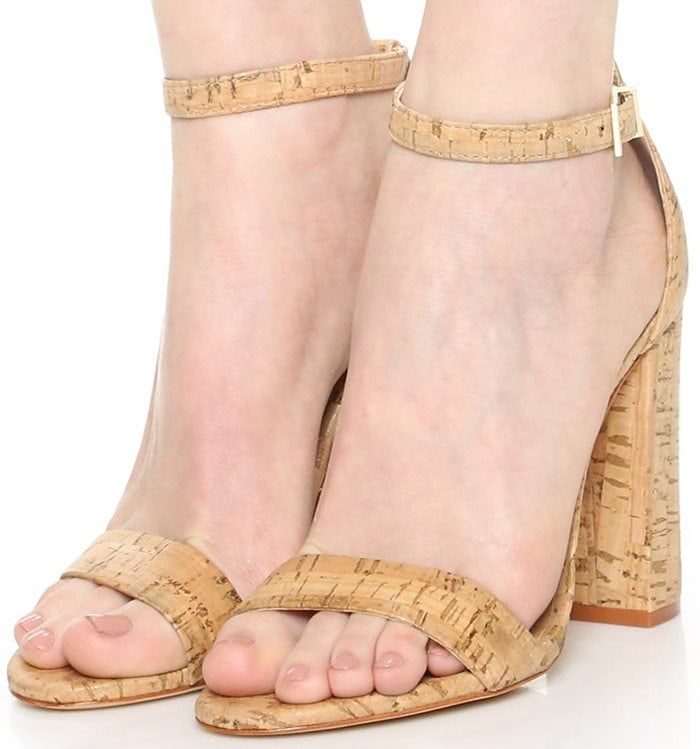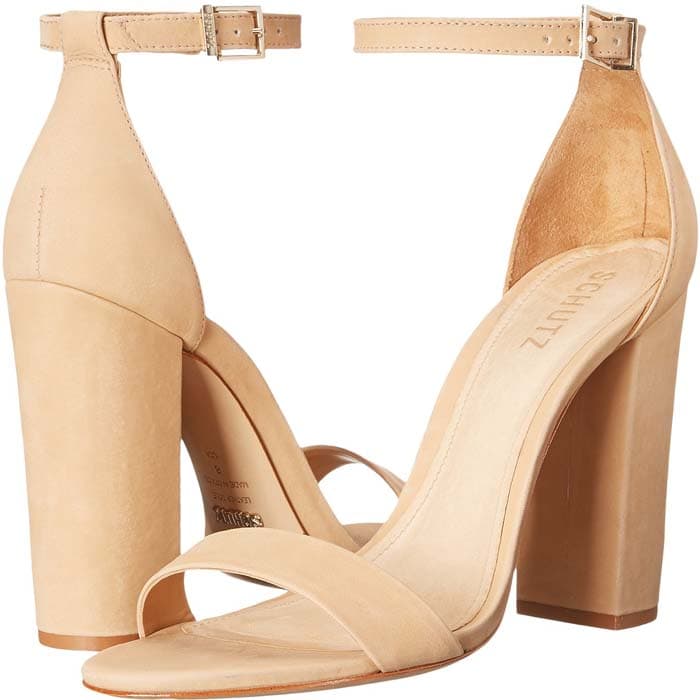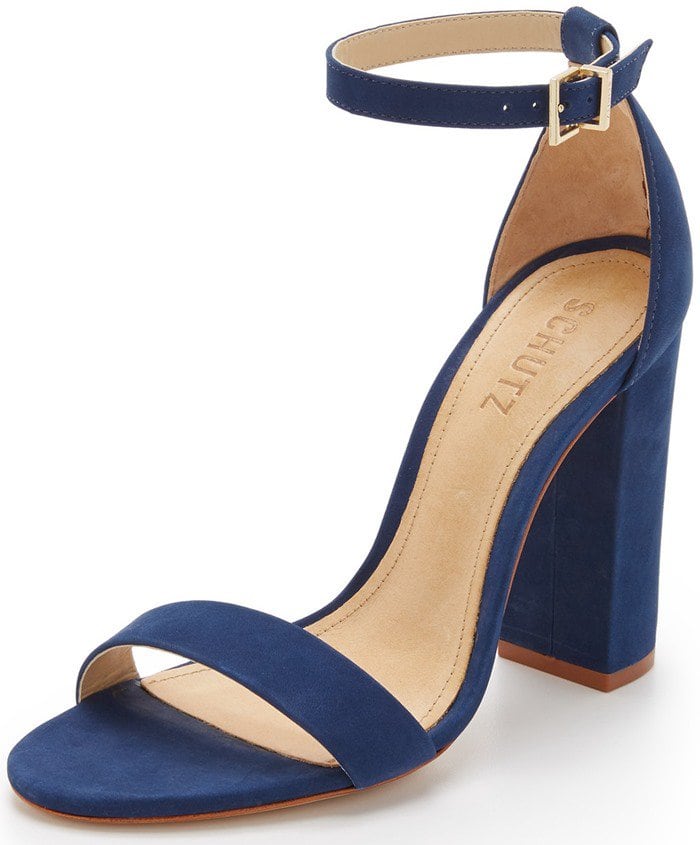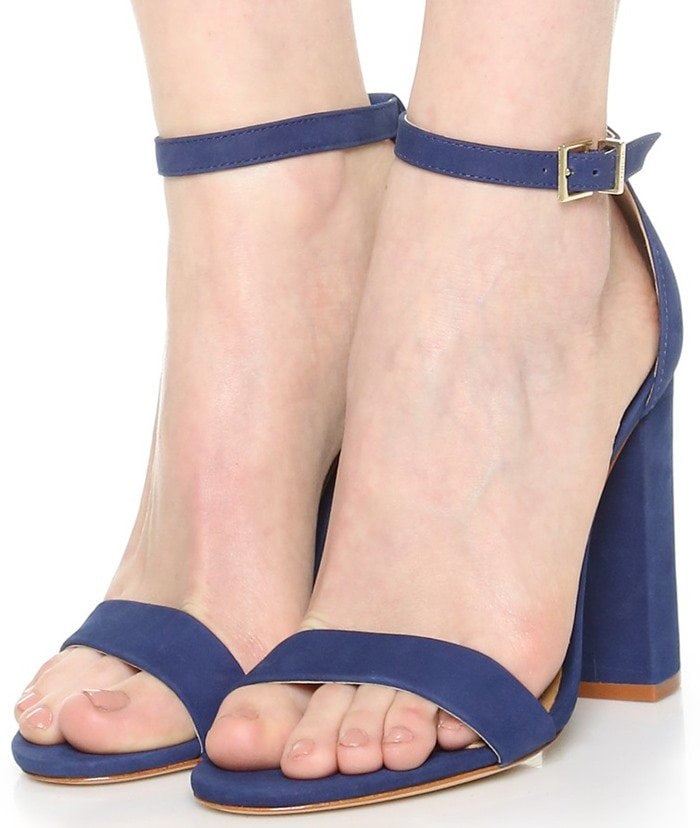 Schutz "Enida" sandals, $62.70 – $170.00