You may know 54-year-old actress Ashley Judd from one of her many iconic films, such as Double Jeopardy, Norma Jean & Marilyn, Kiss the Girls, Olympus Has Fallen, or Divergent. She also auditioned for Allie in The Notebook but didn't get the role.
If you're anything like us, you've probably been wondering, "Where the heck has Ashley Judd gone?"
Ashley Judd in a custom purple Badgley Mischka georgette strapless dress and Bulgari diamonds at the 90th Annual Academy Awards at Hollywood & Highland Center on March 4, 2018, in Hollywood, California (Credit: Lionel Hahn / Abaca USA / Instarimages)
The actress has not starred in a film since 2019, and her public appearances are scant as well.
Many fans have begun to suspect that Ashley Judd's disappearance from the public eye is due to an unfortunate bout of botched plastic surgery, but the truth may be even more surprising—and heartbreaking.
Why do people believe Ashley Judd had botched plastic surgery?
We hate to sound negative, but Ashley Judd does look very different in recent photos, only slightly resembling the actress fans became accustomed to in the 1990s.
In 2020, Ashley Judd showed up on Elizabeth Warren's Twitter page to promote the politician's campaign, offering a personal call to a few lucky people who donated to the campaign.
Ashley Judd was ridiculed for her puffy cheeks in an Elizabeth Warren campaign ad (Credit: Twitter)
Though this was a generous offer on Judd's behalf to support a politician she believed in, the comments were absolutely brutal. Though many Tweeters ridiculed the actress for her choice of political candidate, the majority of comments tore through Ashley Judd's appearance.
"OMG… @AshleyJudd's face looks like she used bee stings instead of botox and fillers," one comment reads. "Or like someone who's allergic to nuts and chocolate but still could not resist that Snickers bar."
"I don't know who that is, but it's not Ashley Judd… this is Ashley Judd," another wrote, sharing a photo of the actress from more than a decade ago.
Young Ashley Judd poses at the VH1 Divas Live concert on April 13, 1999, at the Beacon Theater in New York City (Credit: Startraksphoto)
There are hundreds of comments on the tweet, the majority attacking Judd for her appearance.
Not one to go down without a fight, Ashley Judd clapped back, releasing a statement explaining that she regularly underwent Botox treatments in order to combat "siege migraines." These painful migraines are often debilitating, but Botox is one of the few FDA-approved treatments for the condition.
Even more, Ashley Judd has remarked that she has been on high doses of prednisone, a powerful steroid used to treat a wide number of disorders. Like Botox, strong steroids have an unwelcome side effect of inducing swelling, causing the recipient's face to appear swollen and much larger than usual.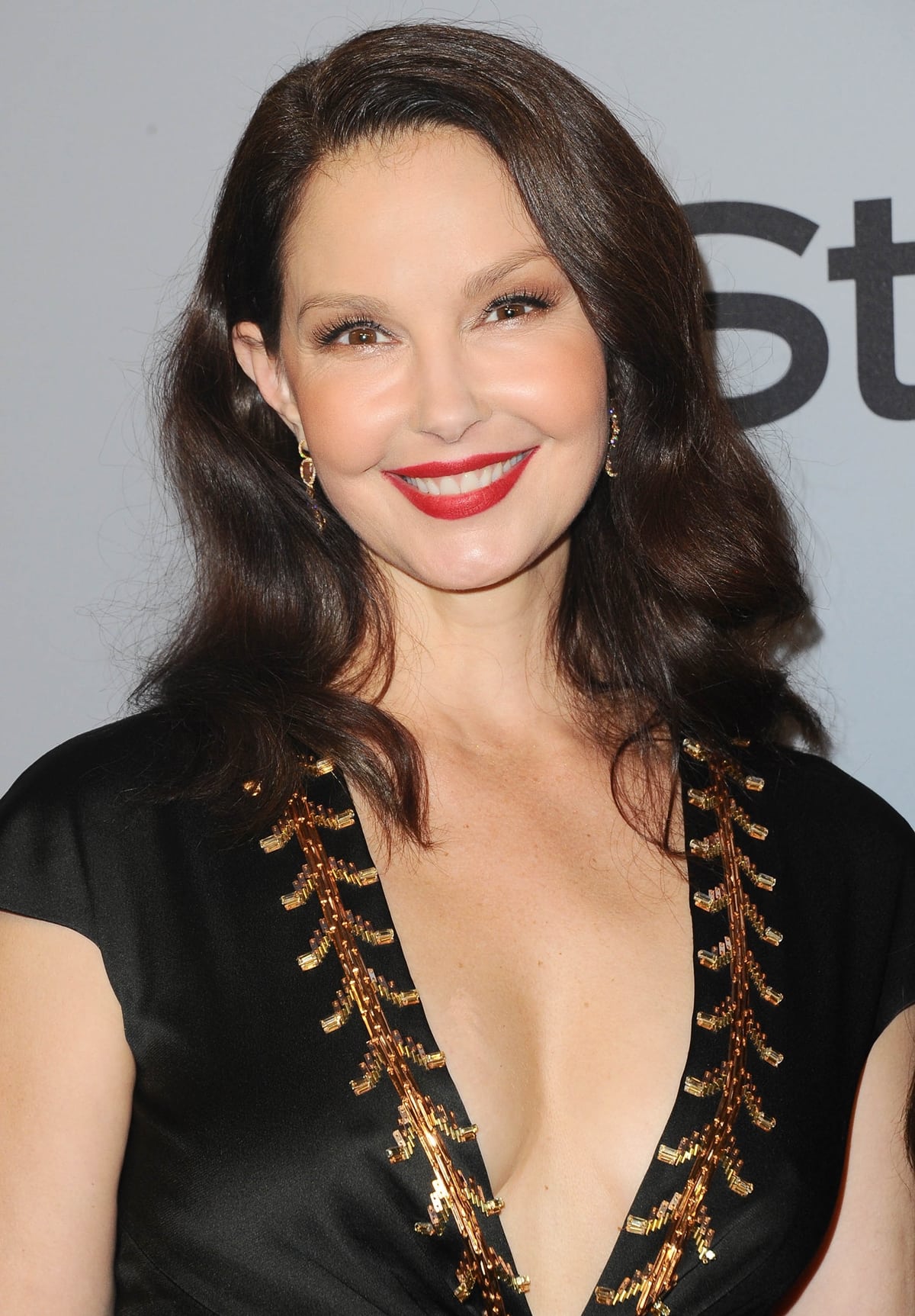 Ashley Judd claims she put on weight as she's unable to exercise and has spoken openly about getting Botox for her migraines (Credit: Sara De Boer / Startraksphoto)
In a statement on her Facebook page, Ashley Judd noted that the criticism she received would not have been so harsh if she were not a woman speaking out about her political beliefs.
"The misogynistic savages of both sexes have come out, as have plenty of folks who empathize and see it for what it is (woman bashing)," she wrote. "I find it a gendered way to distract from my political speech: the hate happened in response to a video in support of the Presidential candidate of my choice."
Former racing driver Dario Franchitti and actress Ashley Judd met in 1999 at a mutual friend's wedding reception and announced their separation in January 2013 after 11 years of marriage (Credit: Kyle Rover / Startraksphoto)
"What I know is that I have been sick with siege migraines for over a year," she continued. "Have I had botox? It is a standard treatment for the ailment that I experience. My union insurance pays for thirty-one injections every twelve weeks… Those of you who are talking about my female appearance, making assessments about my worth and desirability are basing your opinions on wholly gendered norms."
It's a shame Ashley Judd felt the need to come out and say these things—no one should be forced to disclose their private medical diagnoses—but we're glad that she is strong enough to stand up for herself.
Ashley Judd almost died in the jungle in 2021
Another reason for Ashley Judd's "disappearance" could be the fact that she suffered a life-threatening injury in 2021, which is certainly an understandable reason for the actress to step out of the limelight.
In February of 2021, Ashley Judd was in the Democratic Republic of Congo, where she has traveled multiple times on humanitarian missions with the Enough Project, meant to end genocide and other types of crimes against humanity.
Ashley Judd has slammed plastic surgery rumors: Her face in 2005 (L) and 2020 (Credit: Albert L. Ortega / Startraksphoto / Twitter)
While hiking in the Kokolopori area, Judd and a few others were searching for bonobos, a type of endangered ape. Unfortunately, Judd took a dangerous fall, breaking her leg.
In what she called a "grueling 55-hour odyssey," Ashley Judd had to be carried out of the rainforest in a sack by multiple men. These men saved the actress' life, as her leg was so shattered that she had to undergo multiple blood transfusions and surgeries, both in the Congo and when she arrived back in the United States.
It took more than six months of healing and intensive physical therapy for Ashley Judd to regain the ability to walk again, though she still struggles from time to time.
Ashley Judd lost her mother to suicide
If almost dying in the Democratic Republic of Congo wasn't enough to keep Ashley Judd out of the spotlight, losing her mother certainly is.
Her mother, country singer Naomi Judd, committed suicide on April 30, 2022, at 76 years old, after a long battle with depression.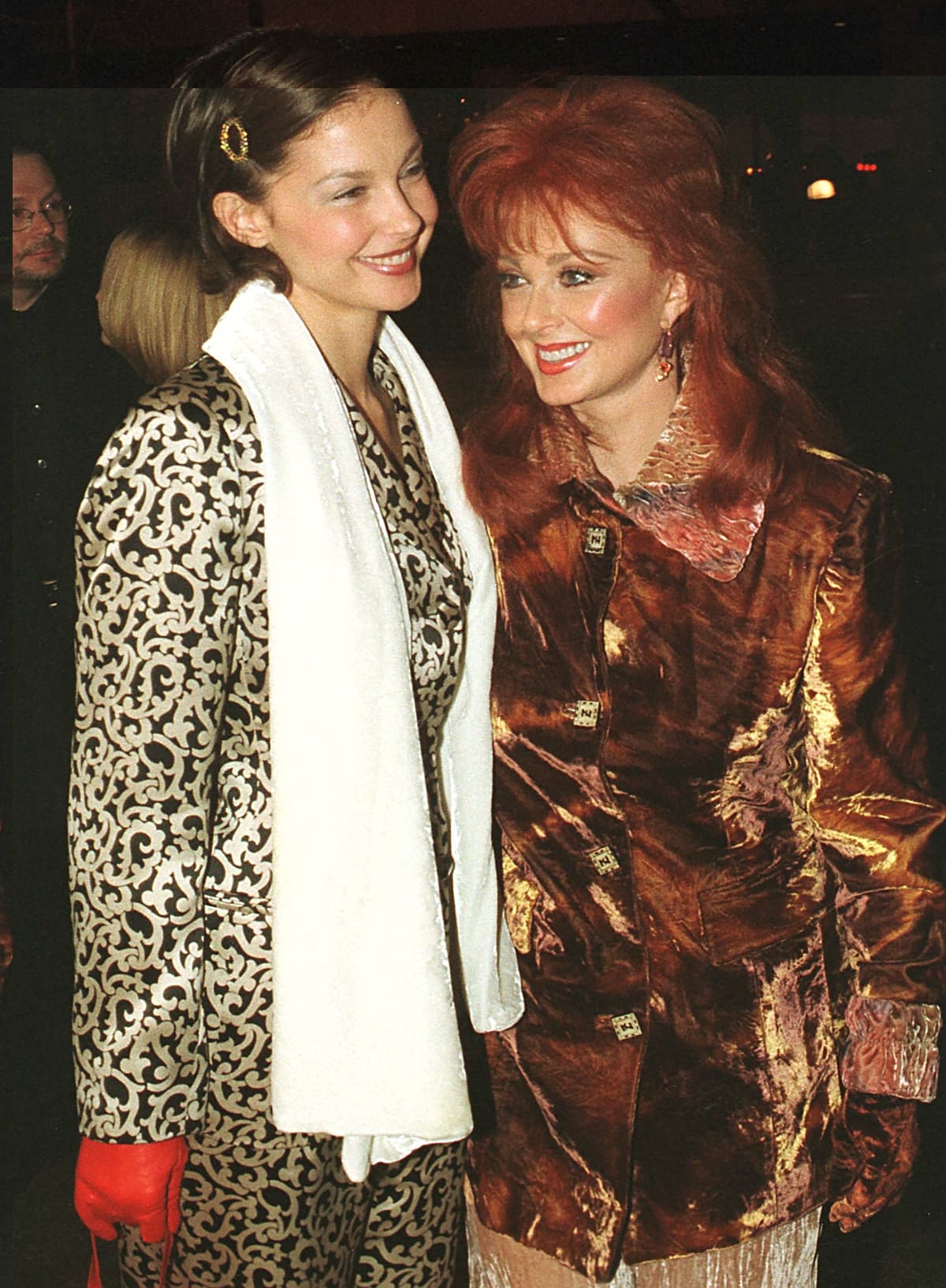 Ashley Judd and her mother, country musician Naomi Judd (1946 – 2022), as they attend a premiere of the film Amistad' at the Warner Theatre, Washington DC, December 4, 1997 (Credit: Ron Sachs / CNP / Startraksphoto)
"I look back on my childhood and realize I grew up with a mom who had an undiagnosed and untreated mental illness," Ashley Judd said, speaking out with grief therapist David Kessler on his podcast, Healing. "[I know] that she was in pain and can today understand that she was absolutely doing the best she could. If she could have done it differently, she would have."
"My most ardent wish for my mother is that when she transitioned, she was hopefully able to let go of any guilt or shame that she carried for any shortcomings she may have had in her parenting of my sister and me," Ashley Judd said tearfully. "Because certainly on my end, all was forgiven long ago, all was forgiven long ago."
Ashley Judd's only on-screen appearance since 2019 was during her mother's filmed memorial, Naomi Judd: A River of Time Celebration.
Though we may miss seeing Ashley Judd on the silver screen, it is understandable that she needs to grieve after the loss of her mother.