Ashley Madekwe is an English actress best remembered for her role as Ashley Davenport on the hit ABC TV series 'Revenge'. The stunning star has quickly become an icon for her effortless style and fashion sense. She has also taken the blogosphere by storm with her style blog, where she shares bits and pieces of her life and her closets.
We saw her last year at the Audi and Derek Lam 2012 Emmy Awards Party wearing Topshop stilettos and earlier this year at the 12th Annual InStyle Summer Soiree in her favorite Saint Laurent "Jane" ankle-strap sandals. From these appearances alone, we can tell that Ashley has a killer shoe collection that we are just dying to raid.
Ashley has had plenty of spectacular shoe moments, and we wanted to share some of our favorite shoe styles that deserve to be highlighted on Your Next Shoes. We couldn't find some of the shoes online, but please feel free to let us know through the comments section below if you have any information regarding the ones we have featured here.
1. Ashley Madekwe in Zimmerman "Carousel Cascade" Dress and Giuseppe Zanotti Ankle-Strap Stiletto Sandals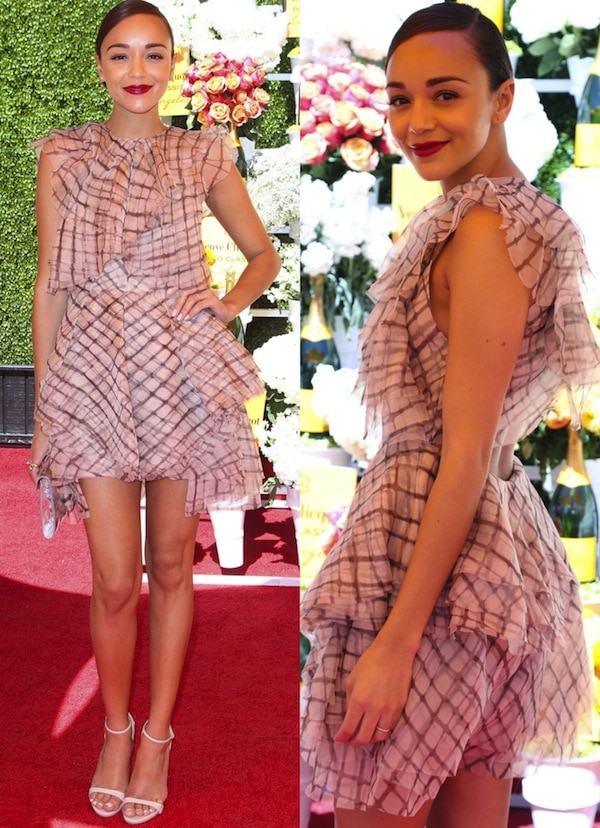 Ashley Madekwe at the Fourth Annual Veuve Clicquot Polo Classic held at Will Rogers State Historic Park in Pacific Palisades, California, on October 5, 2013
Ashley Madekwe's sexy feet in Giuseppe Zanotti ankle-strap stiletto sandals
Giuseppe Zanotti Ankle-Strap Stiletto Sandals in Nude, $695 at Farfetch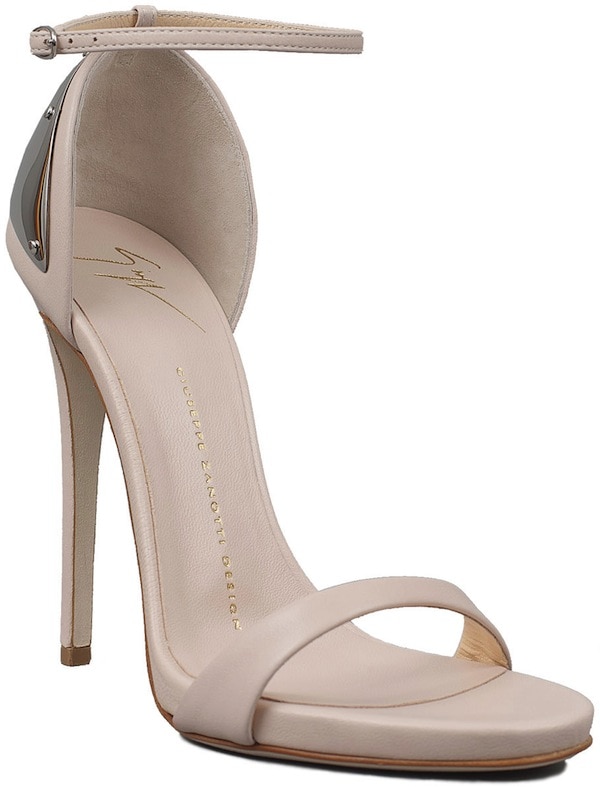 Giuseppe Zanotti Ankle-Strap Stiletto Sandals in Black, $695 at Farfetch
2. Ashley Madekwe in Monique Lhuillier Dress and Jimmy Choo "Greta" Sandals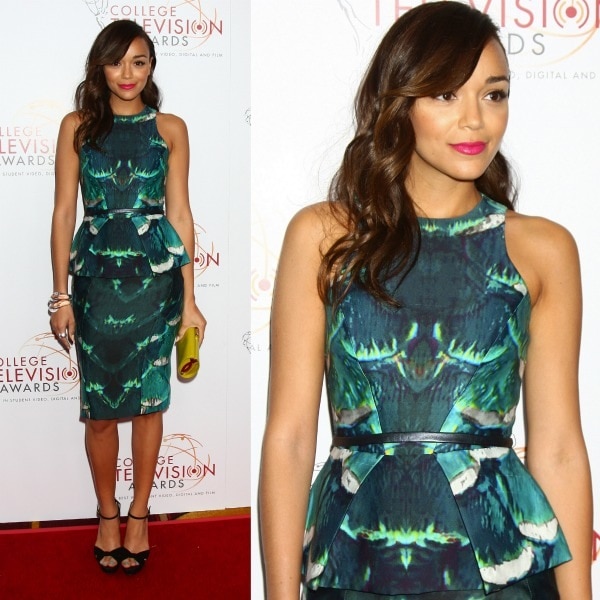 Ashley Madekwe at the 34th College Television Awards Gala held at the JW Marriott LA Live in Los Angeles, California, on April 25, 2013
Ashley Madekwe's hot feet in Jimmy Choo Greta sandals
Jimmy Choo "Greta" Suede Sandals in Black, $942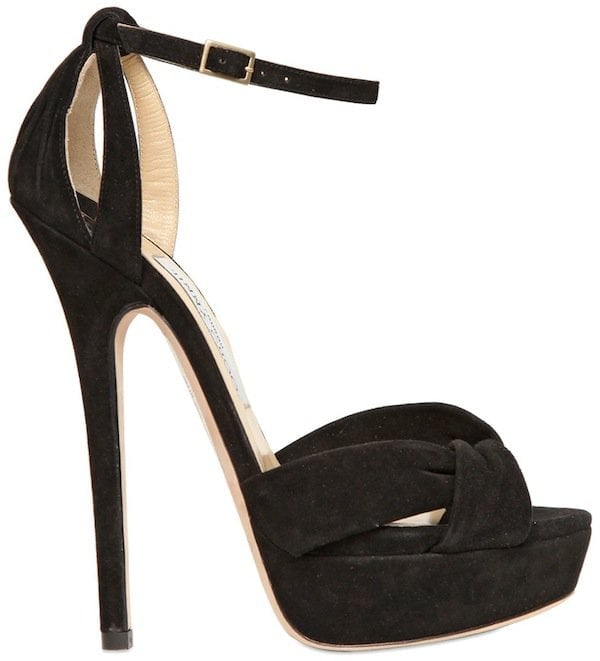 Jimmy Choo "Greta" Suede Sandals in Red, $942
Jimmy Choo "Greta" Snakeskin Platform Sandals, $1,250
3. Ashley Madekwe in J. Mendel Spring Floral Frock and Christian Louboutin "Neuron" Sandals

Ashley Madekwe at the 15th Annual Costume Designers Guild Awards held at the Beverly Hilton Hotel in Beverly Hills, California, on February 19, 2013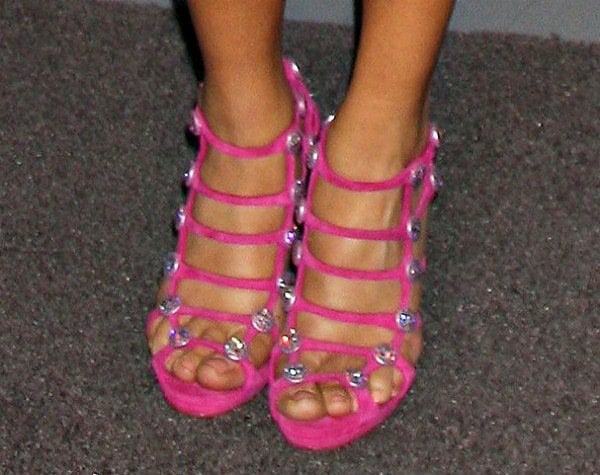 Ashley Madekwe wearing Christian Louboutin 'Neuron' Sandals
Christian Louboutin "Neuron" Sandals in Black Suede, $3,236 at Saks
4. Ashley Madekwe in Printed Etro Mini Dress and Christian Louboutin "Un Palace" Sandals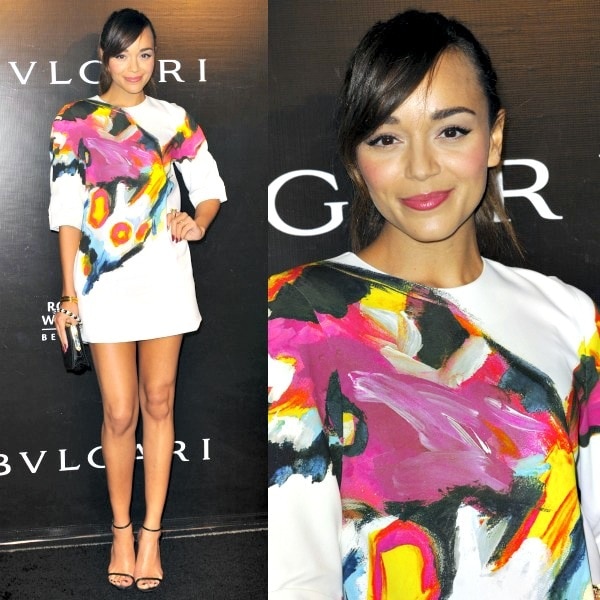 Ashley Madekwe at the Rodeo Drive Walk of Style honoring BVLGARI and Mr. Nicola Bulgari held at Bulgari in Los Angeles, California, on December 5, 2012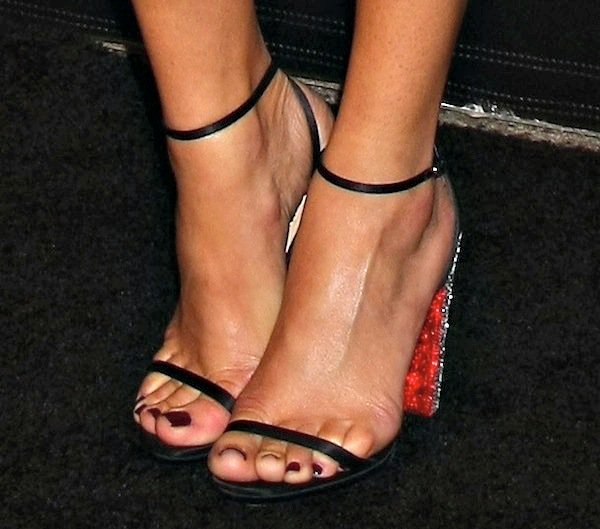 Ashley Madekwe rocking Christian Louboutin 'Un Palace' sandals
Christian Louboutin "Un Palace" Sandals at Saks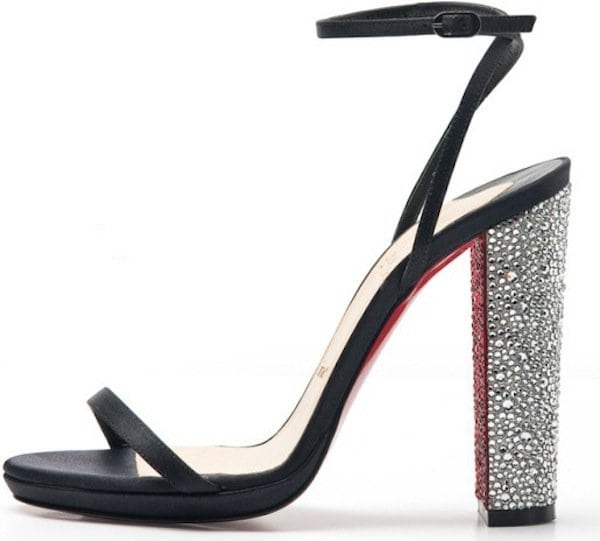 5. Ashley Madekwe in BCBGMAXAZRIA "Astra" Ruffle-Hem Dress and Herve Leger by Max Azria "Willow" Peep-Toe Booties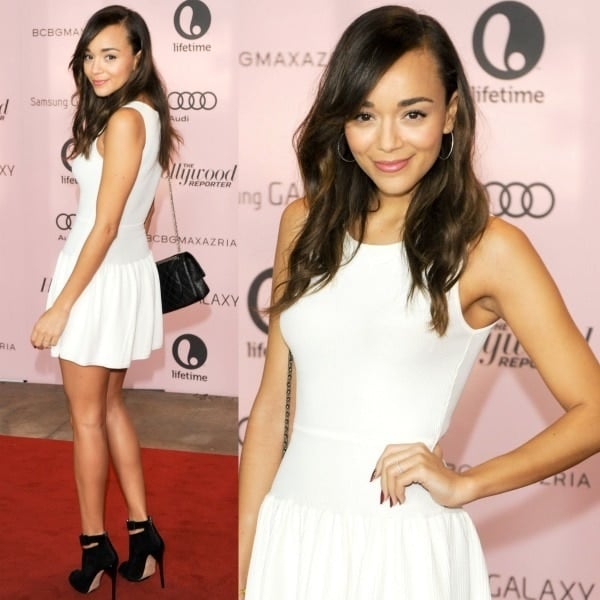 Ashley Madekwe at the Hollywood Reporter's Power 100: Women in Entertainment Breakfast held at The Beverly Hills Hotel in Los Angeles, California, on December 5, 2012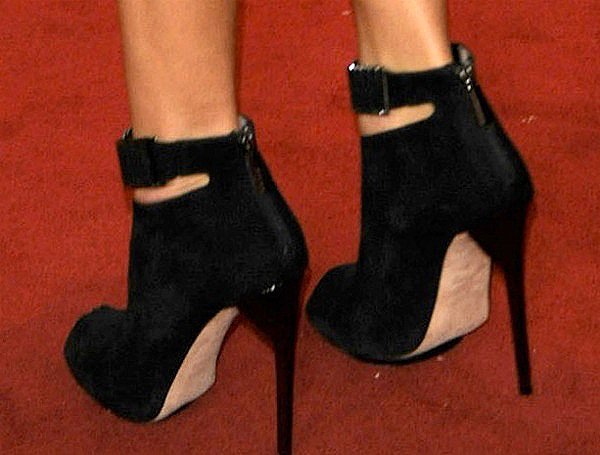 Ashley Madekwe wearing Herve Leger by Max Azria 'Willow' peep-toe booties
6. Ashley Madekwe in Sheer Zara Top, Printed Etro Skirt, and Hervé Léger "Abrielle" Sandals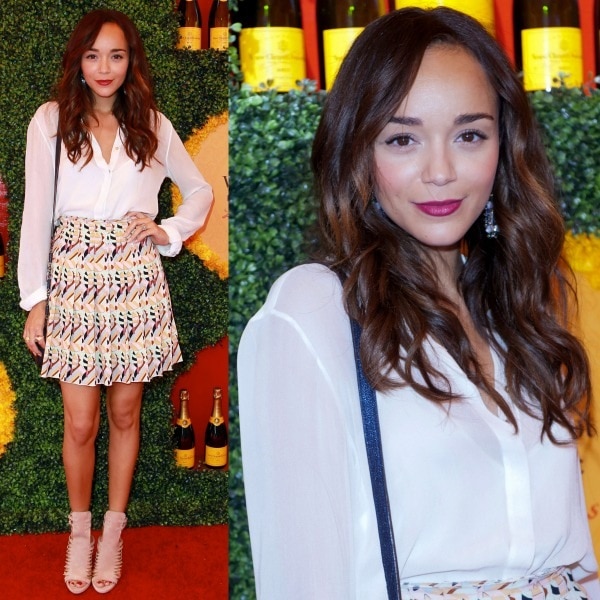 Ashley Madekwe at the Third Annual Veuve Clicquot Polo Classic event held at Will Rogers State Historic Park in Pacific Palisades, California, on October 6, 2012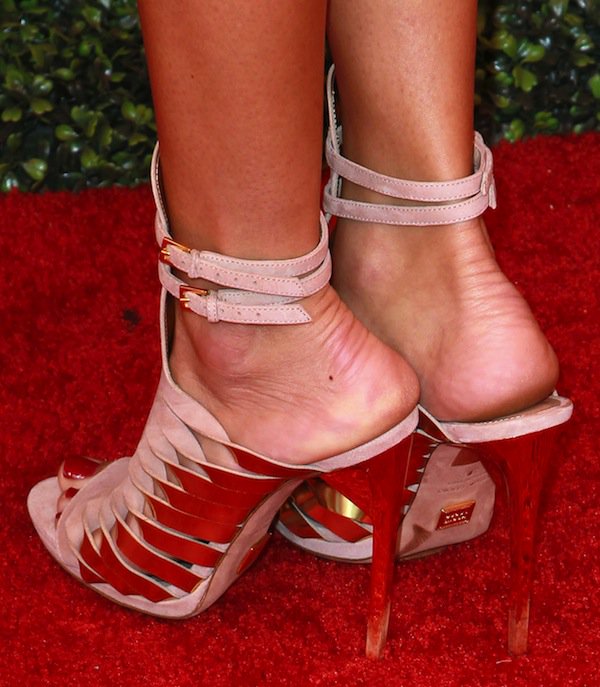 Ashley Madekwe showing off her feet in Hervé Léger 'Abrielle' sandals
7. Ashley Madekwe in Kain Label Drop-Waist French Lace Dress and Charlotte Olympia "Kaleidoscope" Platform Pumps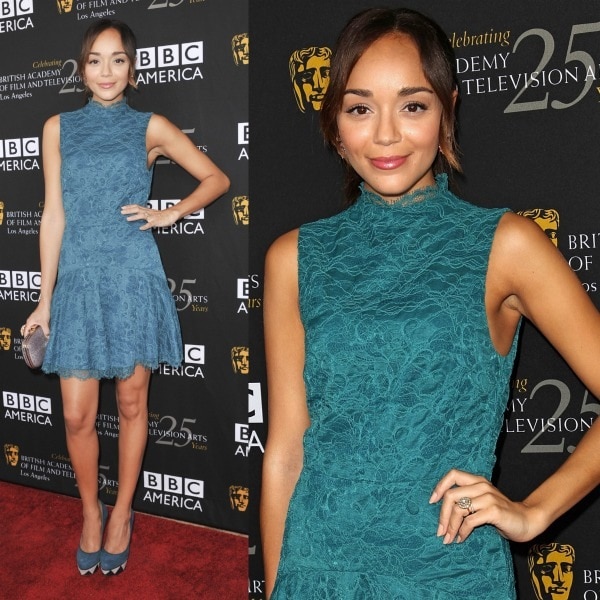 Ashley Madekwe at the 2012 BAFTA Los Angeles TV Tea Party held at The London Hotel in Hollywood, Los Angeles, California, on September 22, 2012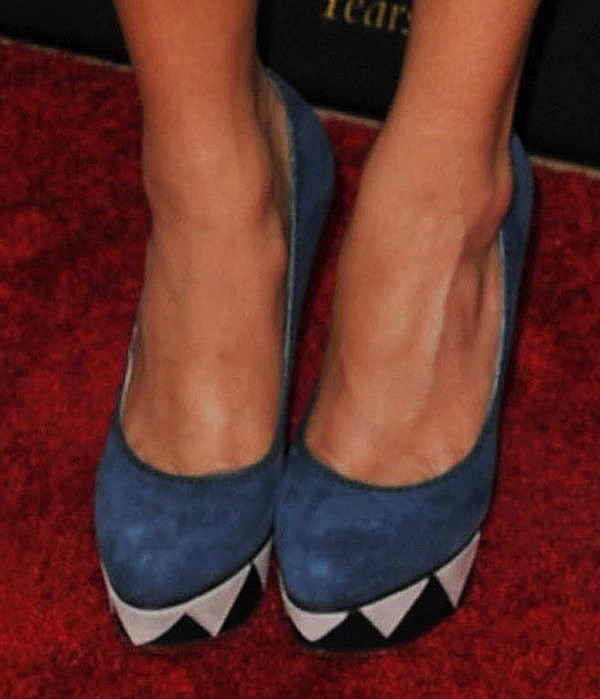 Ashley Madekwe wearing Charlotte Olympia 'Kaleidoscope' platform pumps
Charlotte Olympia Black "Kaleidoscope" Platform Pumps, $1,001 at Farfetch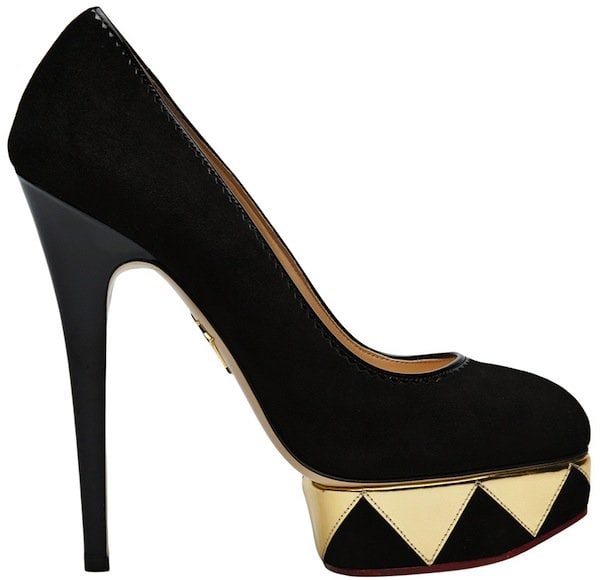 8. Ashley Madekwe in Topshop "Wallpaper Ombre Hourglass" Dress and Topshop "Priti Barely There" Sandals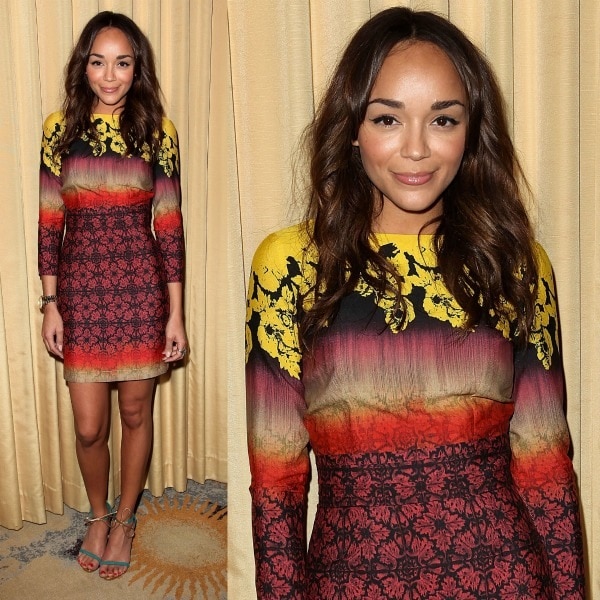 Ashley Madekwe at the Forevermark and InStyle "Beauty & Brilliance" celebration held at Bar Nineteen 12 in Beverly Hills, California, on January 10, 2012
Ashley Madekwe wearing Topshop 'Priti Barely There' sandals
Topshop "Priti Barely There" Sandals
9. Ashley Madekwe in a White Equipment Blouse, a Pleated Leather Skirt, and Kandee "Rosso Red" Suede Booties with Gold Studs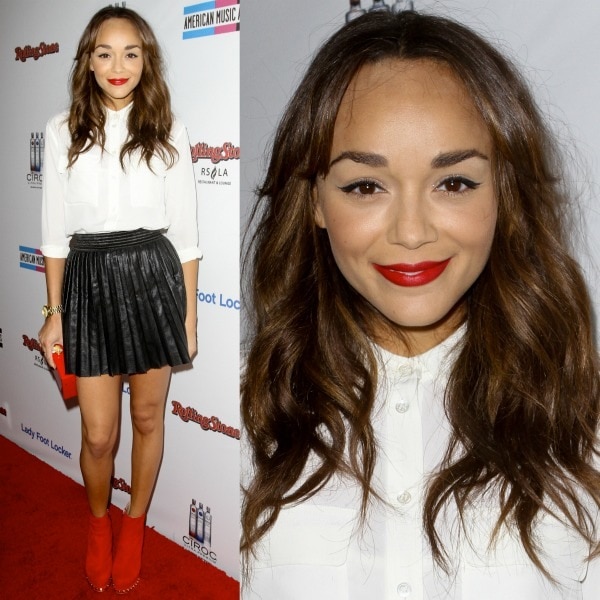 Ashley Madekwe at Rolling Stone's Second Annual American Music Awards after-party held in Los Angeles, California, on November 20, 2011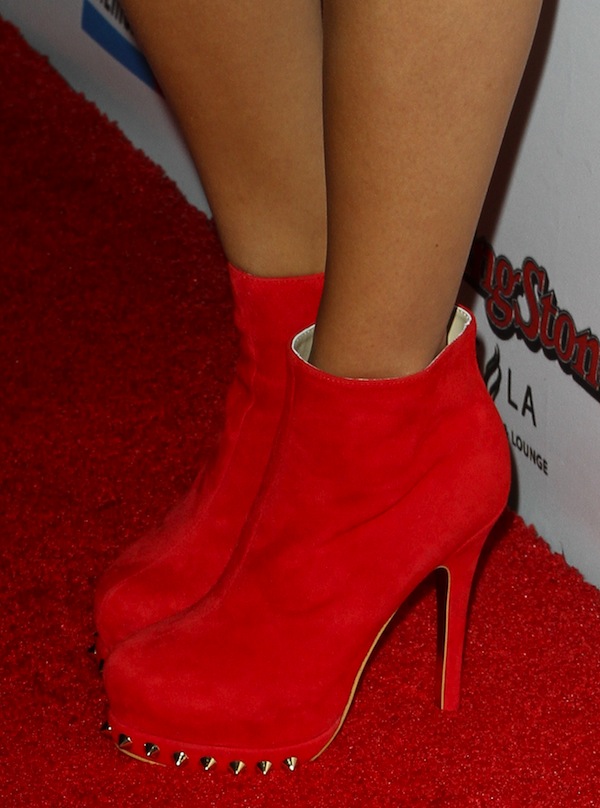 Ashley Madekwe wearing Kandee 'Rosso Red' suede booties with gold studs
Kandee "Rosso Red" Suede Booties with Gold Studs
10. Ashley Madekwe in Burberry Nude Dress and Kandee "Peanut Crunch" Leopard-Print Heels
Ashley Madekwe wearing a nude dress at the 2011 Environmental Media Awards held at Warner Brothers Studios in Burbank, California, on October 15, 2011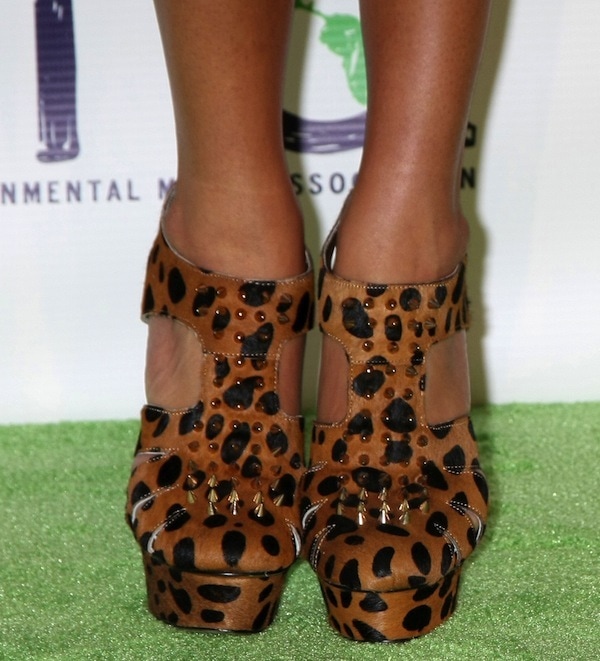 Ashley Madekwe wearing Kandee 'Peanut Crunch' leopard-print heels
Credit: Guillermo Proano / WENN / FayesVision / Nikki Nelson