Ashley Tisdale is no Olivia Palermo, but the girl can dress; that much we know. Late last week, however, we found the former Disney cutie in a rather unusually put-together attire while running errands in Beverly Hills.
Ashley wore a printed maxi dress from ále by Alessandra with an ivory moto jacket from IRO and some flat brown lace-up sandals.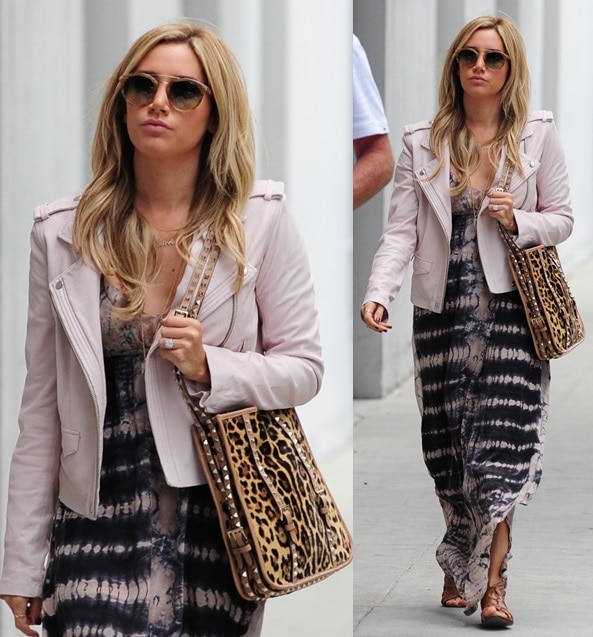 Ashley Tisdale in an interesting outfit finished with an animal-print tote and cutout lace-up sandals while running errands in Beverly Hills on April 18, 2014
Everything was a-ok up until we saw her purse, a leopard-print studded number from Valentino. There was nothing wrong with the bag, except for the fact that it didn't exactly go well with the print and color of her dress.
The combination was no good, period — especially since her outfit also had a bit of texture going on from the cutout and lace-up detail on her shoes.
We don't know whether to love the look she put together for its unexpected appeal or to simply hate it for the way the pieces clashed.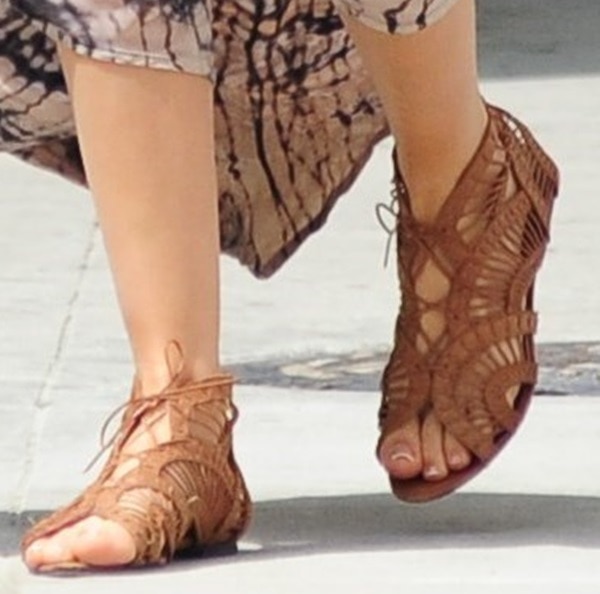 Ashley Tisdale shows off her feet in Steve Madden sandals
Well, what do you think? Yay or nay? In your opinion, did Ashley score a hit or a miss? Did she over-decorate or not?
You know, we're a little hesitant to give her a thumbs down here. After all, while the mix seems a little too "busy," there are parts of her outfit that we really like. Do you agree?
If we could remove one thing from her outfit, it would likely be the bag. Switching to a simpler one in solid brown or black would have made a huge difference.
If you fancy Ashley's look, you can easily copy it by grabbing the pieces in her ensemble. Do us a favor, though, don't use a printed tote.
Go with a basic brown or black bag instead. If you want a pop of color, a tote in solid red will do, too.
ále by Alessandra Caravan Maxi Dress, $182 / IRO Ashville Leather Jacket, $1,200
As for Ashley's very spring-appropriate Steve Madden 'Paiigge' sandals, they feature cutout detailing all throughout the faux leather uppers and lace-up closures that run all the way up to the ankles.
Here they are in dark brown, up close and personal for you:
Steve Madden "Paiigge" Lace-Up Sandals, $90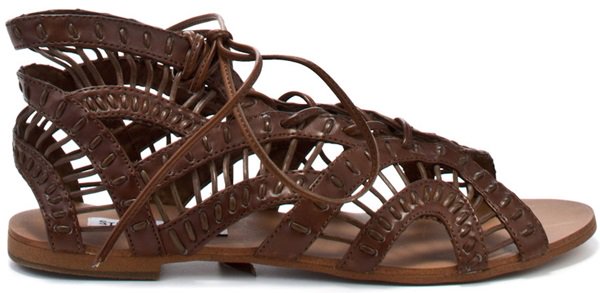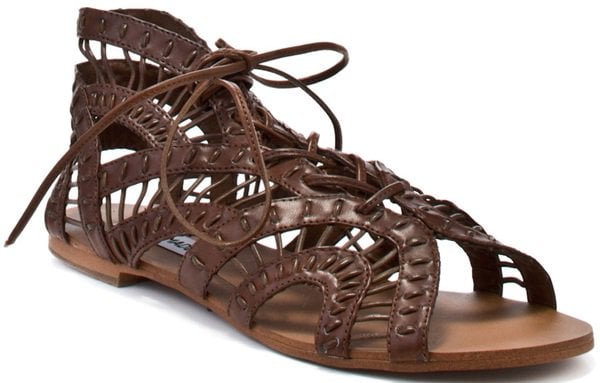 Do you like them? Sorry, they're sold out online. But you can easily grab something similar, especially since flat strappy sandals are now quite abundant, with spring being officially here.
Below are a couple of choices for you from Nordstrom and Zappos. These alternatives are more expensive, but they are crafted from genuine leather, so you can bet that they will give you mileage:
Dolce Vita "Fray" Lace-Up Sandals, $129
Gentle Souls "Break My Heart" Lace-Up Sandals, $195
Credit: WENN