Austin Harris Mahone, an American singer/songwriter with a net worth of $5 million, had to apologize after he mistakenly implied that Kylie Jenner crashed her Ferrari.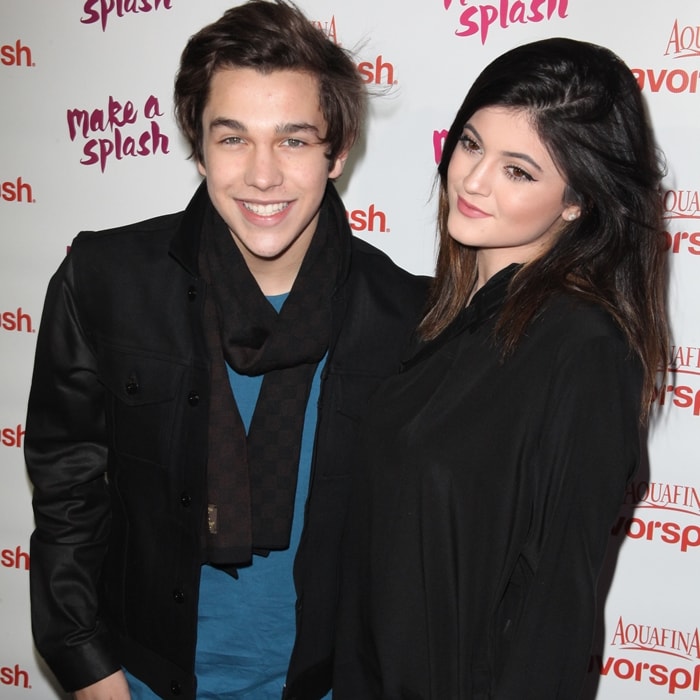 Austin Mahone re-ignited the rumor that Kylie Jenner crashed the six-figure Ferrari Tyga gifted her
I was at the party and I saw she got a Ferrari," Mahone told People, referring to the white $320,000 Ferrari 482 Italia boyfriend Tyga gifted her on her 18th birthday.
"And then a couple hours later I saw on Twitter and I saw like the same Ferrari, like the same color, and it was all smashed up and like everyone was going crazy on Twitter like 'Oh, Kylie crashed her Ferrari' and I was like 'Oh, no way.' "
"Classic starting rumors online," he said while attending the Teen Choice Awards. "I'm sorry if I started a rumor. I didn't mean to. That's what happened but she told me that she didn't crash it so … her Ferrari's fine, everything's good."
Kylie Jenner with a textured purse slung across her body
In January 2014, Kylie Jenner stood out in her all-black ensemble at PepsiCo's Super Bowl celebration. No, there wasn't much skin on display.
In fact, she was all covered up from head to toe, but strangely, the simplicity of her outfit was what made her all the more stunning. It accentuated her features and highlighted her pretty face.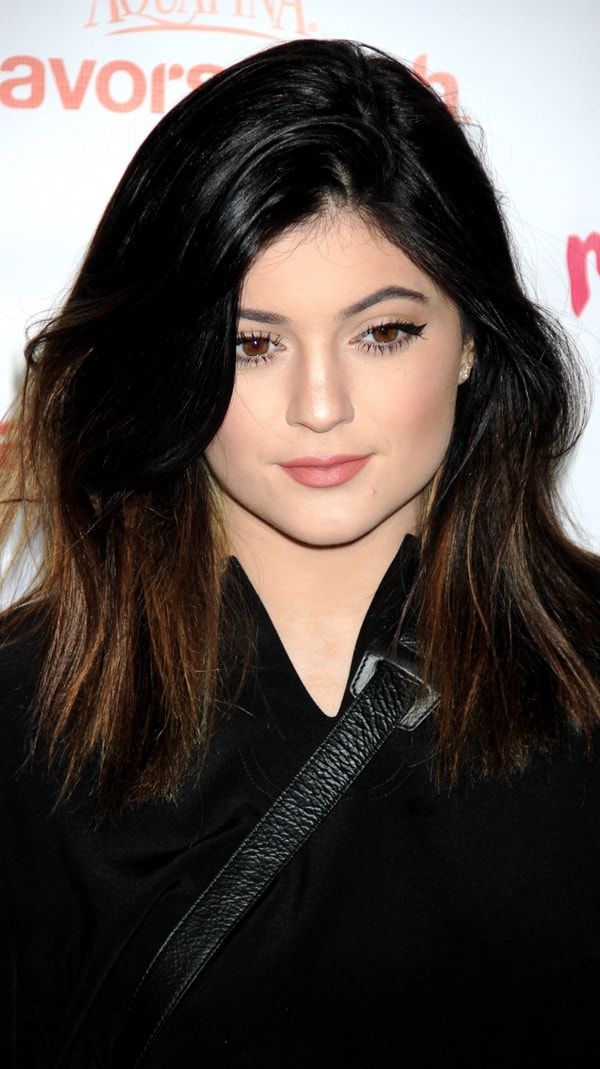 Kylie Jenner going simple and understated in all-black as she attends PepsiCo's Super Bowl celebration at Bryant Park in New York City on January 29, 2014
It also made us look at the tiny but notable details — such as the textured purse slung across her body so casually, the perfectly manicured artsy nails, and, of course, the funky one-of-a-kind boots she wore with the getup.
The shoes were sexy and mesh-paneled, and they looked like they were fit to kill.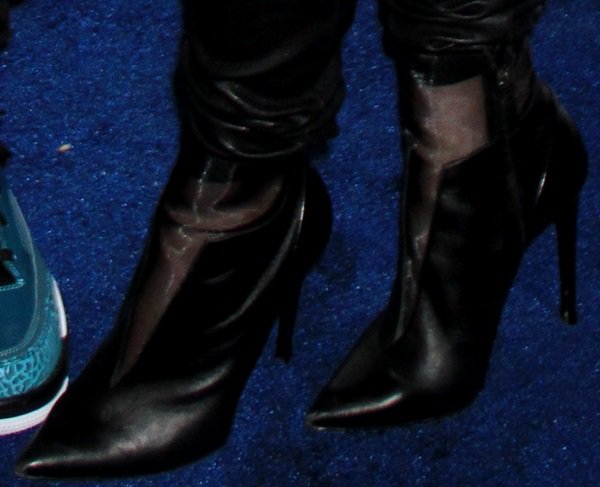 Kylie Jenner's one-of-a-kind mesh-detailed booties
What do you think of Kylie's outfit? It's a fresh change from the usual. It's certainly not sexy, but she exudes a certain kind of elegance with it. Do you agree?
As for her shoes, well, let's just say those deserve some extra attention. We've seen our fair share of mesh booties here on YNS, but Kylie's boots take the cake for being the pointiest we've ever come across so far. They're also really stunning up close. Take a look:
Barbara Bui Mesh-Detailed Ankle Boots, $740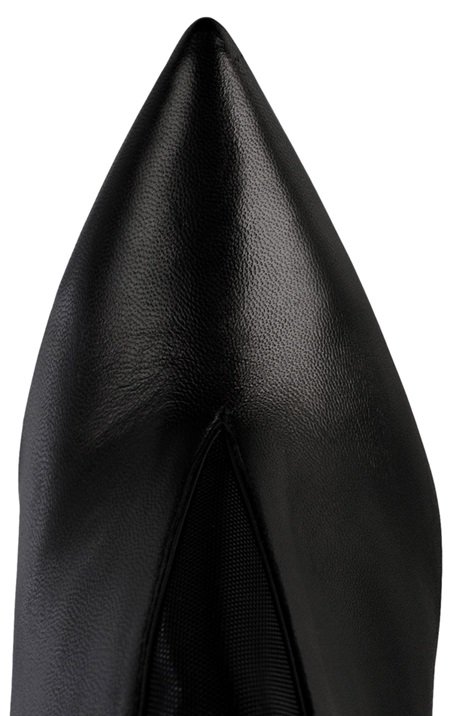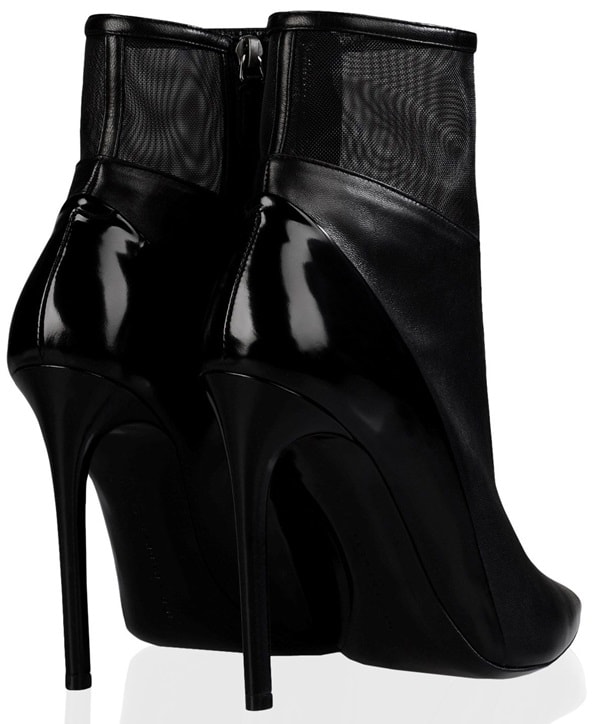 Just like the silver ankle-wrap heels that Anna Kendrick wore to the Grammys on Sunday, Kylie's boots are also from Barbara Bui. They're crafted from three different materials — smooth nappa leather, slick patent leather, and tulle (mesh).
The slim and straight heels on these boots are about 5 inches tall — yes, pretty darn high, especially since they don't come with platforms. Think you can handle walking in a pair?
We also have a pretty decent alternative for you. Check out the L.A.M.B. "Sloan" booties. These will certainly give you the fix, yes? You'll need to pay a little more than $340, though, because these shoes are still fresh off the grill.
L.A.M.B. "Sloan" Booties, $375
By the way, Kylie was spotted hanging out with Austin Mahone at the event. Since Selena Gomez has denied claims that she is dating the singer, then perhaps he's canoodling with Kylie instead. What do you think? Or is she still with Jaden Smith?
Austin Mahone and Kylie Jenner posing for the photographers at PepsiCo's Super Bowl celebration in New York City on January 29, 2014
Credit: Joel Ginsburg / PNP / WENN