If there's one thing Paris Hilton loves as much as the limelight, it just might be glitter.
The former reality television star recently arrived in Poland wearing a glittery sequined top with her name (surprise, surprise) emblazoned across the back.
Paris Hilton arrives via private jet at Warsaw Chopin Airport in Poland on August 28, 2015
Oh, and of course, the socialite had a video and photo crew in tow as she arrived at Warsaw Chopin Airport via private jet.
Paris Hilton juggles flowers, a fruity drink, and a white tote bag as she arrives in Poland
Why was Paris in Poland, you might be wondering? The 34-year-old was a guest DJ at the Polish Fashion Week.
Paris Hilton shows off her comfy travel style in a pair of gold Chloé flats
Paris graced some fashion events as well, while she was in town.
While Paris has a bit of a reputation for being a "dumb blonde," the heiress insisted that the opposite is true.
Paris flaunts the front and back of her custom blue sequined jacket
In a piece for E! Online, she claimed people don't know the real Paris, and that the "dumb blonde" image is just a character she plays.
"The real Paris is a down to earth, sweet, real girl — woman now — who is a businesswoman and feels very proud," she said. "I have a really big heart."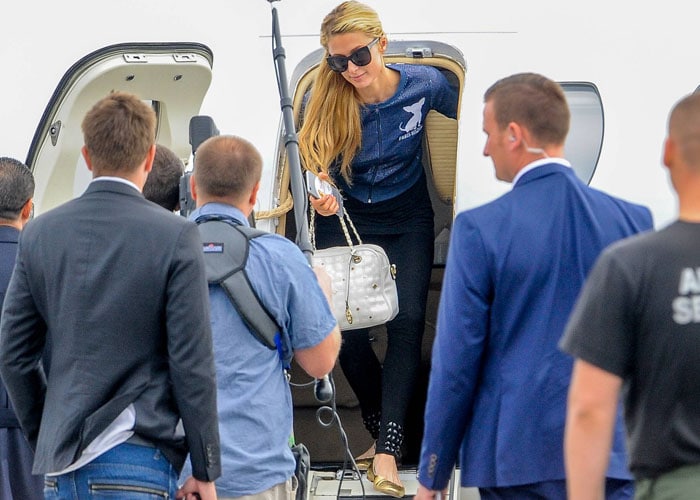 Paris Hilton exits her private jet in a custom ensemble as she arrives in Warsaw
We'll leave the judgment to you.
Paris coupled her custom made sequin top with a pair of embellished black jeans, a white tote and a pair of gold Chloé "Lauren" scalloped ballet flats.
Paris Hilton is a guest DJ at Ptak Fashion City for the Polish Fashion Week
If you want to grab your own pair of Chloé flats for traveling, click your way over to Farfetch.
Chloé "Lauren" Ballet Flats, $333.96
Credit: Newspix.pl / WENN