Ava Phillippe posted an innocent pic of her with her boyfriend on Instagram today that promptly freaked people out.
That's because in the snuggly picture, some people think Ava's beau Owen Mahoney looks a lot like her dad Ryan Phillippe while others think otherwise.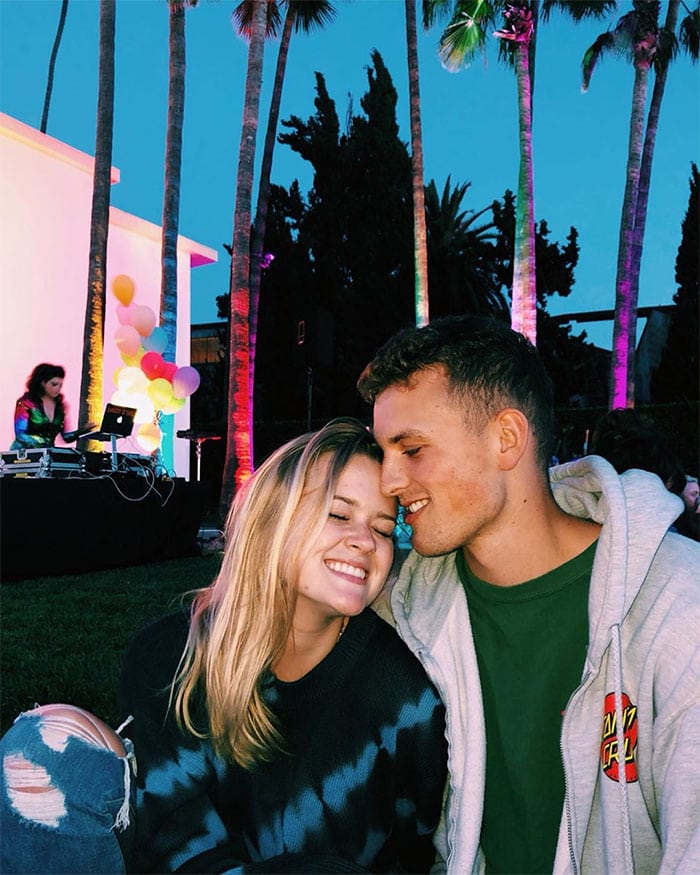 Ava Phillippe's Instagram picture of her with her boyfriend Owen Mahoney at Cinespia Hollywood Forever Cemetery posted on June 10, 2019
Ryan Phillippe lookalike? Ava Phillippe's boyfriend Owen Mahoney
We think it might be the curly hair but apart from that, we don't see much of a resemblance between the two.
How about you, do you think Ava Phillippe's boyfriend and her dad look alike?
Ryan Phillippe at the Saturday Night Live 40th Anniversary Special in Manhattan, New York, on February 16, 2015
While people are already arguing about whether it's weird or not for Ava to date someone who looks like her dad, we're here still trying to deal with how much she looks like her mom Reese Witherspoon.
It doesn't help that the Ava and Reese love to go twinsies at photo ops. At their most recent outing, 19-year-old Ava was in a sparkly, slinky black dress while 43-year-old Reese chose a similar skin-baring, shiny, strapless Elie Saab dress.
The two were coordinated down to their black heels, with Ava in Jimmy Choo 'Dochas' sandals and Reese in Salvatore Ferragamo black-satin pumps.
Ava Phillippe and Reese Witherspoon in mini dresses at the Big Little Lies Season 2 HBO Premiere in New York City on May 30, 2019
The mother-daughter team selected an all-black theme for the 2018 L.A. Dance Project's Gala. Ava had on a drapey, lacey LBD that mirrored her mom's Dundas leopard-patterned taffeta-bow LBD.
Christian Louboutin shoes finished their looks, with the 'Louloudancing' platform sandals for Ava and the 'Uptown' ankle-strap pumps for Reese.
Ava Phillippe and Reese Witherspoon in little black dresses at the Benjamin Millepied & L.A. Dance Project Annual Gala 2018 held at Hauser & Wirth in Los Angeles, California, on October 20, 2018
The blonde duo went for saccharine sweet in puff-sleeve dresses at the A Wrinkle in Time London premiere.
Ava wore a lovely Valentino Pre-Fall 2018 heart-embellished dress and Stella Luna dotted-mesh peep-toe sandals. She wore fuchsia pink lipstick to match the hearts on her frock and the cute lips charm dangling from her shoes' ankle strap.
Reese complemented her daughter's feminine look in a powder-blue Elie Saab Pre-Fall 2018 dress. She completed her look with the celebrity-favorite Christian Louboutin 'Nosy' pumps.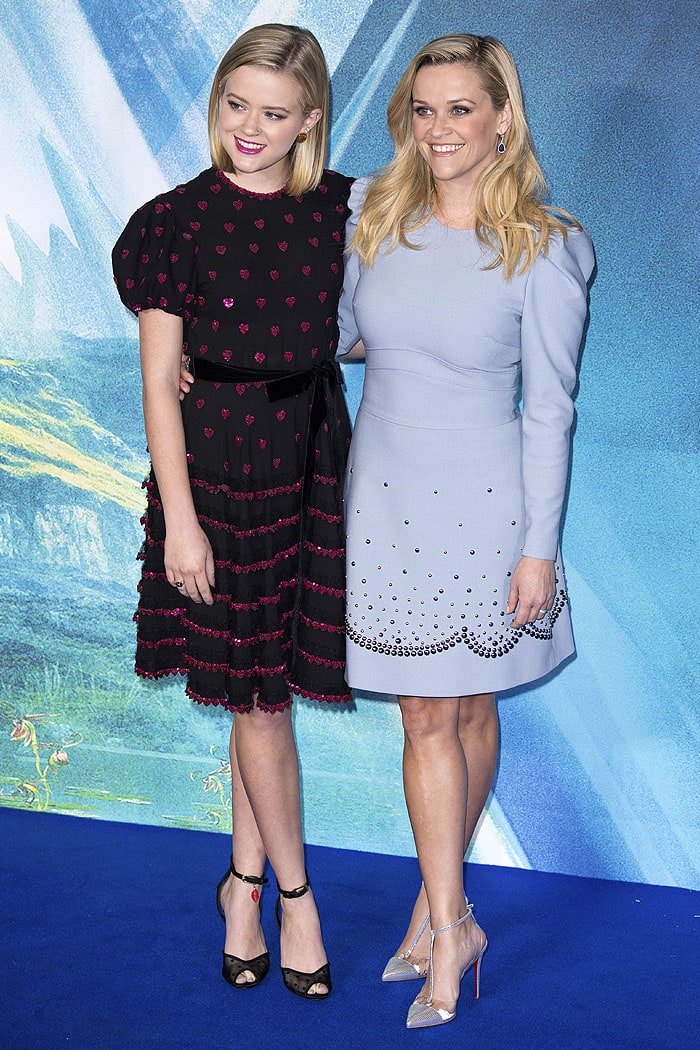 Ava Phillippe and Reese Witherspoon in puff-sleeve dresses at the A Wrinkle in Time premiere in London, England, on March 13, 2018
Credit: Ava Phillippe's Instagram / Jeff Spicer / Future Image / Ivan Nikolov / Patricia Schlein / Adriana M. Barraza / WENN