After less than a year of engagement, pop-punk musicians Avril Lavigne and Mod Sun have called it quits as a couple.
According to a source close to the pair who spoke to People, "Avril and Mod Sun have been on and off for the past two months but are no longer together as a couple."
Avril Lavigne and Mod Sun, who became engaged in April 2022, have decided to end their engagement (Credit: Doug Peters/PA Images / INSTARimages / Cover Images)
The last time Lavigne and Bella Thorne's ex were spotted together in public was at a pre-Grammy celebration honoring Julie Greenwald and Craig Kallman in Los Angeles at the start of February.
Earlier this week, TMZ released images of the 38-year-old singer-songwriter embracing rapper Tyga after dining with friends at Nobu restaurant, leading to rumors that the two performers were dating.
However, an insider informed People that "Avril and Tyga are genuinely friends and nothing more. There was absolutely no third party involved in the split."
Avril Lavigne and Mod Sun first met during a songwriting session shortly after she had ended a previous relationship (Credit: BauerGriffin / INSTARimages)
According to a statement from a Mod Sun representative, "They were together and engaged as of three days ago when Mod left for tour, so if anything has changed, that's news to him. Mod will be performing tonight in Portland at The Hawthorne Theater."
Mod Sun, whose real name is Derek Smith, and Avril Lavigne first met in January 2021 and collaborated on the song "Flames" in the same month. The 35-year-old rapper also contributed to the co-writing and co-production of several tracks on her most recent album, Love Sux, released in February 2022.
In February 2021, the couple fueled romance speculations after they were seen departing a Los Angeles BOA Steakhouse dinner together.
The Grammy-nominated singer and her ex-boyfriend were rumored to go on double dates with Machine Gun Kelly and Megan Fox.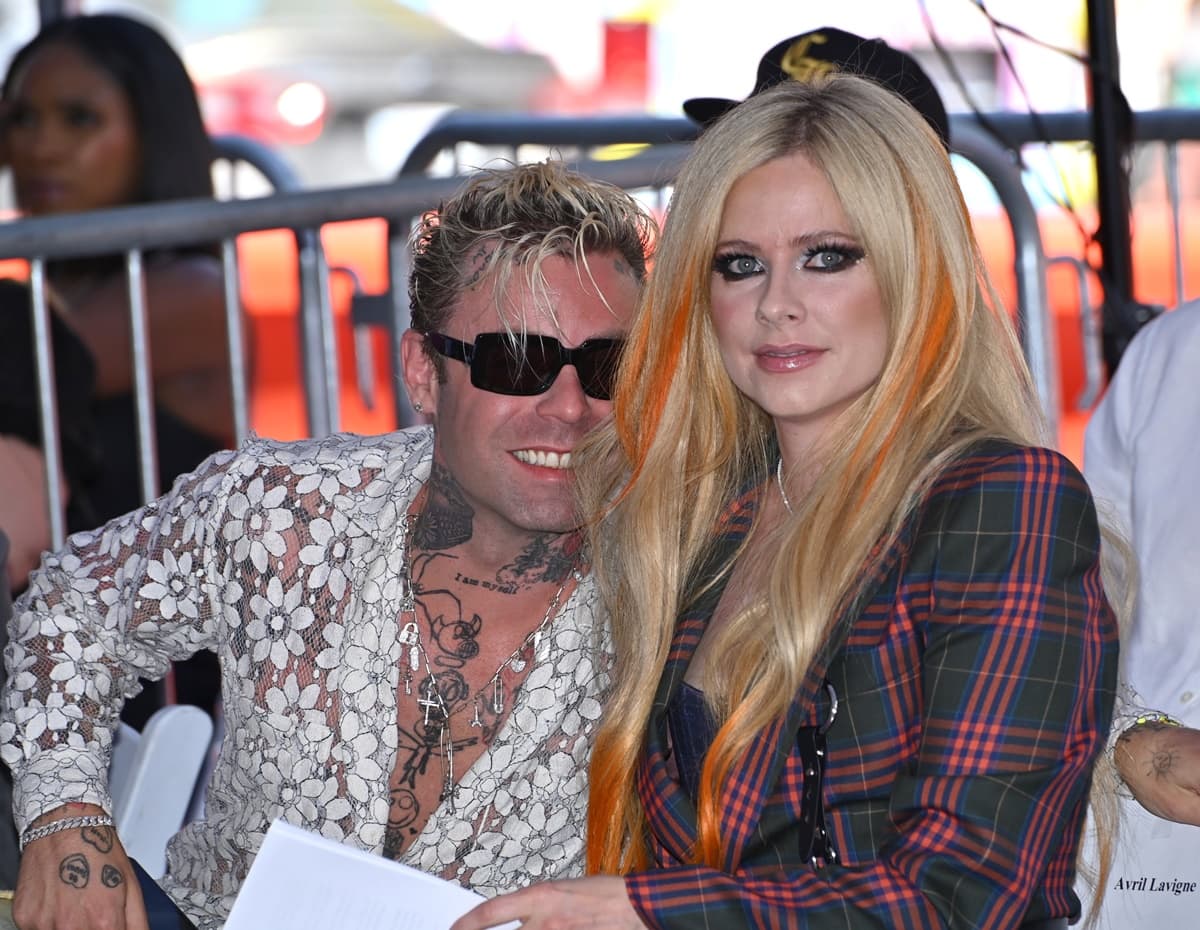 Pop-punk musicians Avril Lavigne and Mod Sun met in January 2021, collaborated on the single "Flames," and were first romantically linked the following month before getting engaged in April 2022 (Credit: Featureflash Photo Agency / Shutterstock)
Mod Sun later proposed to Lavigne in Paris on April 8 and announced the excellent news on Instagram. He got down on one knee and presented her with a ring appropriate for the "City of Love" because it was a custom-made, heart-shaped ring from XIV Karats in Beverly Hills set in a royal setting with tiny hearts.
Lavigne said, "It was the most perfect, romantic proposal I could ever ask for. We were in Paris on a boat in the Seine River. We had a violin player, champagne, and roses. It felt like time stood still, and it was just the two of us in the moment."
Earlier this month, the rocker released his most recent album, God Save the Teen, which included a song titled "Avril's Song" with the lyrics, "She blew me a kiss, And I didn't wanna blow my brains out anymore. And she is everything I'm not. Without her, I am lost."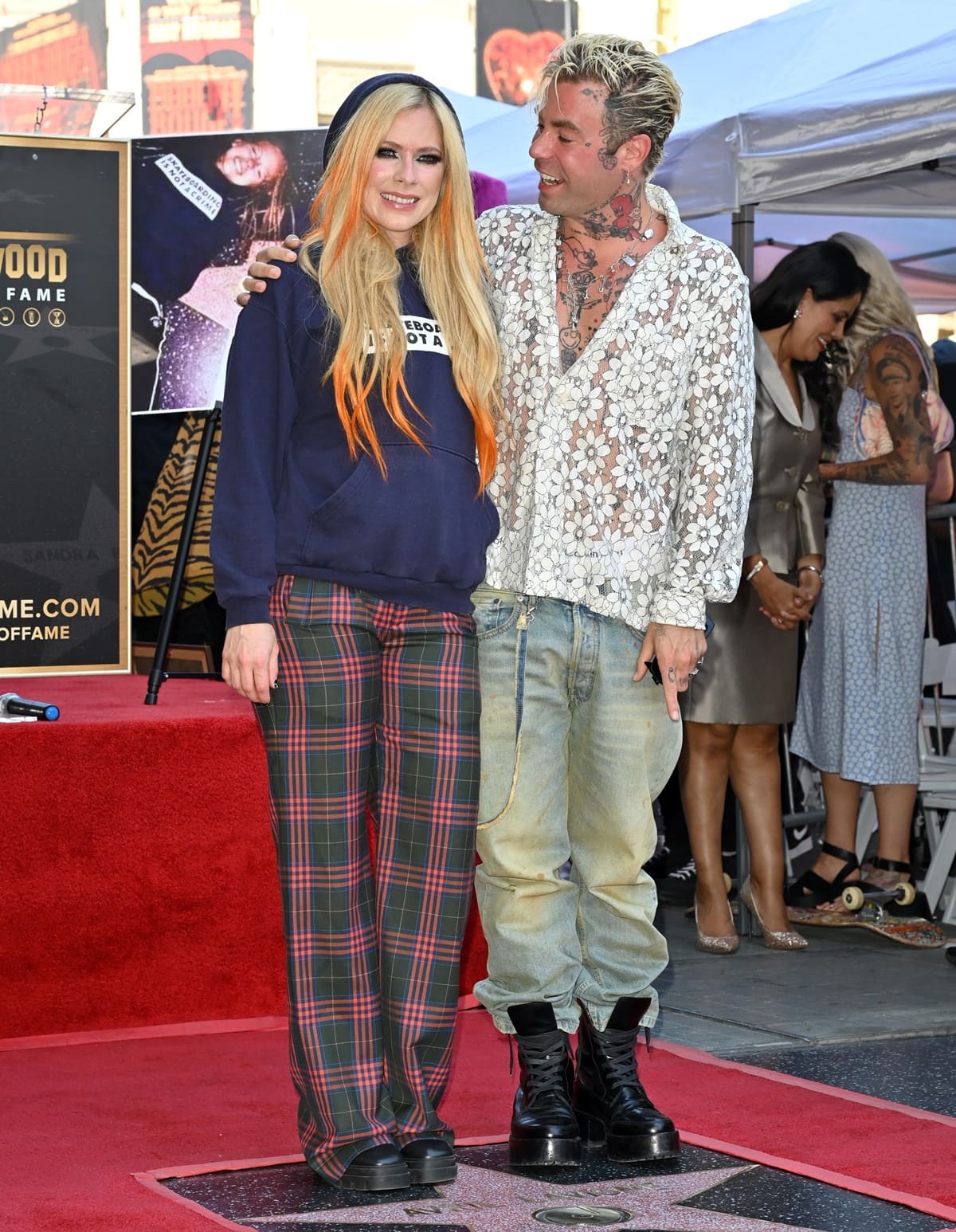 The height difference between Mod Sun and Avril Lavigne is quite significant, with Mod Sun being taller at around 5ft 5 ½ (166.4 cm) and Avril Lavigne standing at 5ft 1 (154.9 cm) (Credit: Featureflash Photo Agency / Shutterstock)
According to Mod Sun in a recent interview with E! News, "Avril's Song" is "dark and sweet at the same time," and its lyrics are "a total metaphor" for how the relationship has affected him.
The singer shared, "I have found such a partner in this world to go through the chaos that life gives you. I have found that person. I'm with a real grown woman who has gone through it all ten times over, and she makes me a better person."
Mod Sun had previously revealed that they were delaying their wedding arrangements because, in his opinion, "it's beautiful to let the engagement last, so we're still living in that moment."
Mod Sun was born on March 10, 1987, while Avril Lavigne was born on September 27, 1984, making him about 2.5 years younger than her (Credit: BauerGriffin / INSTARimages)
He had also expressed excitement about their upcoming wedding, stating, "She's a princess, she really is. She's a motherf***ing princess. That's real shit, so we're going to have a very special wedding. I can't wait for that time to come."
In addition, he displayed enthusiasm about having a family with the songstress, saying: "When you realize that success can be defined in growing old and creating a family and passing on these traits that you have and teaching someone that you brought into this world."
He continued, "This is the first time in my life that I've started to think about defining success in that way. I want to grow old. I want to be a dad, and then I want to be a grandpa."
It would have been Avril Lavigne's third marriage after being previously married to Nickelback's Chad Kroeger (2013-2015) and Sum 41's Deryck Whibley (2006-2009).