Canadian singer-songwriter Avril Lavigne has easily made her mark on music since kicking off her career with her debut studio album, Let Go.
After this became the best-selling album by a Canadian artist in the 2000s, Lavigne's name became more and more well-known.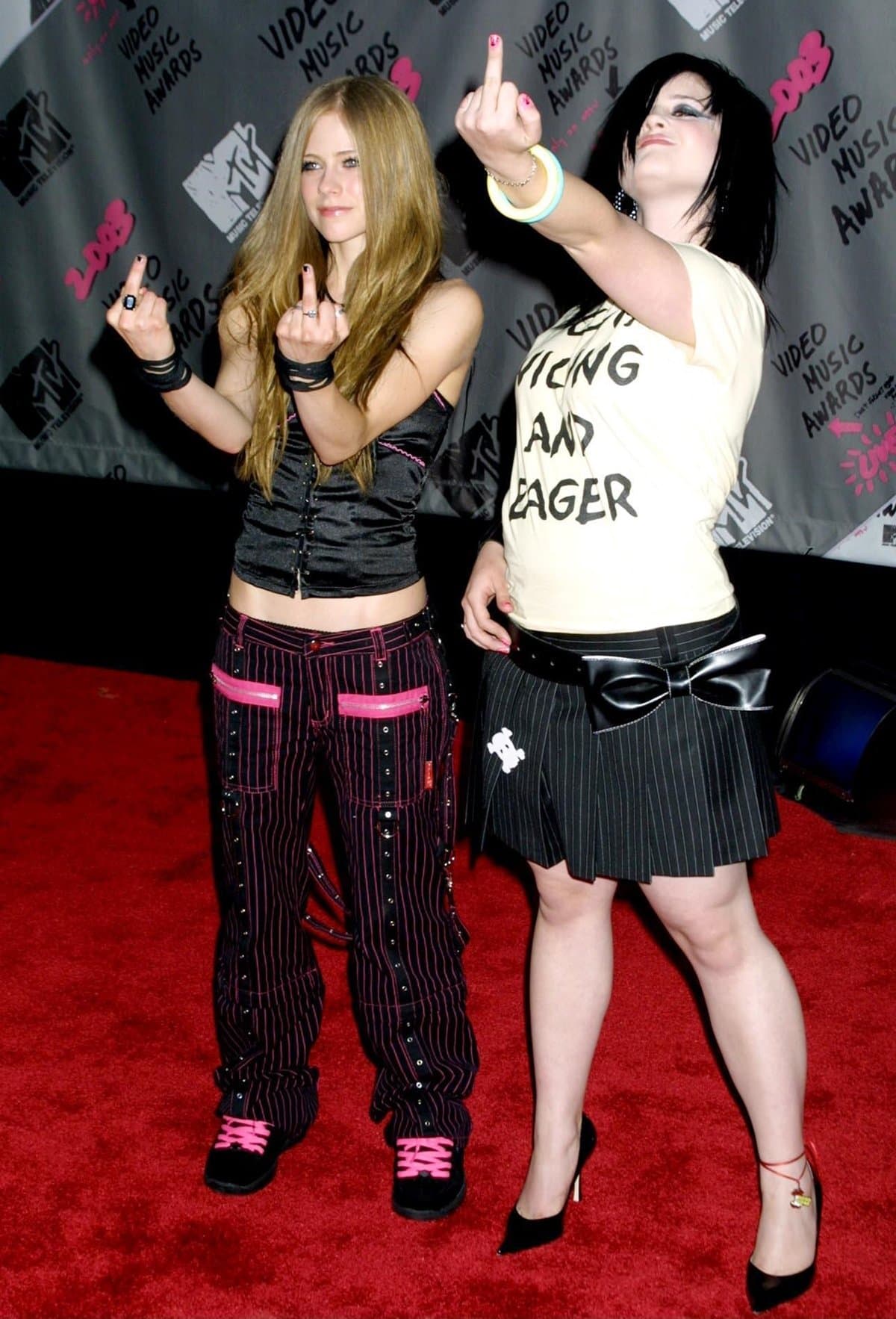 Kelly Osbourne and Avril Lavigne during the 2003 MTV Video Music Awards held at the Radio City Music Hall in New York City on August 28, 2003 (Credit: WENN)
This artist paved the way for development in the pop-punk genre, inspiring more female-inclusive pop-punk music as we delved into the early years of the 21st century.
Singles such as Sk8er Boi and Complicated earned Lavigne her iconic persona of being a pop-punk queen, allowing her to set standards in the musical field with her soprano vocal range.
Despite her flawless talent and drive to be the primary songwriter of global top hits, no success can happen without struggle, which can be seen through Lavigne's battle with Lyme disease.
Canadian rocker Avril Lavigne plays hits from her album "Under My Skin" at Wembley Arena on October 10, 2004, in London (Credit: Danny Clifford / Hottwire / WENN)
So, why did this artist stop singing during this struggle and how has it affected her journey? Read on for more information!
Lavigne's struggle with Lyme disease
Experiencing a life-threatening battle with Lyme disease left this artist with a deepened faith in spirituality.
Other celebrities diagnosed with the same disease include Shania Twain, Alec Baldwin, Yolanda Hadid, Bella Hadid, Ben Stiller, Daryl Hall, Amy Tan, George W. Bush, Kelly Osbourne, Justin Bieber, and Rebecca Wells.
Contracting the disease from a tick, Lyme disease caused Lavigne to experience joint pain and extreme fatigue, leaving her bedridden for several hard months.
Yolanda Hadid promotes her book "Believe Me: My Battle with the Invisible Disability of Lyme Disease" in Amsterdam, the Netherlands, on October 3, 2018 (Credit: WENN)
"I could barely eat, and when we went to the pool, I had to leave and go lie in bed. My friends asked, 'What's wrong?' I didn't know. I had no idea a bug bite could do this. I was bedridden for five months. I felt like I couldn't breathe, I couldn't talk and I couldn't move. I thought I was dying," she told People in 2015 about her diagnosis and experience with Lyme disease.
Once convinced that she was really dying on one particularly tough night, Lavigne was influenced to write another top hit, Head Above Water – also the name of her 2019 album – demonstrating that this artist's music truly comes from her heart and her own experiences.
"Today @JustinBieber shared that he has Lyme disease. There are too many people that have this debilitating disease!" she wrote in 2019 after fellow Canadian artist Justin Bieber revealed he'd been diagnosed with Lyme disease.
Alec Baldwin, Shania Twain, and Justin Bieber have all been diagnosed with Lyme disease (Credit: WENN / MEGA)
"People I love and care about and many friends and fans I have crossed paths with. To everyone affected by Lyme, I want to tell you that there is HOPE. Because Lyme is a daily struggle, for the better part of two years, I was really sick and fighting for my life," she added.
Avril Lavigne stops singing
In order to recover from Lyme disease, Lavigne took some time away from her career.
Not using her singing voice for months, it appeared to be surprisingly strong after this recovery period and allowed her to delve back into her passion for music as soon as she was well enough to continue.
Avril Lavigne took a break from singing to focus on her battle with Lyme disease (Credit: Danny Clifford / Hottwire / WENN)
Lavigne admitted that music has been extremely healing to her, especially since she was questioning the length of her music career after contracting her illness.
Since fighting through this struggle, Lavigne continues to weave messages of empowerment into her songs from a female perspective.
Recent appearances
Although making a comeback can be frightening for anyone recovering from a life-threatening illness, this inspirational artist readily did this.
Making a recent appearance on the red carpet at Variety's 2021 Music Hitmakers Brunch located at LA's City Market Social House, Lavigne turned heads with her incredible outfit and air of empowerment.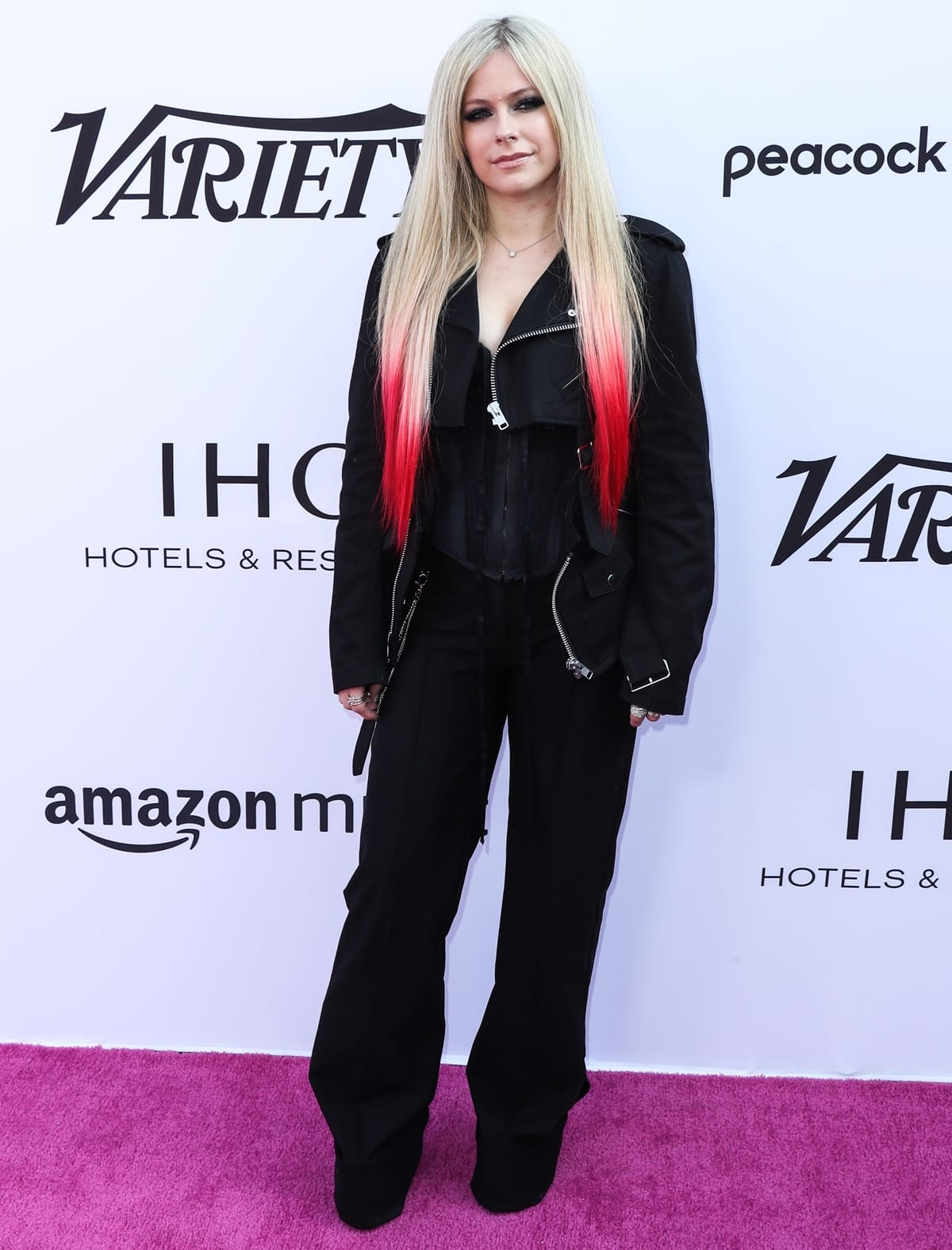 Singer Avril Lavigne at the Variety 2021 Music Hitmakers Brunch presented by Peacock and Girls5eva and sponsored by IHG Hotels and Resorts held at the City Market Social House on December 4, 2021, in Los Angeles, California, United States (Credit: Avalon / WENN)
Awarding Olivia Rodrigo with the Songwriter Of The Year Award at this prestigious event, Lavigne associated herself with her love of pop-punk more deeply as she started to recognize and celebrate fresh and upcoming artists in this genre.
Additionally, this artist attended the MTV Video Awards of 2021, making a punk fashion statement as well as a red-carpet debut with her new boyfriend, Mod Sun, who has also dipped his toe in the music industry as a talented artist and producer.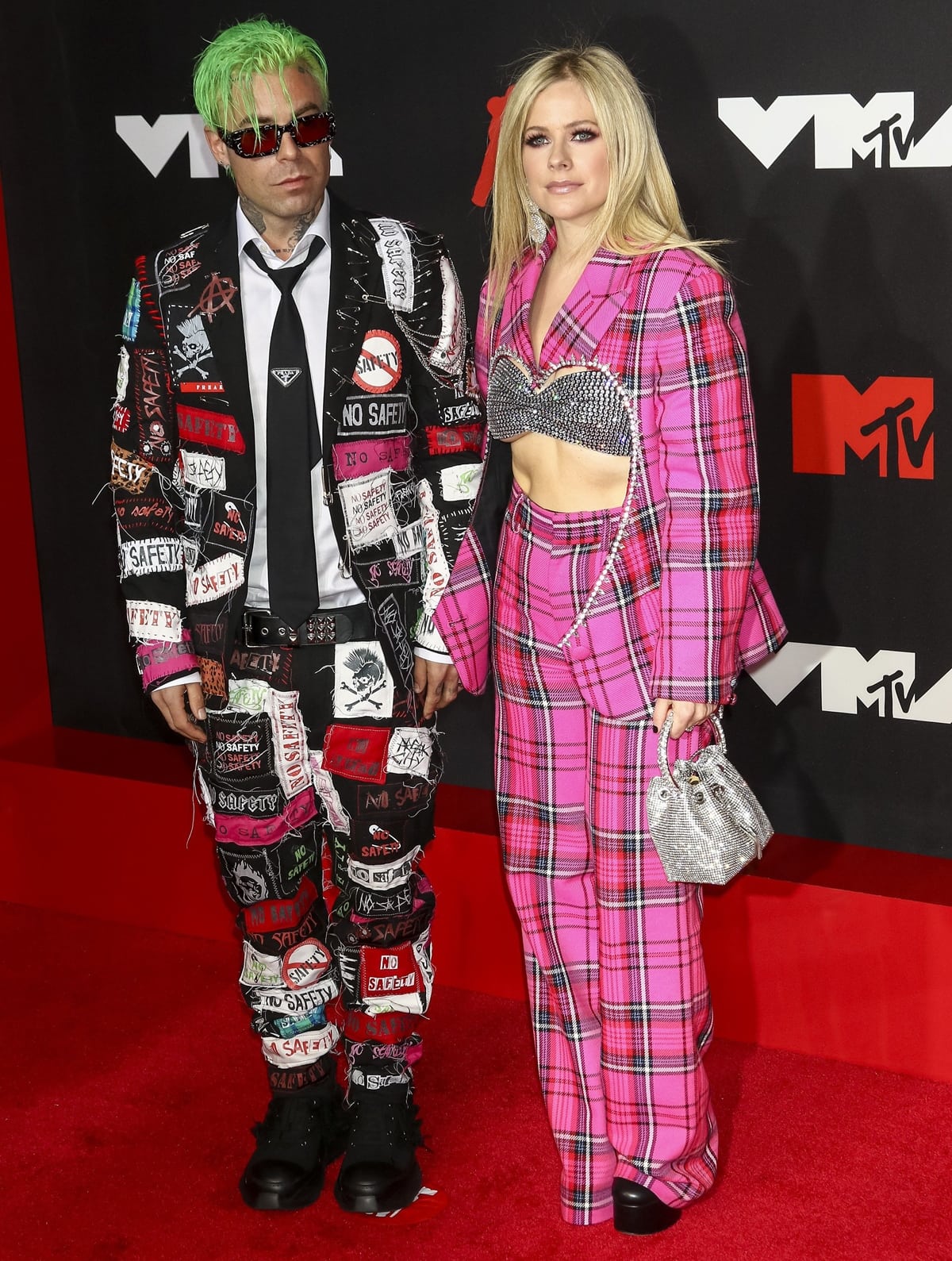 Avril Lavigne rocks a bright pink Area Pre-Fall 2021 suit with her boyfriend Mod Sun at the 2021 MTV Video Music Awards on September 12, 2021, at the Barclays Center in New York City (Credit: MEGA / WENN)
Being amongst an eye-catching list of presenters at this awards event, the Sk8er Boi singer associated herself with other captivating stars such as Billie Eilish, Hailey Baldwin Bieber, and Rita Ora along with many more!
What's next for Avril Lavigne?
Following her 2014 diagnosis, Lavigne's disease is becoming increasingly under control. This has allowed her to stretch towards the possibility of touring once more as she begins to make more and more public appearances.
With such a fiery passion for music, it's no wonder that this artist wanted to get back to her career even after such a severe struggle. Lavigne experienced the powerful healing of music, implying its importance to both her and her listeners across the world.
Fans should be sure to look out for more appearances from Avril Lavigne in the near future as she continues to develop herself in the musical field once again.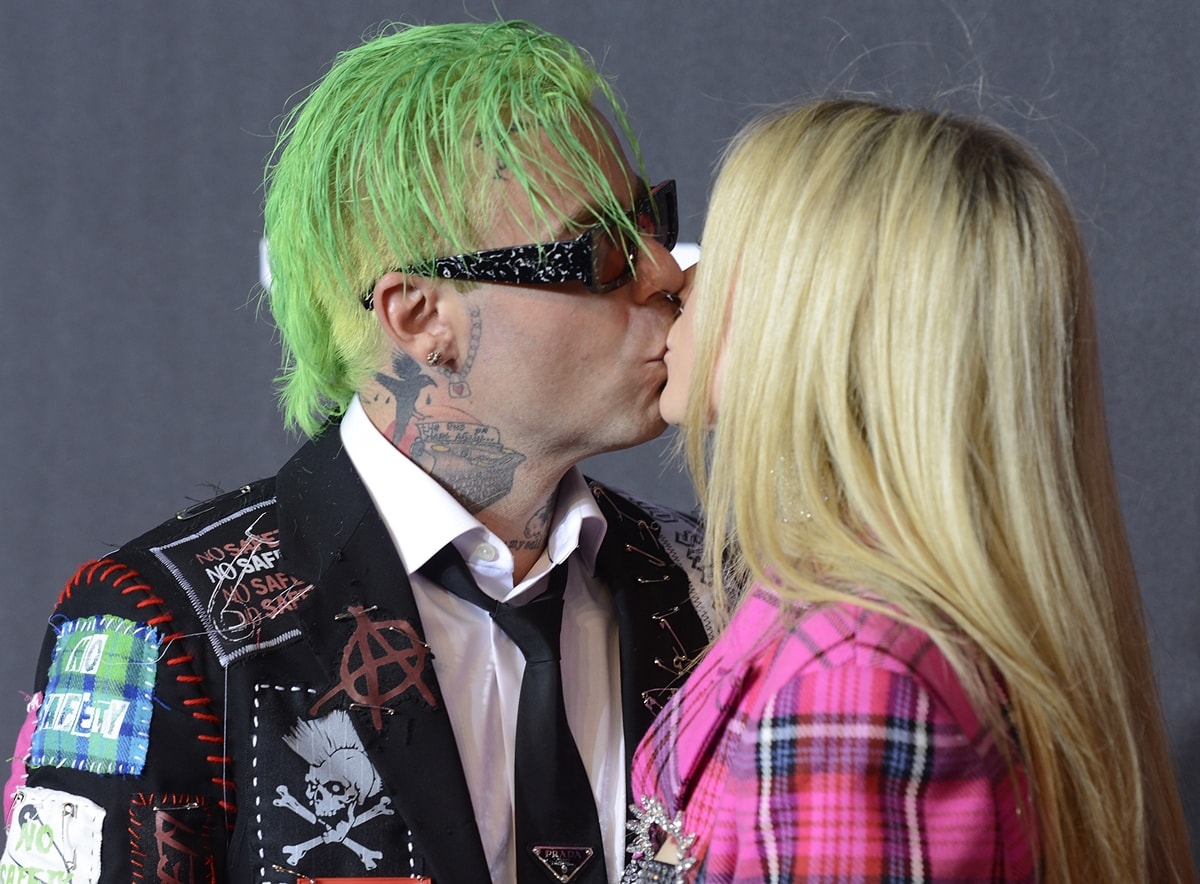 Avril Lavigne and Mod Sun met through their mutual friend Machine Gun Kelly (Credit: MEGA / WENN)
Announcing the release of the intriguing new song, Bite Me, Lavigne is proving how dedicated and motivated she is where the music industry is concerned, teasing the possibility of a new album coming later this year.
Recovering from Lyme disease and dealing with its effects has molded Lavigne into even more of a musical inspiration for younger generations hoping to make their own mark on music.
Refusing to give up on her ultimate love of singer-songwriting, this artist's break from music has certainly come to an end.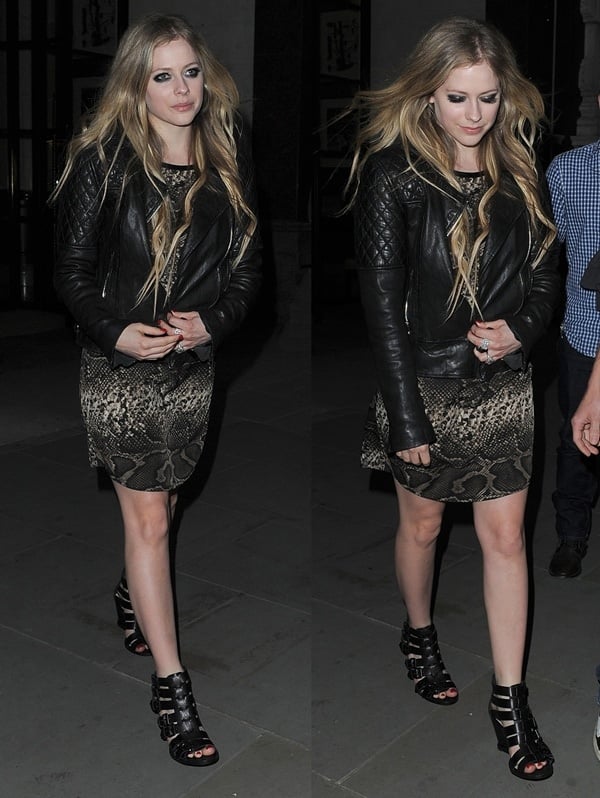 Avril Lavigne flaunts her legs while leaving her hotel on June 5, 2013, in London, England (Credit: Will Alexander / WENN)
Remember Avril Lavigne's "Sk8er Boi" days? The pin-straight hair, the baggy pants, the excessive amount of studded bracelets? (Ah, the early 2000s.)
The punk-pop singer has come a long way since then, but we're glad to see she still sticks to her fun, edgy roots in some ways.
In June 2013, Avril was spotted leaving her hotel in London wearing an ensemble that struck the perfect balance between rocker edge and feminine sex appeal.

Avril Lavigne wears a snakeskin-printed mini-dress and a leather jacket (Credit: Will Alexander / WENN)
Wearing a snakeskin-printed mini-dress layered beneath a leather jacket and black Kurt Geiger wedges, the then 28-year-old proved that her younger years were far behind her.
Avril Lavigne shows off her feet in black Kurt Geiger wedges (Credit: Will Alexander / WENN)
She can't seem to ditch the overdone eye makeup, though, but that's okay. It seems to suit her anyway.
Avril Lavigne displays her size 7 (US) feet in gladiator-inspired wedge sandals (Credit: Will Alexander / WENN)
Do you miss her "Sk8er Boi" days? Avril's Kurt Geiger wedges are definitely a far cry from the distressed Converse shoes she used to faithfully wear.
But these wedges, with their gladiator-inspired design and rows of buckles, carry their own form of street cred. Would you wear them?
KG by Kurt Geiger "Mandy" Buckled Wedges in Black, $220.61
If black is not your color, these shoes also come in tan.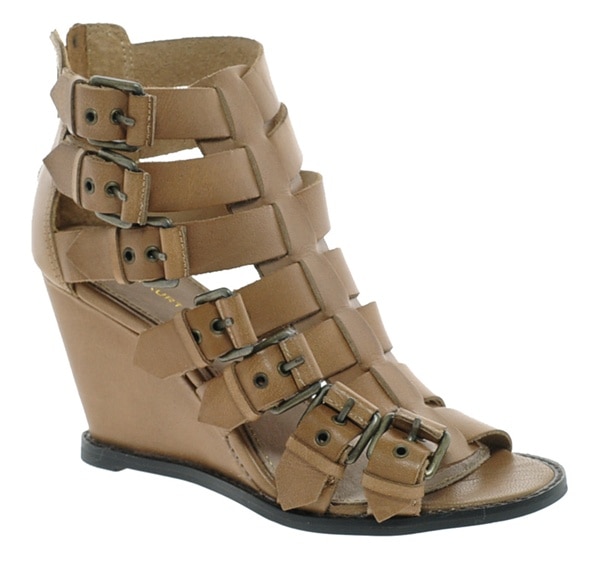 KG by Kurt Geiger "Mandy" Buckled Wedges in Tan, $220.61