Thanks to her famous parents, Kelly Osbourne has been in the public eye her entire life. It can't be easy to have the public judge your every move, and Osbourne has had some particularly difficult life experiences for the entire world to comment on.
Osbourne has always been very open about her struggles as well as what she sees as triumphs, including her weight loss and path to sobriety. Here is how Kelly Osbourne completed a significant weight loss transformation and why she did it:
Kelly Osbourne's Upbringing and Career Background
Kelly Osbourne is the daughter of rock 'n' roll legend Ozzy Osbourne and his wife, television personality Sharon Osbourne. The pair is known for having a tumultuous relationship but still being one of the only famous couples to stay married for longer than five years.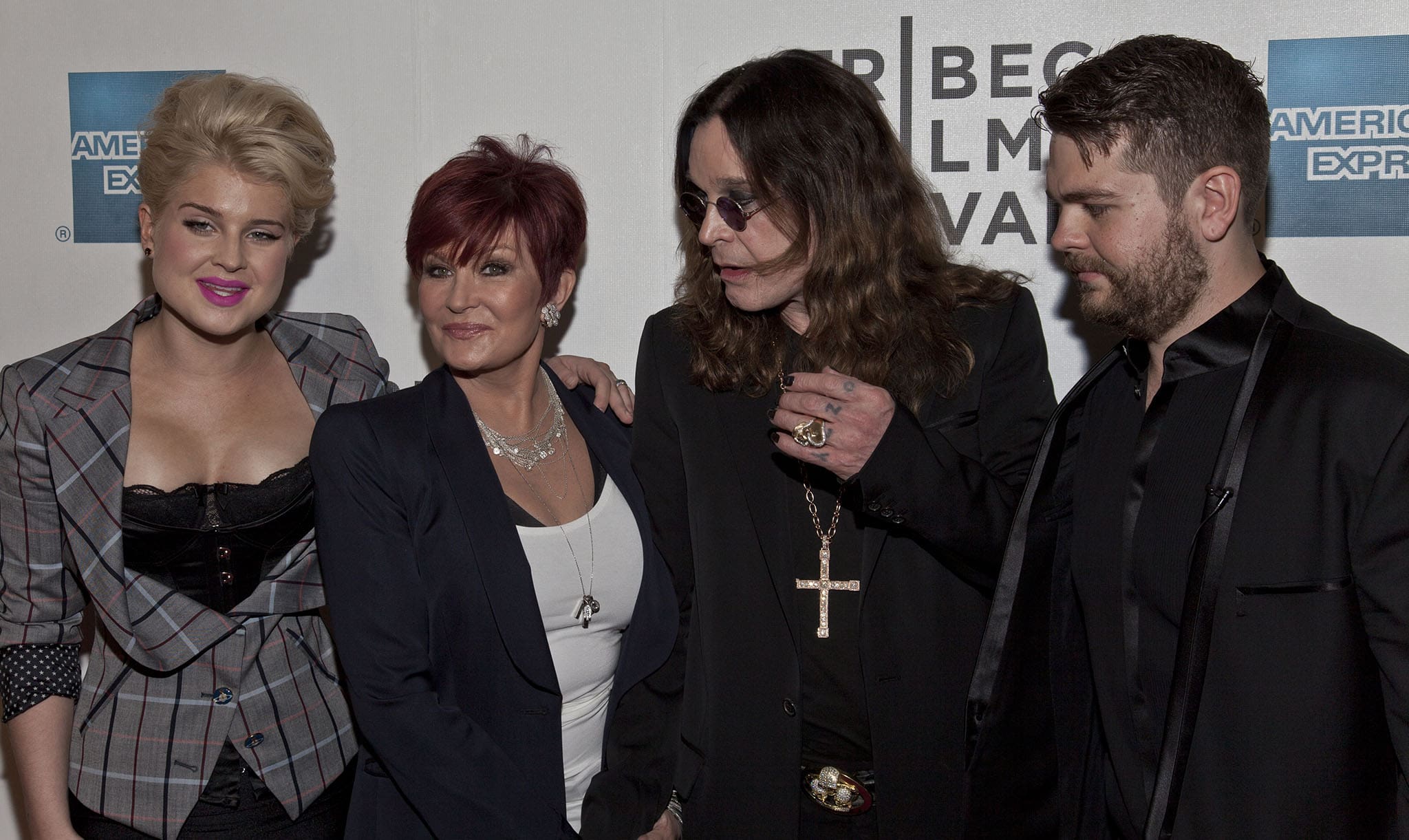 Kelly Osbourne with mom Sharon, dad Ozzy, and brother Jack pictured in 2011 at the premiere of God Bless Ozzy Osbourne during the 10th annual Tribeca Film Festival (Credit: lev radin / Shutterstock)
Since the Osbournes are famous, their children have been part of the public discourse since birth.
But in the early 2000s, the world was given a much more intimate look into the Osbournes' life, learning more about some of their children and the chaos that ensues when one member of your family is one of the most recognized musicians in the world.
The Osbournes were given their own reality television show on MTV called The Osbournes. Viewers were instantly enamored with Kelly Osbourne, and since then, she's gotten plenty of career opportunities on her own, thanks to her personality as well as her distinct style and affinity for fashion.
Kelly Osbourne is best known for being one of the panelists on the E! series Fashion Police from 2010 to 2015 (Credit: Kathy Hutchins / Shutterstock)
Some of her career opportunities include modeling, acting, a stint on Dancing With the Stars, and a notable position judging celebrity style choices on E!'s Fashion Police.
These days, Osbourne is busy hosting a podcast and uses her Instagram account to share personal moments with her fans and promote causes she's passionate about.
Inside Her Weight Struggles
Kelly Osbourne's life in the public eye has not always been easy. Growing up, the famous daughter was often judged by viewers and the media for her weight and appearance.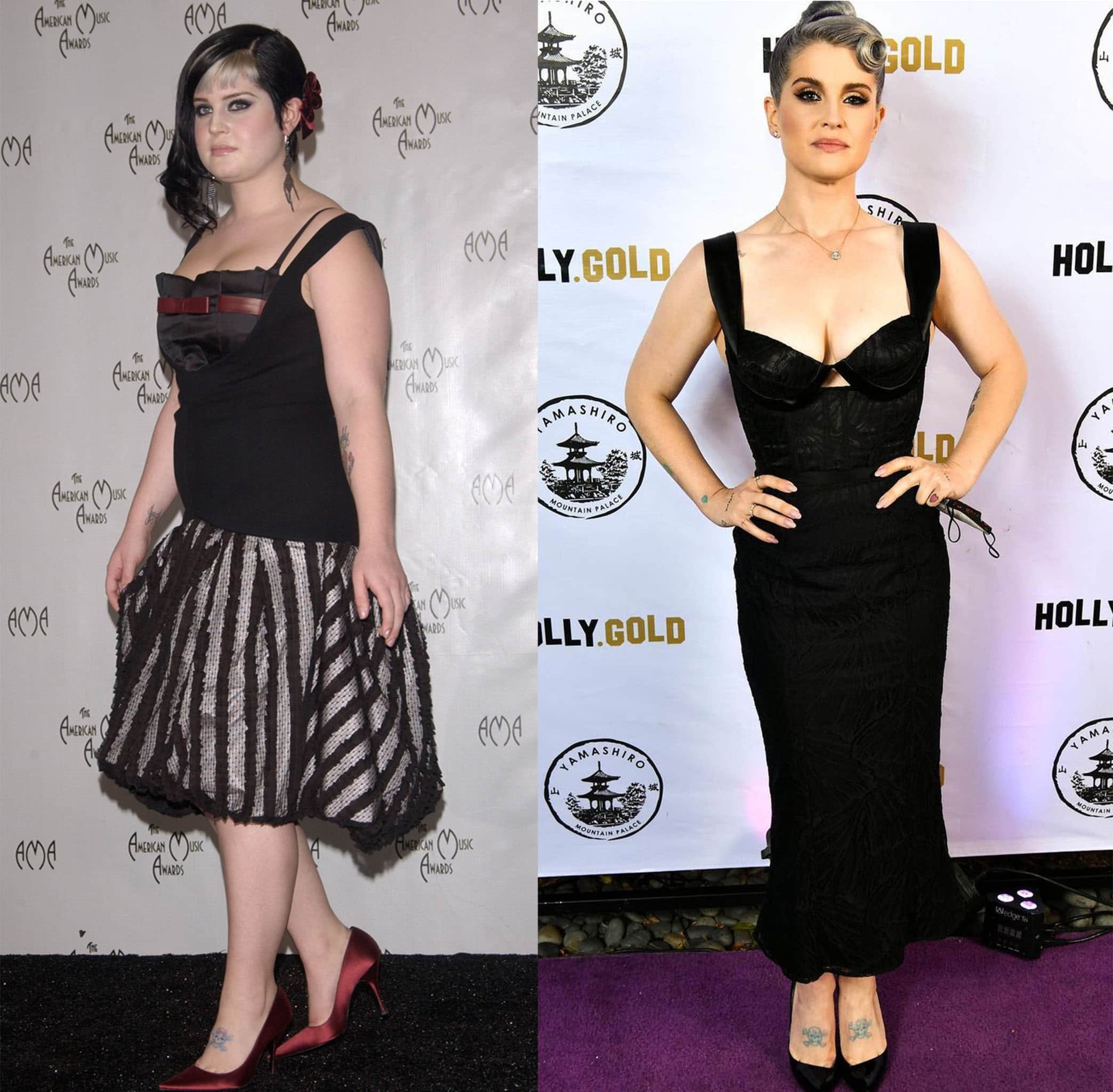 Then and now: Kelly Osbourne in 2004 (L) and in 2020 (R) (Credit: Featureflash Photo Agency / Shutterstock / @kellyosbourne / Instagram)
Several factors played into Osbourne's struggle with her weight, including harsh criticism from the public, as well as mental health and addiction.
After receiving such harsh criticism for so long, Osbourne lost much of her self-esteem and began to hate herself. This led to major grappling with an addiction to both alcohol and drugs.
Kelly Osbourne at the ABC Summer Press Tour Party 2004, three months after entering the Malibu rehab facility Promises after admitting to her family that she was addicted to painkillers (Credit: DFree / Shutterstock)
Stuck in a vicious cycle, Osbourne completed multiple stays in rehab, and she gained weight thanks to emotional eating when she replaced drugs with food.
Osbourne has also noted that, in addition to eating whenever she felt bad, she was also eating unhealthy food, which only exacerbated her weight problem.
"Once I learned how to work out right and eat right," Kelly told the HuffPost in 2013, "it's one of those things that you just have to commit to [as] a life change rather than being on a diet. Because a diet doesn't work. You lose weight and you stop it and it will all come back. So you just have to take baby steps, commit to something, and stay true to it."
A Closer Look at Kelly Osbourne's Weight Loss Journey
Kelly Osbourne's weight loss journey has been a roller coaster, to say the least. Since her first attempt at shedding pounds, Osbourne has gone back and forth on her exercise routine and diet and has had setbacks in her mental health and sobriety status.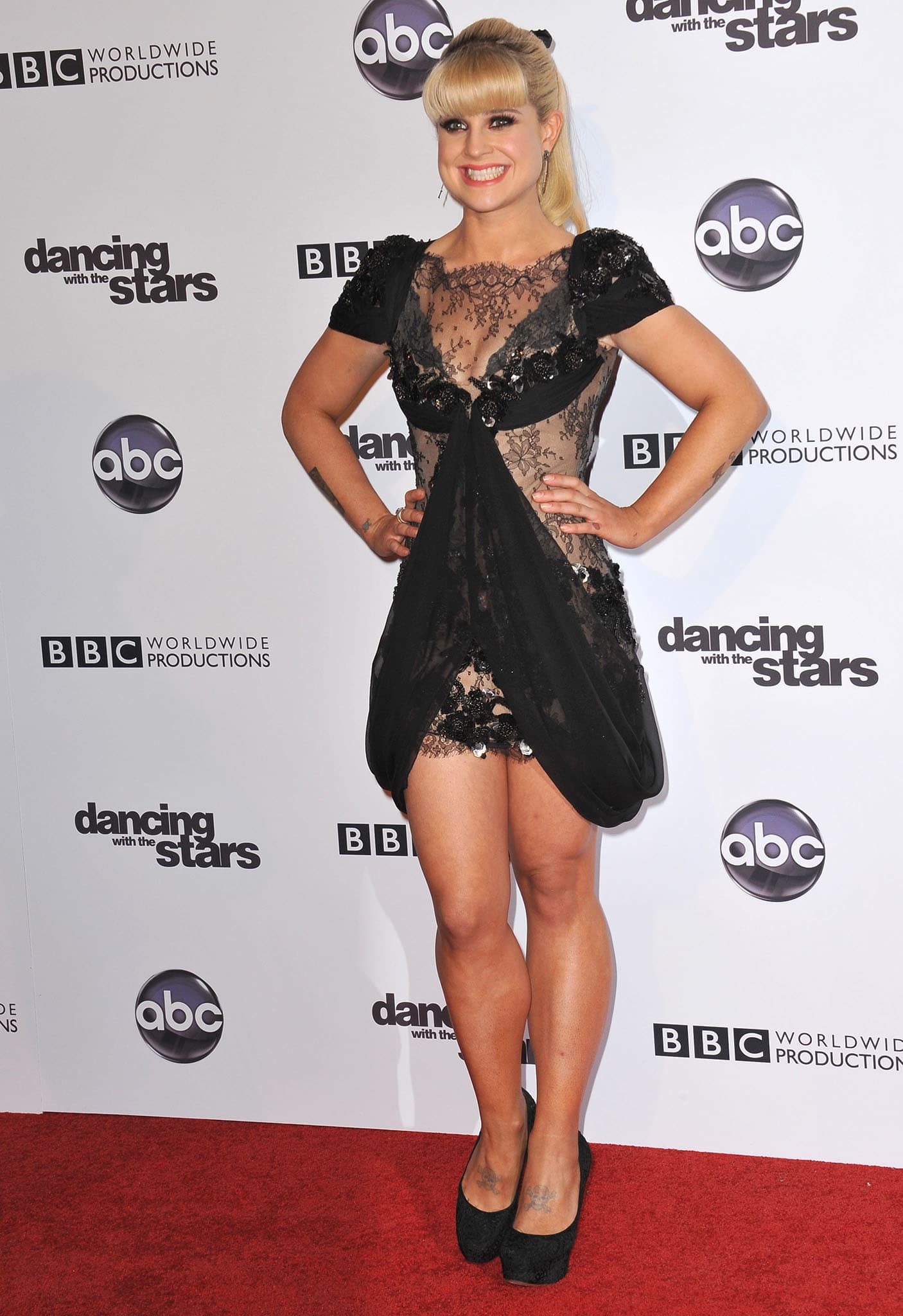 Kelly Osbourne lost almost 20 pounds after she was asked to participate in Dancing With the Stars in 2009 (Credit: Featureflash Photo Agency / Shutterstock)
Osbourne's initial weight loss was thanks to a career opportunity. After being asked to participate in Dancing With the Stars, Osbourne began taking care of herself and lost nearly 20 pounds due to her new workout regimen and cleaner diet.
"I was called fat and ugly in the press almost my entire life," she recalled to Shape magazine in November 2010 of her weight loss journey.
"I understand that being judged by others comes with the territory, but it broke my heart and ruined my self-esteem. It sets you up to hate yourself in a huge way. I was so angry about the things people said about me."
After the opportunity ended, though, she was no longer motivated to work out.
"I didn't like it one bit. I thought, 'Kelly, you've come this far, let's see what you can really do!' I would look at myself and think, 'Ugh!' To get to the gym, when you already don't like yourself, is really hard."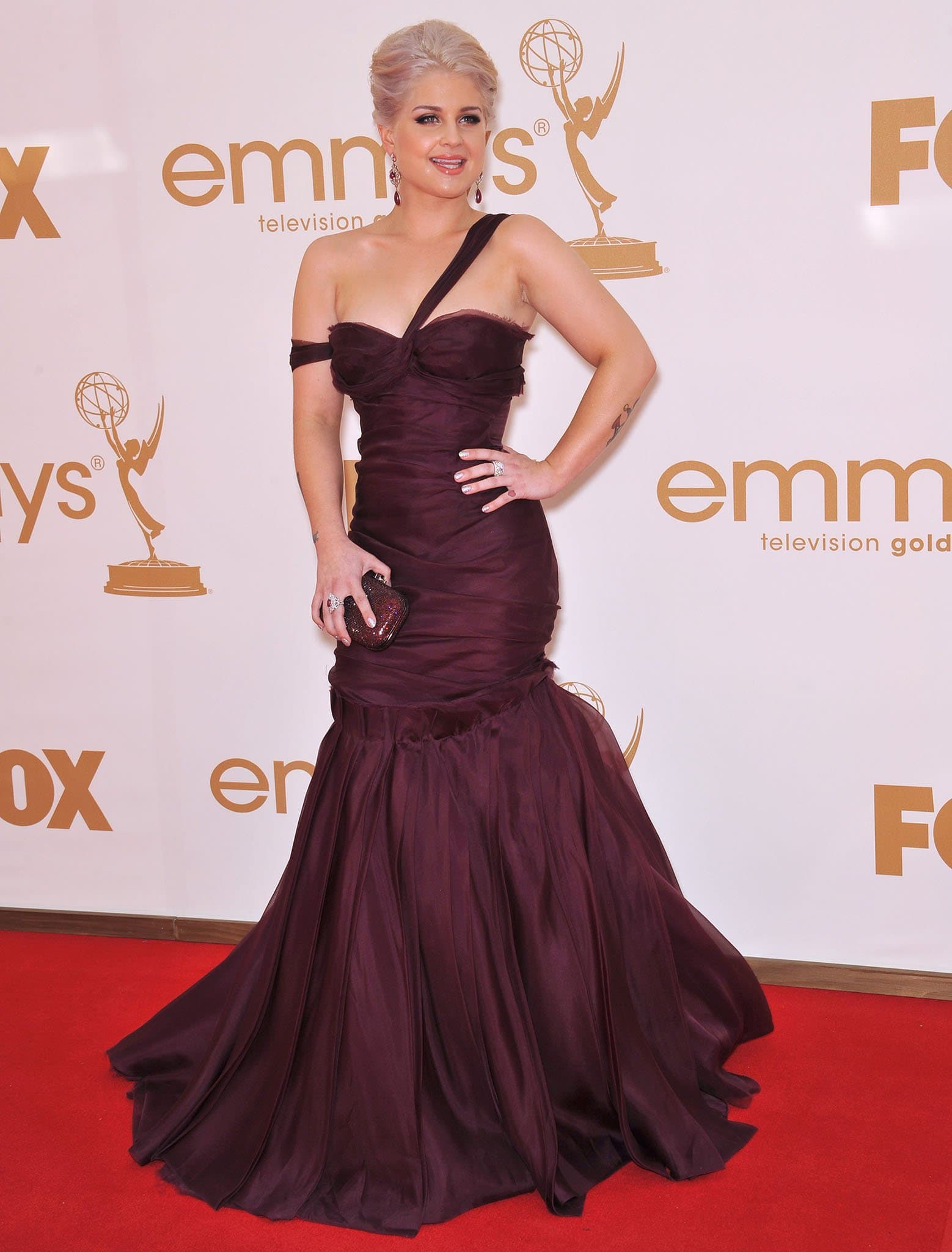 Kelly Osbourne, pictured in 2011, shed 50 pounds following her DWTS journey but had another setback when she was diagnosed with Lyme disease (Credit: Featureflash Photo Agency / Shutterstock)
A few years later, Osbourne began taking nutrition and exercise more seriously, and she was able to shed 50 pounds.
Osbourne had another setback when she was diagnosed with Lyme disease as frequent changes in medication took a toll on her mental health, which, as mentioned, has had a severe impact on her weight and overall health.
"The doctors kept changing my prescription, trying to get the dosage right, and it turned me into a zombie," she wrote in her memoir "There Is No F*cking Secret: Letters From a Badass Bitch" (available on Amazon) about being diagnosed with Lyme disease in her 2018.
"You know in movies where a mental patient sits in a rocking chair in a cardigan and nightgown and stares at a wall all day? That was me." Other celebrities with Lyme disease include Bella Hadid and Avril Lavigne.
"I've kept quiet about my Lyme disease, not only for fear of pharmaceutical companies coming after me because of the cure I found in Germany but also because it seems like the trendy disease to have right now, and I'm tired of seeing sad celebrities play the victim on the cover of weekly mags. Since I know firsthand how awfully debilitating it is, I know who really has it and who is just trying to prolong their 15 minutes. I don't understand how anyone could think that the life you have to live with Lyme disease is glamorous."
More Details on How and Why She Lost Weight
Kelly Osbourne has put a tremendous amount of work into understanding why she struggles with her weight. Over the years, Osbourne has tried several methods of losing weight in search of one that works for her and ultimately cultivates a healthy lifestyle.
Osbourne has adopted a vegan diet thanks to former flame Matthew Mosshart, a vegan chef. She's also lost weight by integrating a good workout routine and a healthy relationship with exercise.
Kelly Osbourne has adopted a vegan diet thanks to her vegan chef ex-fiancé Matthew Mosshart (Credit: Ga Fullner / Shutterstock)
Osbourne has noted that she no longer pays attention to the number on the scale but rather how she feels.
The podcaster has been very open about some of the more extreme methods she's used to lose weight, including undergoing gastric sleeve surgery. She has no regrets concerning her decision and credits it to aiding in her current weight.
"I had really bad TMJ. One of the things they did to stop it was they gave me injections in my jaw. It kinda made my jaw look skinnier. That's when people started to notice that I had really lost weight because it changed the shape of everything," Kelly said during an episode of the "Hollywood Raw with Dax Holt and Adam Glyn" podcast in August 2020.
"I found out It's called buckle fat. It changed everything on my face! How the f–k did I not know about this sooner?"
"I don't give a f–k what anyone has to say. I did it, I'm proud of it, they can suck s–t. I did the gastric sleeve. All it does is change the shape of your stomach. I got that almost two years ago. I will never, ever, ever lie about it ever. It is the best thing I have ever done," she added about the popular surgical weight-loss procedure.
Slimmer Kelly Osbourne, pictured in 2012, revealed undergoing gastric sleeve surgery in 2018 (Credit: Featureflash Photo Agency / Shutterstock)
In addition to creating healthy habits, Osbourne has worked to accept and love herself as she's noted that losing weight isn't what made her happy – losing weight was a byproduct of becoming happy.
Osbourne has also recognized that being in the public eye is not good for her mental health or her weight struggles and that taking a step back to live a more private life was conducive to a healthier life.
More than anything, Osbourne wanted to stay alive, and that's why she lost weight. She's happy with how she looks, but she's happier with how she feels.
More on Her Sobriety Journey
In addition to losing weight, Kelly Osbourne has become sober. As mentioned, she has been to rehab multiple times and has realized the part her addiction plays in her weight struggles.
"I got sober," she told Us Weekly in May 2021. "I replaced drugs and alcohol with food, my body metabolized differently. Once I got sober and I gained weight uncontrollably, it was insane. [People] kept telling me, 'You should do the [gastric sleeve] surgery.' I was so against it. … I thought the surgery was a cop-out and that it was like cheating. That couldn't be further from the truth. What the surgery did was give me a fighting chance."
"I lost, like, I want to say 35 pounds, 40 pounds, and then I stopped losing weight," the former Fashion Police host added.
"I just stopped because I didn't listen to what they said. I just thought it was going to be a quick fix. I'd be done. I'd be skinny. [I thought I] didn't have to work out or do anything. I could not have been more wrong. You have to do every single thing that they tell you to do when you do the surgery, or it doesn't work."
These days, she is fully aware and accepting of her diagnosis as an addict and understands that she is not a person who is able to drink the way people who do not suffer from addiction can.
After just a few days of relapsing after four years of sobriety, Osbourne realized that in order to maintain her overall health, she needs to fully abstain from drugs and alcohol and cannot use them recreationally as some people can. She is now fully sober again.
"I don't know why my nervous breakdown happened at the end of the lockdown, I made it all the way through, everything was great and my life was perfect," Osbourne told Extra about her relapse in April 2021.
"I'm that girl that when everything is going great I need to f—k it up a little and make everything a little bit worse in my life. I am an addict and had thought that I had enough time under my belt and I could drink like a normal person, and it turns out I cannot and I will never be normal. I don't know why I even tried it. It's not for me and it took me a matter of days and I was like, 'Done, not doing this.'"
Kelly Osbourne's Weight Today
Today, Kelly Osbourne is as healthy as ever. She maintains a balanced diet, one that is free of meat, and has found a love for fitness, always eager to try a new way to move her body.
The fashionista is also very happy with herself and who she is, which helps her maintain her current weight.
Kelly Osbourne is happy with her transformation and is currently maintaining a balanced diet that's free of meat (Credit: @kellyosbourne / Instagram)
Considering that Kelly Osbourne has been a fashion correspondent for the cable network E! since 2011, expectations are high for her red carpet ensembles. She departed the program in late February 2015.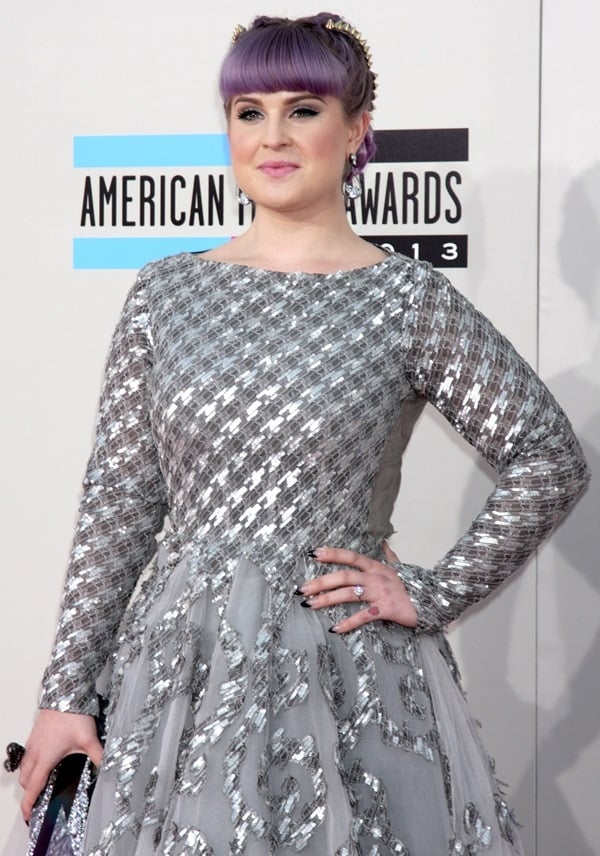 Kelly Osbourne with her signature lavender hair attends the 2013 American Music Awards held on November 24, 2013, at Nokia Theater in Los Angeles (Credit: WENN)
However, in November 2013 she found herself on the worst-dressed list at the American Music Awards.
Wearing her lavender hair up in a braided and studded updo, she revealed a neck tattoo of a five-pointed star. A symbol of fame or "stardom" in Western culture, her neck tattoo is inked using varying colors of blue, purple, and turquoise.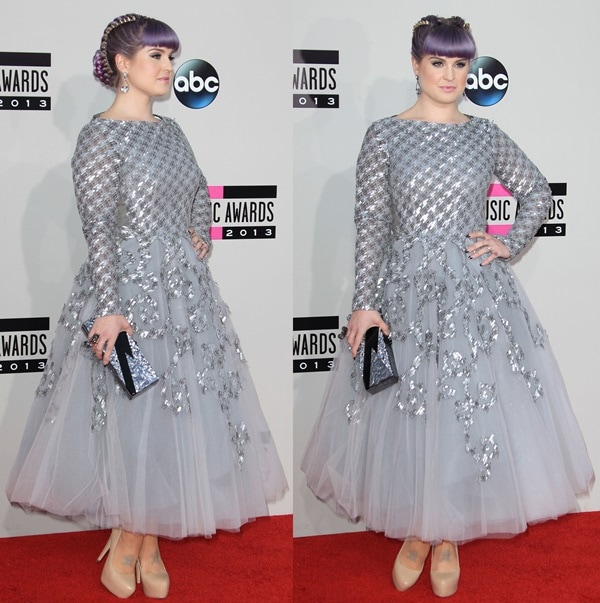 Kelly Osbourne wears an ill-fitting Rami Al Ali dress on the red carpet (Credit: WENN)
The then 29-year-old styled an ill-fitting Rami Al Ali prom dress with an Edie Parker clutch, Erickson Beamon Rocks jewelry, and Aldo pumps. Her dress features a flouncy full tulle skirt and a metallic gray bodice.
Kelly shows off her neck tattoo by wearing her lavender hair up in a braided and studded updo (Credit: WENN)
Heidi Klum in a bizarre Marchesa skirt was another of the fashion fails. Do you think Kelly deserves to be on the worst-dressed list?
While most celebrities paired their red carpet downs with Christian Louboutin or Jimmy Choo heels, Kelly selected an affordable pair of pumps from Aldo. You can grab your own for a relatively reasonable price at Amazon and Zappos.
Aldo Malina Platform Pumps, $100