Placed on one of the most visible parts of your body, neck tattoos stand out almost regardless of what you're wearing.
Known to be quite painful, a neck tattoo is normally not considered by anyone getting inked for the first time. The celebrities featured below already had numerous tattoos before deciding to decorate their necks with body art.
1. Chris Brown's Neck Tattoos
In June 2012, the American artist got a wolf inked on his neck by Peter Koskela (aka PeterTattooist). It is described as "an Indian chief transforming into a wolf."
Chris Brown's neck tattoo of an Indian chief transforming into a wolf
Inked in black and white, the tattoo features a half-human/half-wolf face complete with a full Indian headdress.
Chris Brown's wolf Indian chief tattoo in black and white
He also has a sugar skull (representation of a human skull associated with the Mexican celebration of the Day of the Dead) neck tattoo based on a MAC design that he brought to tattoo artist Peter Koskela in 2012. While it resembles his ex-girlfriend Rihanna, the tattoo is not of her.
"His tattoo is a sugar skull (associated with the Mexican celebration of the Day of the Dead) and a MAC cosmetics design he saw," one of his representatives said in a comment. "It is not Rihanna or an abused woman as erroneously reported."
Chris Brown's sugar skull neck tattoo associated with the Mexican celebration of the Day of the Dead
2. Victoria Beckham's Wedding Anniversary Tattoo
While she later chose to have it removed, the English businesswoman/singer got a tattoo on her upper back and neck during her sixth wedding anniversary in 2005. The elegant Hebrew etching read "Ani l'dodi li va'ani lo haroeh bashoshanim," which means "I am my beloved's and my beloved is mine."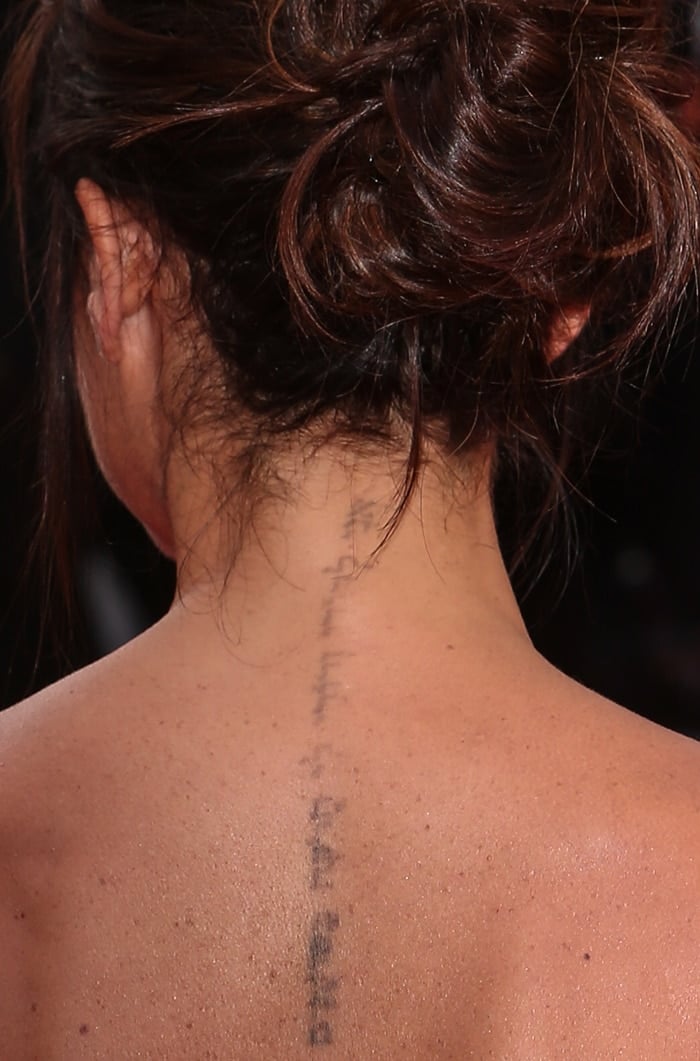 Victoria Beckham's wedding anniversary tattoo going down her spine
The words are from the Song of Songs in the Bible. Removing the tattoo took several months of laser treatment. Her husband, David Beckham, has a matching Hebrew tattoo inked on his left arm.
3. Melanie Griffith and Dakota Johnson's Amor Neck Tattoos
American actress Melanie Griffith showed off a neck tattoo reading "Amor" when attending the opening of upscale cafe chain Freds at Barneys New York in Beverly Hills.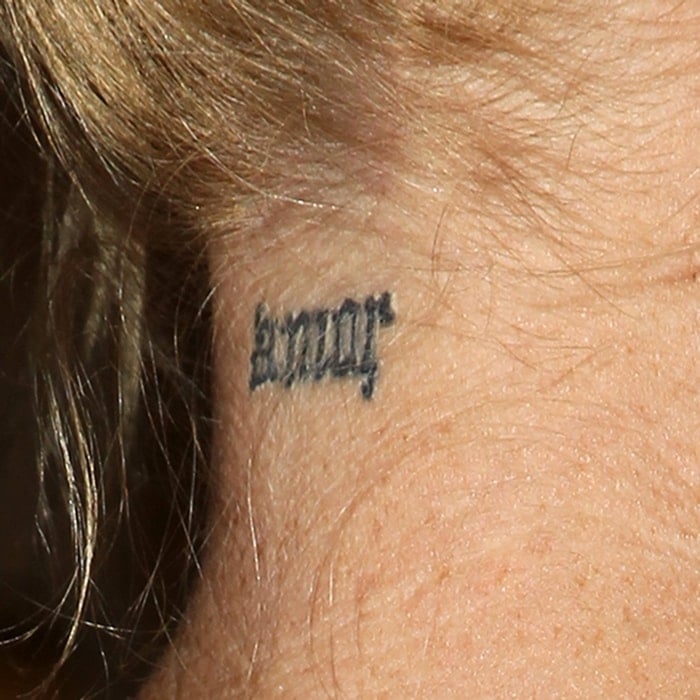 Melanie Griffith's Amor neck tattoo
Her daughter, Dakota Johnson, has a matching tattoo on her neck in black ink. She also has a "Look At The Moon" foot tattoo surrounded by stars and a tattoo of three birds on her right shoulder.
Dakota Johnson has the word Amor tattooed on the back of her neck
4. Kimberly Wyatt's Sanskrit Neck Tattoo
Best known as a former member of the American pop/R&B girl group and dance ensemble the Pussycat Dolls, Kimberly Wyatt has a famous Sanskrit song prayer inked on her neck. It means "may all beings in all the worlds be happy and peaceful."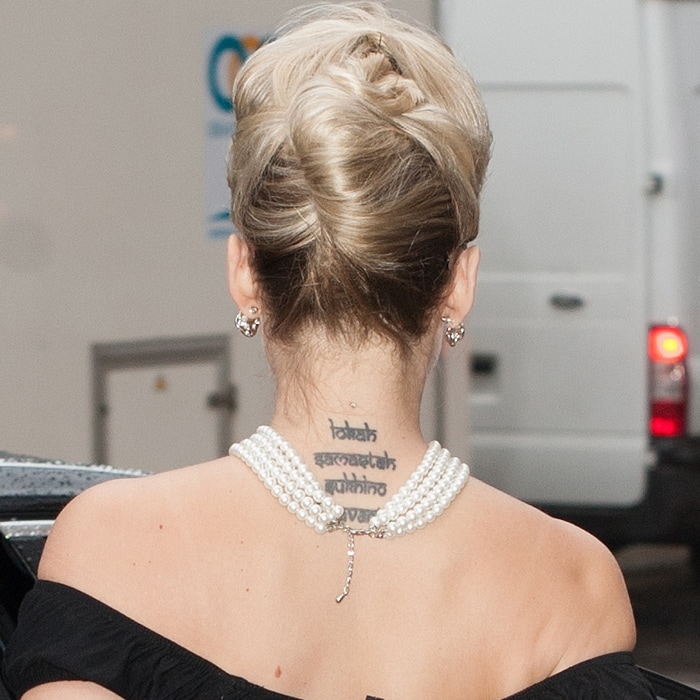 Kimberly Wyatt's religious Sanskrit neck tattoo
5. Fearne Cotton's Floral Neck Tattoo
The English television and radio presenter has three flowers inked with her name and the names "Mum" "Dad" and "Jamie" in honor of her parents and brother.
Fearne Cotton's neck tattoo honors her parents and brother
6. Rihanna's Rebelle Fleur Tattoo
In August 2010, the Barbadian singer got a tattoo of the text "rebelle fleur" (rebel flower) written in script on the left side of her neck. She also has a trail of stars extending from her neck down her back.
Rihanna's star trail tattoo down her back was originally much shorter when inked in 2008
While the adjective usually comes after the noun in French, tattoo artist Bang Bang explains: "Rebelle Fleur translates to rebel flower, NOT rebellious flower, it's 2 nouns so in that case, fleur does not HAVE to be first!"
Rihanna shows off her rebelle fleur neck tattoo
7. Vanessa Hudgens' Butterfly Tattoo
The High School Musical star has a big tattoo of a purple and green butterfly on her neck. It's not known who inked her colorful body art.
Vanessa Hudgens has a colorful butterfly inked on her neck
8. Post Malone's Bison Skull Tattoo
Known for his numerous tattoos, the American rapper has a gigantic bison skull tattoo on his throat.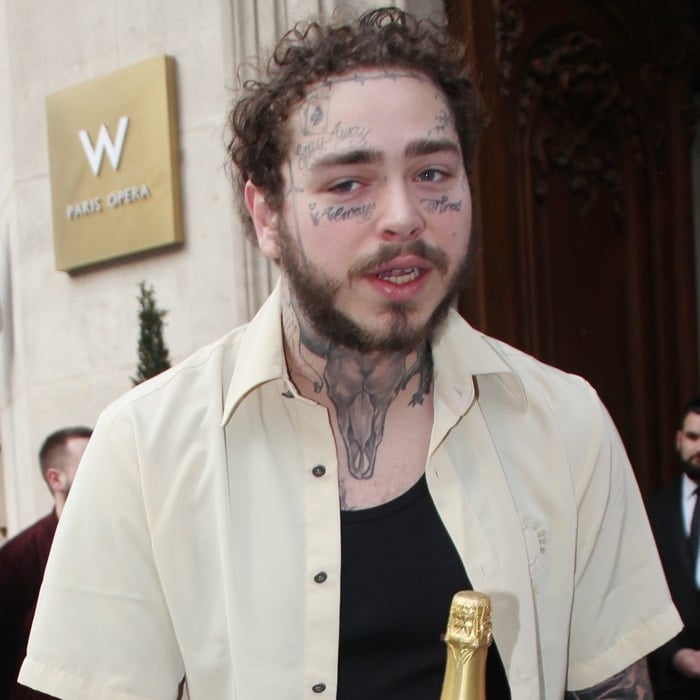 Post Malone has a bison skull tattooed on his neck
9. Justin Bieber's Patience and Angel Wing Neck Tattoos
The Canadian singer-songwriter has 'Patience' inked vertically in a Gothic style font along the right side of his neck.
Justin Bieber's Patience neck tattoo
He also has a tattoo of two black and grey angel wings on the back of his neck.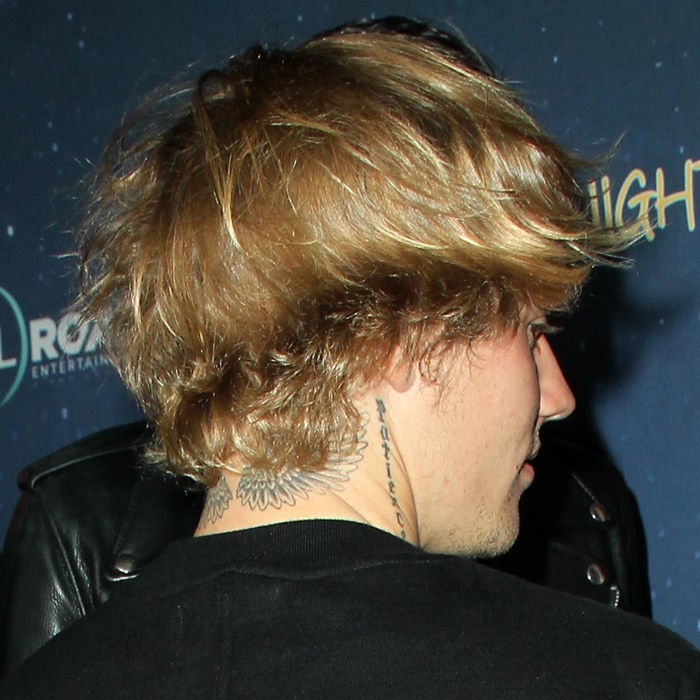 Justin Bieber's neck tattoo of protective angel wings
10. Kerry Katona's Neck Tattoo
The English media personality has an artistic tattoo of a bird on her upper back with the names of her kids "Heidi" and "Maxwell" written above it.
Kerry Katona's tattoo features the names of two of her children
11. Cara Delevingne's Magical Yantra Tattoo
The English model/actress first inked a design inspired by Yantra tattooing and later added a pair of spooky eyes.
Cara Delevingne's body art inspired by Yantra tattooing
12. Ruby Rose's Numerous Tattoos
Among her many tattoos is a line from Sia Furler's song "Breathe Me" and a swallow.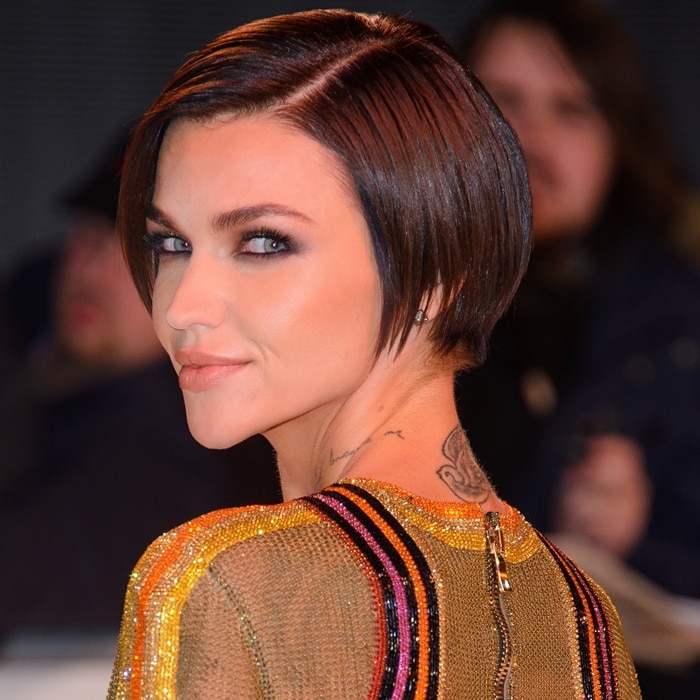 Ruby Rose has so many tattoos we've stopped counting
13. Selena Gomez's Roman Numeral Tattoo
In addition to an Arabic tattoo on the right side of her back, Selena Gomez got inked on the back of her neck on September 29, 2012, by famous New York artist Bang Bang. According to the artist, "the tattoo was a tribute to a family member who she said means a lot to her."
The tattoo reads "LXXVI" which translates to the number 76. Selena's mother Amanda Dawn "Mandy" Teefey was born in 1976.
The Roman numerals on Selena Gomez's neck translate to "76" which is a tribute to her mother (Credit: facebook.com/BangBangTattoos/Coleman-Rayner)
She also has a lower-case letter "g" tattoo behind her left ear for her baby sister Gracie Elliot Teefey, who was born on June 12, 2013.
Selena Gomez's lower-case letter "g" tattoo behind her left ear
14. Cardi B's Samuel and Sign Language Tattoos
The popular rapper has the American sign language gesture for "I Love You" and a small black star inked behind her right ear. She also has the name "Samuel" in red ink tattooed just below her neck.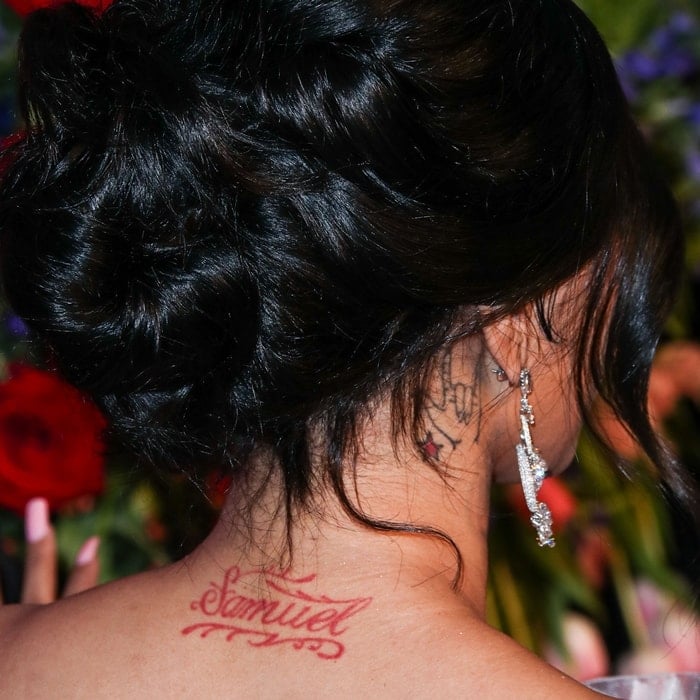 Cardi B's American sign language and Samuel tattoos
Credit: Brian To / WENN / Judy Eddy / FayesVision / Cinzia Camela / Daniel Deme / Derek Jarvis / 
Adriana M. Barraza / Sean Thorton / MEGA / Lia Toby / Joe / Apega / Avalon