In January 2016, Baby Boy actress Taraji P. Henson claimed the Best Actress in a TV Series win at the Golden Globes.
She was recognized for her performance in Empire and was nominated along with Caitriona Balfe (Outlander), Viola Davis (How to Get Away With Murder), Eva Green (Penny Dreadful), and Robin Wright (House of Cards).
Taraji P. Henson wears her hair down at the 47th annual NAACP Image Awards held on February 5, 2016, at the Pasadena Civic Auditorium in Pasadena
One month later, she won Outstanding Actress in a Drama Series award at the 2016 National Association for the Advancement of Colored People Awards.
How Old Were Yvette and Jody in Baby Boy?
Making her breakthrough in the 2001 American coming-of-age hood film Baby Boy, she portrayed Yvette, the girlfriend of Joseph "Jody" Summers / Baby Boy (Tyrese Gibson).
Baby Boy was released on June 27, 2001, when Taraji P. Henson was 30 years old. Born on September 11, 1970, in Washington, D.C., she turned 31 on September 11, 2001.
Tyrese Darnell Gibson was born on December 30, 1978, in Watts, California, and was 22 years old when attending the premiere of Baby Boy. He turned 23 on December 30, 2001. Gibson and Henson later reunited in the 2005 American action film Four Brothers.
Taraji also starred as his love interest in the music video for Tyrese's 2011 single "Stay," a song from his poorly received fifth studio album "Open Invitation."
"I was Yvette before Cookie, and now I'm finally getting rid of Yvette," Henson said in an interview with The Los Angeles Times in March 2015. "In fact, I've been Yvette all my life, so I just got used to people calling me that."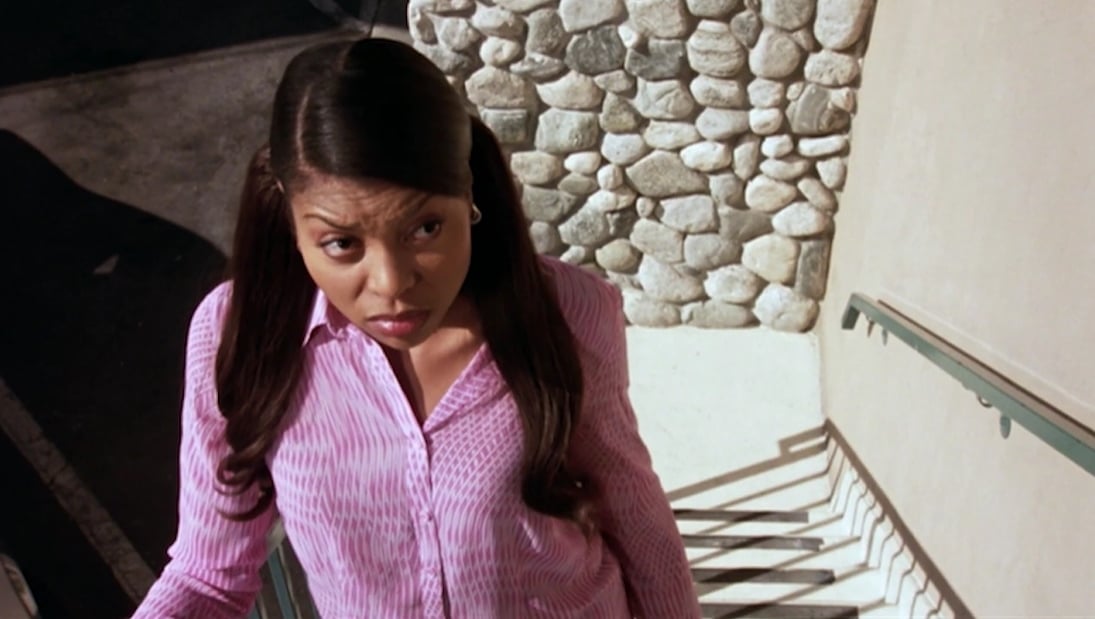 Taraji P. Henson had her career breakthrough as Yvette in Baby Boy
"I think that's why Tyrese and I are still good friends to this day. We were like virgins to the game, together. It was the first feature film for both of us, and we were in leading positions. There were a lot of firsts — it was the first time being totally nude on film and pretending to have sex. We went through that together, and we met at a point in our lives when we had to connect and get through something together," she said about starring with Tyrese Darnell Gibson, who went on to portray Angel Mercer in Four Brothers, Roman Pearce in the Fast & Furious films, and Robert Epps in the Transformers film series.
Essence Atkins also auditioned for the role of Yvette. "I screen-tested for 'Baby Boy' against Taraji," Atkins revealed in an interview with Madame Noire.
"I screen-tested with Tyrese and John (Singleton) was there and it's so funny because I remember when I was done I felt like, 'aw this is mine,' and then I saw Taraji walk in and I was like, 'Maybe not."
"Because we had worked together and she played my best friend on "Smart Guy," I knew how brilliant she was and I knew how gifted she was so I wasn't surprised when she was cast and she killed it. She was amazing in that film. But, yeah, that's one of those almosts," she said about starring with Taraji in the sitcom television series Smart Guy.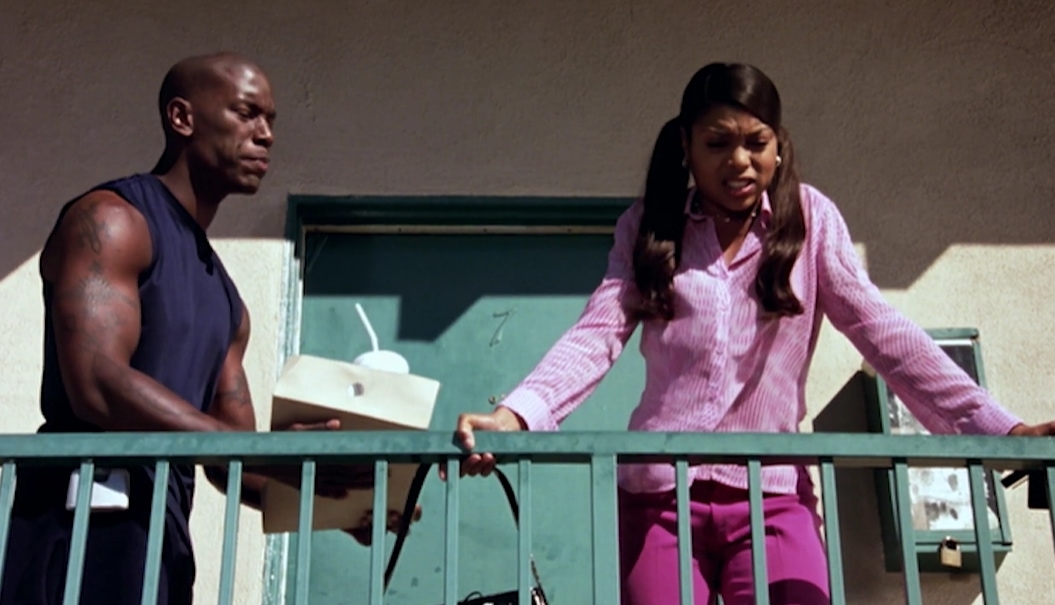 Baby Boy was the film debut of actress Taraji P. Henson and R&B singer Tyrese Gibson
Did we mention it was her sixth Image Award?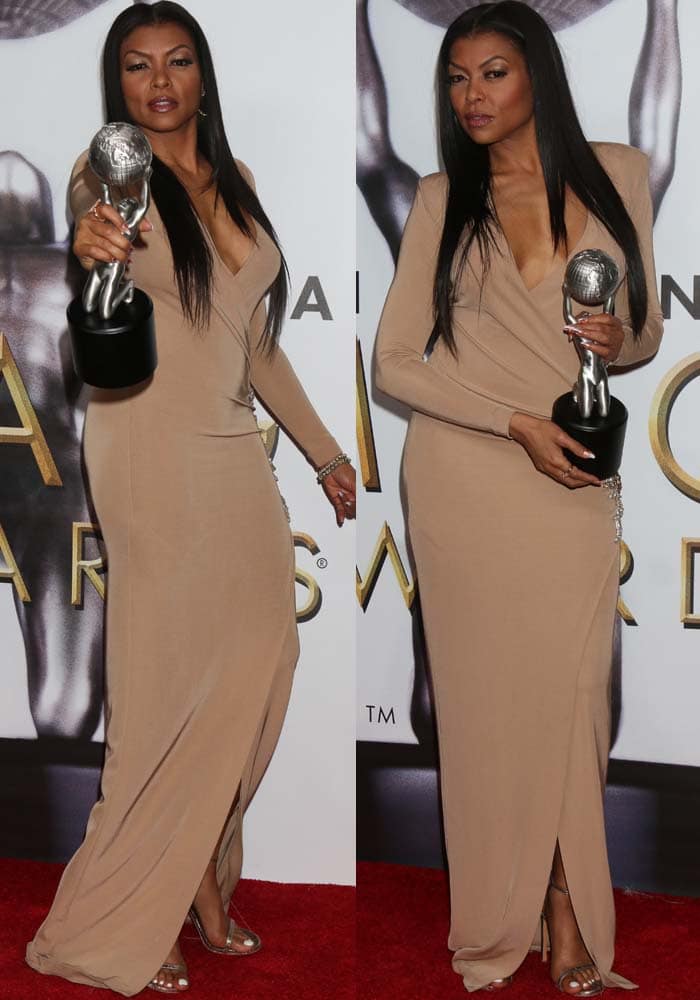 Taraji P. Henson holds her award while wearing a neutral-colored dress by Balmain
Taraji looked stunning in a beautifully-fitted dress by Balmain, which featured a gorgeous crystal embellishment on one side.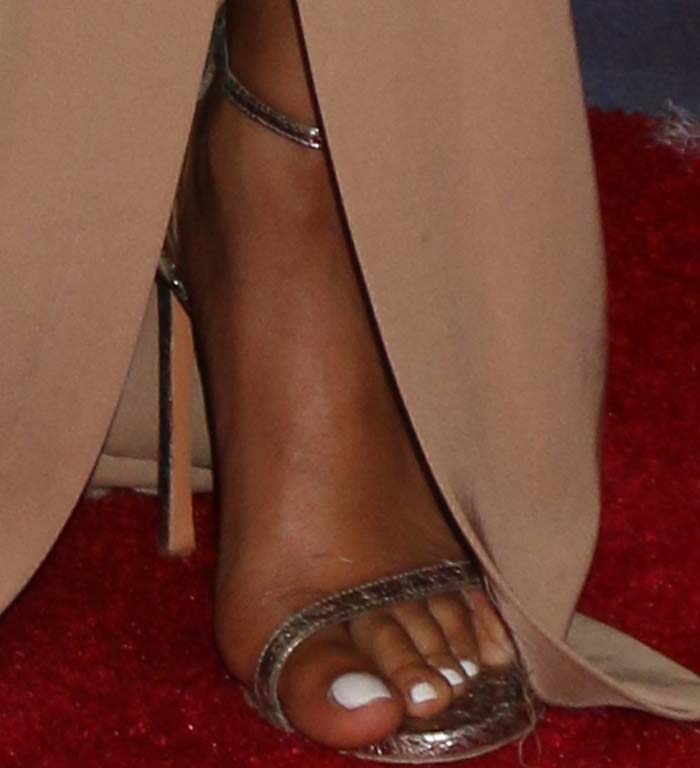 Taraji P. Henson's feet in metallic Stuart Weitzman heels
The actress turned to Kimberly McDonald for her jewelry and finished off her look with a pair of metallic Stuart Weitzman "Nudist" heels.
Jussie Smollett, Gabourey Sidibe, Trai Byers, Taraji P. Henson, Bryshere Y. Gray aka Yazz, Grace Gealey, Kaitlin Doubleday, and Danny Strong pose in the press room during the 47th NAACP Image Awards
Taraji concluded her speech with some advice.
"We don't need to ask for acceptance from anyone," she said after thanking the folks who helped to advance her career.
You can order the Stuart Weitzman "Nudist" sandals in all sorts of glitter and metallic gorgeousness at Zappos and Nordstrom.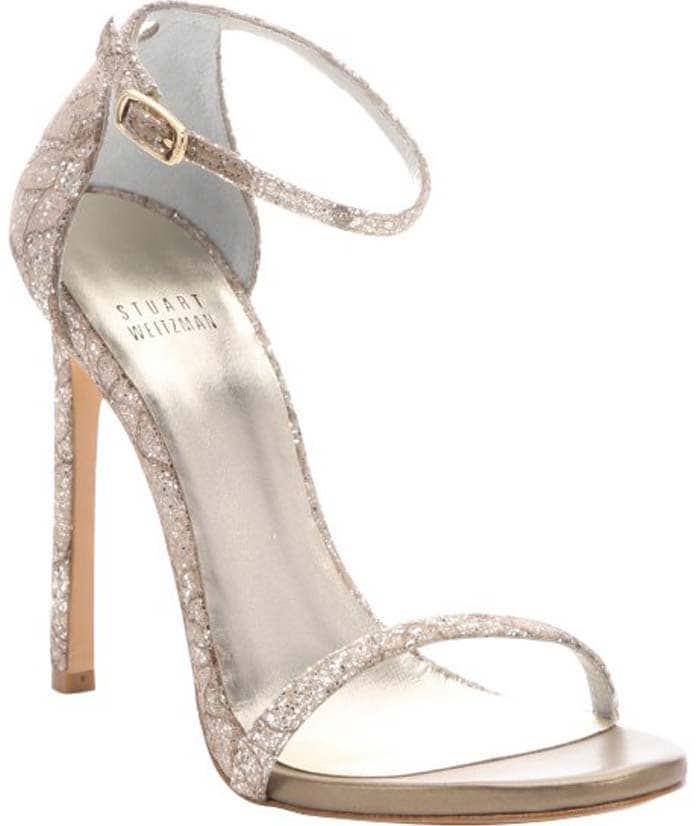 Stuart Weitzman Quartz Sugar Lace and Glitter 'Nudist' Stiletto Sandals, $398
Stuart Weitzman Pewter Glitter Lamé 'Nudist' Stiletto Sandals, $398
Credit: Nicky Nelson / WENN