About a week ago, we found the Kardashian sisters shooting some scenes for their reality TV show while visiting a spa in Sherman Oaks. Kim and Khloe were in their usual skintight garbs, but Kylie, the youngest, was clad in a completely different look.
She wore a shapeless shift in white lace paired with bulky buckled boots from Balenciaga. It was not Kylie's most elegant ensemble, but her grunge-deluxe outfit looked undeniably cool.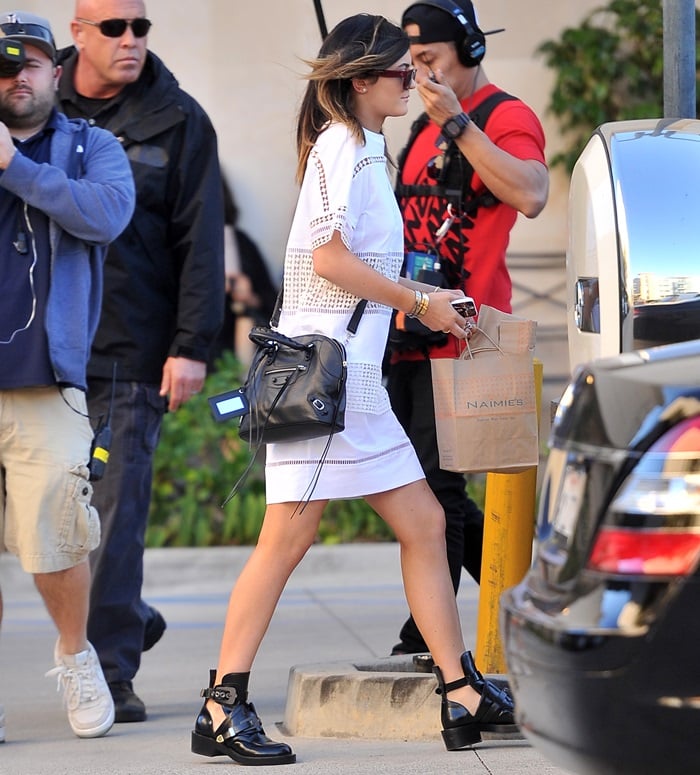 Kylie Jenner flaunts her legs while visiting a spa in Sherman Oaks, Los Angeles, on January 31, 2014
Her shoes were also very hard to ignore. How could you miss them when they are the perfect mix of punk and polished?
Kylie Jenner's cutout buckled boots from Balenciaga
Kylie wasn't the only celebrity who favored this bulky pair of Balenciaga boots. Ashley Tisdale was spotted rocking them with a fitted dress and a hat just this Wednesday.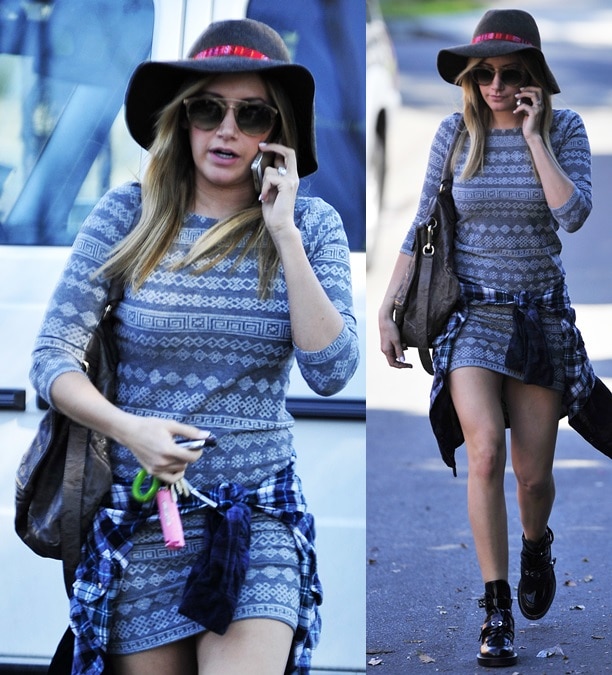 Ashley Tisdale heading out to a lunch date with Vanessa Hudgens in Los Angeles on February 5, 2014
Her look was more sexy-punk than grunge, although she toned it down a bit by tying a checkered shirt around her waist. She also wore the boots differently, that is, by pairing them with black socks so that the cutouts weren't obvious.
Ashley Tisdale wearing cutout buckled boots from Balenciaga

Now, here's the question: Who looks better in these Balenciaga boots, Kylie or Ashley?
You know, it may sound surprising, but we actually prefer Kylie's outfit. She managed to pull it off with impact. Sure, Ashley looks sexy in her threads, but her whole ensemble is as normal as can be. There's nothing totally unique about it. Of course, it's all a matter of opinion, and you may have an entirely different one.
You can score your own pair of Balenciaga "Ceinture" cutout buckled boots at Barneys New York if you want them. They're pricey, though.
Balenciaga Ceinture Cutout Buckled Boots, $1,275 at Barneys New York
For those on a budget, here's our little secret. You can actually get the same look for a fraction of the price with great substitutes from Jeffrey Campbell. Yup, leave it to JC to do knock-offs so fabulously.
Check out the "Roscoe" boots. These have the same bulk and the same cutout silhouette. Of course, the best part is the fact that you'll "only" need to spend $248 for a pair at Nastygal.
Jeffrey Campbell Roscoe Boots, $248 at Nastygal
Credit: WENN