If you ever played fashion show with your Barbies when you were little, then the scenes at the Moschino Spring 2015 runway would be very familiar to you.
Jeremy Scott dressed up his girls like real-life Barbies in blonde wigs, pink makeup, and frilly dresses. The model who opened the show wore the exact look of the Moschino doll given away to those in the front-row seats, while others were humanized versions of Tuxedo Barbie, Golden Dream Barbie, and Bad '80s Fashion Barbie.
As for the shoes, they could only have been mules because what other shoe style fits Barbie's eternally arched feet the most? They were even made of matte leather, which gave the mules a molded plastic appearance. Check them all out below.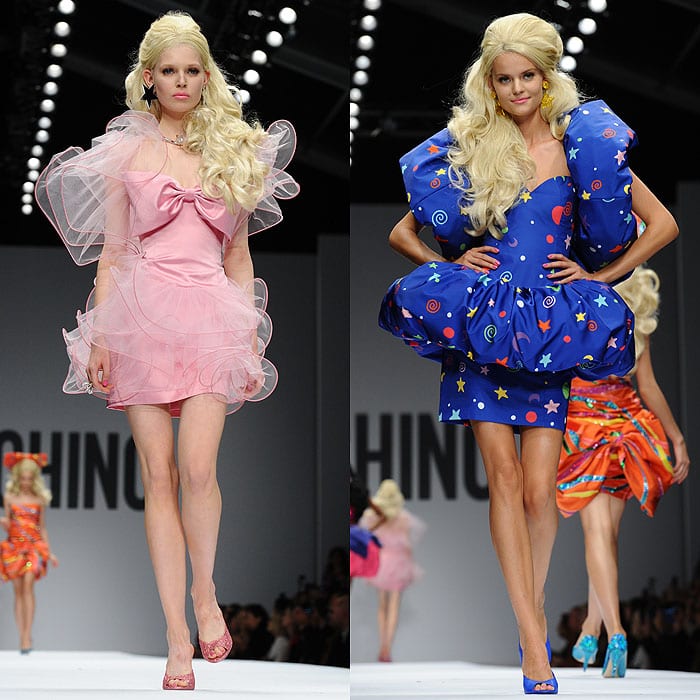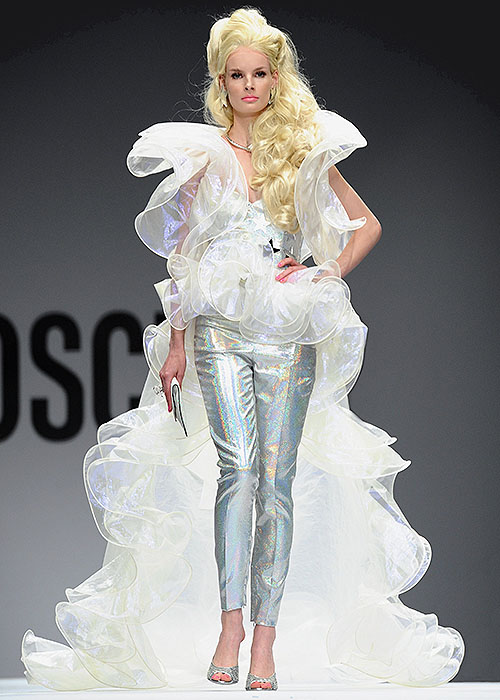 Barbie-inspired looks from the Moschino spring 2015 fashion show presented during Milan Fashion Week Spring/Summer 2015 in Milan, Italy, on September 18, 2014
Shoes on the Moschino Spring 2015 runway show
Celebrity attendees who graced the front row included Bella Thorne, fashion blogger Chiara Ferragni, and Leigh Lezark, who was an odd sight as she was not dressed in her usual black duds. They shared some interesting Instagram snaps of the show among the three of them — check out the cool Barbie mirror iPhone case and the Moschino-branded doll. Watch out for the roller-skating Barbie model!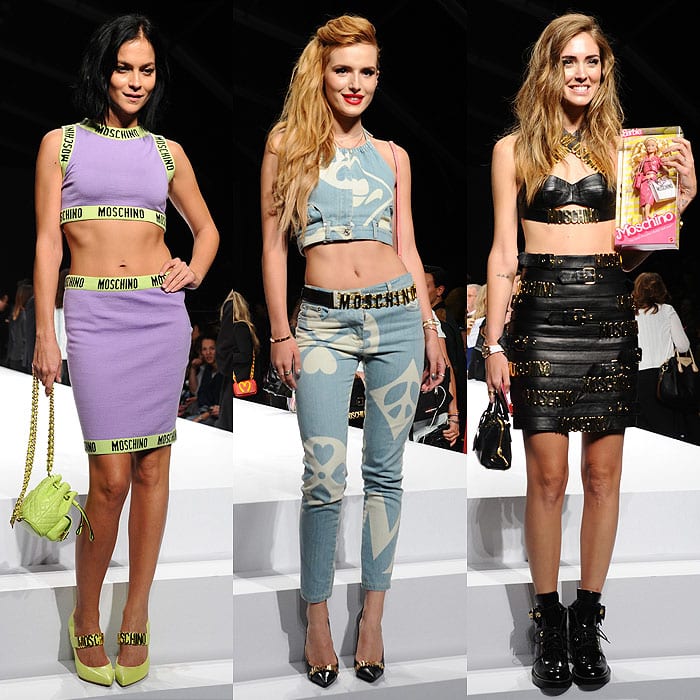 Front row at the Moschino Spring 2014 show: Leigh Lezark, Bella Thorne, and Chiara Ferragni
Chiara Ferragni's Instagram pic captioned, "Seated at @moschino and their new Iphone cover is quite promising #theblondesaladgoestomfw" – posted on September 19, 2014
Leigh Lezark posing with the Moschino Barbie doll – posted on September 19, 2014
Chiara Ferragni's Instagram video clip of the Moschino Spring 2015 show – posted on September 19, 2014
It was McDonald's last year, and then it's Barbie this year. You can call Jeremy Scott's design aesthetic kitschy, trashy, or too literal, but you can't deny that he knows how to excite.
If we were dressing up real-life Barbies, we'd probably choose these pink patent Mulberry pumps, these colorful Giuseppe Zanotti styles, or maybe even these five shoes that we would make "normal-sized" Barbie wear.
Credit: KIKA / WENN