Bella Hadid fell victim to a wardrobe malfunction while she was out and about in West Hollywood, California, on Thursday.
Dressed head-to-toe in workout gear for a simple day of stopping by at a coffee shop and a bookstore, the 19-year-old model was definitely on trend with the athleisure movement.
Bella Hadid wears white thigh-high socks over black yoga pants in West Hollywood, California, on February 18, 2016
However, her leggings were too tight. So tight, that they gave her a visible camel toe. The leggings themselves were a weird combination of black and white panels that made Bella look like she was wearing white thigh-high socks over black yoga pants.
Check out Bella's strange and ill-fitting gym attire that she seemingly wore everywhere but the gym.
Bella Hadid unsuccessfully covering up her camel toe situation with her too-short bomber jacket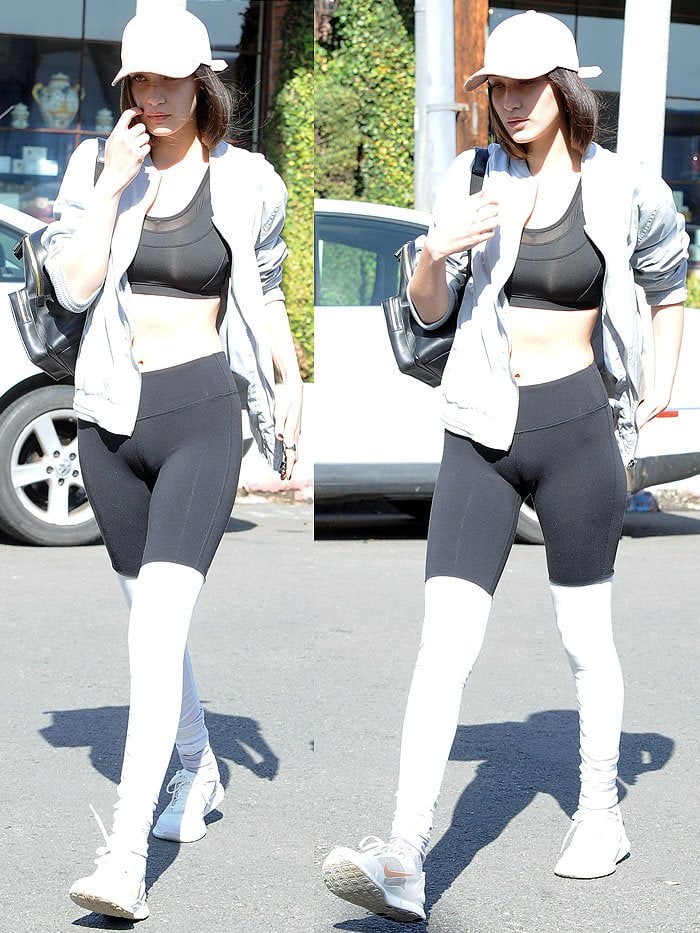 Bella Hadid dressed in a Vianel leather baseball cap, Solow dotted herringbone sports bra, Alo "Goddess" leggings, and Nike sneakers to get coffee and hit up a bookstore
Here are Bella's Nike sneakers — the least offensive part of her getup — up close:
Bella Hadid's white Nike sneakers and socks
Nike remains to be one of the top brand choices for workout gear for many celebrities. One all-time favorite is the Nike Air Max "Thea" style from Amazon.
Nike Air Max "Thea" Sneakers, $90 at Amazon
Credit: Cousart / JFXimages / WENN