Um, are we sure Rihanna and Drake broke up? Because there's no denying the hot chemistry between the two of them.
The former couple let some of those sparks fly in the music video teaser for their song "Work," which was just released today.
Things got really hot and heavy in that video. The full version drops on Monday, and we can expect to see more grinding and twerking between the two and all over the dance floor.
How did Drake meet Rihanna?
Rihanna and Drake met for the first time when she was shooting the video for her debut single, "Pon de Replay," in a Toronto restaurant called Avocado. A the time, Rihanna was only 17.
"In the video, she has a blue dress on and it's a solo cutaway performance shot," the Canadian rapper told Vulture.
The music video for Rihanna's "Pon de Replay" was directed by Little X and filmed in Toronto
"We shot that at the end of the night. And when I saw her dancing on her own, I was like, 'Oh s**t, we made the wrong video.'," he added.
"She had this 'my performance carries the video' type vibe. That's when I saw it in her. She's got something, she's rocking this."
If you're like us and can't wait until then to see the fashion in the video, we got some stills for you.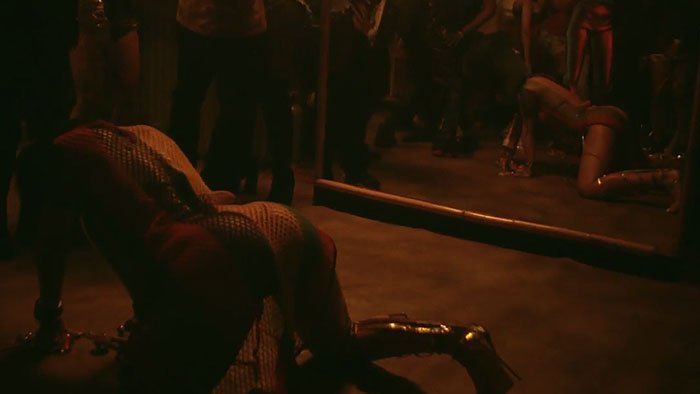 Rihanna twerks on all fours on the floor in a net dress and gold knee-high sandal boots
The clip may be only 30 seconds long, but it was enough for us to appreciate the fab gold knee-high sandals Ri was wearing.
She generously gave us full views of her shoes in the part where she danced, twirled, and got on all fours in front of a mirror.
Rihanna dances in front of a mirror in the music video for her song "Work"
Thanks to Ri's rasta-colored see-through net mesh dress, we were able to quickly identify her shoes as Giuseppe Zanotti creations.
Ri seems to love gladiator boots; check out the Balenciaga gladiator boots and the Tom Ford gladiator sandals boots we previously spotted on her.
Giuseppe Zanotti Strappy Knee-High Sandals, $1,295
You can watch the full "Work" music video here: