We know that the knee-high gladiator sandal trend is widely criticized by the YNS community. And as much as we believe that you should try something before you knock it, there's a line regarding this shoe trend that even we think shouldn't be crossed.
Rihanna, always the fashion rule breaker, of course, stepped on that line, and was seen traipsing around New York earlier this week in a pair of knee-high gladiator sandals. Nothing to it — we even love how she styled them like they were ordinary everyday sneakers — but they looked more like prosthetic devices rather than couture pieces because they were in nude.
Rihanna's Twitter photo with the caption, "Ca$h rulez everything around me."
We're huge fans of Rihanna's high-end street style, but even she isn't selling these Ace brand bandage gladiator boots to us. We thought maybe they'd look better in motion so we looked up the paparazzi video of Rihanna in them. Clearly, we thought wrong.
The leg-lengthening color that we love so much on pumps doesn't translate so well on the knee-high gladiator boots. We don't know why Rihanna went for the nude color …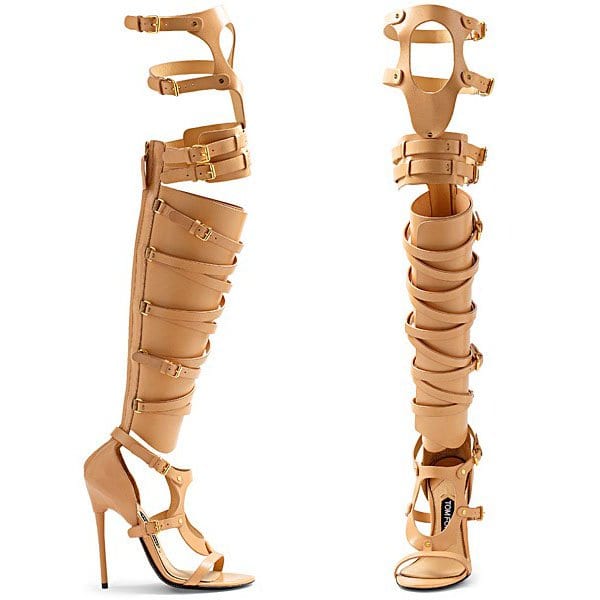 … when she could've gone for the arguably cooler-looking black pair: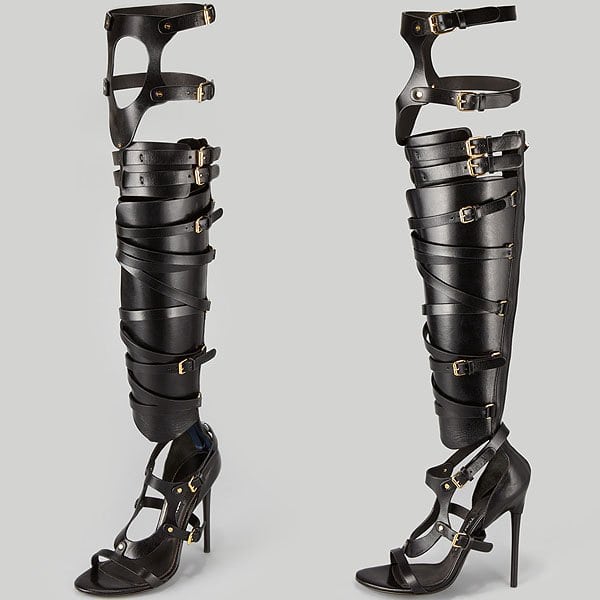 Tom Ford Spring 2013 Knee-High Gladiator Sandal Boots, $3,690 at Neiman Marcus
We'd even take the metallic silver or gold colors!
We do, however, give props to Rihanna for wearing these gladiator boots with the fierce attitude that they should be worn with. Anne Hathaway tried with her own Tom Ford gladiator boots, but Rihanna just does it so much better.
Credit: Rihanna's Instgram