Bella Hadid is the more quiet and reserved of the Hadid sisters, and she usually lets her dark and denim wardrobe express that facet of her personality. However, Bella has been gaining more attention within the fashion industry, and she seems to be developing a bit more confidence. Perhaps that's why her off-duty looks have been a bit different lately?
Bella was spotted in uncharacteristic dreads and a white hoodie dress after walking in the Marc Jacobs show at the New York Fashion Week.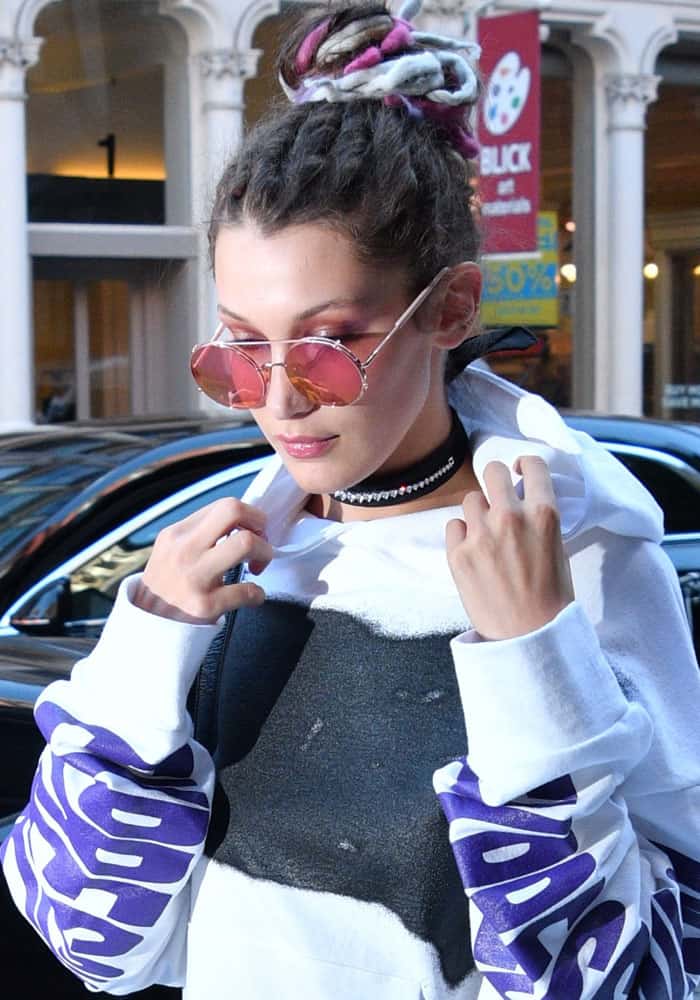 Bella Hadid wears a cozy oversized sweater outside her New York City apartment on September 15, 2016
Bella pulls off the athleisure trend in the Hogan 'H222' sneakers
Bella wore the oversized "Expressionism" hoodie by Brashy, which she accessorized with the Fallon "Monarch" bandana choker, a pair of pink round Sunday Somewhere "Valentine" sunglasses, a Christian Dior mini "Diorever" bag, and the Hogan "H222" sneakers.
As uncharacteristic as the dreads may be, they were actually a part of her runway look for the Marc Jacobs show. Bella rocked them as a part of her off-duty look anyway.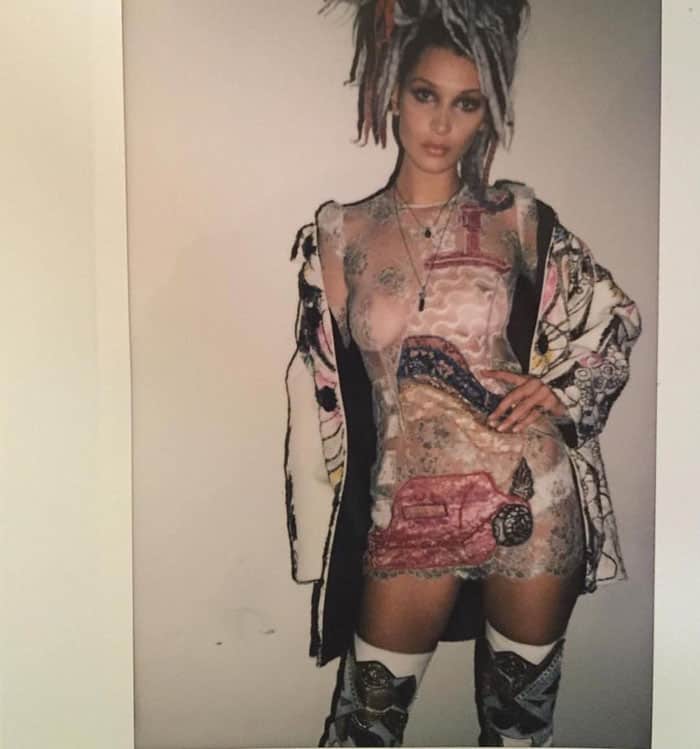 Bella uploads a backstage photo of herself at the Marc Jacobs show
Bella rocks her uncharacteristic hairdo in an oversized Brashy hoodie
Someone documented Bella's backstage hair transformation at the Marc Jacobs show. The clip showed the younger Hadid sister playing around with her dreads before they were piled high on her head.
The snaps also showed her older sister Gigi getting the same hairstyle for the runway.
Grab Bella's Hogan "H222" sneakers at Farfetch.
Hogan "H222" Sneakers, $366.58 at Farfetch
Credit: Bella Hadid's Instagram / TNYF / WENN