Naya Rivera showed up at the 2013 Teen Choice Awards looking H-O-T in a full-on leather ensemble featuring an Alice + Olivia crop top — or should we say, a bra top?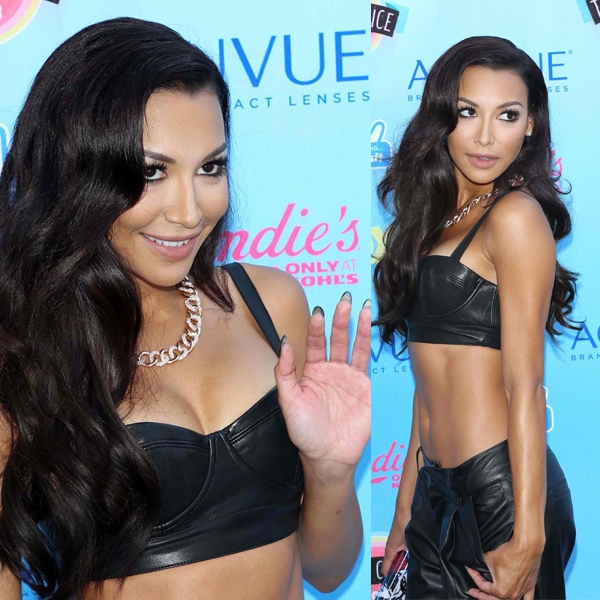 Naya Rivera wearing an Alice + Olivia bra top
While the Glee star may have every right to flaunt her belly button and hard-earned chiseled abs, we're not quite sure that an event full of impressionable young girls is the best place to do that in.
However, it seems like Naya is about to hang up her crop tops after three months of midriff-baring outfits with stylist Taylor Jacobson, uploading an Instagram post with the caption, "The summer of the crop top is officially over. Hmmm…what's up for fall?" We recommend shirts, at the very least.
Naya Rivera's belly button and hard-earned chiseled abs
The actress just released her single Sorry with rapper beau Big Sean, which started an onset of Twitter wars that did not only involve fans.
The lyrics of the song specifically named Big Sean's exes, prompting one of them to reply, "I mean it's on you if you want to publicly admit your role in cheating as a positive. But remember, telling your fans who are mostly young girls that it's ok to disrespect another woman is foul. Sorry. Not sorry."
Naya Rivera posing for the cameras with her boyfriend Big Sean at the 2013 Teen Choice Awards held at the Gibson Amphitheater in Universal City on August 11, 2013
The Alice + Olivia Ericka Bra Top is made from 100% lamb leather, with fully lined underwire cups, contrast fabric back panel, and adjustable straps. We love how Naya pulls off the medium rise leather pants and crop top looks, all thanks to her incredible abs, but less godly mortals such as ourselves may not be so lucky.
For those who are not so willing to let it all hang loose, the crop top can also be styled with high-waisted pants, shorts or skirts.
One last hurrah for the summer of the crop tops, yes?
Alice + Olivia Ericka Bra Top, $396.00
Credit: FayesVision / WENN