Aren't kittens the cutest things on the Internet? Usually they are, but not today. Beyonce momentarily took away that title with this picture of His, Hers, and Mini Me Timberland boots that she shared on Instagram: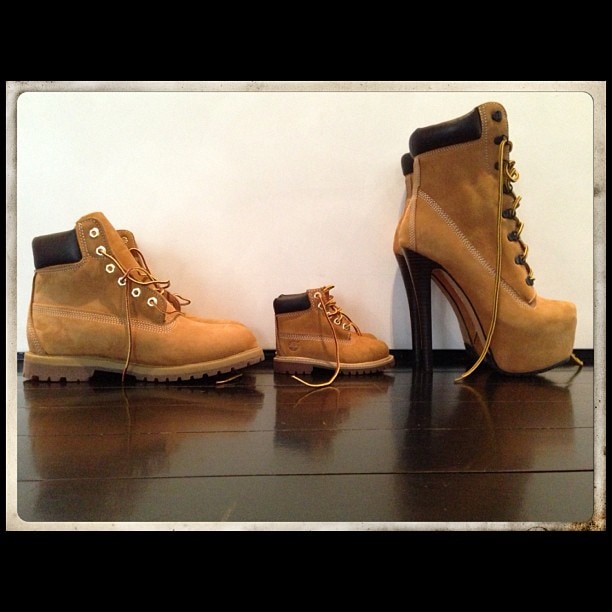 Share by Beyonce on Instagram in August, 2013
All together now: Awwwww!
We did notice one strange thing about the picture, though, and that's how small Jay-Z's shoe size seems to be. A lot of people are commenting on that as well — there's really no way a 6'2″ tall guy wears the same shoe size as his 5'7″ wife!
We investigated a bit and found out that the reason why Jay-Z and Beyonce's Timberland boots seem to be of the same size is because they are. The two Timberlands flanking Blue Ivy's own pair are most likely to be both Beyonce's. Men's classic Timberland boots have at least seven eyelets; the ones in Beyonce's Instagram pic have only six, which is a style for women.
Still, that doesn't make the picture any less cute or the Knowles-Carter family any less adorable!
Jay-Z, Beyonce, and their daughter, Blue Ivy, having lunch at Septime restaurant in Paris, France, on April 25, 2013
Now that "Hollywood's royal family" has done it, having the same style of shoes as a family might as well be a thing now. Outfit your family in these His, Hers, and Mini Me Timberlands, or, for some of you out there, get Beyonce's exact high-heeled Timberlands for yourself. (We know there are those of you who've had their eyes on and only on Beyonce's shoes since the beginning of this post!)
ZIGIgirl "Z-Jo" Boots, $198.95
Timberland Kids' 6-Inch Classic Waterproof Boots, $39.99 to $70
Timberland Men's 6-Inch Premium Waterproof Boots, $125 to $180
Credit: WENN / Beyonce Instagram