They are one of the hottest and most stylish couples around. And just recently, the Biebers took Paris by storm with their impeccable style sense.
Hailey and Justin kicked off their Parisian summer trip on a high note Monday. Showing off their street style prowess, the power couple turned heads in their striking casual ensemble while out shopping at Kith.
Justin looked dapper in his khaki pants and cream Kith hoodie teamed with blue and white Nike Dunk shoes.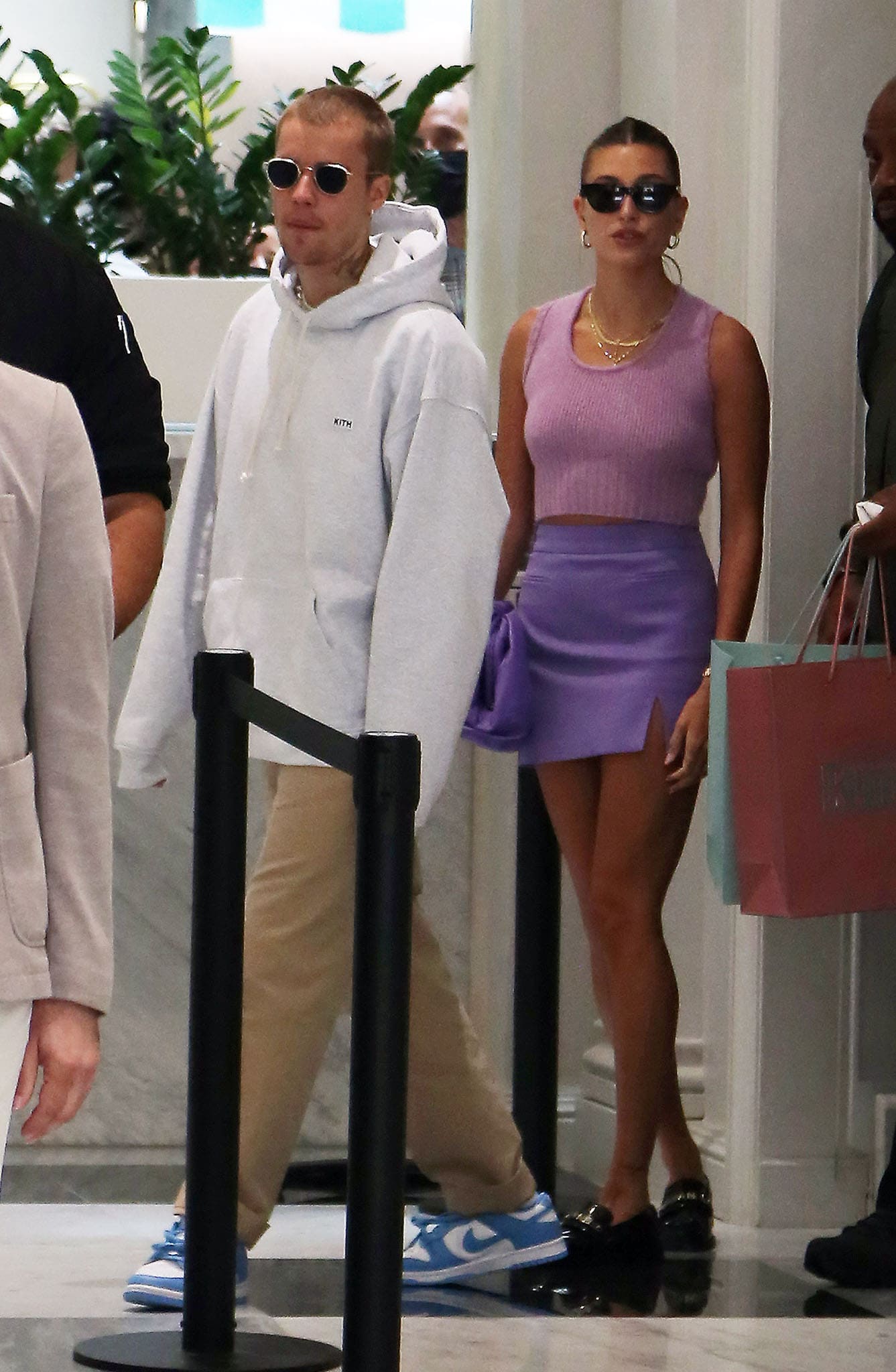 Justin and Hailey Bieber leaving the Kith shop in Paris on June 21, 2021 (Credit: Mega / WENN)
Turning the street into her runway, Hailey embraced the monochromatic trend in a lilac outfit, which included a $490 The Attico stretch-wool high-waist mini skirt and a sleeveless knitted crop top from Raf Simons.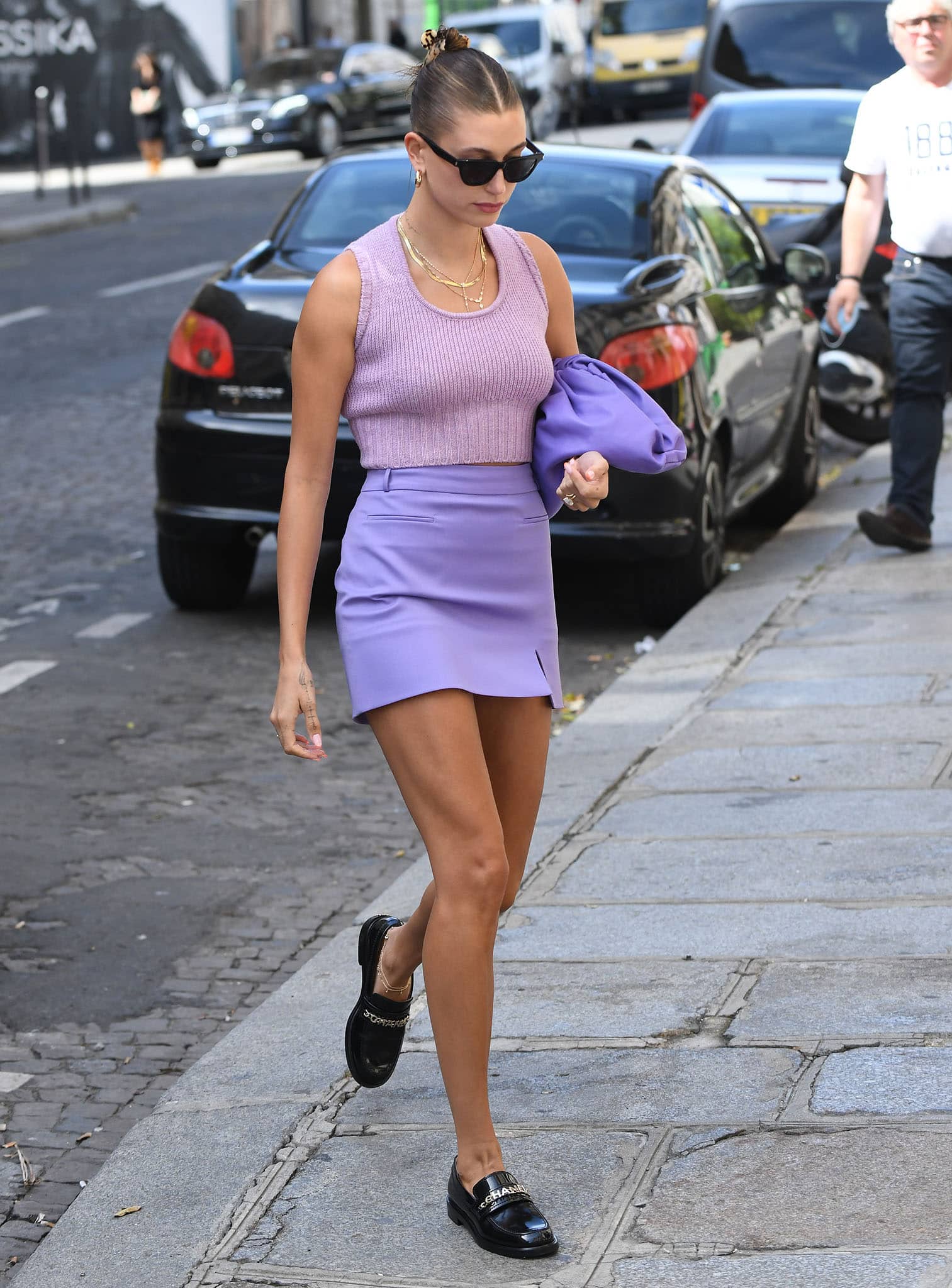 Hailey Bieber embraces tonal trend in lilac Raf Simons crop top and The Attico mini skirt (Credit: Mega / WENN)
Never one to skimp on accessories, the 24-year-old model layered multiple necklaces around her neck.
She wore a $140 Fallon Short Herringbone Chain necklace, a $185-Eliou Tired Pearl necklace, a $5,250 Shay Jewelry Diamond Infinity Y necklace, and an $8,750 Jacquie Aiche Teardrop Marquise Diamond Smooth Bar Y necklace.
She also added a pair of Jennifer Fisher Natasha Huggies gold hoop earrings and her Solow & Co. Oval Diamond engagement ring.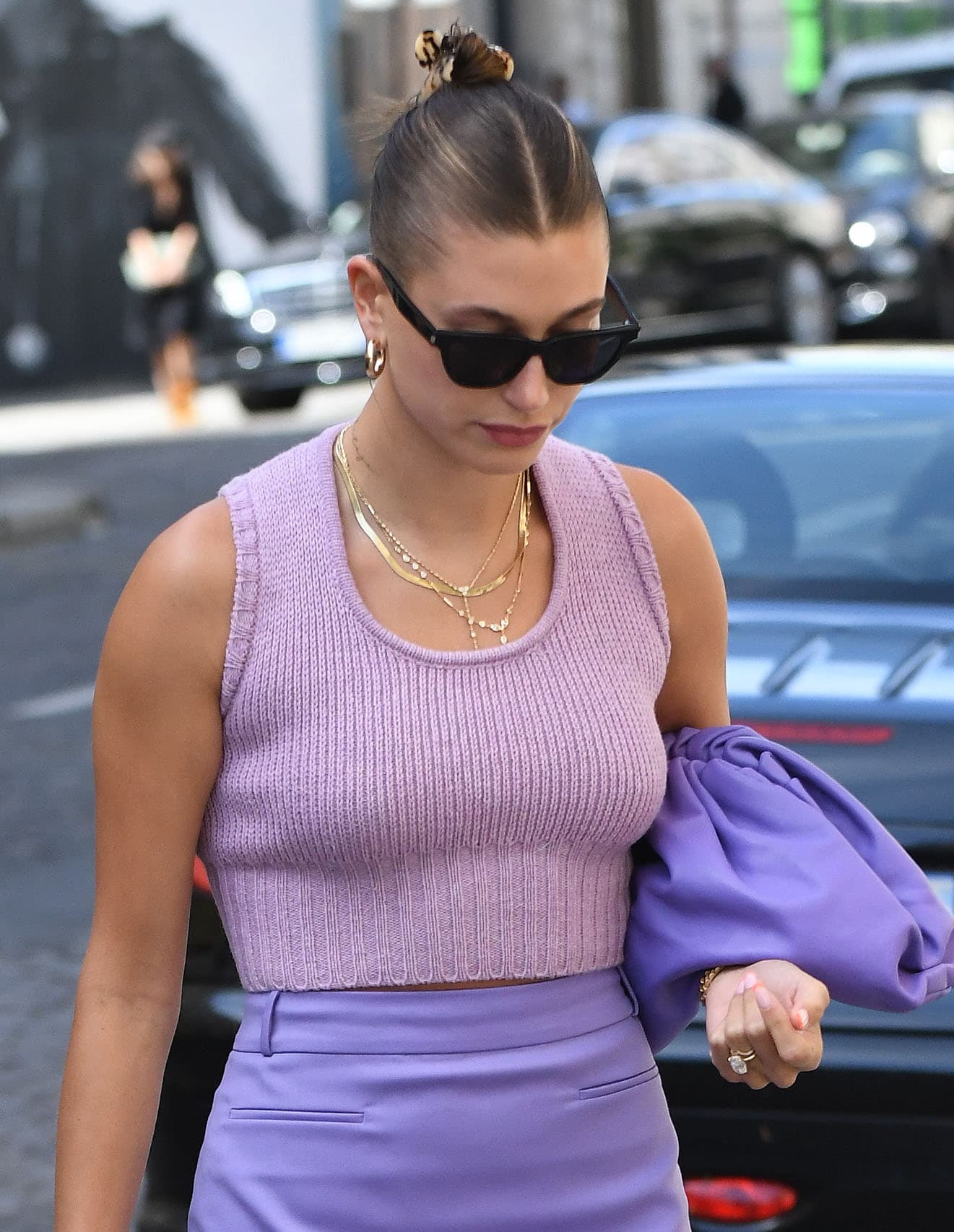 Hailey Bieber wears her signature sleek center-parted bun with a swipe of pink lipstick (Credit: Mega / WENN)
Beauty-wise, Mrs. Bieber swept her hair back into a sleek bun with a middle parting and wore neutral makeup with a swipe of pink lipstick.
Continuing with the lavender theme of her look, Hailey carried a grape-purple Bottega Veneta "The Pouch" clutch.
Available for $2,790 at Mytheresa, the clutch is made from buttery-soft leather and features an artfully scrunched silhouette.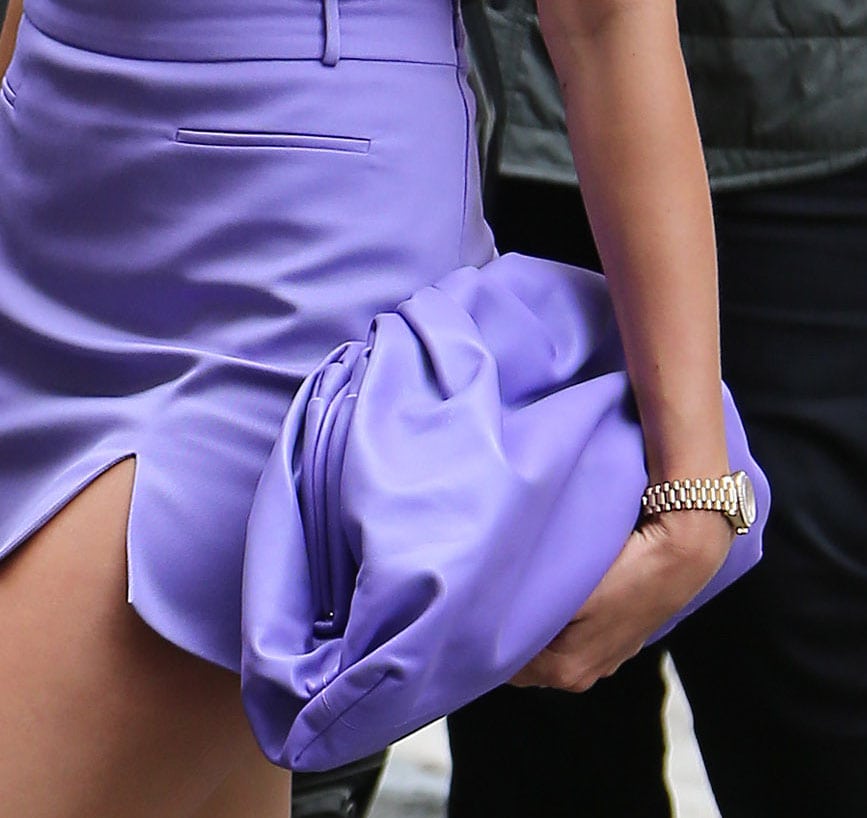 Hailey Bieber coordinates her outfit with her Bottega Veneta purple pouch (Credit: Mega / WENN)
Shielding her eyes behind a pair of Saint Laurent sunglasses, Hailey balanced out her head-turning purple look with a pair of $1,400 Chanel loafers in shiny black calfskin leather.
Hailey Bieber pairs her tonal lavender outfit with black Chanel loafers (Credit: Mega / WENN)
Later in the day, the Biebers dressed to the nines, trading their casual outfits for business chic on their way to meet French President Emmanuel Macron and his wife Brigitte.
The Peaches hitmaker kept his Nike shoes on but swapped his hoodie for a black Celine pinstripe suit and a white pinstripe button-up shirt.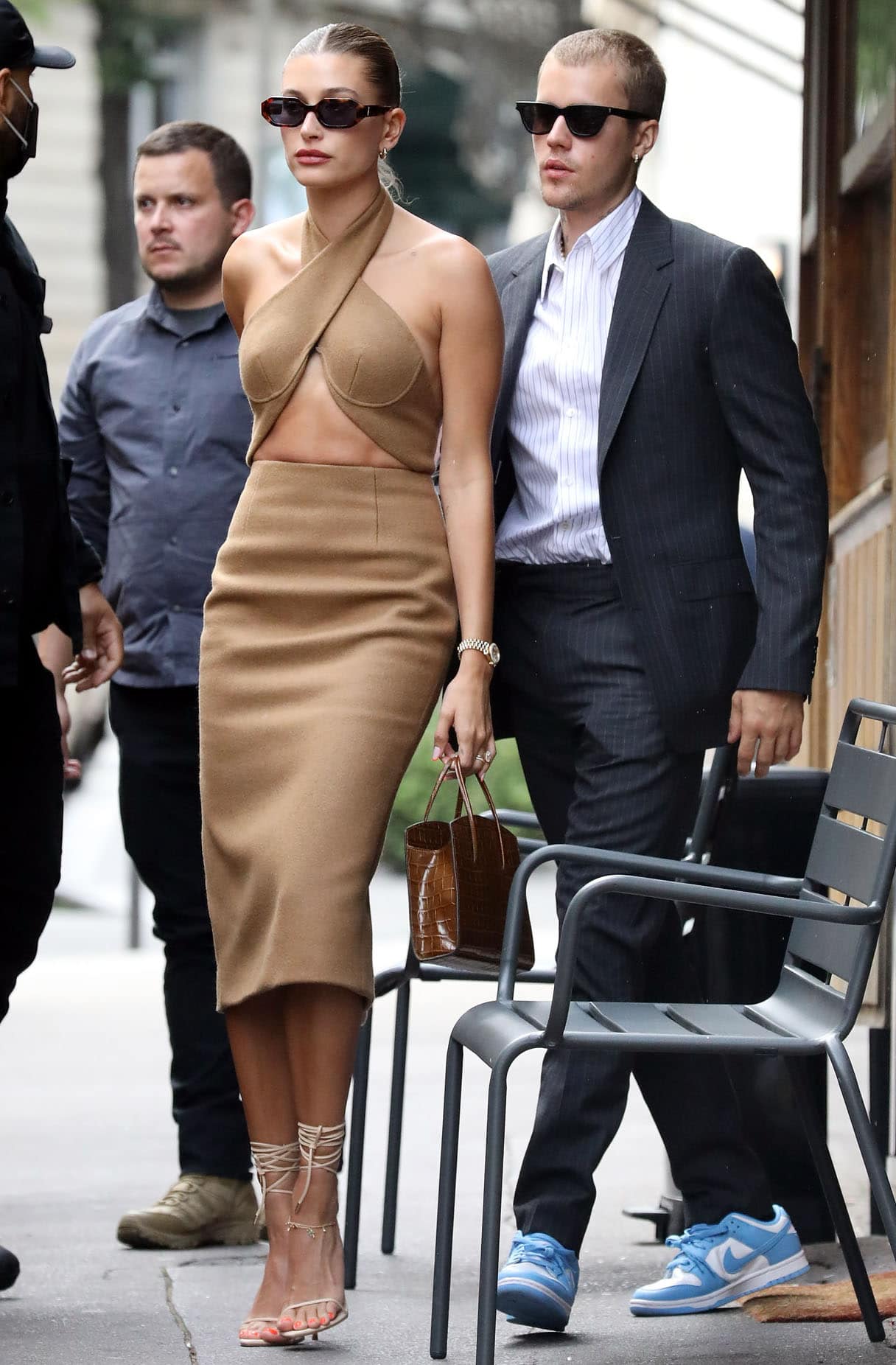 Justin and Hailey Bieber dress to the nines to meet French President Emmanuel Macron on June 21, 2021 (Credit: Mega / WENN)
Hailey, meanwhile, went the sultry route in a $1,195 beige dress from LaQuan Smith Fall 2021 collection.
The backless number features a crossover halter neck, a pencil skirt, and a large triangle cutout at the front that revealed her toned abs.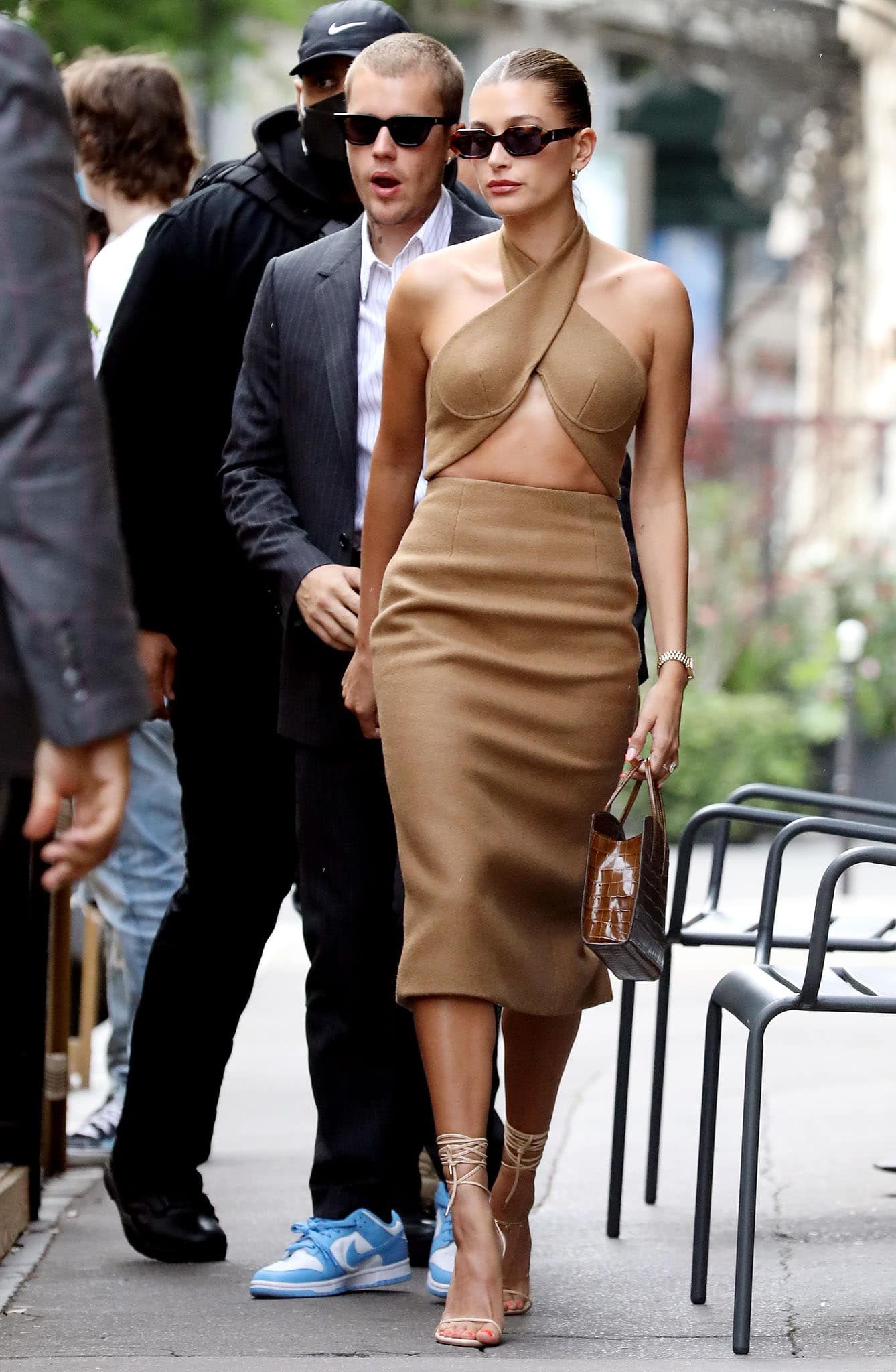 Hailey Bieber looks sultry in a LaQuan Smith Fall 2021 crossover halter dress (Credit: Mega / WENN)
While she looked chic and modern, fans thought it was inappropriate for the meeting.
View this post on Instagram
In a photo posted by Justin Bieber on Instagram, a fan commented: "Wifey's pretty and all but should have dressed for the occasion."
Another said: "Is Hailey going to the club??? Maybe the Kardashians are waiting for her outside."
"Who wears that to meet the president of France? That's so classless and tasteless," another person wrote.
Allowing her dress to take center stage, Hailey kept her accessories to a minimum, wearing just a small pair of hoop earrings and a watch.
She hid her eyes beneath the Linda Farrow x The Attico Irene tortoiseshell sunglasses and carried her stuff in a $397-brown croc-embossed mini tote from Little Liffner.
Hailey Bieber styles her hair in a sleek bun and wears a neutral makeup look (Credit: Mega / WENN)
A pair of delicate lace-up nude strappy heels completed Hailey's neutral-colored sexy ensemble.
These 100% vegan sandals feature a wraparound ankle strap with a thin strap across the toes, pointed toes, and about 4.5-inch heels.
Hailey Bieber completes her neutral-themed sultry look with Femme lace-up sandals (Credit: Mega / WENN)
Femme 'Luce Minimale' Sandal, $189
The Femme Luce Minimale has delicate straps that wrap around the ankle
For her final outfit of the day, Hailey dressed up in a light pink crystal-embellished frock. She wore it to a dinner date with her husband, who opted for a red Drew hoodie with ripped jeans and white sneakers.
The feminine dress, which hails from Miu Miu's Fall 2021 collection, features a cinched waist with long sleeves and a knee-length hem.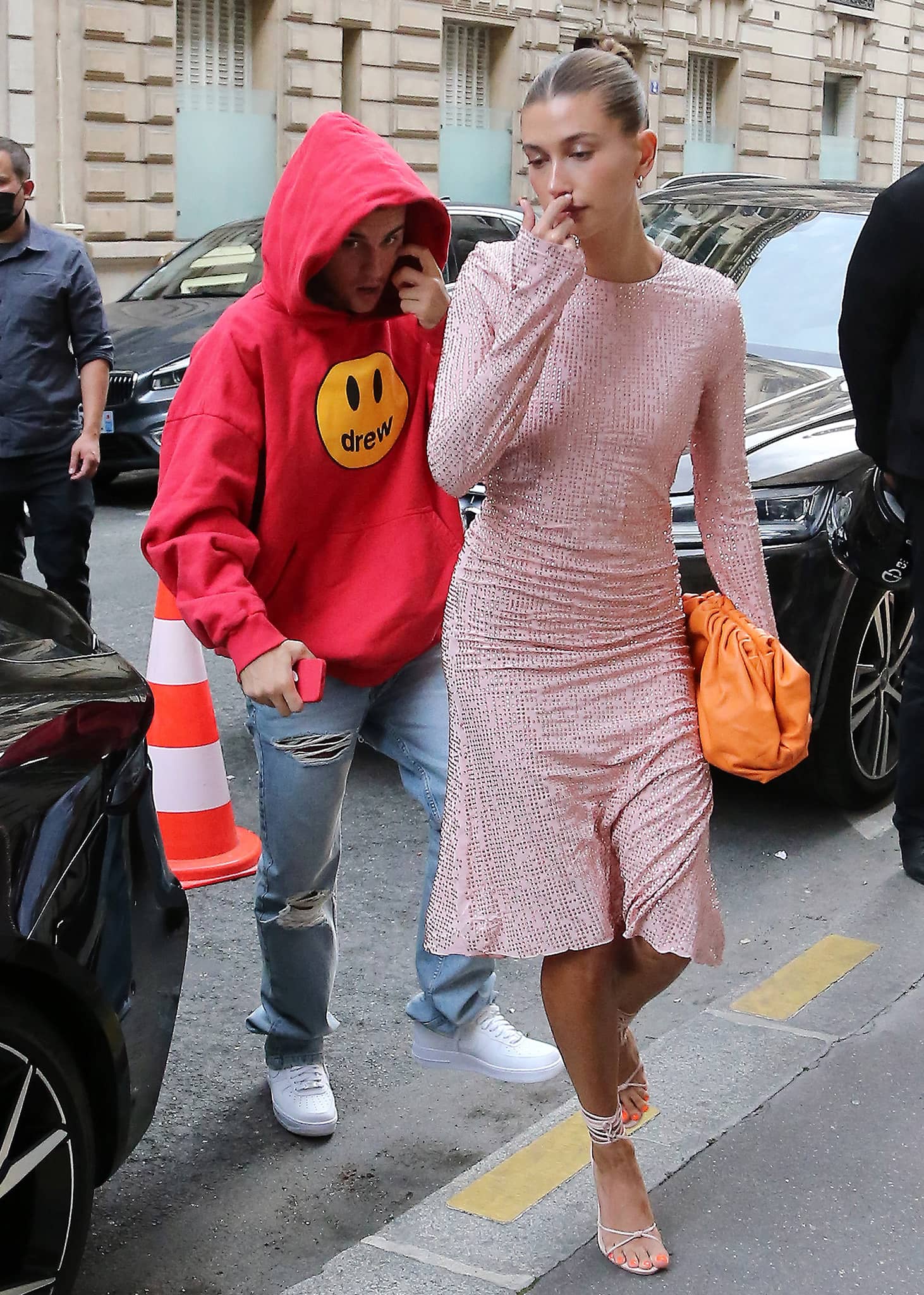 Justin and Hailey Bieber step out for dinner at Stresa's restaurant in Paris on June 21, 2021 (Credit: Mega / WENN)
Wearing her signature sleek hairstyle, Hailey glammed up with light metallic eyeshadow, a hint of blush, and a swipe of pink lipstick.
She then added a pop of orange to the look with a neon orange version of her Bottega Veneta The Pouch clutch, which coordinated her toenail polish.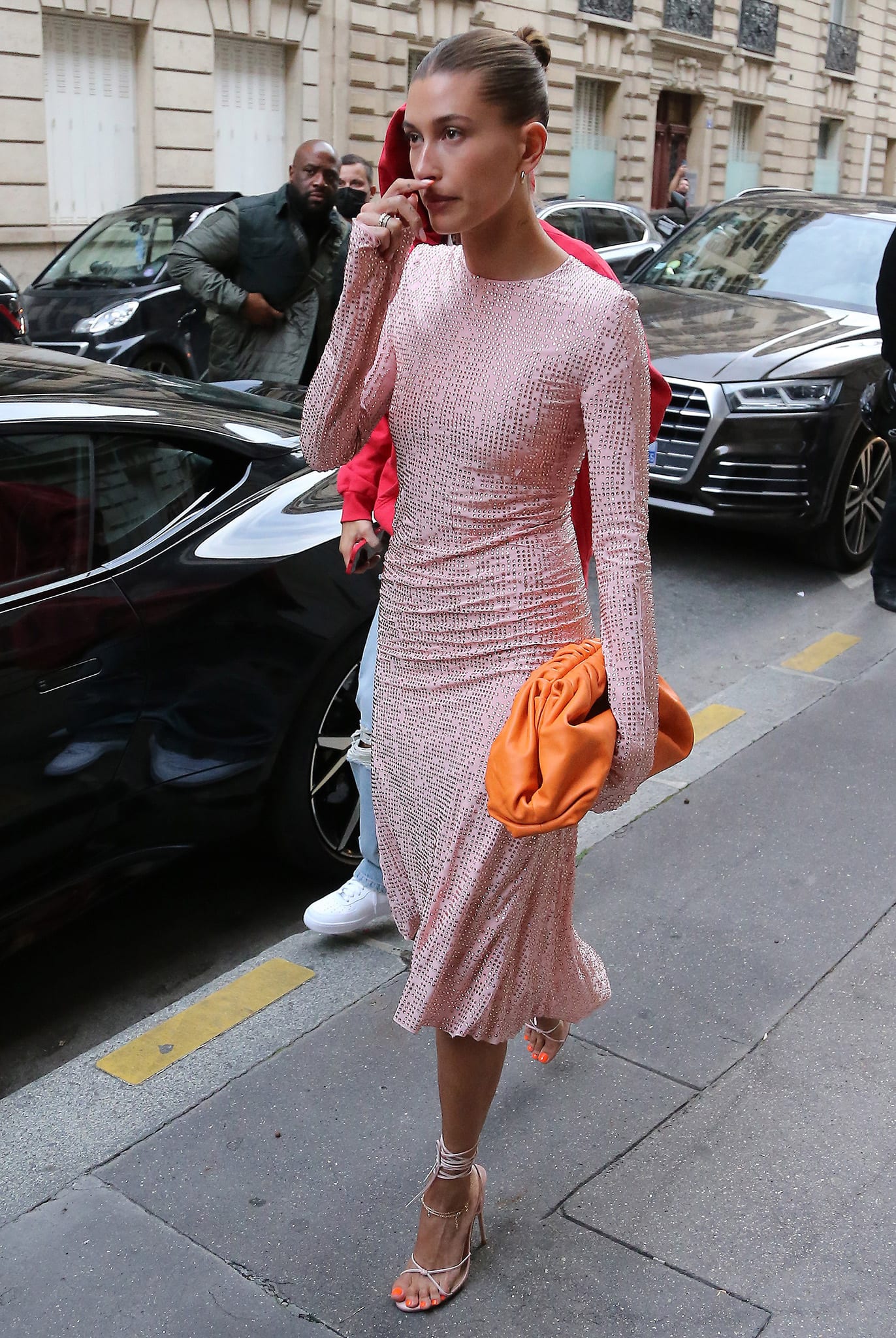 Hailey Bieber is pretty in a pink Miu Miu Fall 2021 embellished dress (Credit: Mega / WENN)
Hailey slipped into the Femme "Athens" strappy sandals to add extra inches to her height. Similar to the Femme heels she wore earlier, these sandals also have a wraparound lace-up design.
They also have delicate knotted vamp straps and about 4.5-inch stiletto heels.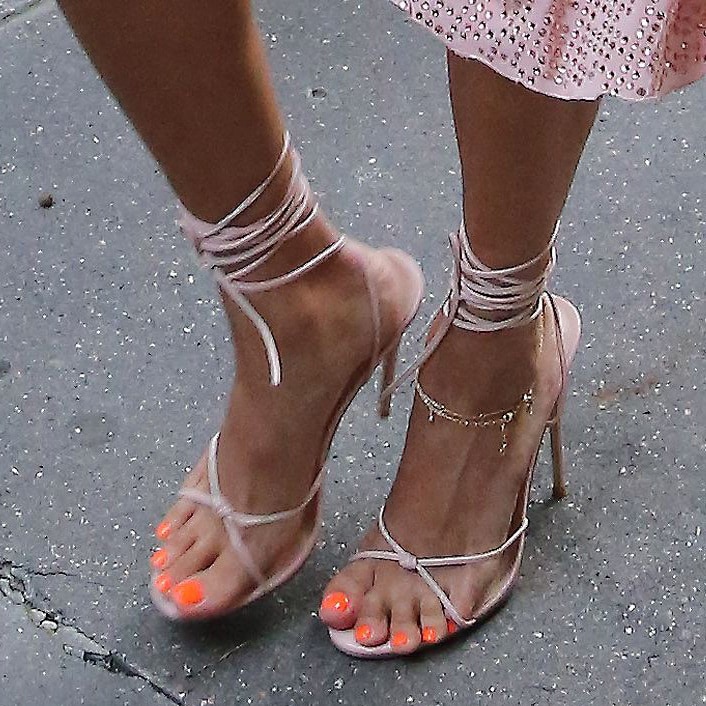 Hailey Bieber shows off her neon orange polish in Femme LA Athens sandals (Credit: Mega / WENN)
Femme LA 'Athens' Lace-Up Sandal, $169
The Athens sandal has lace-up wrap around ankle straps and knotted front straps