The 2023 Vanity Fair Oscars Party was filled with glitz and glamour, but Billie Eilish stole the show with her stunning Gothic-inspired ensemble.
The 21-year-old pop sensation wowed onlookers as she arrived in a dramatic dress that perfectly captured her signature style.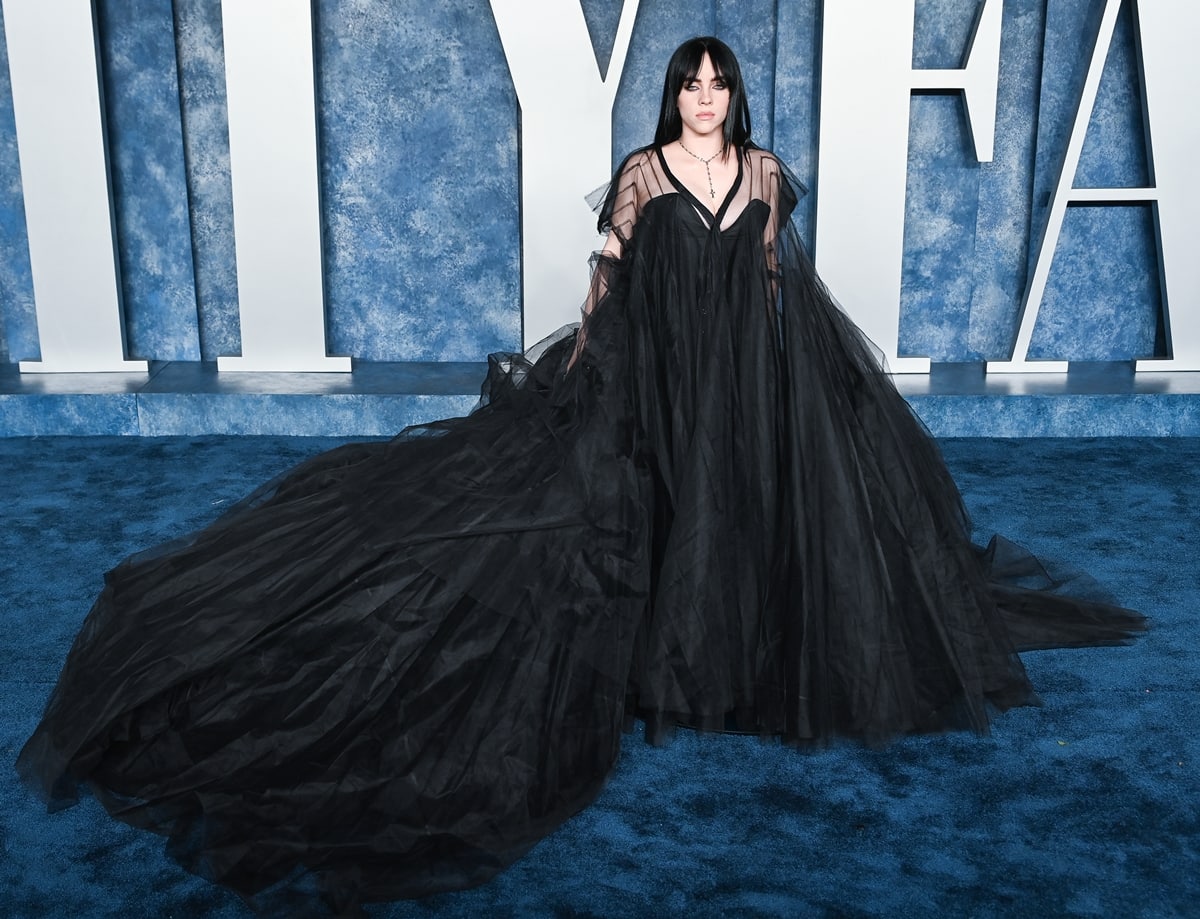 Billie Eilish in a black Rick Owens dress over an Agent Provocateur corset with Chrome Hearts jewelry at the 2023 Vanity Fair Oscar Party Hosted By Radhika Jones at Wallis Annenberg Center for the Performing Arts on March 12, 2023, in Beverly Hills, California (Credit: PA Images / INSTARimages)
Billie showed up at the event with her boyfriend, The Neighbourhood band member Jesse Rutherford, in a black Rick Owens gown that showcased her gothic glamour look.
The dress was unlike any other, with a simple slip at the bottom and a tier-draped billowy fabric on top that featured a sheer chevron design gracing her shoulders. The sweeping train added to the overall dramatic effect of the outfit.
Billie wore Chrome Hearts jewelry to complement her ensemble, adding edginess to her overall look. The singer's towering black platform heels and thigh-high black socks were visible as she lifted her larger-than-life dress.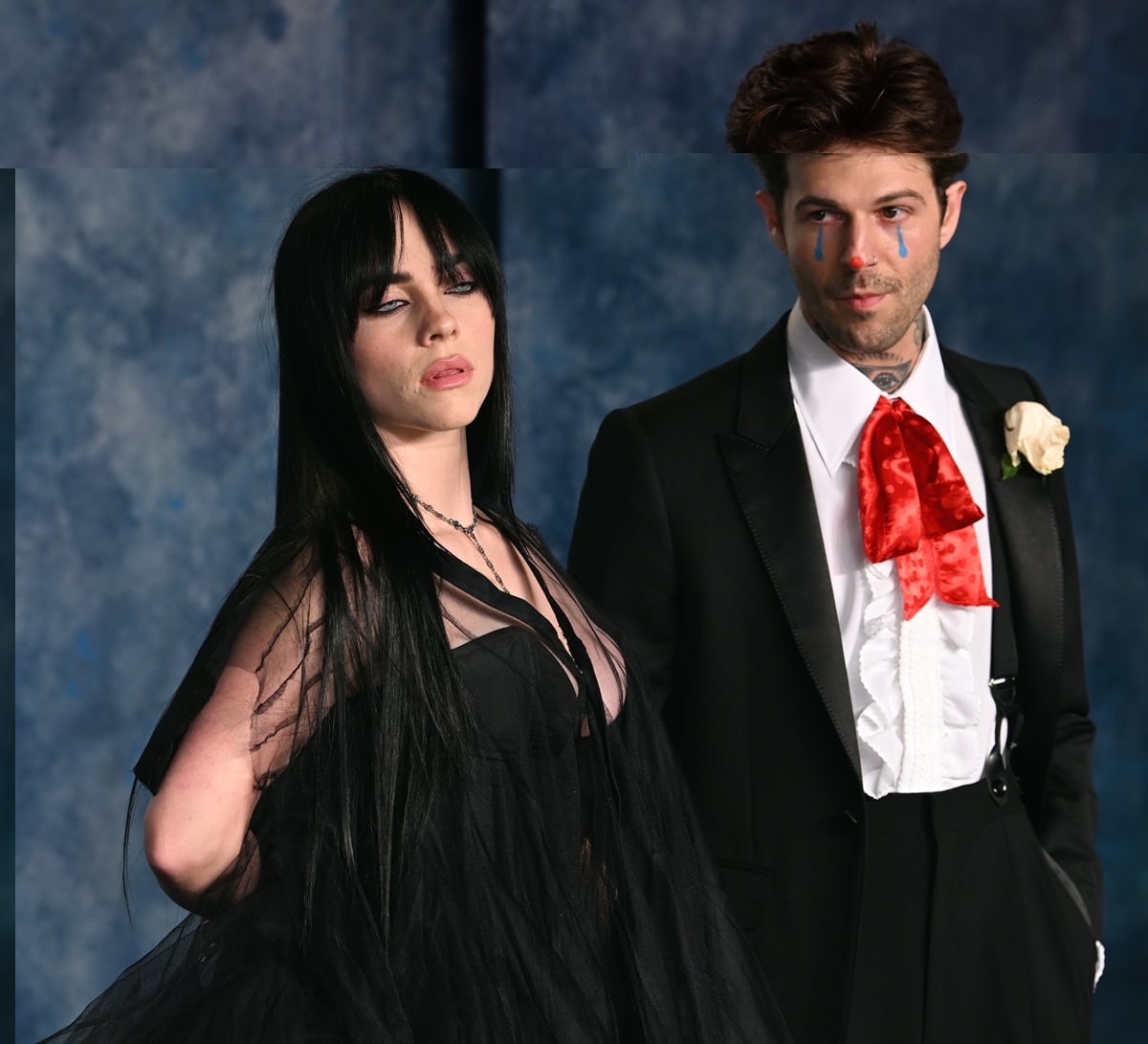 Billie Eilish was accompanied by her boyfriend Jesse Rutherford, who sported a black suit, a corsage, a quirky red necktie, and clown makeup (Credit: PA Images / INSTARimages)
The bulky look of the shoes appears to have an ankle strap clasp and a big block heel, making it a perfect choice for the occasion.
Meanwhile, while wearing clown makeup, her 31-year-old singer-songwriter boyfriend was dressed in a black suit, a corsage, and an eccentric red necktie.
While the ultra-voluminous dress itself was a sight to behold, Billie, who has 110 million Instagram followers, recently made headlines when she deleted all social media apps from her phone.
In an interview with Conan O'Brien on his podcast Conan O'Brien Needs a Friend earlier the same month, the singer spoke candidly about her use of social media and how she's removed applications from her phone to get away from it.
Billie said, "I don't look at it anymore. I deleted it all off my phone, which is such a huge deal for me. Cause dude, you didn't have the internet to grow up with."
The 7-time Grammy winner explained, "For me, it was such a big part of – not my childhood, I wasn't an iPad baby, thank god – but honestly, I feel like I grew up in the perfect time of the internet that it wasn't so internet-y, I had such a childhood, and I was doing stuff all the time."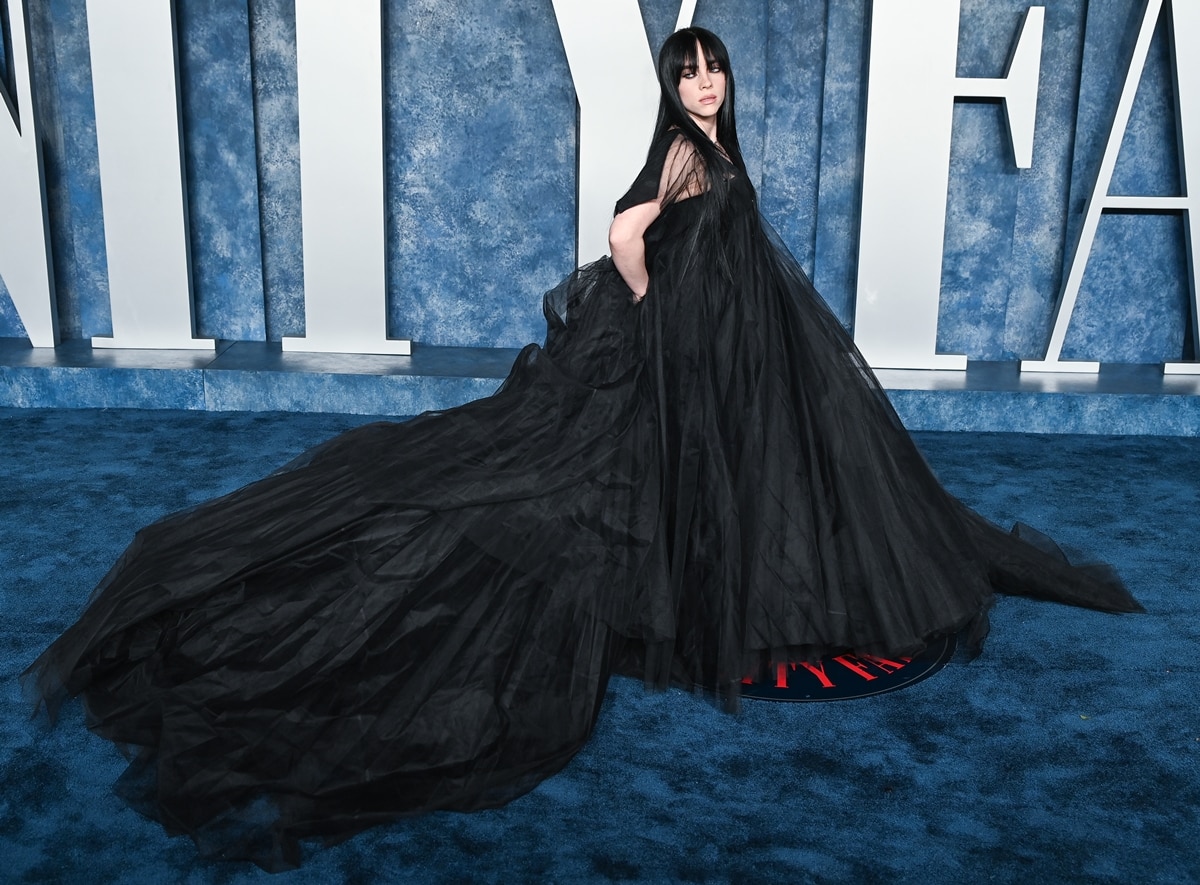 Billie Eilish donned a striking black Rick Owens gown that exuded gothic glamour and completed her ensemble with Chrome Hearts jewelry (Credit: PA Images / INSTARimages)
She added, "And then when I became a pre-teen, there were iPhones, and as I got a little older, there was all of what has become, but being a pre-teen and a teenager on the internet, those were my people, I was one of them."
The singer spoke about her discomfort with seeing photographs of herself, which was another reason why she deleted her social networking apps.
Billie confessed, "I'm a person who goes on the internet… And to change nothing about the person I am or the life that I live, and to just keep doing what I do over the years, and slowly the videos that I'm watching and the things that I see on the internet are about me. 'Eww, stinky.' I don't like that."
She added, "That's the other thing that freaks me out about the internet is how gullible it makes you. Anything I read on the internet, I believe. Me. I know for a fact that's stupid, and I shouldn't do that because I have proof it's not all true; almost none of it's true."
Billie's 2019 Calvin Klein video clip highlighted her desire for privacy, explaining her choice to wear baggy clothes. "I mean, that's why I wear big baggy clothes. Nobody can have an opinion because they haven't seen what's underneath, you know?"
The singer added, "Nobody can be like, 'oh, she's slim-thick, she's not slim-thick, she got a flat ass, she got a fat ass.' Nobody can say any of that because they don't know."