Not listed as a presenter and also not a nominee, the Internet is struggling to understand how Blac Chyna managed to get invited to the 2020 Academy Awards.
Everyone was surprised to see Blac Chyna at the 2020 Academy Awards at the Dolby Theatre in Hollywood on February 9, 2020
While her outfit admittedly could have been a lot worse, the 31-year-old reality star flashed her tattoos in a tacky Dona Matoshi gown and black Jimmy Choo heels. Just like Florence Pugh, it was her first time attending the Oscars.
In November, Kylie Jenner revealed that she took Dream Kardashian, the daughter of Rob and Blac Chyna, in that same helicopter that took the lives of Kobe Bryant and several others, for a surprise ride on her 3rd birthday.
In the wake of the tragedy, Jenner paid tribute to those lost in the accident. Not surprisingly, Dream's mother Blac wasn't happy.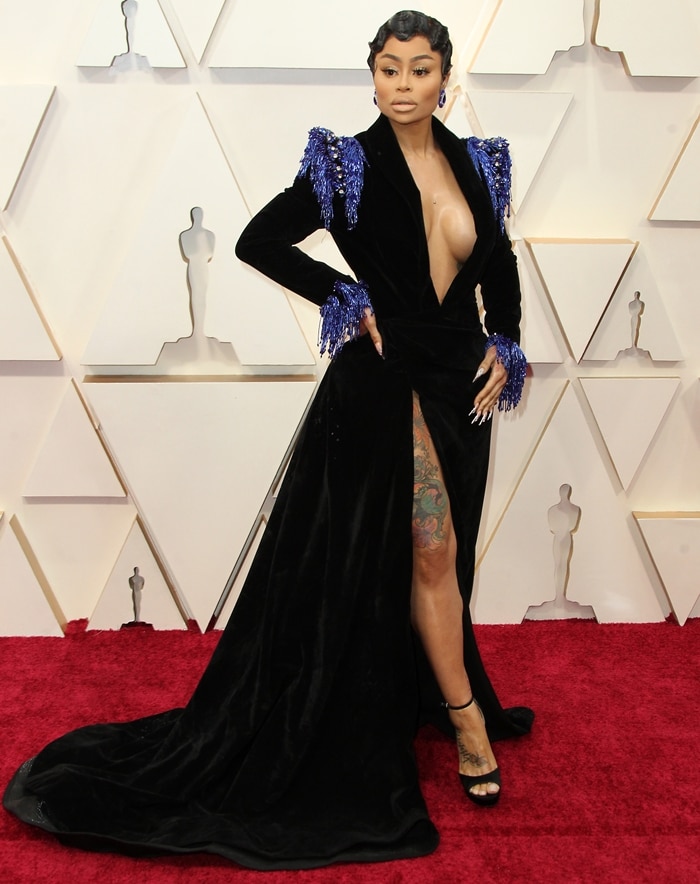 Blac Chyna did not leave much to the imagination in a dress by Dona Matoshi
"Chyna has become aware that Kylie Jenner is using the tragic deaths of Kobe Bryant, his beautiful daughter, and seven other precious souls to profess her 'distress' that she and Dream had ridden on the same helicopter with the same pilot prior to Sunday's horrific crash. What Kylie failed to disclose was that Chyna never gave Kylie permission to take her precious daughter Dream on a helicopter ride and that Chyna never would have given Kylie that permission," Chyna's lawyer Lynne Ciani said in a statement.
"No parents should find out after-the-fact that their child has participated in a dangerous activity without their permission," the statement added. "Chyna voiced her strong objections to Rob and insisted that it never happen again."
Rob Kardashian is reportedly seeking primary custody of Dream Kardashian, the 3-year-old daughter he shares with Blac Chyna
Chyna and Kardashian are reportedly in the midst of a contentious custody battle. Rob Kardashian, 32, is seeking to gain full custody of Dream, according to a sealed court filing obtained by TMZ last month.
According to the Keeping Up with the Kardashians star, who split from Blac Chyna in December 2016, his daughter Dream has started "naked twerking, and acting out sexual positions that she said her mom taught her."
Blac Chyna sparkled in a red dress at the 2020 Grammys at the Staples Center in Los Angeles on January 26, 2020
Credit: Adriana M. Barraza / WENN / Instar