Like milk and cookies: that's what Australian clothing brand Black Milk and one of YNS's favorite shoe labels Jeffrey Campbell are.
The two fashion blogger-favorite brands have finally decided to come together for a shoe collaboration and although everyone saw it coming, the anticipation for it is still at madness levels.
Just a little background: Black Milk exploded onto the global fashion scene with their wildly and crazily printed leggings which they often like to style with Jeffrey Campbell shoes.
At one point, Black Milk featured the Jeffrey Campbell 'Back Off' wedge bootie on their website and this prompted customers to start asking when that shoe style will be back in stock. When Jeffrey Campbell finally did revive that particular discontinued shoe style, it inadvertently created a heavy association between the two brands.
What strengthened the link even further is the fact that both brands have the same edgy, boundary-pushing and attitude-filled design aesthetics. They also both use a social approach in reaching out to their customers and both are very successful at it.
So you could say that this shoe collaboration is just a natural circumstance in the two brands' business timeline and would organically happen sooner or later.
Of course, many fans are happy that it's happened sooner rather than later because this match made in fashion heaven is one of the most awaited.
Black Milk X Jeffrey Campbell footwear collaboration
Right now, this first batch of Black Milk x Jeffrey Campbell shoes is for pre-order. Shipment isn't until July 15th but apparently, at the rate orders are being placed, Amazon already needed to order a second batch and have scheduled it to drop later in the summer.
Expect even more crazy prints of these Black Milk x Jeffrey Campbell shoes although it's going to be hard to top these current 'Sick of Men', 'Bone Machine' and 'Rainbow Galaxy' prints. Then again, this is Black Milk and Jeffrey Campbell we're talking about so they could easily surprise us.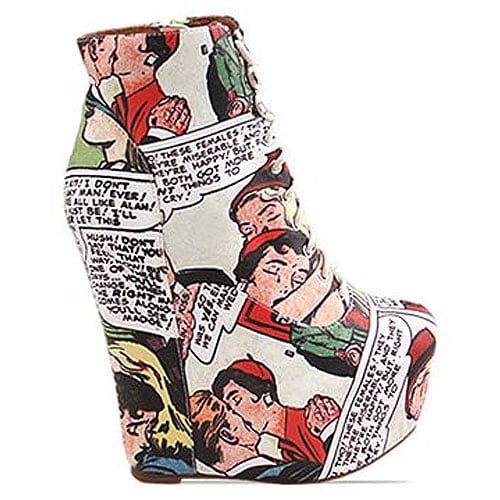 Black Milk X Jeffrey Campbell 'Damsel' wedge bootie in Sick of Men, $239.95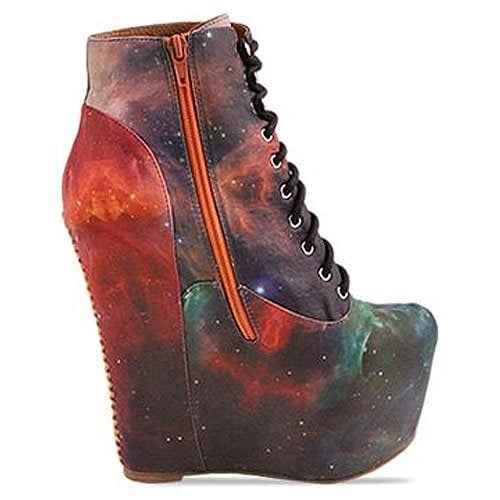 Black Milk X Jeffrey Campbell 'Damsel' wedge bootie in Rainbow Galaxy
Black Milk X Jeffrey Campbell 'Damsel' wedge bootie in Bone Machine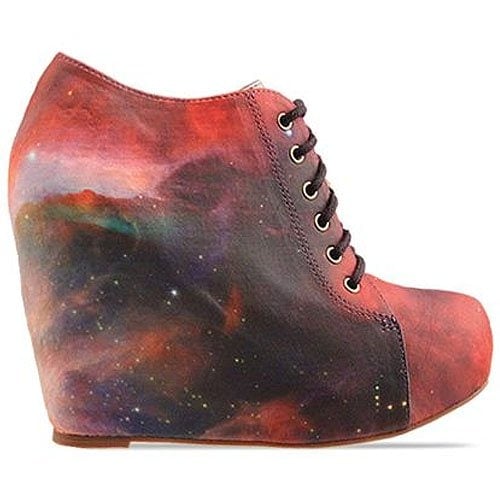 Black Milk X Jeffrey Campbell '99 Tie' lace-up wedge in Rainbow Galaxy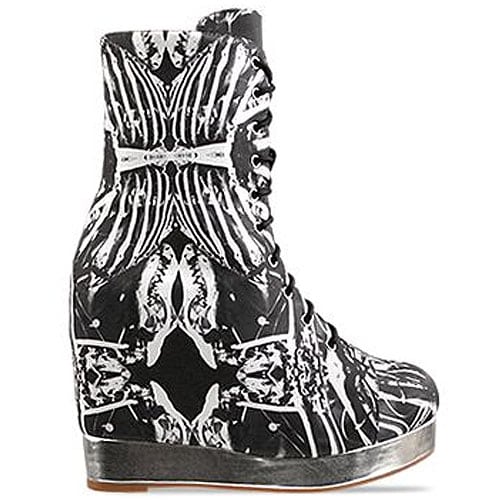 Black Milk X Jeffrey Campbell 'Back Off' lace-up wedge boot in Bone Machine
Black Milk X Jeffrey Campbell 'Night Lita' heel-less lace-up boot in Rainbow Galaxy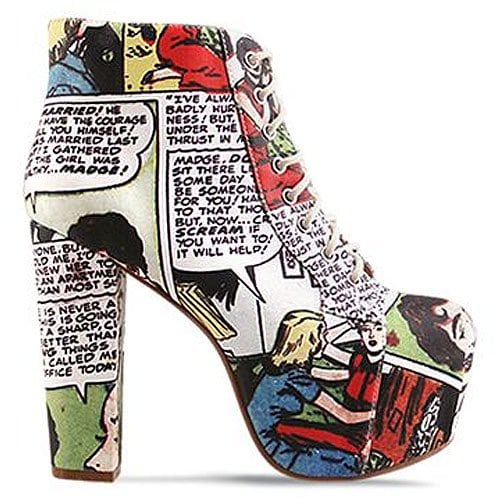 Black Milk X Jeffrey Campbell 'Lita Fab' lace-up bootie in Sick of Men