Every year, the Wall Street Journal honors artists from different fields who have dedicated a significant portion of their lives to making a change.
This year, the WSJ held its 7th annual Innovator Awards in New York, complete with a black-and-white theme.
Let's take a look at some of the innovators and their monochrome outfits.
1. Karlie Kloss in Christian Louboutin Pumps
Karlie does a gorgeous mix of lace and sequins.
If there's one person who knows her black-and-white, it would be Karlie Kloss. The model, who is no stranger to the Innovator Awards, has an affinity for the classic colors so much that sometimes it gets a little boring.
Luckily, this time was an exception. Karlie wore a sheer lace corset underneath a beautifully constructed sequin blazer. To balance the look, the model wore a pair of tailored pants.
Karlie finished the look with a pair of Christian Louboutin "So Kate" pumps.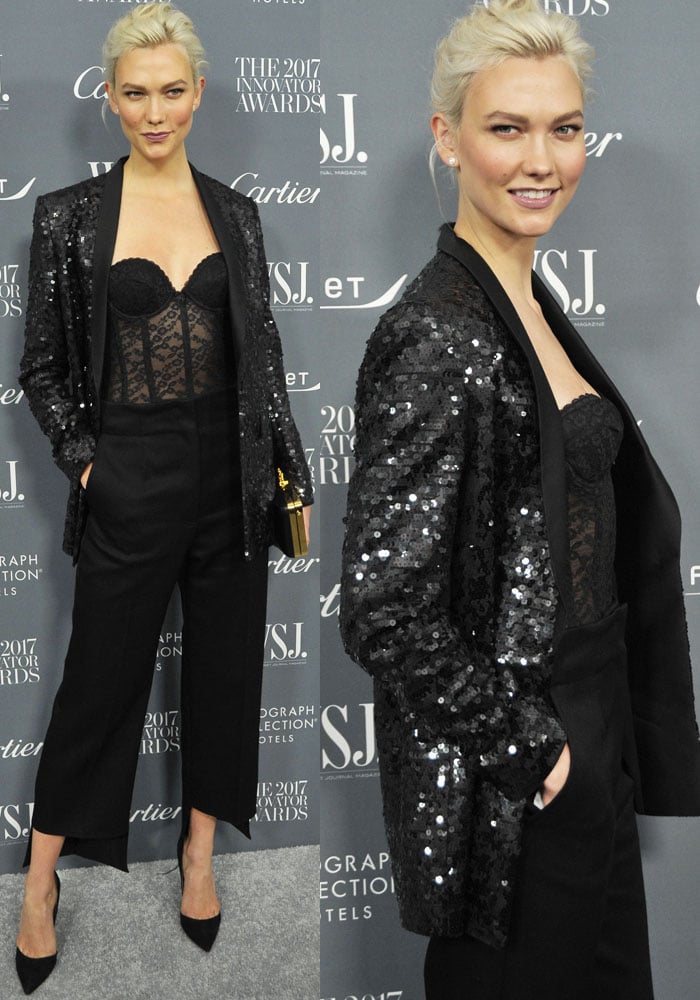 The model adds a little business to her fun look with a pair of Christian Louboutin "So Kate" pumps.
2. Maddie Ziegler in Gold Lace-Up Sandals
Maddie Ziegler leaves her tutus behind for a more elegant look.
Our little Sia dancer is all grown up! Maddie Ziegler is stepping out of her tutus and pinks for the big girl red carpet outfits.
Maddie looked elegant in a Tommy Hilfiger LBD with gold and black sequins on the skirt hem. A sheer panel overlay and double straps gave the dress a subtle upgrade, proving that it really is all about the details.
A pair of gold lace-up sandals and some minimalist David Yurman jewelry completed the young dancer's look.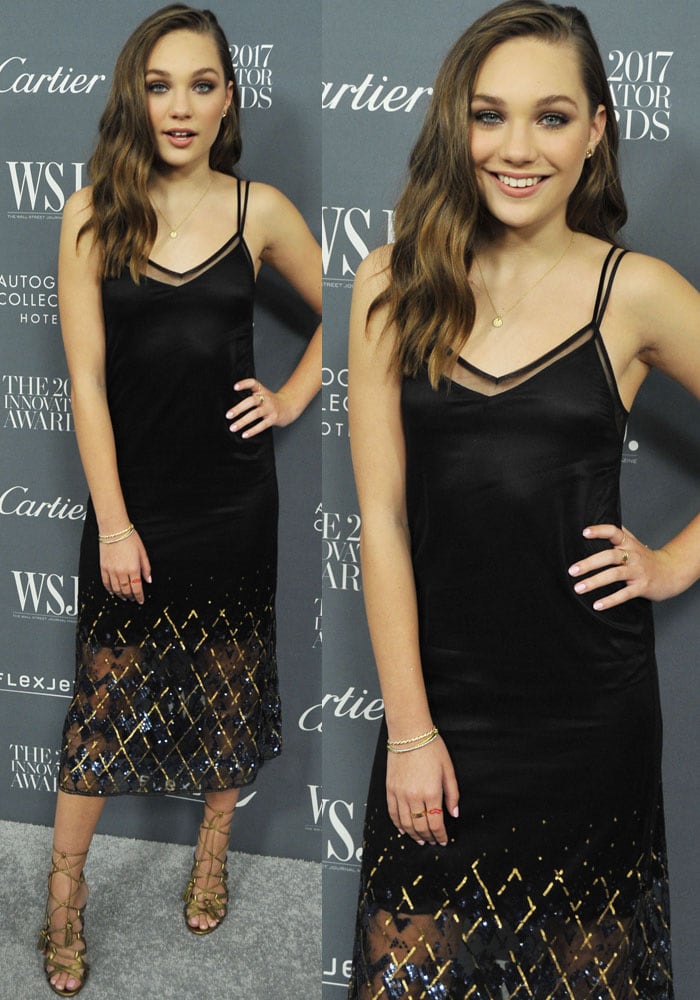 The dancer accented her Tommy Hilfiger LBD with a pair of sexy lace-up sandals.
3. Martha Hunt in Marni Shoes
Martha lets a few loose strands peek out from her Celine turtleneck sweater.
The stunning Victoria's Secret model proves she can do sophisticated fashion — and do it really well. Martha Hunt exchanged her frivolous lingerie and angel wings for a simple high-end look. Personally, this is one of our faves.
Martha slipped into an iconic Celine color block sweater which she paired with cigarette pants. If you missed the subtle combination of her black turtleneck, burnt burgundy sleeves, and navy blue pants, you just missed the whole point of the outfit.
A trendy pair of Peter Pan shoes from Marni and Cartier earrings finished her look.
Color pro: Martha used of a subtle combination of black, burgundy and navy blue.
4. Joan Smalls in Christian Louboutin Sandals
Joan's cateye makeup wins the night.
Trust Joan Smalls to give us nothing short of fierce. The Puerto Rican beauty brought out the cat eye which interestingly worked quite well with her gigantic crystal-embellished Cartier earrings.
However, we're not entirely sold on her Nina Ricci dress. While it definitely falls under our definition of innovative — that is, taking a plunging dress and a bikini top and covering it in sequins — we feel the dress tried too hard.
A pair of Christian Louboutin sandals completed Joan's look.
Model Joan Small's Nina Ricci dress went a bit overboard.
5. Ava Phillippe in Gianvito Rossi Sandals
Ava, daughter of Reese Witherspoon, is all grown up.
The adorable mini-Reese Witherspoon, Ava Phillippe, looks more and more like her mother every day. Thankfully, she's not as Southern about her outfit choices as her mother is.
Ava wowed the crowd in an elegant black Balmain dress that featured an asymmetrical neckline and a sheer sleeve. Can you imagine Reese in a Balmain dress? We can't. But Ava more than makes up for her mother's solid Southern preferences.
The 18-year-old finished her look with a pair of Gianvito Rossi sandals.
The teenager stuns in a Balmain sheer sleeve dress.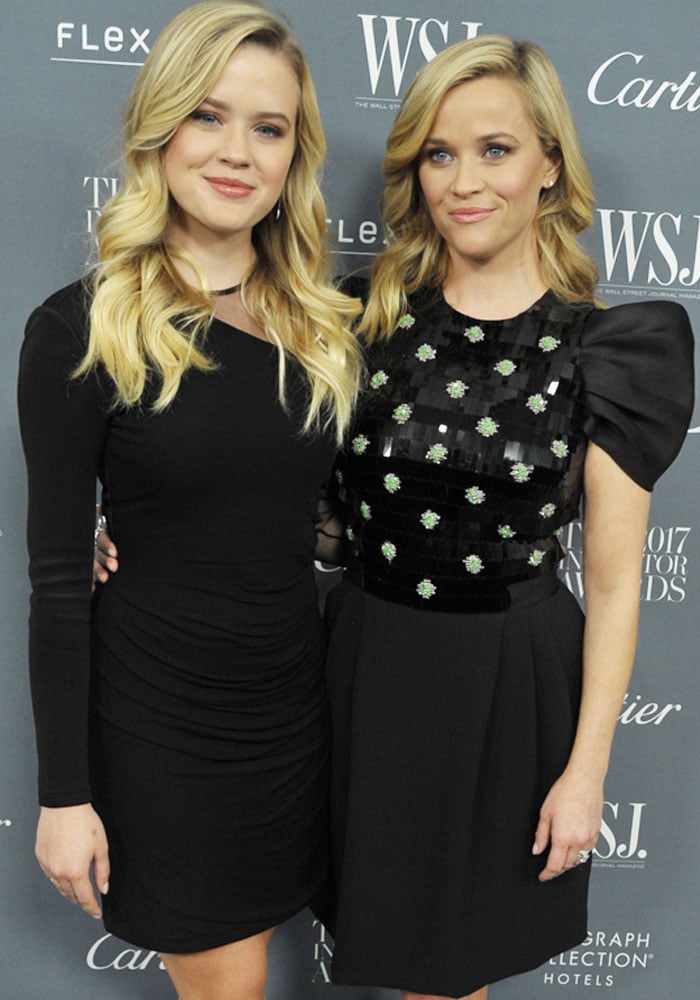 Ava poses with her lookalike, mother Reese Witherspoon.
6. Reese Witherspoon in Jimmy Choo Sandals
The Innovator of the Year for Entertainment looked radiant on the carpet.
If we featured Ava, we definitely have to feature Reese. The actress was, after all, named the Innovator of the Year for Entertainment. Reese has been pushing for gender equality in the industry with her media production company, Hello Sunshine.
Reese stuck to her favorite fit-and-flare silhouette with a dress from Giorgio Armani's Fall 2017 collection. We can't quite understand what is happening with this dress. To us, it looks like something out of a Lady Gaga music video climbed on to Reese's body. Nonetheless, the actress looks radiant with clean makeup and neatly curled blonde locks.
The actress finished her look with a Tyler Ellis small "Lee" pouchet, a pair of Jimmy Choo sandals, and jewelry from Cartier.
Reese accepted the honor in a dress from Giorgio Armani's Fall 2017 collection.
The actress poses with colleague Candice Bergen.
7. Naomi Campbell in Pointy-Toe Pumps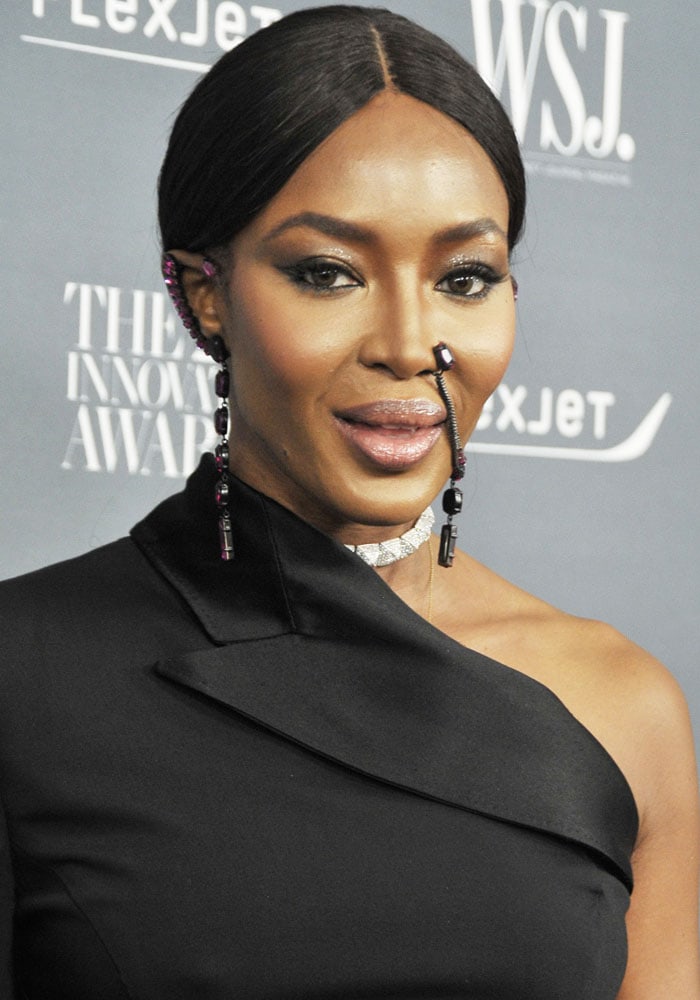 Naomi makes an elaborate case for jewels with pieces from Lorraine Schwartz.
We are thankful for women like Naomi Campbell who take fashion innovation to heart. The supermodel took to great lengths to steer away from the typical LBDs, and instead, served us up one of the most interesting looks of the night.
Naomi wore a deconstructed tux jumpsuit by Jean Paul Gaultier, which had an asymmetrical neckline accented by a lapel. The most interesting part about the look is that it only had one pant leg.
The model didn't stop there. As one of the few people not in Cartier, Naomi cranked up the volume on accessories with her over-the-top Lorraine Schwartz jewelry. With her elaborate ear cuff, earrings and nose piece, we can't even figure out what is attached to where.
Naomi arrives in a deconstructed jumpsuit by Jean Paul Gaultier.
8. Gwyneth Paltrow in Jimmy Choo Sandals
Gwyneth goes bold with a plunging neckline.
Last but certainly not the least is the impeccable Gwyneth Paltrow. While we've seen her in some pretty experimental stuff on the red carpet, we love her tailored looks the most.
Gwyneth stepped out in a plunging Michael Kors cross front silk shirt which she tucked underneath an oversized double crepe-sable blazer. The Michael Kors "Paillette" sarong skirt added a bit of shine to her look.
A pair of Jimmy Choo "Minny" sandals completed the actress' look.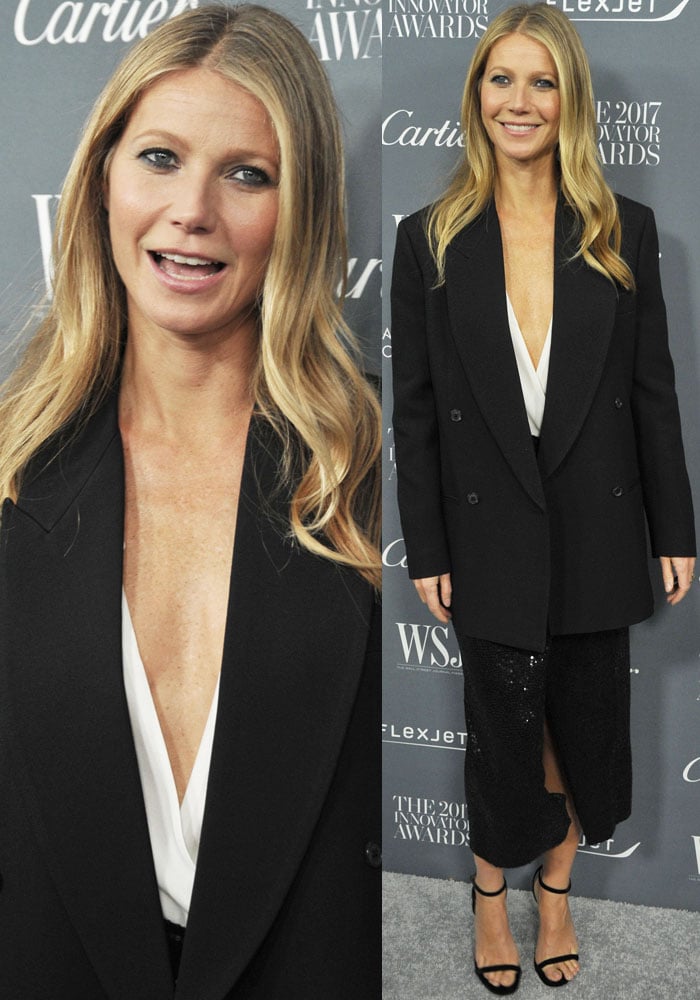 The actress turned to Michael Kors for her outfit.
Our personal favorites would have to be Martha's chic Celine outfit and Naomi's experimental look. As much as we would have loved to give Reese the trophy, that silhouette has been worn out on her. We would have loved to see her in something slinky and elegant.
Which looks win the black-and-white party for you?
Credit: Patricia Schlein / WENN