Blake Lively was spotted at the Museum of Modern Art the other day; she was there to attend the 'Blue Valentine' premiere.
The 'Gossip Girl' beauty strutted her stuff in fall's best designer pieces. Leading the pack – her tweed boots from Chanel. The rest of her outfit included a tunic from Isabel Marant, a metallic jacket from Burberry, two layers of scarves also from Burberry, and a quilted bag from Chanel.
Blake Lively attends the 'Blue Valentine' premiere at the Museum of Modern Art in New York City on December 7, 2010
Let's zoom in on those tweed booties, shall we? After all, it's the reason why she's here today:
Chanel Two Tone Tweed Boots, Fall 2010 Collection
Hmmm….what do you think? It's from Chanel's Fall 2010 collection. As you can see, it features a 90mm metallic heel, a two tone tweed upper, and a couple of textured detailing here and there. It's quite a unique pair, but we love it. Question is, are you feeling the same way? Can you appreciate its appeal? Or would you rather just stick to the comforts of suede and leather?
If you like Blake's Chanel Tweed Boots, you can only find them in one location – the Chanel boutique. Feel free to take a trip to the nearest one in your area if you have the pockets for it.
Earlier this year Blake was seen filming an episode of Gossip Girl in Paris. She wore "Carnival Embroidery" blue pants by Tibi paired with Brian Atwood "Loca" pumps. Which outfit do you like better?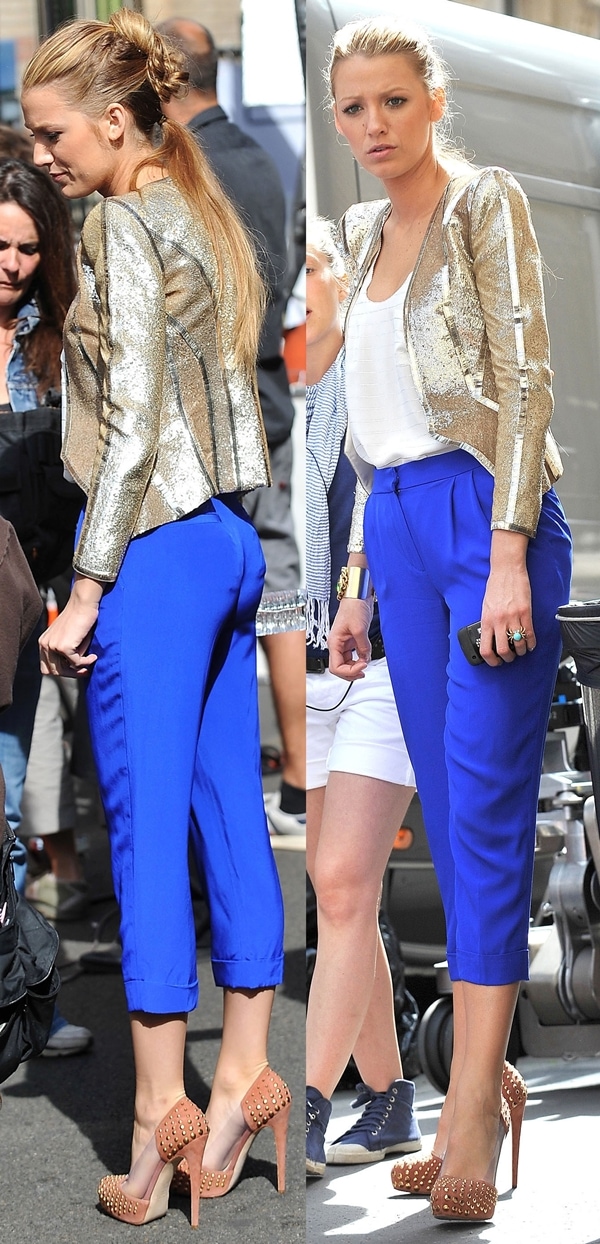 Blake Lively on the set of 'Gossip Girl' in Paris on July 6, 2010
Credit: Ivan Nikolov/WENN