Jenny McCarthy, who underwent her first surgical enhancement at age 19, was seen making her way to the NBC Studios in New York on a bright and early Monday morning in February 2013.
"Me and my friends found a doctor in Arizona that cost about $1,500 to get our boobs done–because they didn't use anesthesia and I didn't know it," Jenny said in an interview about her first boob job.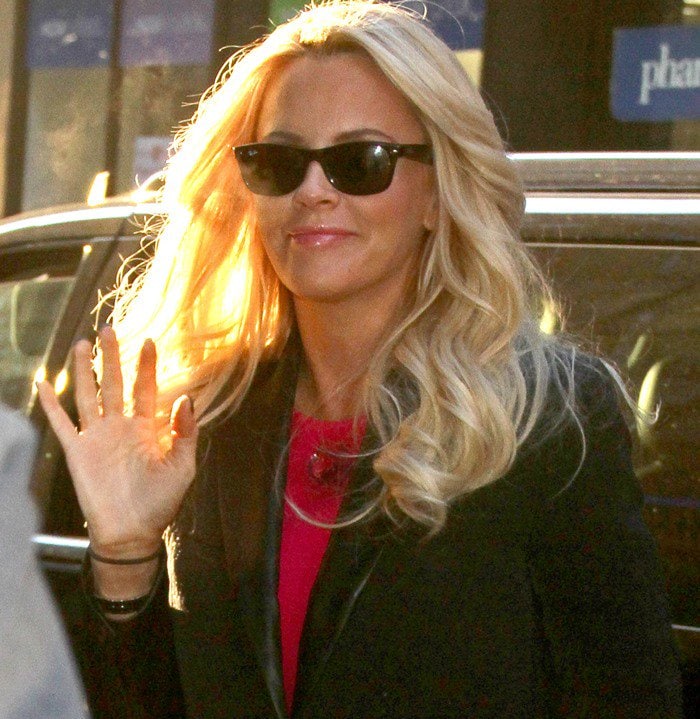 Jenny McCarthy wears her hair down as she arrives at NBC Studios in New York City for a "Today Show" taping at the NBC Rockefeller Center Studios on February 4, 2013, in New York City (Credit: Mr. Blue / WENN)
"I think plastic surgery is fun if it makes you feel good," she told Michigan Avenue Mag in 2009.
"I love Botox, I absolutely love it. I get it minimally, so I can still move my face. But I really do think it's a savior."
Chatting with American plastic surgeon and television personality Terry Dubrow on her VH1 talk show in April 2013, McCarthy talked openly about her breast implants.
Actress Jenny McCarthy arrives at the FOX Winter TCA 2020 All-Star Party held at The Langham Huntington Hotel on January 7, 2020, in Pasadena, Los Angeles, California, United States (Credit: Avalon / WENN)
"He did my boobs twice," she said. "Once, I got them smaller, and then recently larger… Because after childbirth, for people that don't know, your boobs turn into, like, pancakes."
Jenny McCarthy had her first job done when she was 19 (Credit: Jody Cortes / WENN)
"Women have to get their 'tires rotated' so to speak every ten years so I never had them fully removed, but I had them taken out and replaced only because I couldn't fit into normal dress sizes," McCarthy said in an interview with Fox News in December 2009.
"I had to buy dresses in a bigger size and have them taken in so I just decided to get them taken down a bit. The boobs got a little droopier because of it, so there is a yin and yang to everything. But I feel better in my clothes."
Jenny McCarthy wears a black patterned coat over a pink dress out in New York City (Credit: Mr. Blue / WENN)
You don't have to be a celebrity to know that paparazzi photos are often unflattering, but somehow, the cameramen and women managed to get some great shots of Jenny McCarthy thanks to some golden hour sunlight.
They caught her at a terrific angle and at the perfect moment. How beautiful does that morning sunlight look shining through her hair?
The sunlight also gave us a great view of her heels.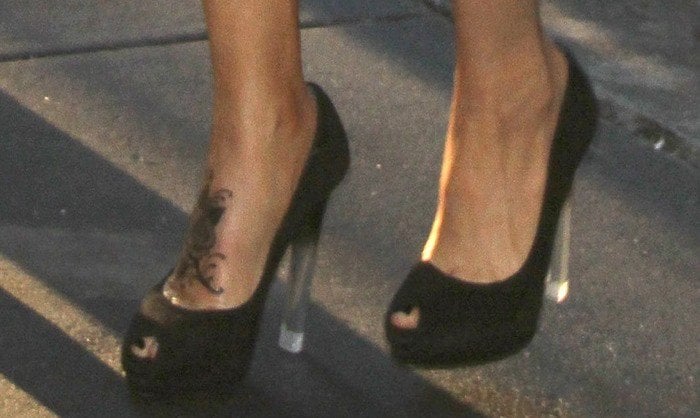 Jenny McCarthy's feet and foot tattoo in ombre-heeled Alexander McQueen shoes (Credit: Mr. Blue / WENN)
The sunlight really emphasizes those gorgeous ombre heels. We probably would've dismissed this shoe as yet another basic black pump if it weren't for this shot.
We instantly recognized Jenny McCarthy's ombre heels. She showed off her feet in this pair from Alexander McQueen: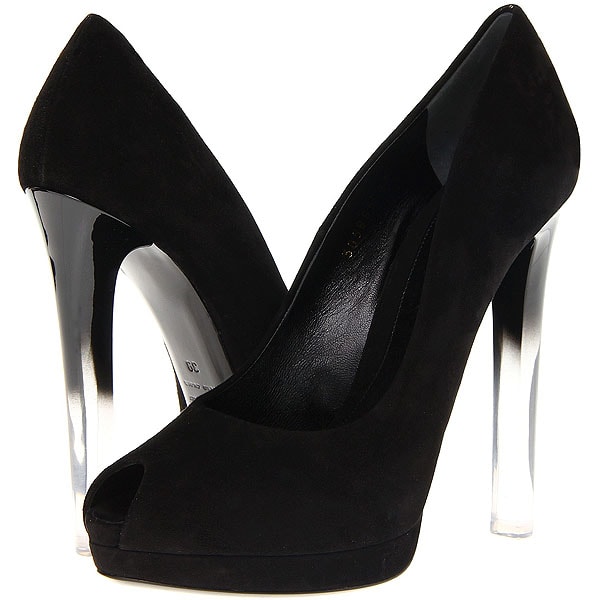 Alexander McQueen Ombre Heel Pumps, $1,225
Ombre was one of the top emerging shoe trends in fall 2012. Check out our featured article on the ombre trend to see other shoes with ombre lucite heels.