Besides Jennifer Lawrence, a few more celebrities were spotted looking quite gorgeous at the 2012 Toronto Film Festival. One beauty we certainly didn't fail to notice was Kate Hudson. Two years earlier, she reportedly had had a small breast enhancement from an AA to a B.
"Kate makes jokes about her boobs, but her chest has always been one of her biggest insecurities," a source told Us Weekly.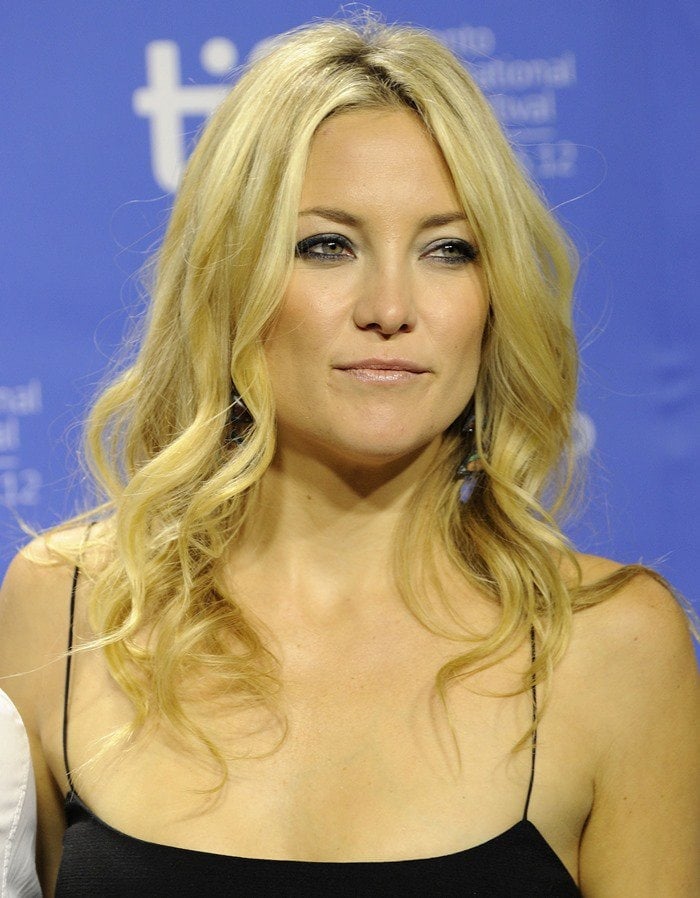 Kate Hudson wears her blonde hair down and curled at the photocall of The Reluctant Fundamentalist held on September 9, 2012, in Toronto
Giving birth to her first child, Ryder Russell Robinson, in January 2004, Goldie Hawn's daughter told She Knows she wasn't happy about the pregnancy-related chest inflation.
Kate Hudson, who reportedly had a small breast augmentation to overcome self-proclaimed insecurities, shows off her boobs at amfAR's Inspiration Gala at Milk Studios on October 11, 2012, in Hollywood, California
"I hate it. I'm usually an A cup and I'm getting close to a D cup. Big breasts are fun for certain things and really not fun for other things. Plus, I love fashion, and having big breasts is not ideal for certain looks. They're way more fun when you're not in your clothes. Then, they're a blast!"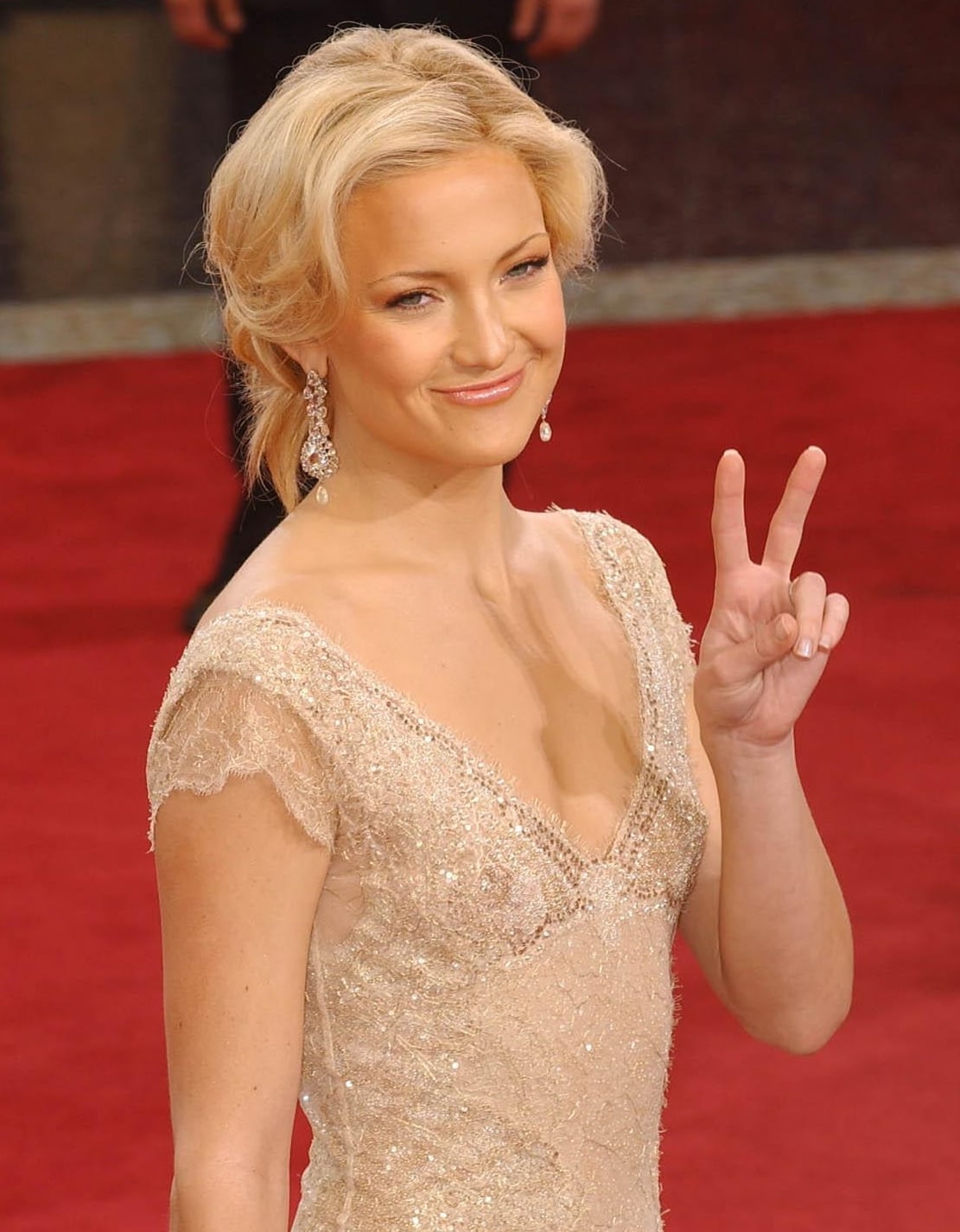 Flat-chested actress Kate Hudson attends the 75th Annual Academy Awards at the Kodak Theater on March 23, 2003, in Hollywood, California
I have small breasts, obviously," Kate Hudson famously admitted at the 2002 Golden Globes. "It's nice to be able to wear a plunging neckline and have it be elegant." Do you think her boobs look bigger now?
A very trim Kate (she gave birth just a few months earlier!) was oh-so-sexy in a thigh-high slitted figure-hugging LBD while joining the photocall of her new movie, The Reluctant Fundamentalist.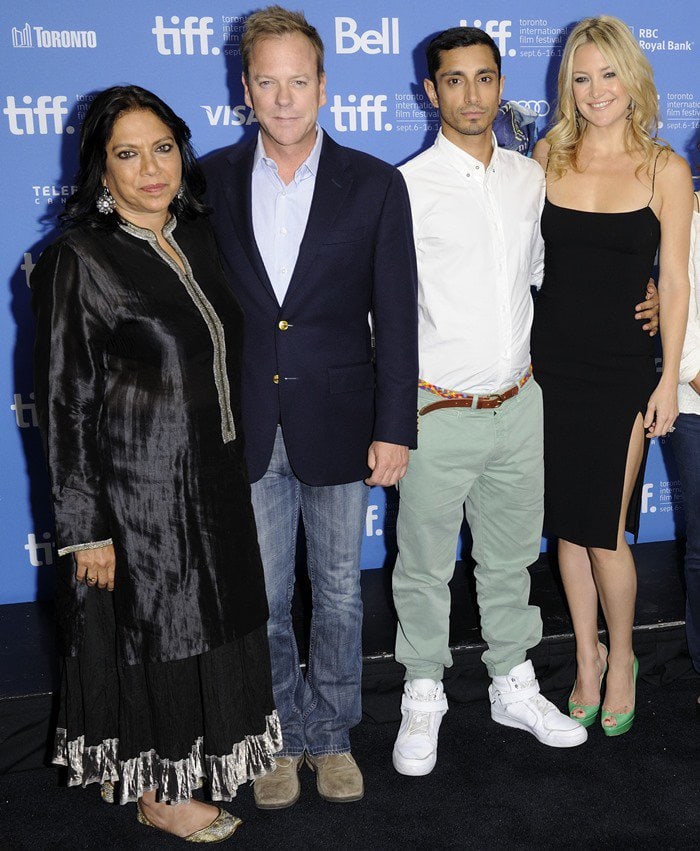 Mira Nair, Kiefer Sutherland, Riz Ahmed, and Kate Hudson pose for photos on the black carpet
The "Dr. T & the Women" actress punctuated her classic look with one stunning accessory – eye-popping green peep-toe pumps.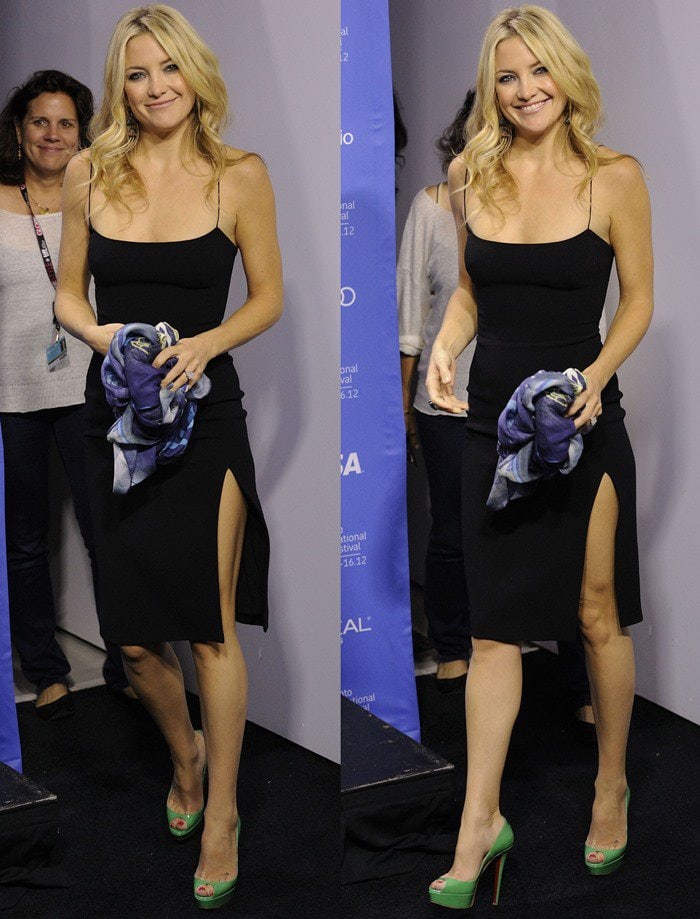 Kate Hudson wears a black sheath dress from Emilio Pucci's Resort 2013 collection
As for those green heels, the red sole gives it away — they're from Christian Louboutin. Sadly, we can't find this color online.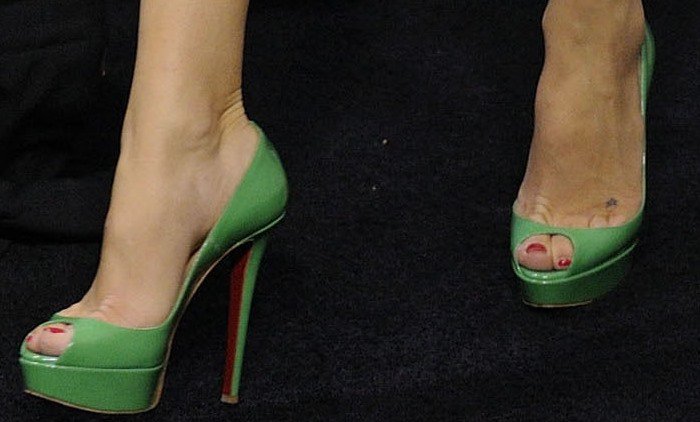 Kate Hudson's feet in green patent leather Christian Louboutin "Banana" platform pumps
If you want to copy Kate's style, simply put on a hot LBD and pair it with bright green heels. Don't forget to cap it off with a bauble or two.
Credit: Dominic Chan/ WENN / AMPAS / Brian To