Known for having some of the most beautiful breasts in the world, Penelope Cruz shimmered at the London premiere of "Zoolander No. 2" held at the Empire Leicester Square.
Penelope Cruz wears her hair down at the UK premiere of the stand-alone sequel to the 2001 film Zoolander
The then 41-year-old actress, who portrays Derek Zoolander's (Ben Stiller) love interest, once again stole the show in a sparkly gown as she joined the cast of Ben Stiller's comedy sequel on the blue carpet.
Opposed to plastic surgery, she has publically stated that she wants to age naturally.
"I've seen my grandmothers grow old and they are so beautiful, every wrinkle in their face tells a story. I want to feel that in 30 years. I would always choose that kind of beauty over that comes from having too much done to yourself," Cruz said when promoting the 2004 Canadian-British war drama film Head in the Cloud.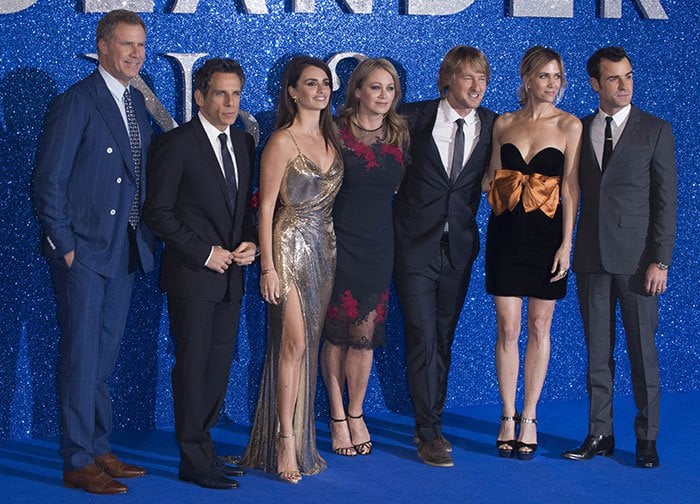 (L to R) Will Ferrell, Ben Stiller, Penelope Cruz, Christine Taylor, Owen Wilson, Kristen Wiig, and Justin Theroux attend a Fashionable Screening of the Paramount Pictures film "Zoolander No. 2" at Empire Leicester Square on February 4, 2016, in London, England
"Birthdays are always something to celebrate. I'm looking forward to every step of the way. Maybe it's because I'm from Spain, so I look at it in a different way than in a place like Los Angeles," she said in an interview with The Telegraph.
"I will always be a Spanish actress in Hollywood or wherever I work," she added.
"There are a lot of things I keep from my roots and that is one of them — the way we look at aging. I never want to be afraid of that. Change is good," the wealthy actress said about not wanting to go under the knife.
Penelope Cruz is opposed to plastic surgery and wants to age naturally
In Zoolander 2, Ben Stiller's character gets the opportunity to check if Penelope Cruz's boobs are real or not.
Stuck on the fashion prison island, swimsuit-model-turned-Interpol-agent Valentina instructs Derek to: "Take me from behind and grab me as if your life depends on it".
"Grab me like this for safety and buoyancy. We are swimming back to Rome!" she adds.
Ben Stiller checks out Penelope Cruz's boobs in Zoolander 2
In the 1992 Spanish romantic comedy-drama film Jamón Jamón, Penélope Cruz met her future husband Javier Bardem. Filmed when she was 18 years old, the Spanish teenager stripped down naked for some love-making scenes.
"I thought, 'There is a character there, there is a style, the material is really good.' Of course, I was not looking forward to those scenes but I did it," Penelope told Esquire about revealing her boobs in the film.
"Everyone was really respectful, aware of the fact that I was 18. I remember the last day of filming, I was crying, saying, 'What if I never shoot a movie again?' The feeling was devastating. 'Who knows when I will see these people again?' Including Javier."
Penelope Cruz made her feature film debut in Jamón Jamón and became a sex symbol after appearing topless
After the release of the movie, she made a conscious decision to stay away from films featuring nudity.
Jamón means "ham " in Spanish. In one scene José Luis (Jordi Mollà) comments that the taste of Silvia's two breasts is like ham.
"And what I did is that I went away for a while from anything that had to do with nudity or sex scenes because I felt that I needed at that point to stay away from that. Not as a calculated plan. Personally, I needed that."
Penelope Cruz made her career breakthrough by baring her boobs in the comedy-drama art house film Jamón Jamón
At the premiere of the Zoolander sequel, everyone's eyes were on the Spanish actress, who looked every inch the movie star as she posed for the eager paparazzi.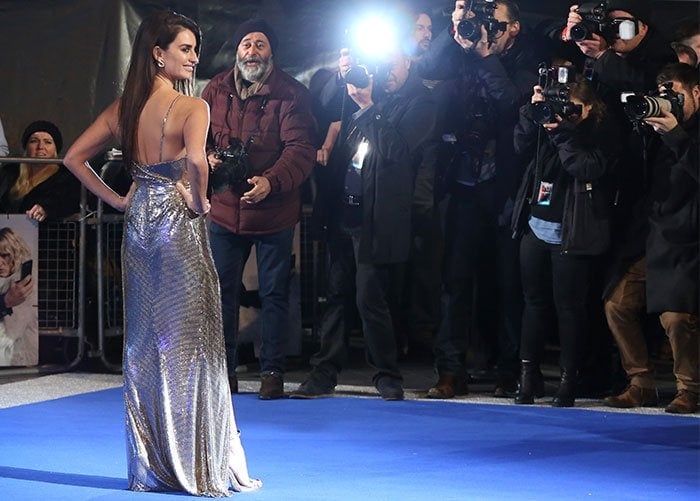 Penelope Cruz stuns on the blue carpet in a metallic gown from Atelier Versace
Penelope oozed class and sophistication in a slinky metallic sequined Atelier Versace gown that clung perfectly to her every curve.
Penelope Cruz shows off her figure in a slinky metallic Atelier Versace gown
The sexy number featured a cleavage-baring plunging cowl neck, a ruched detailing that further accentuated her slim figure, and a thigh's-the-limit split!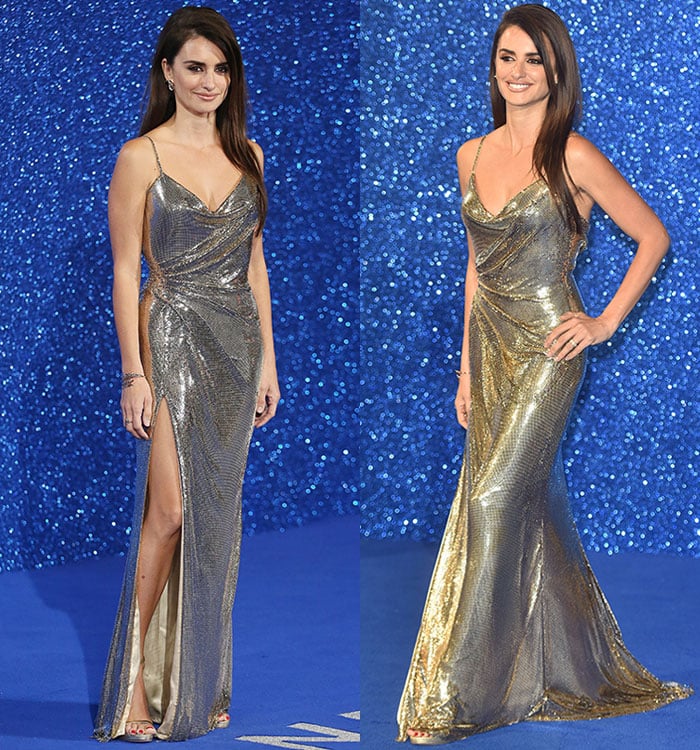 Penelope Cruz shimmers in Atelier Versace at the "Zoolander No. 2" UK premiere
Penelope amped up the glamour with a pair of earrings, a bracelet, and a pair of gold sandals.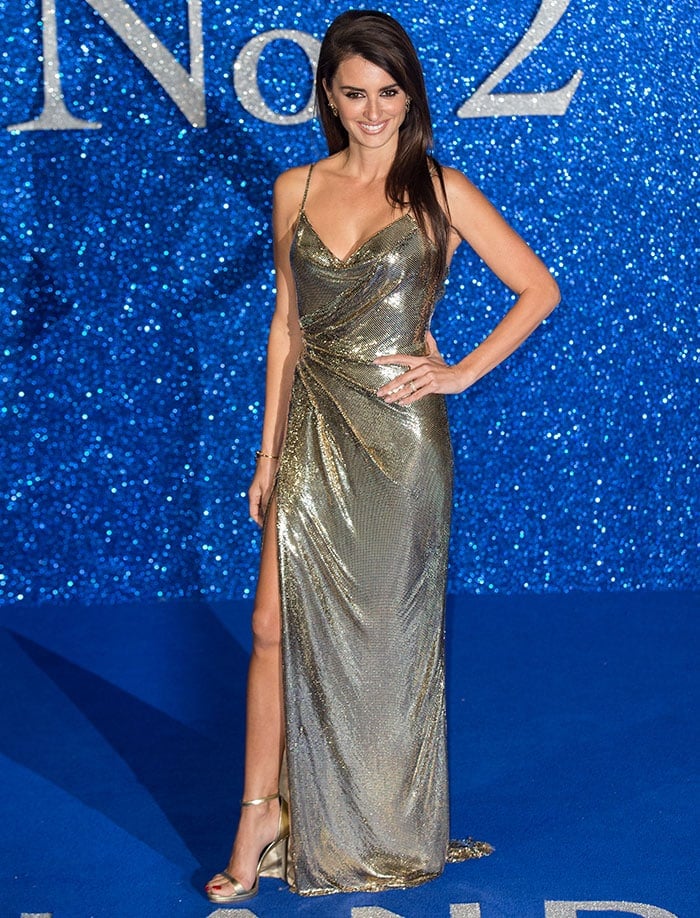 Penelope Cruz pairs her gold Atelier Versace dress with a pair of gold sandals
She kept everything else simple by wearing her brunette tresses down with a side part and sporting neutral makeup with bronzed eye shadow to highlight her sexy eyes.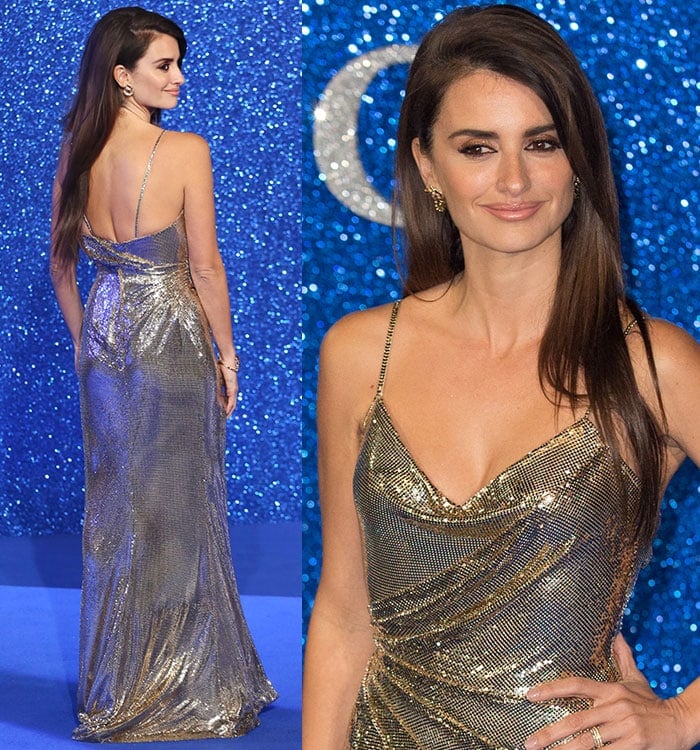 Penelope Cruz wears her brown hair down and flaunts a smoky eye on the blue carpet
Penelope's metallic gold sandals perfectly matched her sparkling gown. Her simple heels featured buckled ankle straps, open toes, and about 4.5-inch heels.
Penelope Cruz's feet in gold ankle strap sandals
You can find similar gold heels at Nordstrom and Zappos.
Michael Antonio "Lovina" Sandals, $13.50 – $64.99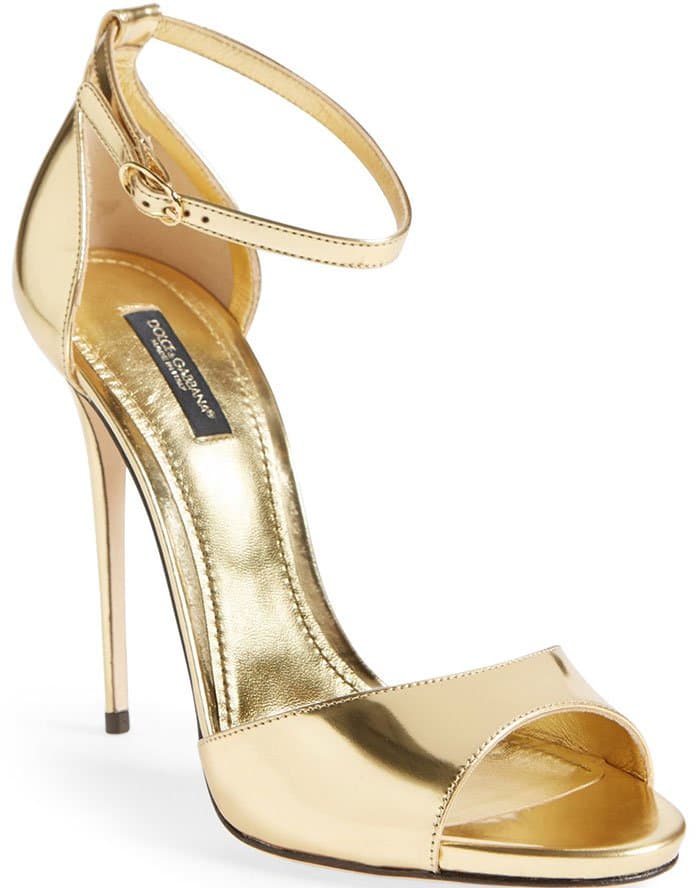 Dolce & Gabbana Ankle Strap Sandals, $995
Michael Kors "Doris" Metallic Platform Sandals, $395
Credit: Mario Mitsis / Lia Toby / Euan Cherry / Daniel Deme / Jordan / WENN / Z.Tomaszewski / POP