This article is all about Coachella shoes! Days 1 and 2 of the 2013 Coachella Valley Music and Arts Festival took place in Indio, California over the weekend, and we, of course, went shoe spotting as soon as we could.
While the clothes were mostly in the de rigueur bohemian chic style yet again, boots being the No. 1 festival footwear choice was completely unexpected. No-nonsense go-with-everything leather boots abound, but there were a few kooky fringed styles as well. Also spotted all over the festival field were fashionista-favorite boots, like the super popular Acne "Pistol" and the resurrected Chloe "Susan/Susanna/Suzanne".
No matter the celebrity's outfit — be it lace shorts, day dresses, denim cutoffs, maxi skirts, sweatpants, or fur vests — it was paired with boots, no questions asked.
Scroll down for our favorite hipster-y Coachella ensembles made tougher by a cool pair of boots! Got a favorite yourself yet?
Kate Bosworth at Coachella
Fresh, frilly, and functional, Kate Bosworth nailed the Coachella look with her scalloped top and shorts combo.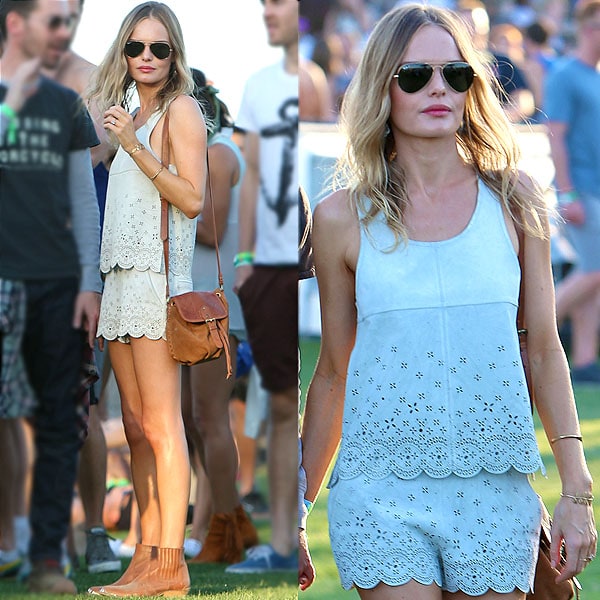 Here's Kate on the second day of the festival. She should be a model for Coachella if there ever was such a thing.
Alessandra Ambrosio and her model friends
Alessandra Ambrosio has a natural bohemian style, so she looks right at home at Coachella.
This picture of Alessandra and her crew could pass for a fashion editorial.
Diane Kruger at Coachella
We swear, Diane Kruger's outfit here is something Vanessa Hudgens has worn to Coachella before.
Tallulah Willis at Coachella
Tallulah Willis stripped down to just her swimsuit later that day, and we love that she still wore her boots with it. We weren't kidding when we said boots were paired with everything at Coachella this weekend!
Nicky Hilton in trendy flat buckle boots
Nicky Hilton rocked the ever-popular Chloe "Susan" studded buckle boots.
Audrina Patridge in Doc Martens
Audrina Patridge went for good ol' Doc Martens at Coachella.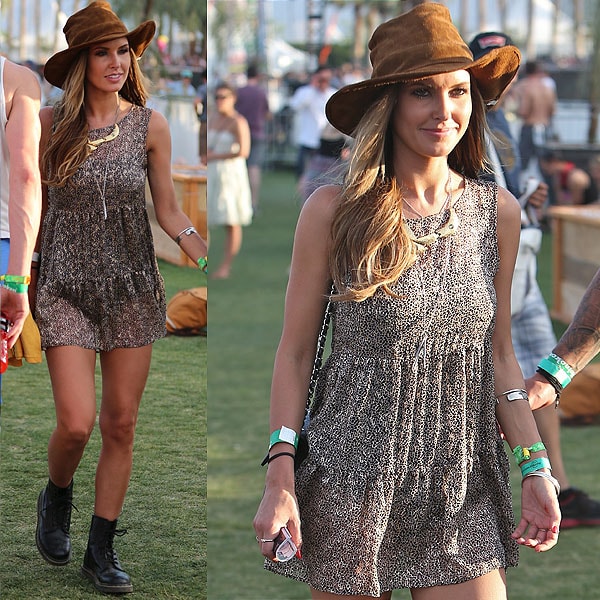 Kelly Rowland in Combat Boots
Kelly Rowland is one tough chick in a leather biker vest, camo shorts, combat boots, and … a fanny pack?
Sophia Bush in Chloe "Susan" boots
Rockin' the gray color of the Chloe "Susan" boots, Sophia Bush showed off her sculpted abs in a crisscross-strapped bra top.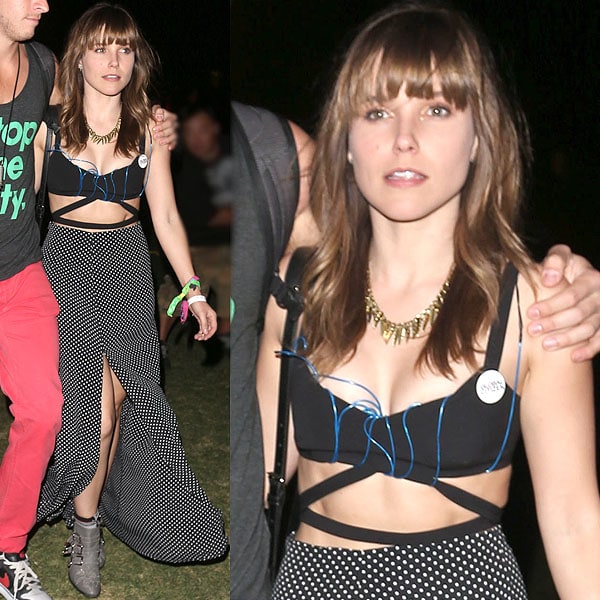 Whitney Port rocking black booties
With legs that long, Whitney Port never has to worry about wearing boots of the right height.
Jared Leto in combat boots
When did Jared Leto become so fashion-forward? He's making biker-style sweatpants and combat boots look so achingly hip.
Credit: STS / WENN