The annual Coachella Festival is not just about music. It's also about fashion as celebrities and fashion bloggers spend three days soaking up the California sun in their funkiest garb. On the second day of this year's festival, both Nicky Hilton and Kate Bosworth were spotted wearing very similar flat buckle boots.
Nicky wore the ever-popular Chloe "Susan" studded buckle boots, while Kate donned her very own take on the style. Read on to see how these two ladies from rather different fashion worlds wore the trendy flat buckle boots.
Nicky Hilton and Kate Bosworth at the Coachella Festival in Indio on April 13, 2013
Nicky Hilton in Chloe "Susan" Studded Ankle Boots
Nicky stayed true to her socialite image with a snakeskin-effect miniskirt, a translucent studded handbag, and lots of colorful jewelry. The Chloe Susan studded ankle boots have a lot of personality and edge, making them a great shoe choice for the socialite to wear to one of the world's biggest music festivals. We've seen Nicky in these boots before, along with Mandy Moore, Ashley Tisdale, and, most recently, Sienna Miller.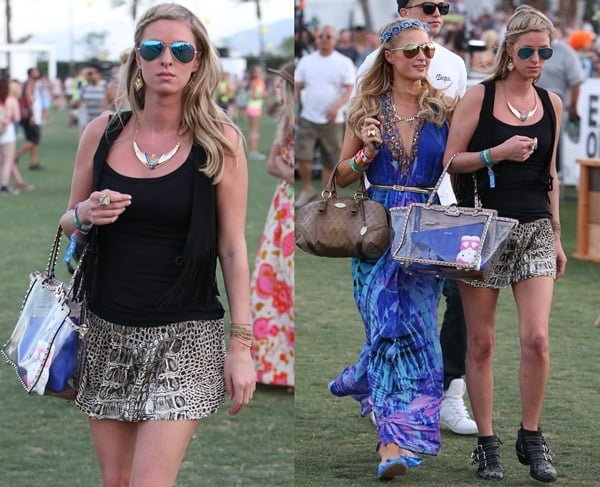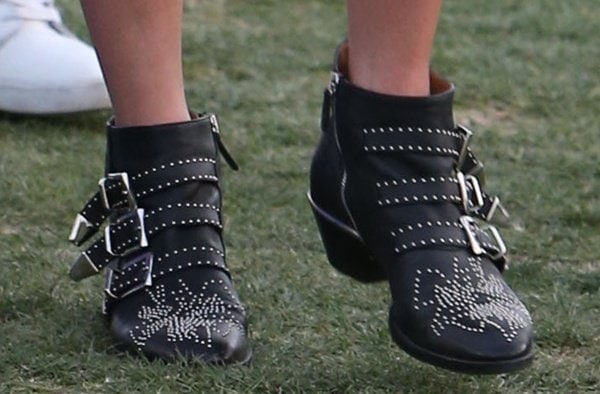 Nicky Hilton with sister, Paris, at the Coachella Festival in Indio on April 13, 2013
Chloe first released these boots in 2008, and they're clearly here to stay. If you want to get in on the fun, the Susan is available for $1,345 at Barneys New York.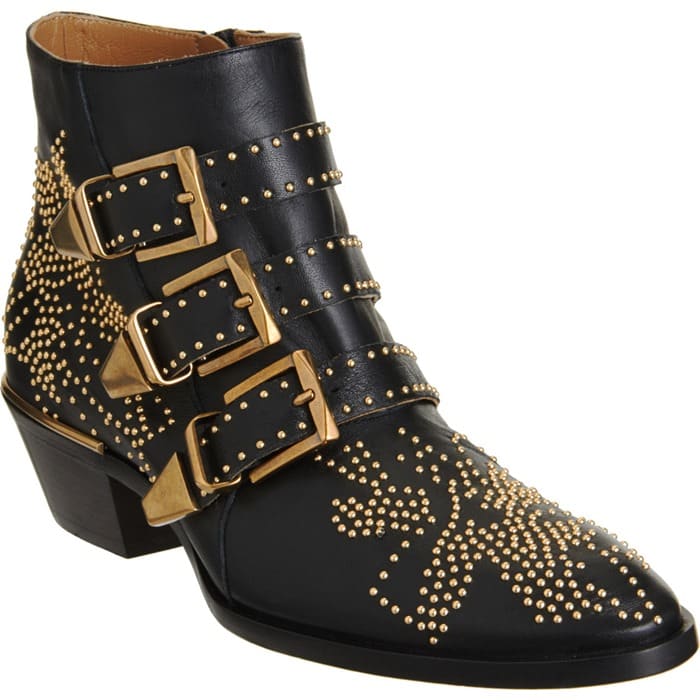 Chloe "Susan" Studded Ankle Boots in Black, $1,345
Kate Bosworth in Her Own Topshop Design
While Nicky chose to be a bit flashy, Kate took the bohemian route with her outfit. She wore an embroidered vest atop a veiled black dress, a look she designed for Topshop. Her flat buckle boots looked nearly identical to the Chloe pair. However, Kate's leather boots are not studded, hit above the ankle, and feature an extra buckle. They don't have the luxe design of the Susan boots, but this simply creates a sleeker appearance.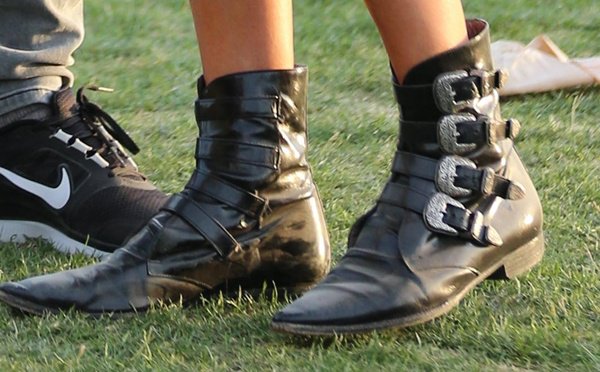 Kate Bosworth with her fiance, Michael Polish, at the Coachella Festival in Indio on April 13, 2013
Kate's buzz-worthy Topshop collaboration is not expected to hit stores for another couple of months. Until then, you can grab a similar pair of flat buckle boots in suede from Aldo on ASOS. We've also found a nice alternative that's available at Topshop.
Aldo 'Flojoey' Buckled Ankle Boots, $66.50
Super-Cool Black 'Alfie' Buckle Boots, £89
Which boots would you rather have? The studded Chloe pair, which are a big hit with celebs, or Kate's minimalist pair?
Credit: STS / WENN