We're trotting the globe—figuratively, that is— to bring you some of the most stylish fashion bloggers out there with our "5 Questions" series.
Our previous fashion blogger feature was Kristina Bazan from Switzerland, and our next stop is Canada, where we had the pleasure of chatting with the fashionable & lovely Breanne, who maintains a fashion blog called Flattery.
Flattery blogger Breanne wearing a dress from Forever21
Breanne loves everything fashion and that's quite apparent with how adept she is in matching and mixing her fashion pieces. Her style is edgy—cute, feminine, and practical, and she wears it well!
Get to know Breanne and her fashion favorites as she answers our five select questions.
1. Please tell me a little about your blog and its focus
My blog started in 2009 as I started my first year of university. My main fashion focus is what I consider to be everyday, affordable, wearable outfits which are also unique, fun, and feminine.
Breanne styled a sexy red dress with boots
2. What's the favorite pair of shoes you own right now?
My favorite pair of shoes has to be a pair of lace-up heeled booties from a store called Spring. They are really vintage looking and are great with any fall outfit. The heel isn't very high so they are rather comfortable as well.
Breanne loves her black lace-up heeled booties
3. What is the next pair of shoes you are hoping to buy?
I'm hoping to eventually get some boots with the built-in "invisible" wedge because I really like the look of them. Plus they would give me some height but still look casual enough to wear to school.
4. What kind of shoes do you like the most?
I'm pretty obsessed with wedges currently and anything lace-up. For school, I like over-the-knee boots and little oxford shoes – basically anything that is both comfortable and also fashionable.
Breanne shows off her floral oxford shoes
5. Who are your favorite shoe designers/makers and why?
I like Aldo and Spring. I find myself shopping there most often because they have amazing sales.
Their shoes are of great quality and they offer free shipping if they don't have your size in-store, and you have to order the size online. I can't walk into these stores without wanting a pair!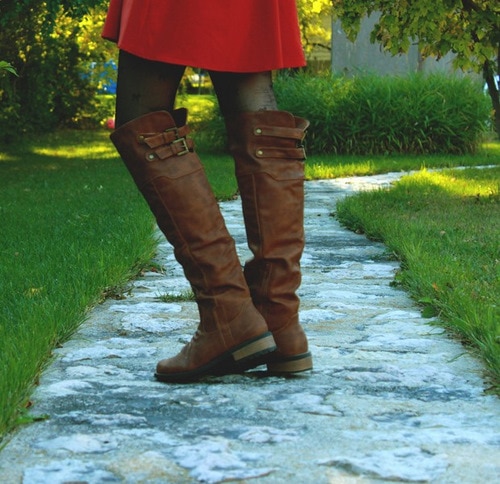 Breanne rocks comfortable flat knee boots