Brian Atwood may have a reputation for his brand slogan "the sex is in the heel," but the world renowned shoe designer can go far beyond making sexy shoes.
In fact, Victoria's Secret is working with Brian for the third consecutive year because of the designer's ability to go beyond his comfort zone. The shoe designer worked with PINK, a Victoria's Secret line targeting younger women, to create some fun and funky looks.
Brian showcased his third PINK collection at the infamous Victoria's Secret Fashion Show, where the models strutted their stuff in Shanghai, China.
PINK Angel Grace Elizabeth opens the "Millennial Nation" show.
Maggie Liane and Samie Bermannelli show off their toned tummies in Victoria's Secret PINK wear.
Brian Atwood designs color block thigh high boots for the "Millennial Nation" collection.
After designing a line of spunky footwear for the Victoria's Secret x Balmain collection, Brian went for the young, fresh and bright.
Promptly entitled the "Millennial Nation" collection, the designer came out with an array of color block thigh high and ankle boots. Brian played around with color complements for the line and birthed bright-colored suede heels that would be perfect for summer.
Mind you, these color block boots are not for the faint-hearted. Brian's designs echoed the fun and playful lingerie from the PINK collection.
Leila Nda walks the runway in a crop jacket with extended straps.
A floor-length puffer jacket envelopes a PINK lingerie-clad Xiao Wen.
All of Atwood's designs were adorned with the iconic PINK logo at the shoe opening. A pair of colorful socks were sometimes used to bring out the fun colors even more.
The designer declared that this year's Victoria's Secret show would be all about the boots. From creating a full metal-embellished heel to a more toned down Grecian goddess pair, it's apparent that Brian pushed himself to his limits.
The collection drew inspiration from the athleisure trend.
Brian Atwood's color block suede boots also come in an ankle-high version.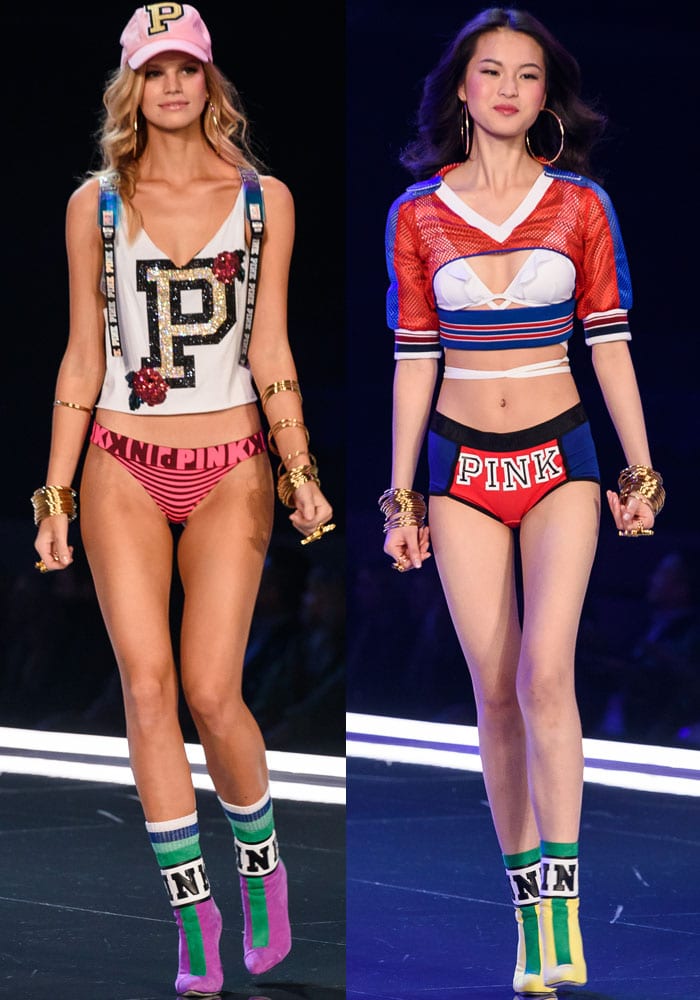 Nadine Leopold and Xin Xie show off the PINK lingerie and sporty crop tops.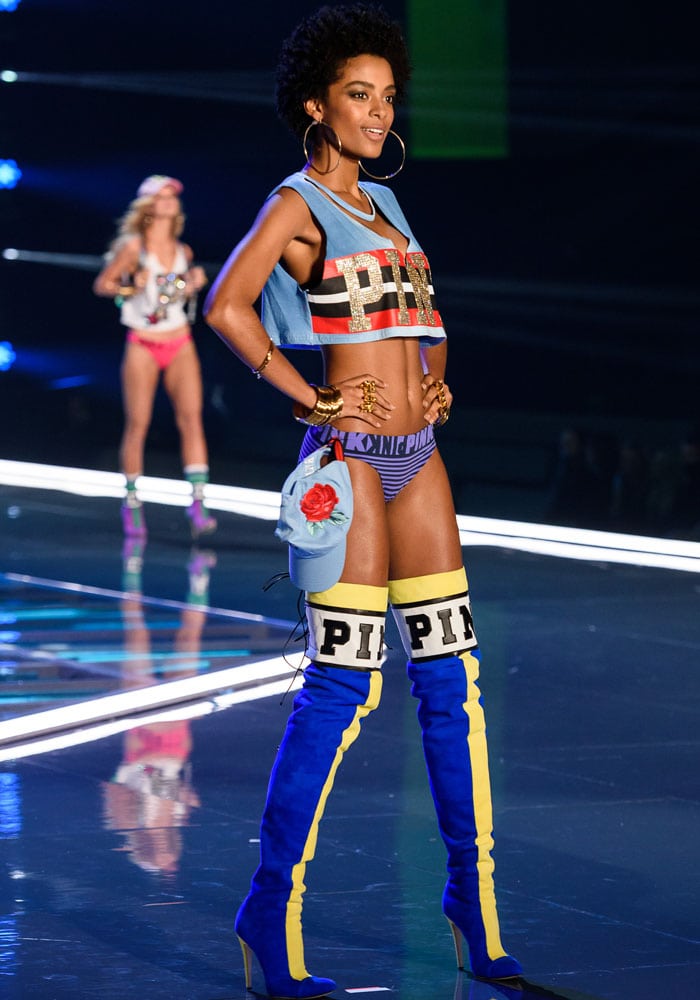 Alecia Morais puts a pair of gold knuckle bands on display.
Spearheaded by it-Angel Grace Elizabeth, the PINK collection gives exposure to the newer Angels who have yet to break out as VS stars.
This year was especially significant for women of color because of the highest number of African-American models. The iconic Grace Bol joined in on the runway party, and many of the new Angel models walking are Asian. Perhaps it's because it was held in Shanghai? Either way, we love the new direction Victoria's Secret is driving toward.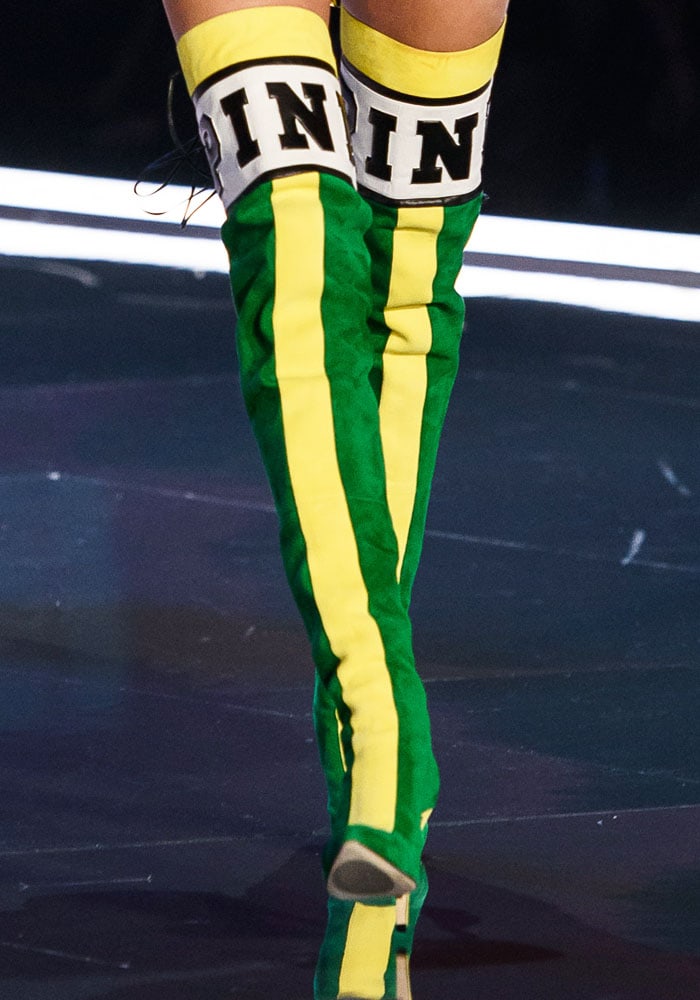 The thigh high boots also come in a green-and-yellow suede version.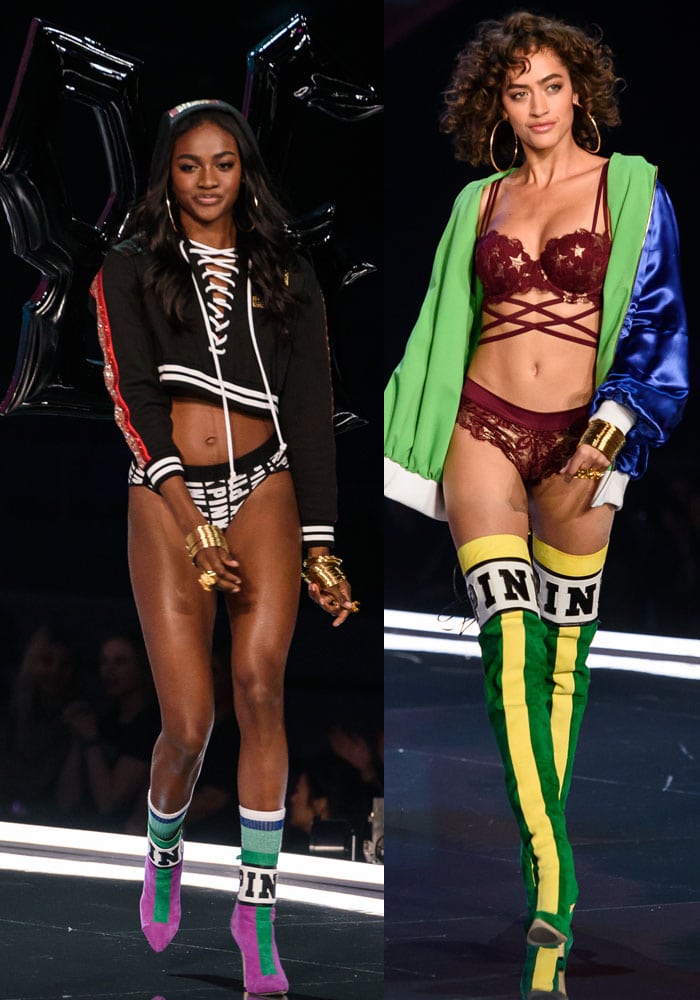 Zuri Tibby and Alanna Arrington model Victoria's Secret PINK jackets and hoodies.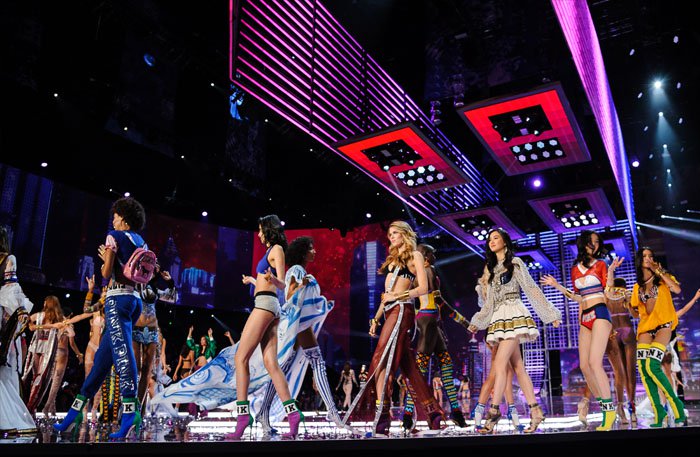 The Victoria's Secret Angels take their final walk.
Credit: WENN