For the first time in the history of the Victoria's Secret Fashion Show, the mall lingerie brand has collaborated with a high-end runway designer: Balmain. Olivier Rousteing, the creative designer of the French fashion house, was tasked with channeling the brand's edgy vibes to create a punk collection for this year's show.
From pink to punk, Olivier shared his excitement at creating pieces for the lingerie empire. After all, when you mix sexy underwear with Balmain's signature leather and studs, the result is bound to be magical.
Maria Borges and Grace Bol show off studded body pieces from Balmain.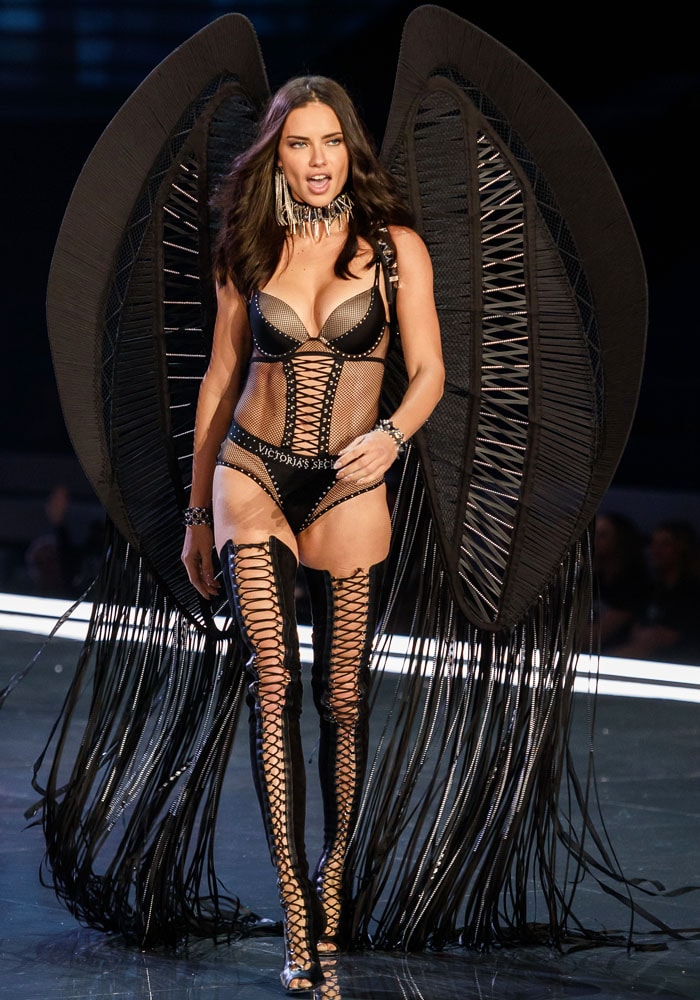 Legendary Angel Adriana Lima flutters her fringed wings in a barely-there bodysuit.
Brian Atwood mixes denim and laces for the Balmain collection.
Sara Sampaio struts coolly in an iconic Balmain jacket.
For the third year in a row, shoe designer Brian Atwood created all the footwear for the entire show. Brian's willingness to go out of the box has earned him a long-standing partnership with the lingerie brand, creating pieces that go from classic to whimsical to punk.
Brian revealed that this year's Punk Angel show was all about the boots. A majority of the pieces he created were lace-up thigh-high and ankle boots.
Alessandra Ambrosio and Lily Aldridge are decked out in meticulously embellished body pieces.
Brian Atwood echoes the Balmain aesthetic with metal-embellished boots.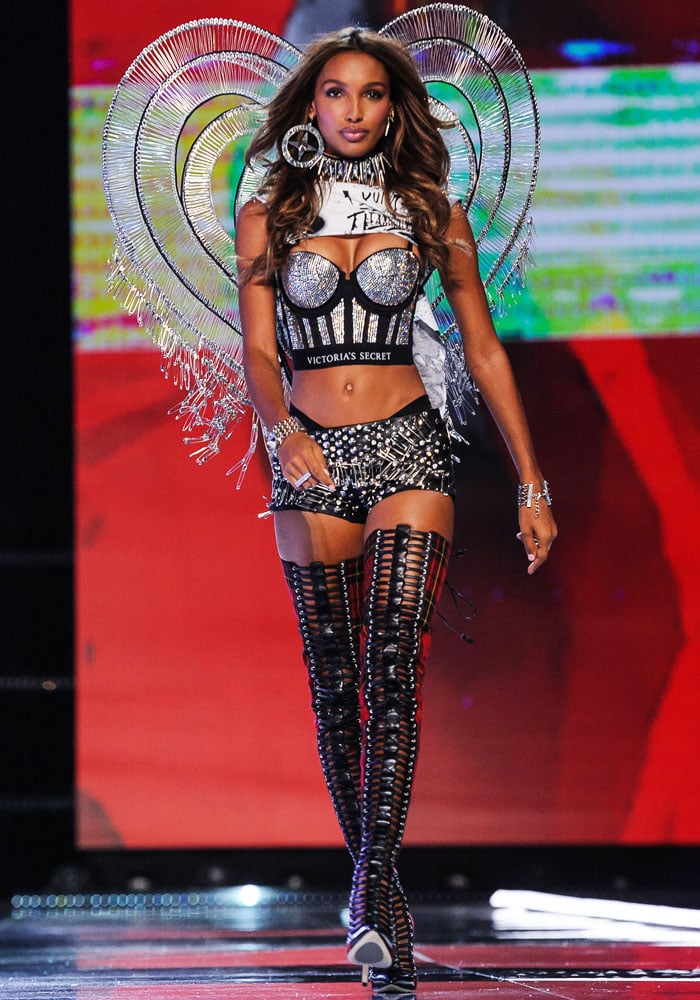 Jasmin Tookes takes the stage in wings made out of 2,000 safety pins.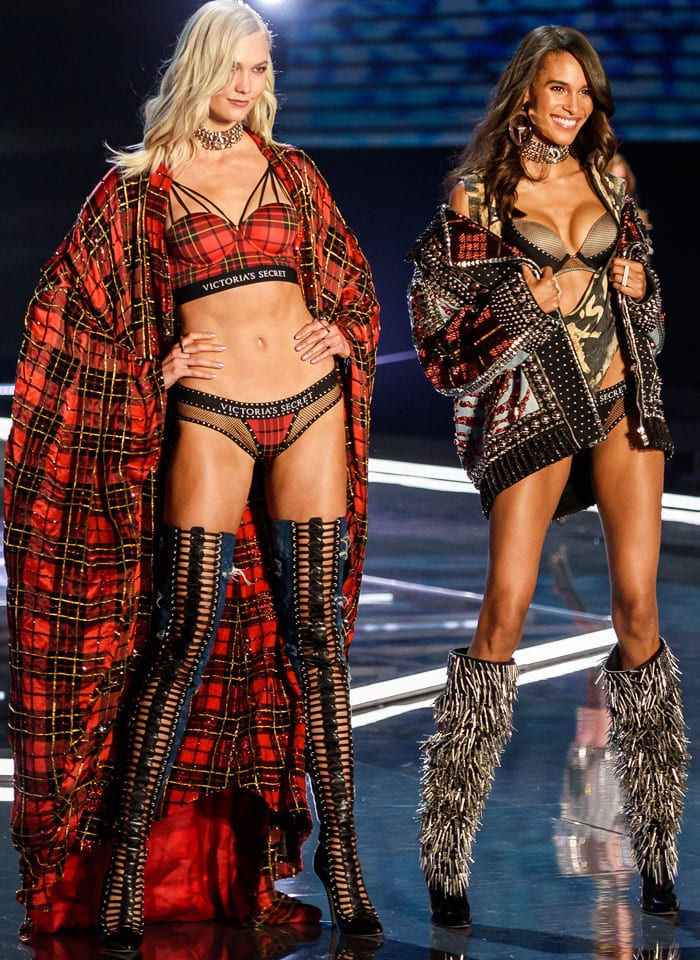 Karlie Kloss returned to the Victoria's Secret Punk Angel runway alongside model Cindy Bruna
Brian also created pieces to match the Balmain collection, such as metal-embellished boots, cage thigh highs and plaid fabric pairs that match the lingerie.
The collection, called "Punk Angel," was especially significant because it saw the return of Angel Karlie Kloss. The 25-year-old American fashion model and entrepreneur hung up her wings after her contract ended three years ago, so we're glad to see her back on the runway.
The collaboration will also dress Alessandra Ambrosio as she walks for the last time. On Instagram, the Angel bid an emotional farewell to friends and fans who have supported her after 17 shows.
A pair of classic leather lace-up boots makes its runway debut
Devon Windsor mixes fringes, plaids, and studs
New Victoria's Secret PINK star Grace Elizabeth struts alongside model Ming Xi
A classic pair of distressed denim Brian Atwood boots softens up the look
Despite the rollercoaster of emotions at this year's Victoria's Secret Fashion Show, we still couldn't take our attention away from the Balmain pieces. Unlike Brian Atwood who creates pieces to complement the VS lingerie, Olivier was given free rein to create his own capsule collection.
An impressive array of features studded brassieres with Olivier's signature bold lines, making use of plaid, black and mesh fabrics.
Olivier's lingerie line up even included an oversized graphic tee.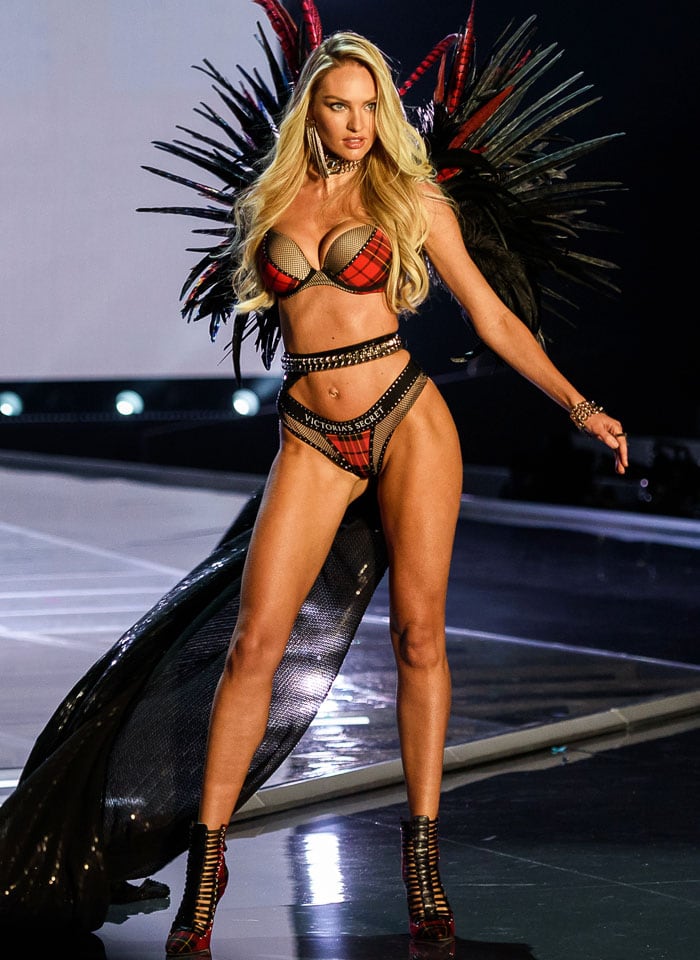 Candice Swanepoel hits the runway in a plaid two-piece and matching shoes.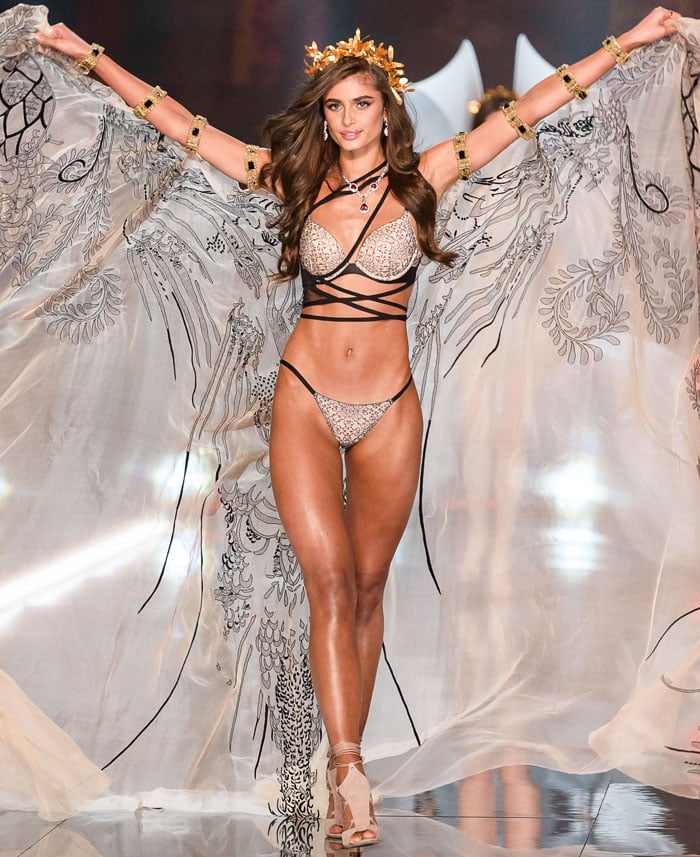 Taylor Hill floats on stage in a hand-painted sheer cape.
The show's second themed section, "Goddesses," proves to be an extreme contrast to the Balmain collection.
The Grecian-inspired Victoria's Secret lingerie is complemented by hand-painted flowing fabrics. Leaves and feathers made out of sculpted metal dominate the collection.
Brian Atwood created an array of softer suede lace-up sandals for this particular collection.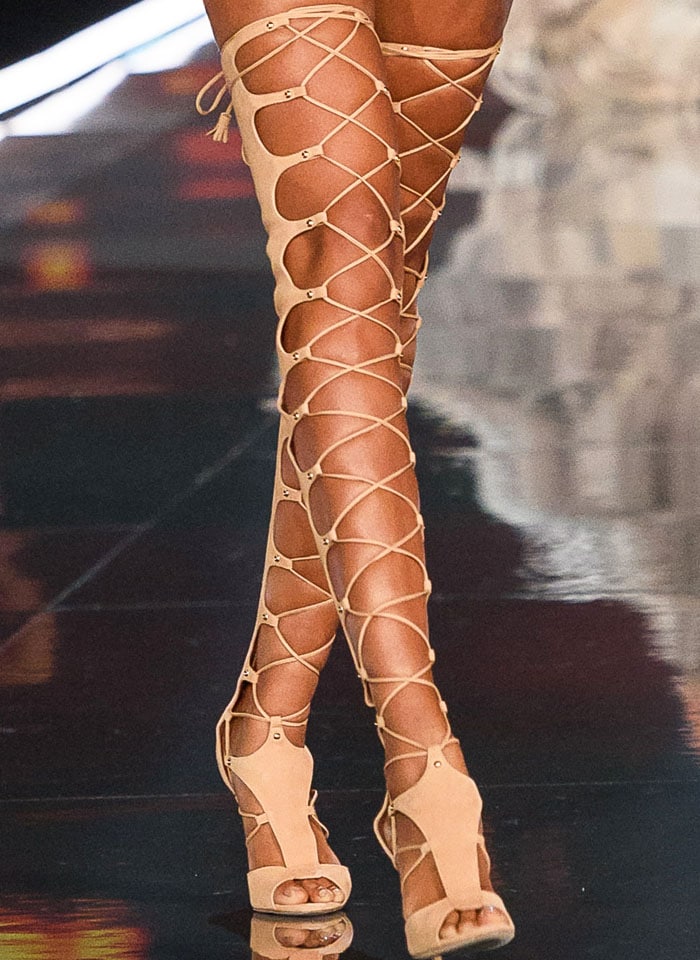 Lace-up suede boots dominate the "Goddesses" show.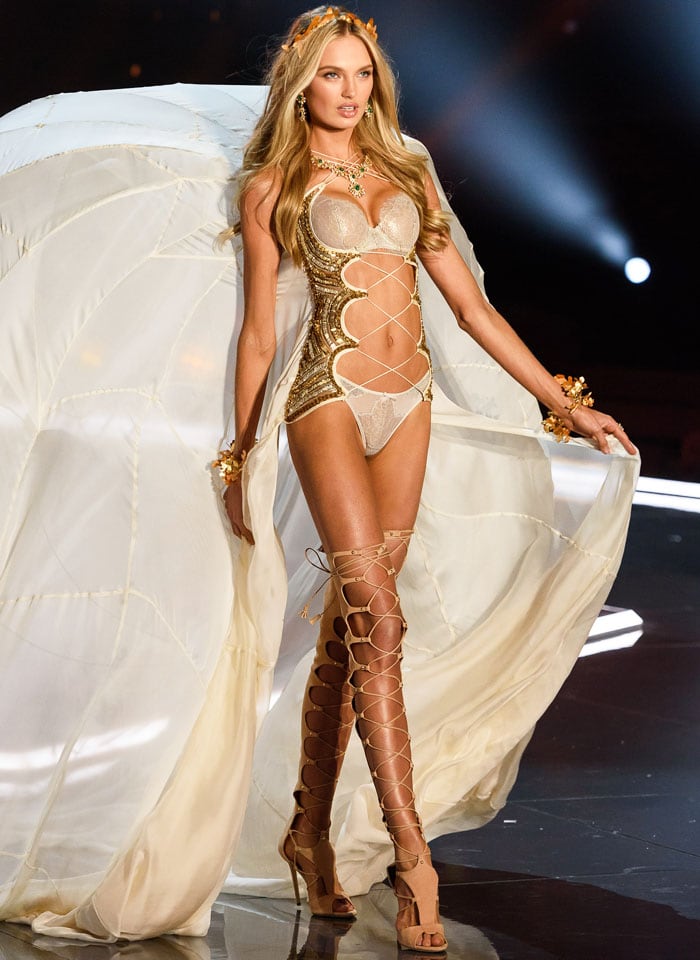 Romee Strijd glides on stage in a pair of structural Grecian wings.
This year's $2 million Fantasy Bra model was Lais Ribiero, who got emotional in a video posted after she accepted the honor.
While we can't wait for the Victoria's Secret x Balmain collection to hit the stores, we can't help but wish Brian Atwood would also release his runway creations to the public.
The Victoria's Secret x Balmain collection will be available on November 29.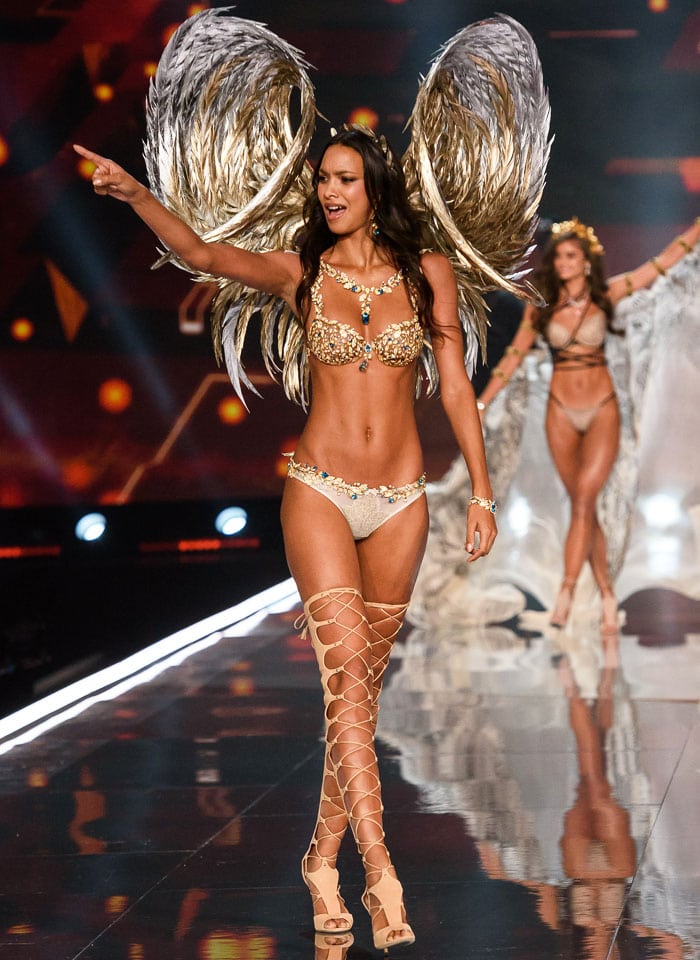 Lais Ribiero wears this year's $2 million Fantasy Bra.
Credit: WENN