Korean artist Psy's "Gangnam Style" song is blowing up right now so much so that Britney Spears herself has taken notice.
On her appearance on "Ellen" last Tuesday, Ellen Degeneres revealed that Britney tweeted that she wanted to learn the Gangnam Style dance.
True to form, Ellen brought over none other than Psy himself to come and teach Britney the horsey dance!
Watch the video of Psy teaching Britney Spears "Gangnam Style" and check out the stills below: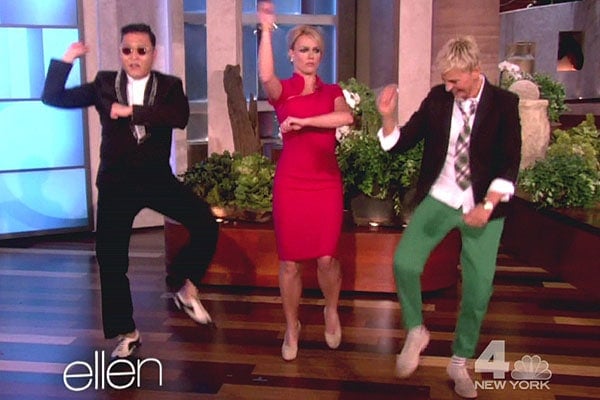 Britney Spears learns how to do "Gangnam Style" on on NBC's "The Ellen DeGeneres Show" on September 11, 2012
Ellen actually recommended that Britney take her shoes off first before trying the dance because she said Britney wasn't going to be able to dance in them. Well, Britney's pretty much proven that she can very well dance in high heels. Psy himself also said that Britney's shoes are fine because according to him, "the mindset of this dance is to dress classy, dance cheesy".
So Britney kept her shoes on, danced and nailed it on her first try. What a trooper!
And those aren't just any pair of shoes she Gangnam-ed in but are these Yves Saint Laurent 'Tribtoo' pumps with a 5 1/2-inch skinny stiletto heel: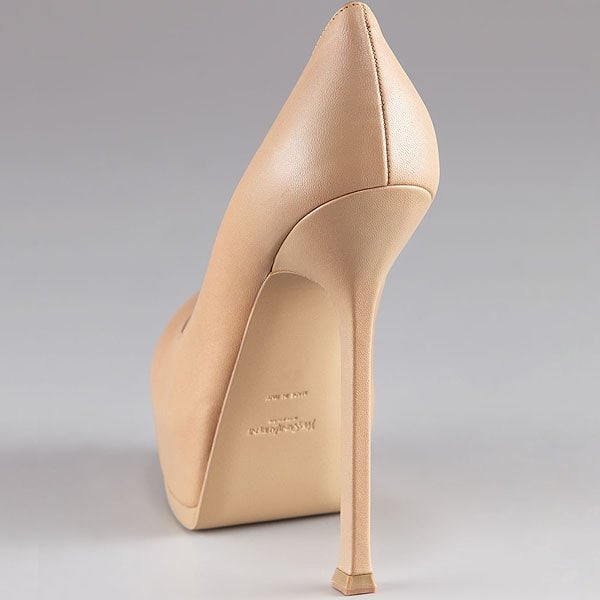 Yves Saint Laurent 'Tribtoo' platform pumps in nude, $825.00
Gotta salute a girl who can dance crazy dances in high heels!
You can shop for the 'Tribtoo' pumps at Neiman Marcus and at Nordstrom.
If you haven't seen the "Gangnam Style" video yet and have no idea what it is, here ya go:
Credit: WENN