Have you seen Britney Spears' "Work Bitch" video?
The former teen-pop sensation sure channeled a whole lot of dominatrix drama for her latest single. You'll find Britney doing her signature moves while dressed in glittery underwear and tight revealing outfits.
Once you become immune to the beat and all the half-nakedness, you will notice a couple of other things, like the fancy Lamborghini, her Britney Spears fragrance — 'Fantasy Twist' (in a dazzling pink perfume bottle), and, of course, the stunning shoes!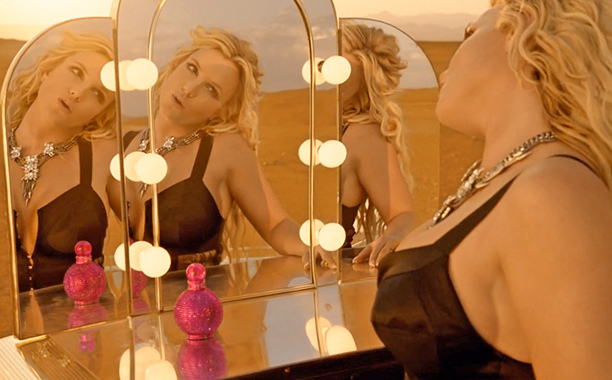 Britney's Fantasy Twist fragrance making a cameo in the video
Did you catch the crystal-encrusted Louboutins? How about the studded sneaker wedges she slipped into when she danced with her minions in the desert? Actually, she wore a couple of other standout heels in the video; allow us to enumerate them for you. Let's start with her red bottoms. Obviously, even from a distance, you can already tell they're the crystal-encrusted 'Daffodile' pumps.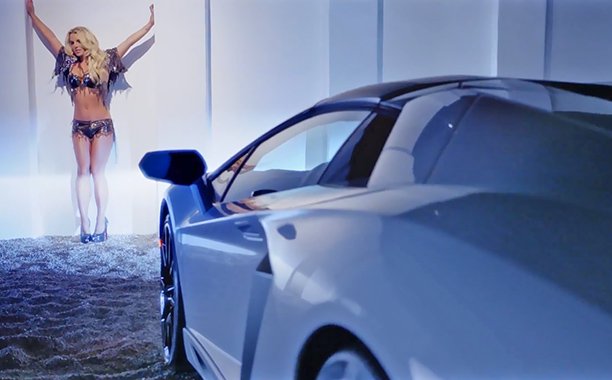 A view of the Lamborghini and Britney Spears' crystal-encrusted 'Daffodile' pumps
As you know, the Daffodiles are super sky high. Heels for these shoes run at 6.5 inches tall. The platforms are also just as exaggerated — a good 2.5 inches thick. Britney's pair isn't available online, but you can score the candy green and champagne versions if you're desperate to get your hands on a pair.
Candy Green Crystal-Embellished 'Daffodile' 160 mm Pumps, $6,395 at Saks Fifth Avenue
Champagne Crystal-Embellished 'Daffodile' 160 mm Pumps, $6,395 at Saks Fifth Avenue
Brit's black sneaker wedges from the scene below were hard to decipher at first, but thanks to a blurry screen shot, we were able to ID the pair. The shoes are by Giuseppe Zanotti. They're studded and trimmed with zipper details at the front and back of each shoe. They're also dressier and edgier in design compared with sneaks from Isabel Marant and Ash.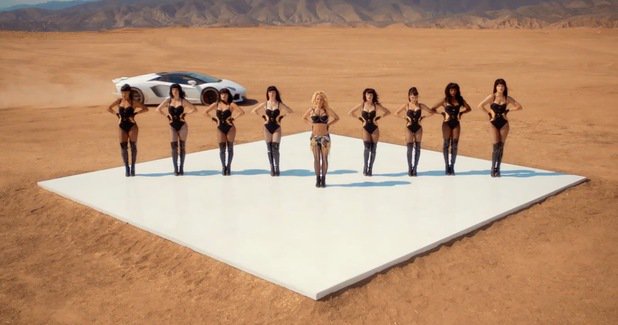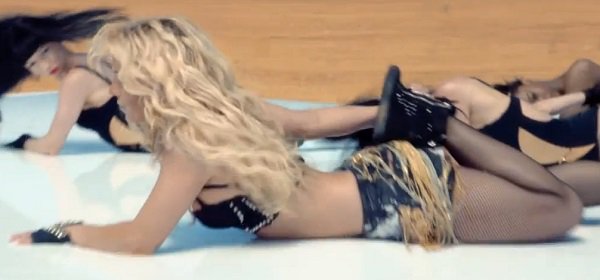 Britney Spears wearing Giuseppe Zanotti sneaker wedges as she dances in the desert
Giuseppe Zanotti Studded Sneaker Wedges, $1,025 at Farfetch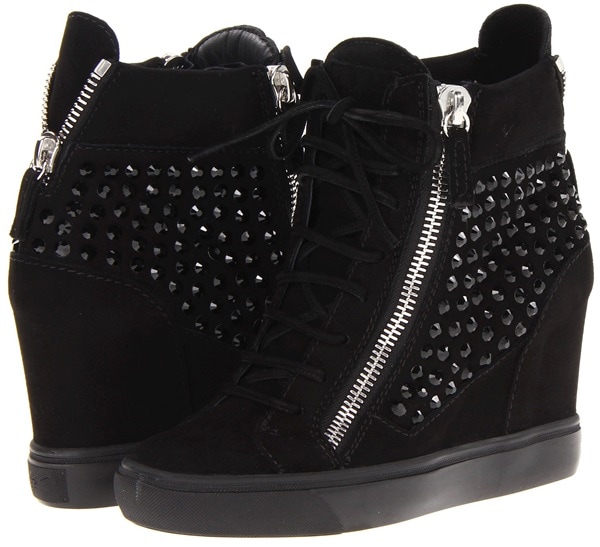 Britney's Planet Hollywood scene will show you a peek at the cap-toe pumps she wore underneath her wide-leg trousers. They're actually leopard-print pumps that feature blue suede pointy toe caps. And like the sneakers, they're also from Giuseppe Zanotti (Britney wore the shoes with black stockings).
Britney plugging her (future) gig at Planet Hollywood while showing off her Giuseppe Zanotti cap-toe pumps
Giuseppe Zanotti Leopard-Print Pumps, $725 at Farfetch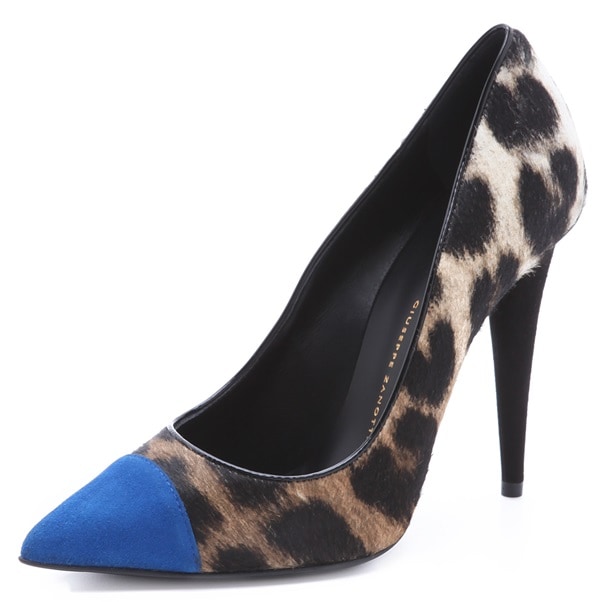 Aside from the catty-printed heels, Brit also sported the gold version of the same style in another scene of the video. Both Giuseppe Zanotti pumps feature pointed toes and 4-inch-tall wrapped heels. While the former is crafted from calf hair and suede, the latter is made of metallic mirror leather.
Giuseppe Zanotti Metallic Gold Pumps, $650 at Nordstrom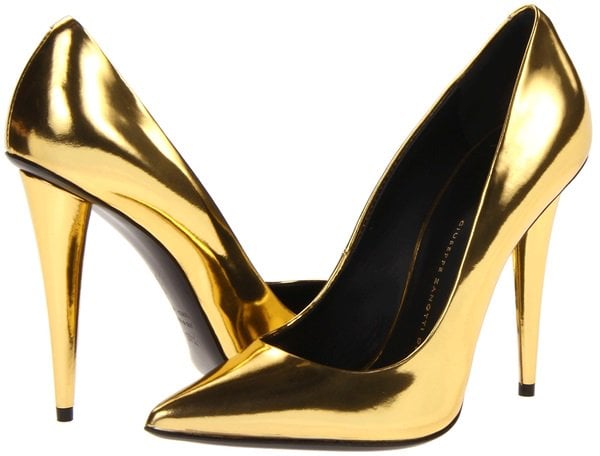 Britney dancing on the table while wearing gold Giuseppe Zanotti pumps
That said, there were a couple of other heels we couldn't identify, such as the silver ankle-strap sandals she wore with the pink gown (as she danced with the sharks) and the tasseled heels she slipped into for the second desert scene.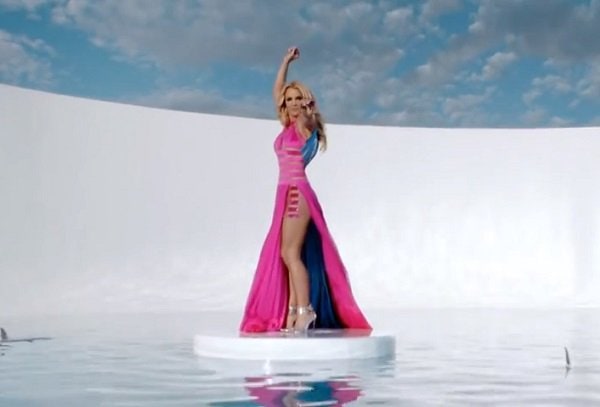 Britney dancing with the sharks!
Britney Spears wearing tasseled ankle-strap heels for a bondage scene in the desert
Now that we've covered Britney's lust-worthy collection of footwear from the music video, what are your thoughts on the video itself? Do you think it's going to be a hit? Maybe as big as Miley's "Wrecking Ball" video?
Oh, before we forget, allow us to leave you with these crazy pumps that we also spotted in the video. These are seriously outrageous, yet somehow, we see Lady Gaga's name written all over them. Any idea who made these shoes?
A snapshot of the crazy "spinal cord" heels we saw in the video