Spotted at the same Miu Miu presents Lucrecia Martel's "Muta" event as Ashley Tisdale was Camilla Belle.
The 24-year-old actress wore a 40s-style floral mid-length dress accessorized with a pink clutch and silver glitter pumps, all from the Miu Miu Fall 2011 collection.
Camilla Belle arrives at the Miu Miu present Lucrecia Martel's "Muta" event held at a private residence in Beverly Hills, California on July 19, 2011
The dress is retro-fab on its own and the glitter pumps are eye-catching but together, the effect is muddled. Miu Miu has always had that playful womanly style but this particular combo on Camilla Belle ended up looking confused.
We're still loving the silver glitter pumps though — they look like they'd be a fun pair of shoes to wear: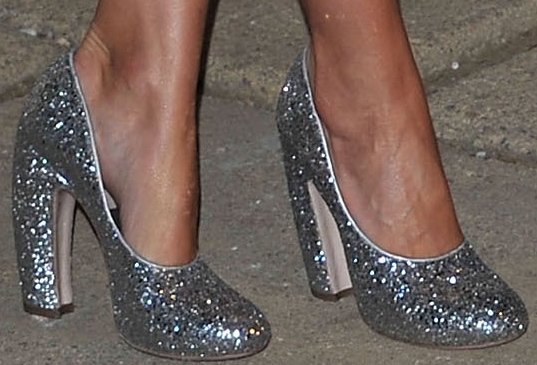 Camilla Belle's Miu Miu Fall 2011 silver glitter pumps
These look a little over-the-top now but these would look great with the somber and muted colors that usually dominate the fashions for fall!  These would work well during the holiday season too or even up to New Year's but that's still a long ways off.
These Miu Miu silver glitter pumps aren't even available online yet but we're sure they will be soon. Plenty of the styles from the Miu Miu Fall 2011 collection are already available for purchase at Saks Fifth Avenue and Nordstrom.
Credit: WENN