We all know that Cara Delevingne hasn't been particularly friendly with the paparazzi, so we're no longer surprised when we see photos of her covering her face or pushing her way past photographers.
Cara Delevingne leaves Paris and arrives at the Los Angeles Airport on October 21, 2015
But a little advice for one of our favorite models: when you use a bright blue hat to cover your face, chances are you'll get noticed even more.
Cara Delevingne covers her face with a bright blue hat as she arrives at the Los Angeles Airport
Cara wore a black Burberry leather jacket over a long top and shorts, which she accessorized with round sunglasses and a cap.
The model flaunted her sexy legs in black and grey Supra "Quattro" sneakers from the label's exclusive Crown Coalition project with professional skateboarder Lucien Clarke.
The colorway is inspired by the "skate-all-day party-all-night lifestyle" of his friends from the Palace Wayward Boys Choir (PWBC).
Cara Delevingne's feet in Supra Lucien Clarke x PWBC Quattro sneakers
One of Cara's fans tried to stand up for her by telling the paparazzi to move and give her space, but she got pushed and accused of touching her instead.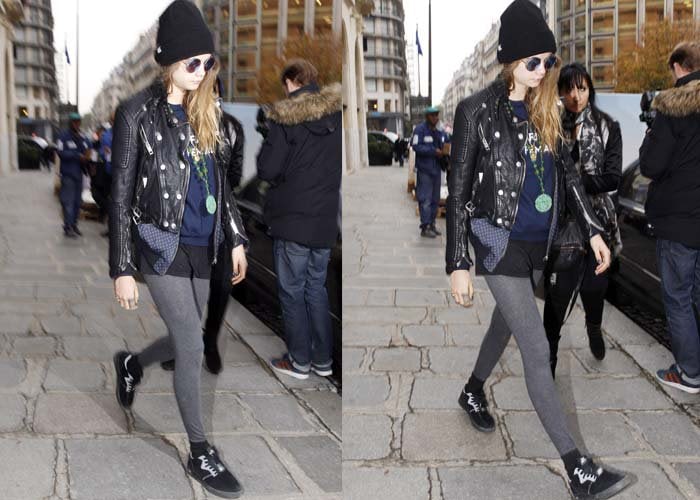 Cara Delevingne wears a casual outfit with Supra sneakers at the airport
Meanwhile, the 23-year-old model focused on contacting someone whom we presume is her driver or manager.
To celebrate the low top Quattro in the night-inspired signature colorway, Lucien Clarke hit the streets of London to put the shoe to the test.
Grab Cara's sneakers in a gray/black combination by clicking over to Zappos or Amazon.
Supra Lucien Clarke x PWBC Quattro Sneakers, $82.40 – $90.00
Credit: WENN