When we came across thumbnail pictures of Cara Delevingne walking the Giles Deacon Fall 2014 runway, we wondered, "what is that she's holding in her hand?"
Cara Delevingne on the catwalk of the Giles Fall 2014 fashion show held at the Truman Brewery in London, England, on February 17, 2014
It took us a second, but it was easy to tell just by the way she carried it that it was her phone. No, it's not a new phone-shaped purse or a new accessory Giles Deacon designed; it's Cara's actual phone covered in a bright orange tiger-print case.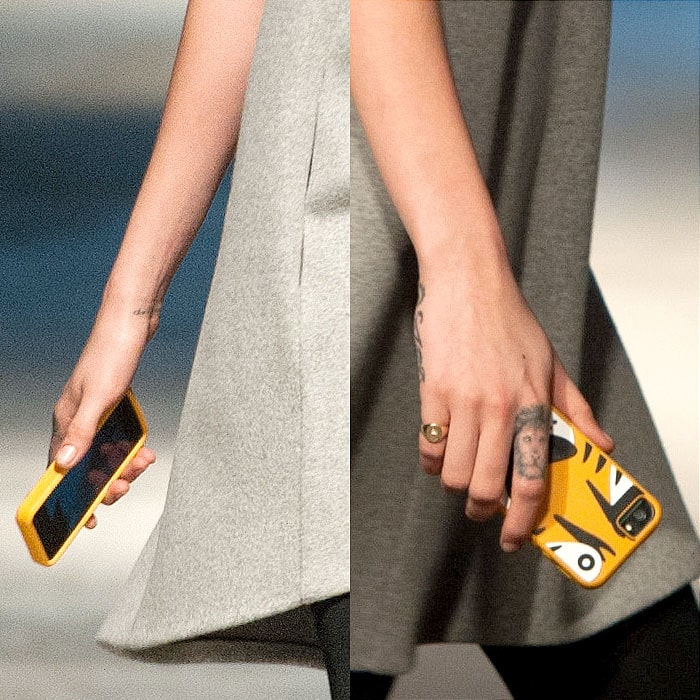 The tiger-print-encased phone in Cara Delevingne's hand, which the model carried on the Giles Fall 2014 runway
So, what was Cara doing with her phone on the runway, anyway? Her Instagram account has the answer: Cara was recording videos of herself walking at the fashion show. The videos are now dubbed as the first ever live selfies taken from the view of a model on a catwalk, which means Cara just made fashion history. Way to go, Cara!
Cara Delevingne holding up her phone at the finale of the Giles Fall 2014 fashion show held during London Fashion Week in London, England, on February 17, 2014
Here's the first selfie video Cara took. Watch her get all psyched about filming the first live video from a catwalk.
It must've been hard keeping a straight face, but Cara's a pro, so she just expertly pouted like the model that she is through the whole thing.
Well, almost through the whole thing. Cara reverted back to her goofy, face-making self as soon as she made it to the end of the catwalk.
And here's the video that Cara was taking in the picture of the finale walk above. She got fellow models Jourdan Dunn and Cora Corre all hyped up about it, too.
If the purpose of this stunt was to bring more publicity for Giles, well, it certainly worked for us. We wouldn't have taken notice of the shoes at this show, but because of Cara, we're thinking boy-inspired shoes like the
monk shoes
Cara was wearing might trend again come Fall/Wnter 2014.
Monk shoes can be a bit masculine, but check out the following monk shoes with little girly touches:
1. Jimmy Choo Studded Monk Shoes, $819.69
2. DV by Dolce Vita "Mellon" Monk-Strap Shoes, $79
3. Topshop "Adder" Double-Buckle Monk Boots, $155
4. KG by Kurt Geiger "Luther" Leather Monk Shoes, $225.83
5. Loeffler Randall "Grace" Monk-Strap Flats, $295
Credit: Daniel Deme / WENN / Cara Delevingne's Instagram