A new round of butt injection/butt implant rumors is hounding Kim Kardashian, and we think it all started when E! showed the ShoeDazzle founder went out in Beverly Hills wearing seriously tight cream-colored pants.
Well, you can see why everyone's talking about Kim Kardashian and her butt again. The ill-fitting pants highlighted Kim's famous assets so unnaturally that people became suspicious if that size could still be attributed to genetics or body changes caused by pregnancy.
Tabloids sensationalized the pictures and spread the rumors so quickly, it made even celebrity gossip blogger Perez Hilton himself go "tsk tsk" in a snap of one of the magazines' covers he shared on Instagram.
"First In Touch, now OK magazine. Damn, they're really going in on @kimkardashian this week! Geesh! #KimKardashian," the American blogger commented.
Kim Kardashian's rumored butt injections on the cover of OK!
Kim has dealt with these types of rumors before, so she has a ready retaliation. She took to Twitter to tell the "nonsense tabloids" to "get a life" and that she "will never conform" to their skinny standards.
We see no lies in Kim's tweet, but then again, we think there's really nothing to get worked up over. Kim's butt is big like it always has been. We just haven't seen it as much since she prefers to wear pencil skirts and large overcoats lately.
Kim Kardashian shows off her big butt in Manhattan, New York City, on November 26, 2013
It's just that pants aren't her curvy figure's best friend, especially those super-tight cream-colored pants. Even in other pants, Kim's famous assets have that "stuffed" look, which is just one of the typical things women with big butts have to deal with.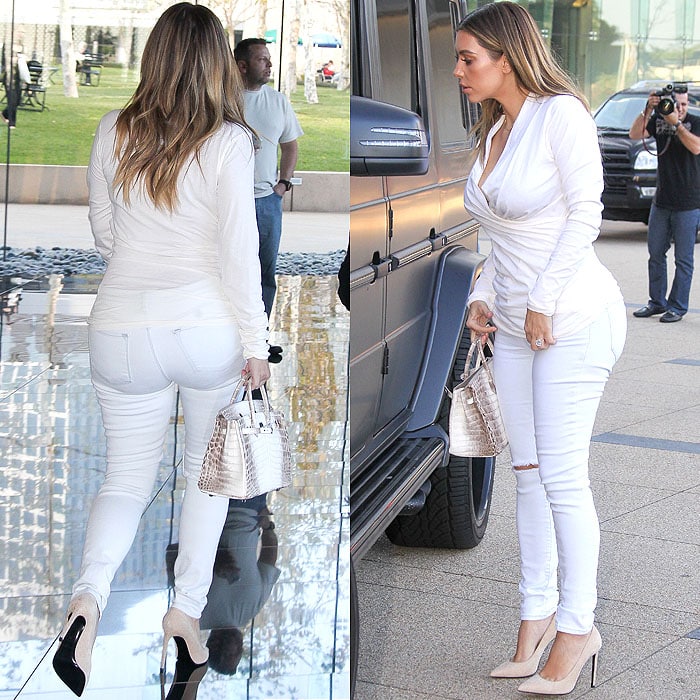 Kim Kardashian visiting an office in Century City in Los Angeles, California, on January 10, 2014
What do you think? Is Kim Kardashian's alleged new bigger butt due to additional plastic surgery or just poor styling choices?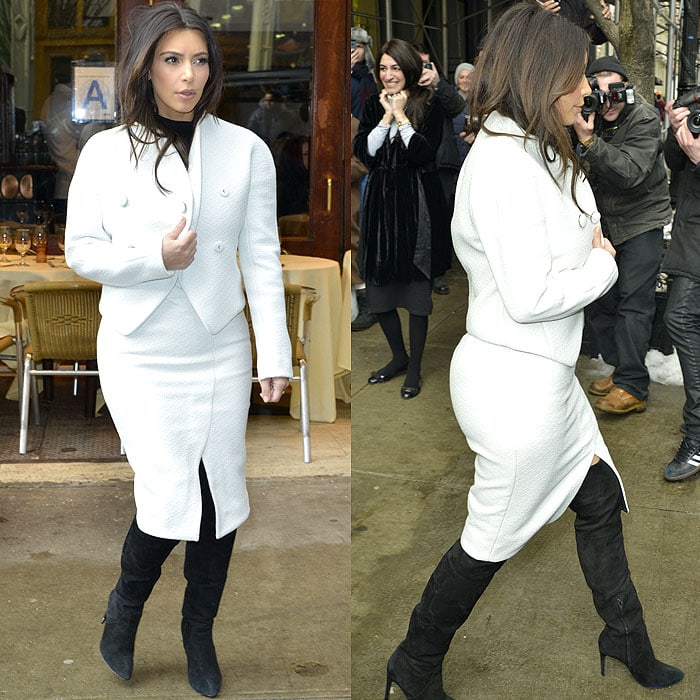 Kim Kardashian rocks Alexander Wang's suede Sofia knee boots
Whatever it is, we're just happy that she decided to ditch the legging boots for these undoubtedly more comfortable over-the-knee boots with her newest pencil skirt outfit that she wore in New York on Tuesday.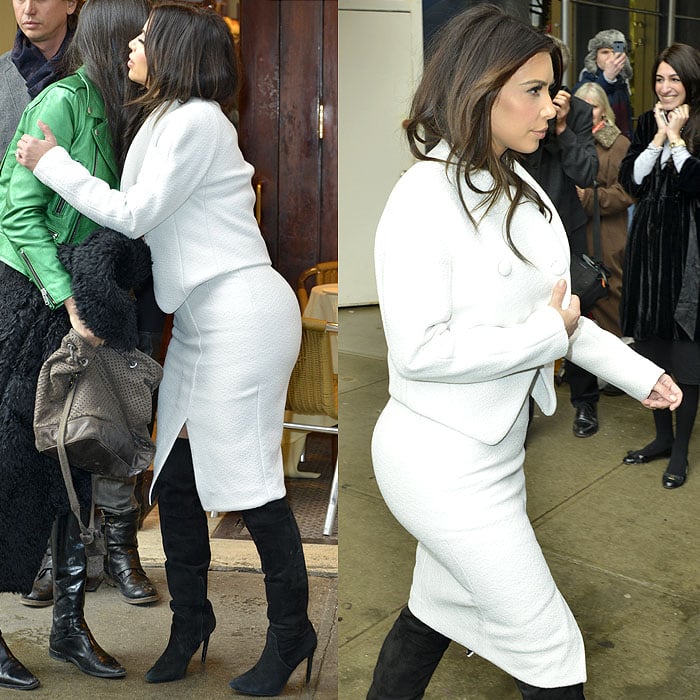 Kim Kardashian shows off her big butt in a white Proenza Schouler bonded boucle suiting curved hem pencil skirt in the SoHo neighborhood in Manhattan, New York City, on February 18, 2014
We're still wondering how she managed to move around wearing those all-leather Tamara Mellon legging boots with a leather skirt!
Credit: TNYF / WENN / Perez Hilton's Instagram