The 2023 Vanity Fair Oscars party red carpet was set ablaze by Cardi B's stunning fashion choice as she arrived with her husband, Offset.
Cardi donned a Robert Wun gown that was both bold and daring, featuring a ruched bodycon skirt that swept the floor and a pleated satin bodice that hugged her curves in all the right places.
Cardi B and her husband Offset attend the 2023 Vanity Fair Oscar Party hosted by Radhika Jones at Wallis Annenberg Center for the Performing Arts on March 12, 2023, in Beverly Hills, California (Credit: PA Images / INSTARimages)
The asymmetrical one-shouldered neckline and corseted base added a touch of sophistication to the ensemble. Meanwhile, the pièce de résistance is the sheer crimson tulle headdress that envelopes her neck, cascading down her back like a regal cape.
Cardi B's confidence was palpable as she posed for the cameras in her striking outfit, accentuating her look with glistening diamond earrings, bracelets, and layered rings that added a touch of luxury and glamour to her attire.
The Grammy-winning artist's sophisticated vintage hairstyle and dramatic makeup look complemented her outfit perfectly, adding even more glitter to her overall appearance.
Her choice of footwear, a pair of silver metallic Jimmy Choo Max platform sandals with stiletto heels that reached 6 inches with an ankle strap for support, and a metallic finish, completed the look.
Cardi B looked stunning in a red gown that accentuated her figure, complete with a corseted top and a form-fitting ruched skirt (Credit: PA Images / INSTARimages)
Offset also exuded confidence and sophistication in his black Dior tuxedo, complete with a sleek black satin tie and sparkling black shoes that added a touch of glamour to his already impeccable style.
The couple, who have had their share of ups and downs in their relationship, have two kids together: Kulture, 4, and Wave, 1.
We can recall that Cardi B filed for divorce from Offset in 2020, citing "irreconcilable differences," but then dropped the case because "he changed, and it showed me that he wanted to change for me," according to an interview she gave in January 2023.
Despite their past struggles, they seemed to be in good spirits as they posed for the cameras at the event.
Cardi B wore a long sheer scarf that she draped over her head to create a veiled look, accessorized with dazzling diamond jewelry (Credit: PA Images / INSTARimages)
In addition to her stunning fashion choice, Cardi B has been in the spotlight recently for her community service obligations.
The artist completed her 15-day sentence in January and has since advocated for the importance of abiding by the law while maintaining a sense of style and flair.
The 30-year-old American rapper was given the community service sentence in September 2022 after entering a guilty plea to a count of second-degree reckless endangerment and one charge of third-degree assault.
Cardi and two others were accused of participating in a strip club brawl in New York in 2018 by hurling glass bottles, a drink, and other items at a bartender.
Cardi B exuded confidence as she posed for the cameras, with her hair styled in a chic vintage fashion and her makeup featuring bold red lips (Credit: Featureflash Photo Agency / Shutterstock)
The artist wanted to take responsibility for her past mistakes, saying, "Part of growing up and maturing is being accountable for your actions. As a mother, it's a practice that I am trying to instill in my children, but the example starts with me. I've made some bad decisions in my past that I am not afraid to face and own up to. These moments don't define me, and they are not reflective of who I am now."
Cardi's actions of repentance extend beyond her stylish attire, as she has also been involved in volunteer work and recently spoke at a police mentoring initiative for teenage girls. The artist has been vocal about the positive impact that community service has had on her.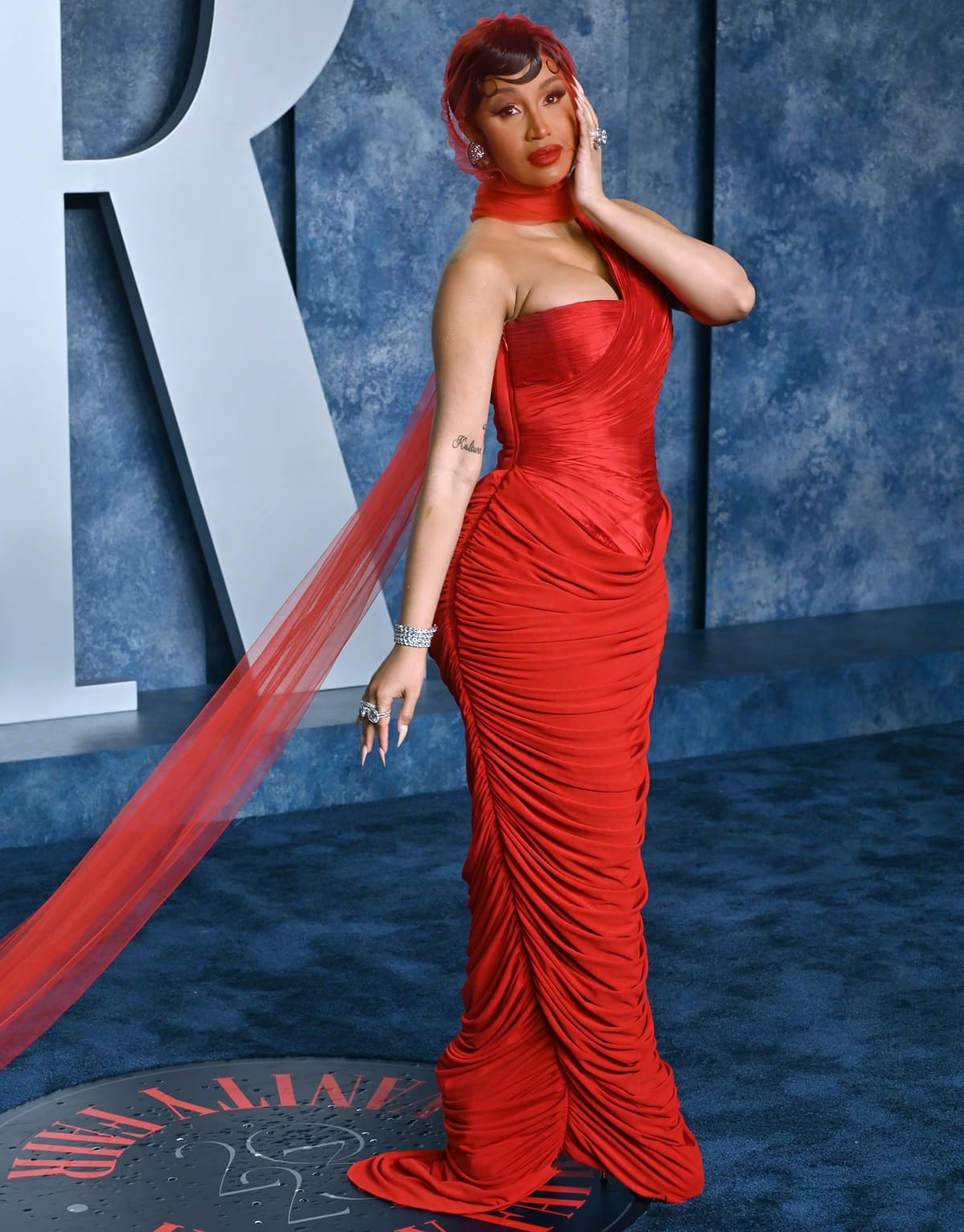 Cardi B wearing a look from designer Robert Wun with custom AZATURE fine jewelry (Credit: Featureflash Photo Agency / Shutterstock)
In a tweet on February 26, Cardi shared her experience, saying, "Community service has been the best thing that has happened to me. Almost like a spiritual journey because sometimes I leave these centers in tears. Those people that we leave behind they just need somebody to talk and a lil push and YOU might be able to change their life forever."